It's week 10. You're on a sales forecast call and $960,000 magically disappeared from your pipeline.
You're pulling different sales reports from your CRM trying to diagnose the problem, only to learn that your largest deal for the quarter slipped.
Your rep has been super optimistic throughout the quarter and had this deal in commit since week five, but missed getting buy in from a critical stakeholder who is now putting this deal on hold.
Sales forecasting misses like this happen with the best revenue teams, but their ripple effect can be huge. A missed sales forecast means missing out on future investments—and slower growth.
According to Gartner, in the report titled "Improve Revenue Forecast Accuracy With Emerging Forms of Sales Forecasting Technology," 55% of sales leaders don't have a high degree of confidence in their sales forecast accuracy. That's pretty shocking considering so much is at stake when it comes to accurately forecasting revenue. But as Gartner highlights in a new report, one solution can hit sales forecasts with accuracy: Clari.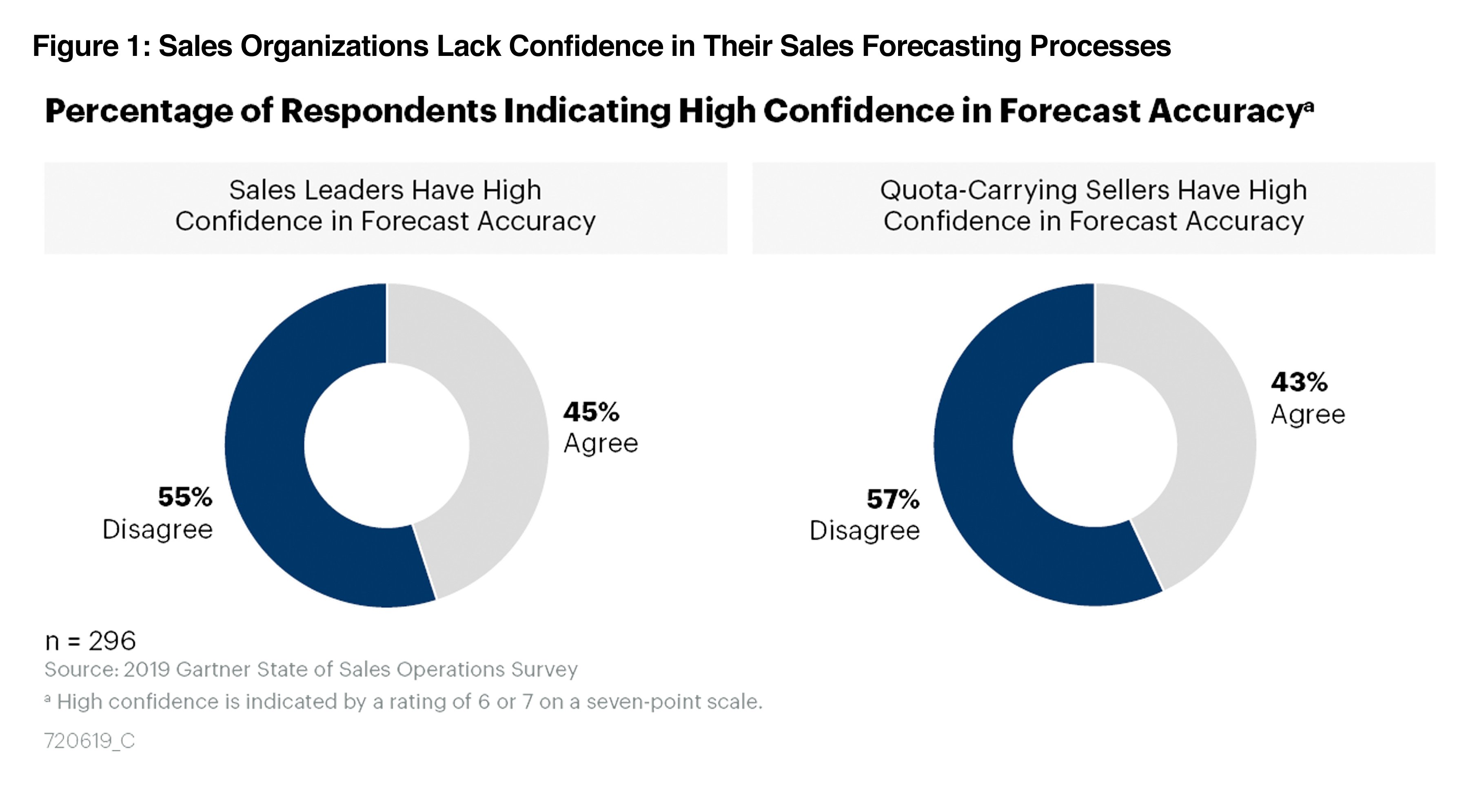 Why is forecasting revenue accurately so difficult?
Sales forecasting is more than just rolling up a number. You need to have good data, deep understanding of the true status of deals, and real-time insights into where you have risk so you can take action.
In sales forecasting, you need to see the forest and the trees. You need to get the big picture:
How are you doing against revenue goals?
Where do you have gaps?
Do you have enough pipeline coverage?
You need to inspect the deals that make up your sales forecast so you can have an accurate view of reality, not just for your net new business but also for your renewals and across your product lines. That allows you to dynamically run plays, accelerate deals that can be pulled forward, or exclude those deals that are not likely to close.
But the tools most revenue teams have been using—spreadsheets, BI systems and CRM—are not sufficient to handle the complexities of B2B sales forecasting.
In a recent report, Gartner says:
"Forecasting via spreadsheets is a manual process, and thus exhibits the inherent risk of data inaccuracy."
Sales Force Automation (SFA) systems "contain functional gaps including limits on custom data schemas, difficulty managing complex opportunity splits, lack of functions for building custom forecasting hierarchies, and lack of predictive sales forecasting capabilities."
"Sales forecasting within BI systems is an option, but this too has limitations. It requires IT to maintain integrations and build operational processes that ensure that the forecasting models are accurate."
A new way to forecast, according to Gartner
"Organizations do not have to accept that sales forecasting has always been, and will continue to be, difficult", says the Gartner report.
We agree.

The new way means you can easily design your sales forecasting process to fit your go-to-market strategy—custom fiscal periods, opportunity splits, product-line forecasting. It also means you can remove risk-inherent, human-educated guessing from sales forecasting by using machine learning models to analyze large datasets.
For example, with Clari, you can automatically track data from multiple business systems including rep activity, customer engagement, and opportunity data, and predict how likely a deal is to close and how much revenue you are likely to achieve. You can also get a real-time view of key revenue metrics like forecast coverage ratios, product pipeline mix and other configurable KPIs that help assess risk and formulate game plans that impact the bottom line.
All of this is made possible by the best-of-breed forecasting management solution offered by the Clari team.
The results are higher levels of sales forecast accuracy not only at the end of the quarter but as early as week three or four, giving revenue leaders visibility into the state of their pipeline so they can take action to hit revenue goals.
Revenue teams using Clari know in week two of the quarter where they'll land in week 12 with more than 96% accuracy. Now that's revenue confidence.
To learn more about how you can modernize your sales forecasting process and get at least 95% accurate early in the quarter, read the Gartner report or get in touch with us.

Gartner, Improve Revenue Forecast Accuracy With Emerging Forms of Sales Forecasting Technology, Adnan Zijadic, Alastair Woolcock, Theodore (Tad) Travis, 8 April 2020
This graphic was published by Gartner, Inc. as part of a larger research document and should be evaluated in the context of the entire document. The Gartner document is available upon request from Clari.