"Humans buy from humans" is a common piece of thought leadership. The phrase reminds sales leaders that focusing beyond the product and selling to the multilayer human challenges prospects face can help deal acceleration.
Before our current pandemic, teams could rely on trade shows, dinners, and on-site visits to bridge that gap and foster relationships in order to accelerate the sales cycle. But in a world of social distancing, how can reps reach out in a meaningful way?
Direct mail is often used as a door opener, but it's also a really powerful way to move pipeline down the funnel. We wanted to launch a program to help our reps contact their target prospects in a way that broke through digital barriers for deeper human-to-human connection.
Our results: 370 gifts sent, and 111 responses from 100 companies. That's about a 30% conversion rate.
Even better, 16 of those accounts closed with Clari during the first weeks of COVID-19, when so many companies froze spending as they pivoted.
Below, I'm sharing with you the four steps we took to execute this deal acceleration program in case it helps you foster human relationships at a time when those meaningful touches mean the most.
Step 1: Identify budget and gifts (bonus if you can survey in-house experts)
The best way to gather ideas to accelerate your sales cycles? Survey, survey, survey. At Clari, our target audience tends to be a sales persona. Luckily, we have a wonderful cohort of those right at Clari. We gave our sales team a list of ideas, asking them what they'd like to receive. This was our first time pushing a deal acceleration program like this, so having their perspective was invaluable.
Our survey and discussions concluded that the reps would have the option to send one of these three offerings:
$50 UberEats gift card
$90 MasterClass credit
$20 E-book
A person can only bake so much banana bread. Who wouldn't be grateful for an evening without cooking? During this time, a lot of people are looking for ways to expand their knowledge outside of work, and a MasterClass or E-book can be the perfect way to help them achieve that goal.
Some of our other ideas that didn't make the cut, but might serve as inspiration were:
Small branded gift and a $50 gift card to a retailer
Make your own cocktail kit
Make your own board game kit
A wellness or work from home kit (think: essential oils, candles, relaxing items)
An Amazon Prime membership or gift card
Step 2: Marketing and Sales Align on Goals
Our sales and marketing leaders dove into their Clari dashboards and reviewed pipeline goals, sales activity and deal health.
The goal was to ensure that sales reps had clear guidelines on who to strategically target, while also enabling them to make the right calls for their unique pipelines. As an example, we targeted prospects that were slated to close or renew in Q1 and Q2 and extended those deadlines to Q3 for some enterprise accounts. We also targeted accounts in the earlier stages where that human connection would have the greatest sales acceleration impact.
Since Clari automatically tracks all sales activity data, including emails, meetings, attachments sent and more, we're able to visualize activity before our deal acceleration plan and after. The screenshot above is an example of what the increase in engagement between our rep and prospect looks like. As you can see, emails (in blue), meetings (in red) and files sent (in yellow) all increased after our program.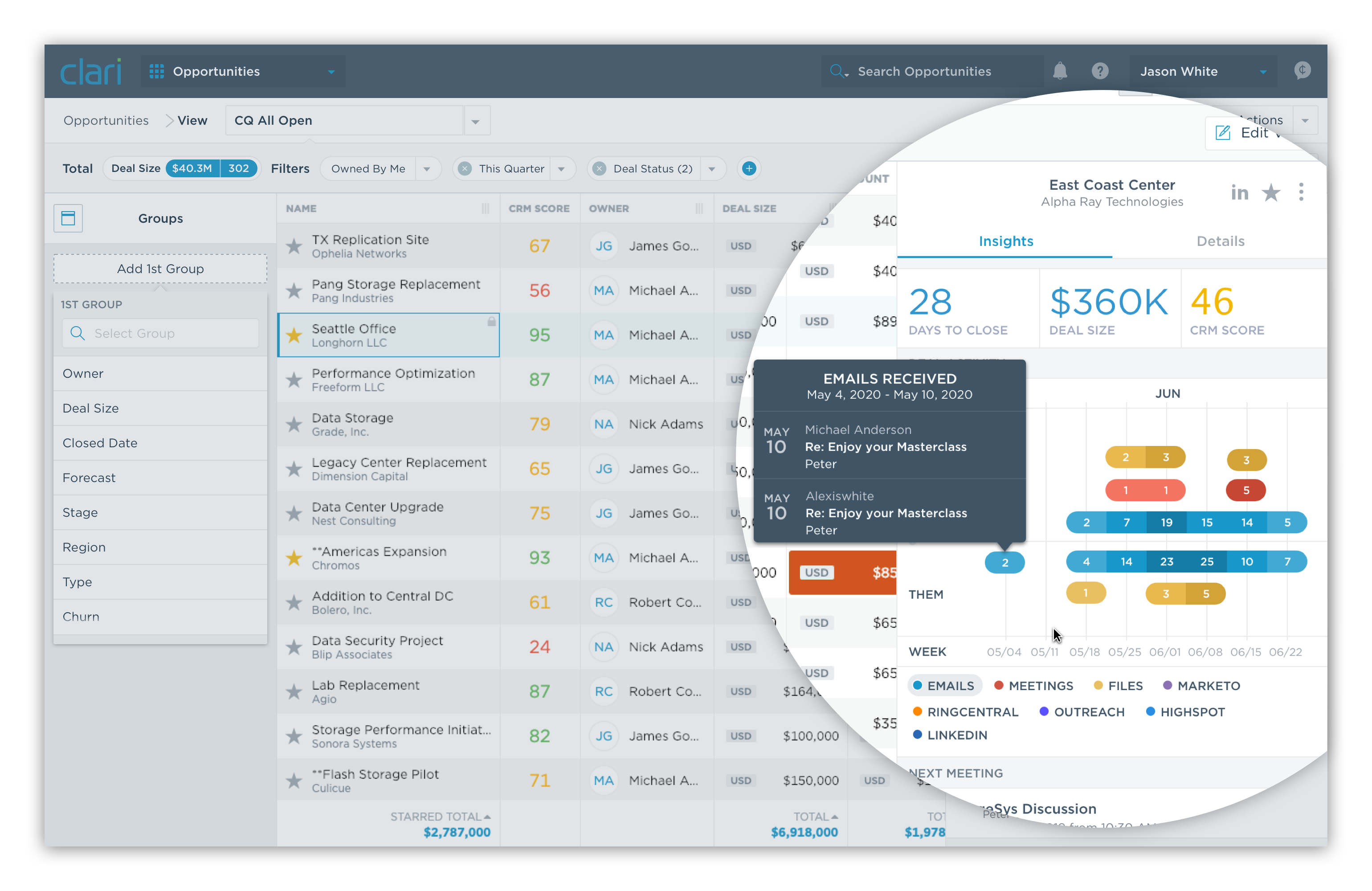 Step 3: Collaborate to execute
Once we identified what gift to send, and who to give it to, we worked directly through UberEats and Masterclass. They have easy-to-use programs that allow our sales reps to simply enter the contact's information and a short note. The vendor then sent it directly to them. We gave our reps a basic templatized message they could personalize—just a simple thank you, with no call to action.
We tagged the folks that responded in SFDC in order to quickly identify the ROI of the program. All of these leads were already assigned to sales reps because we already had an active deal cycle. However, we created the messaging for follow up and we manually tracked all 370 gifts via an Excel spreadsheet, one for commercial sales and one for enterprise sales. It was a very manual process, but we wanted to analyze exactly what we did.
Step 4: Analyze and optimize
In normal times, a marketing dinner would have resulted in one or two post-dinner meetings that could turn into sales opportunities. During this pivot, we leveraged some of the budget that had been allocated for marketing dinners towards this campaign. Overall, this campaign cost about the same as three marketing dinners.
But instead of having only a handful of post-dinner meetings, we had over 100 from this direct mail campaign—that's a huge conversion rate in comparison.
Analyzing results is pointless unless those results are communicated to the team and used to inform future success. As a best practice, we shared results with everyone in the revenue organization via email and Slack. We also shared results and insights on marketing and sales calls.
The success of this program inspired us to run a similar program in Q2. The biggest change: streamlining. We realized asking our reps to manually enter prospect responses into a spreadsheet was challenging to stay on top of, and we risked having inaccurate data. To streamline this process we plan on using Sendoso next time — which just so happens to be one of our integration partners.
Human-to-human alignment
This deal acceleration program demonstrated that by pivoting quickly we could make an impact and help our reps reach out to their prospects. For us, the key factors of success were clear visibility into our pipeline and alignment between the teams.
What programs have you run to bring human connection in this new social distancing world? How have you used those strategies to shorten your sales cycles and drive more predictable revenue?
If you're interested in delivering more confidence to your revenue process, we're sharing our top tips for revenue confidence. More resources here.