Achieve revenue precision with the Clari Revenue Platform
Stop revenue leak with the industry's most complete set of revenue capabilities. Drastically improve data quality, easily manage accounts and opportunities, efficiently inspect your business, and hit your targets with confidence.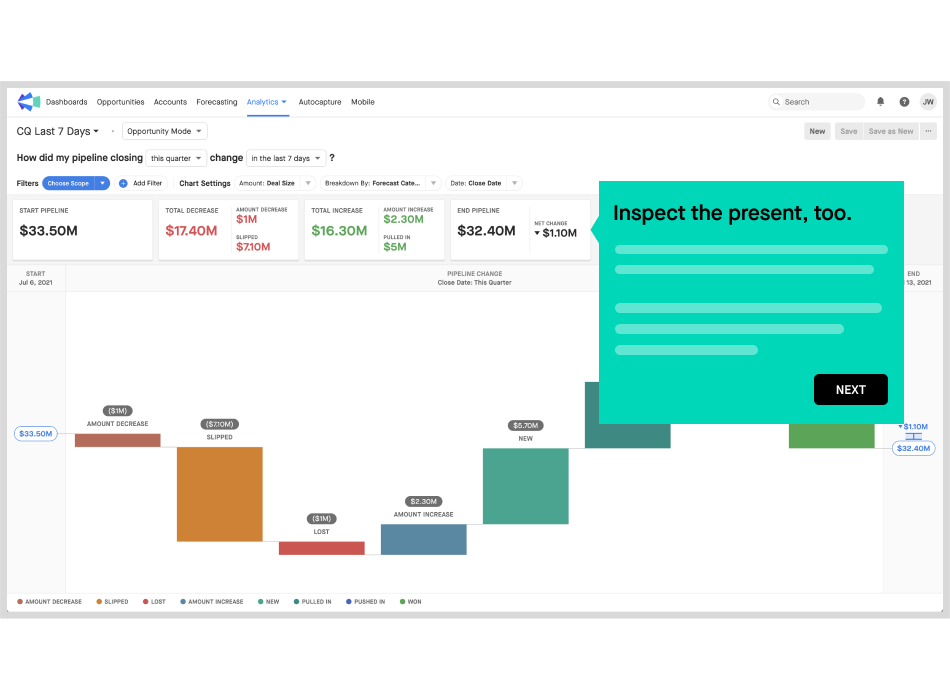 Seeing is believing
Explore Clari's Revenue Platform
See how you can identify and stop all areas of revenue leak to call and hit your number with confidence.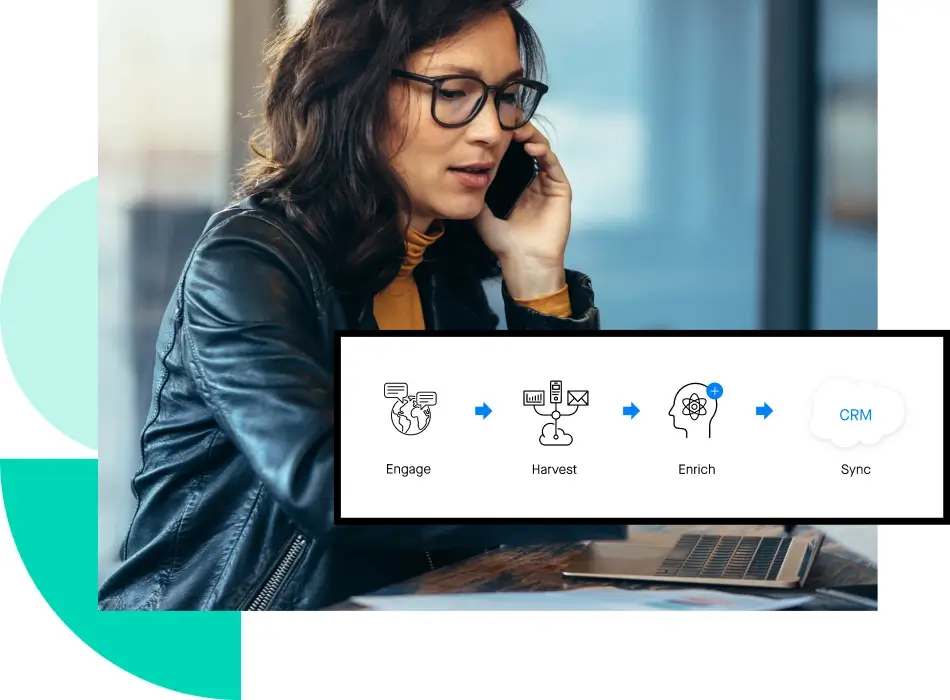 Capture
Data quality and activity autocapture
Automatically capture every revenue-critical signal to power a more intelligent revenue process. Clari does the hard work for you, eliminating manual entry, cleansing information, and matching back to your records. Win back time for your team and immediately improve data quality across email, calendar, calls, and more.
"Clari helps us improve our data quality. The better our data is, the better our conversations and coaching sessions are at every level—from managers and reps, all the way up to our executive team."
Matthew Schwartz, VP of Sales Operations at Fortinet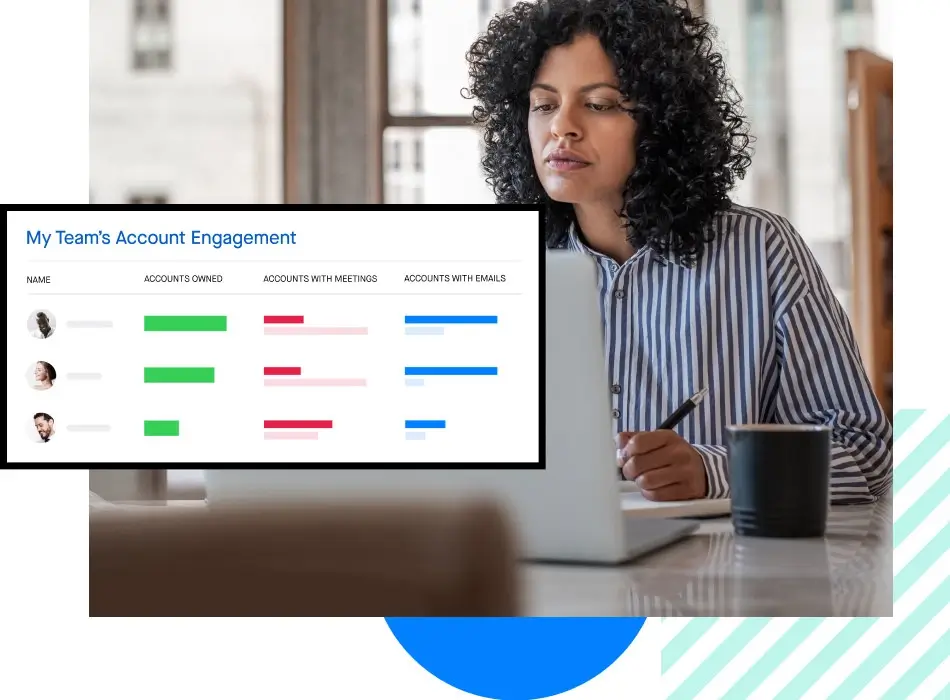 Inspect
Opportunity management and deal/account inspection
Seamlessly manage your book of business with confidence. Clari makes it easy for reps and managers to inspect their accounts and opportunities, spot risk, and take swift action. Trade intuition for intelligence with AI-driven health scores that let you invest time when and where it's needed most.
"In our market, deals move quickly with many changing variables. Clari is core to our ability to execute quickly and effectively—an accelerator for our sales team."
Kirsten Liranzo, Senior Director of Enterprise Sales at Dialpad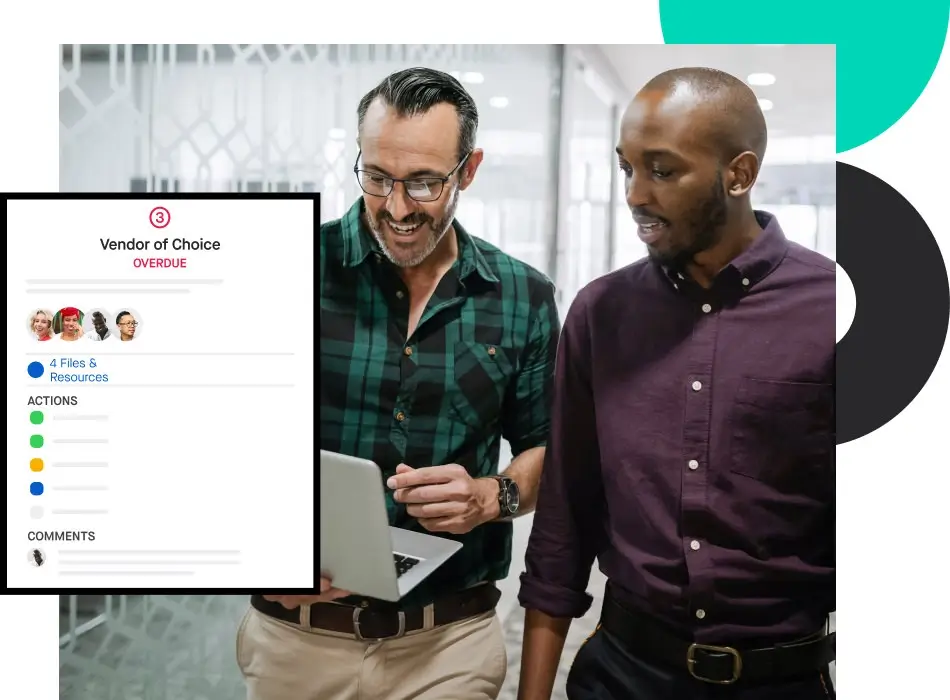 Align
Mutual action plans and buyer collaboration
Use mutual action plans to connect your revenue-critical employees with your buyers. Easily share plans, align business objectives, and manage stakeholders. Reps won't skip processes, and buyers will stay engaged and committed.
"Clari Align has enabled our reps to validate buyer interest early and get mutual agreement on the purchase process via a repeatable and standardized template. It helps me as a sales leader understand where deals sit in the sales cycle, allowing for a more streamlined deal inspection process and more effective coaching."
Greg Donohue, VP of Sales at KOFAX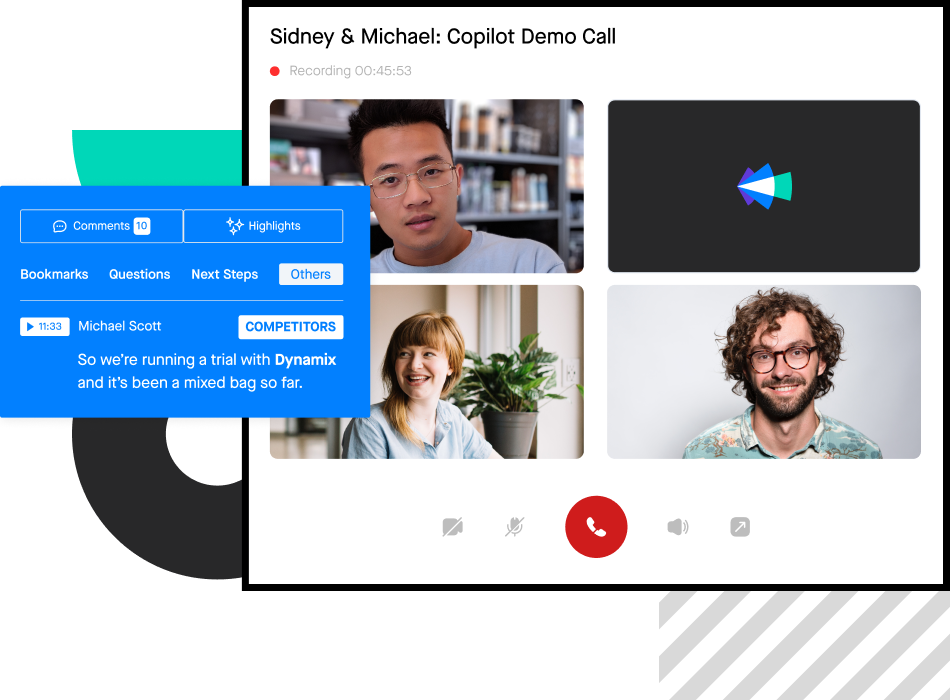 Copilot
Revenue conversation intelligence and coaching
You can't join every sales call live, but Clari's revenue conversation intelligence can. Be sure your reps respond optimally in every revenue-critical moment. Because you can't un-lose a deal.
"Copilot has helped me take back control of call coaching, consistent messaging, and more. I can see results from thousands of calls across my team and ascertain who needs help and where."
Elliott Partin, Head of Inside Sales at Qumulo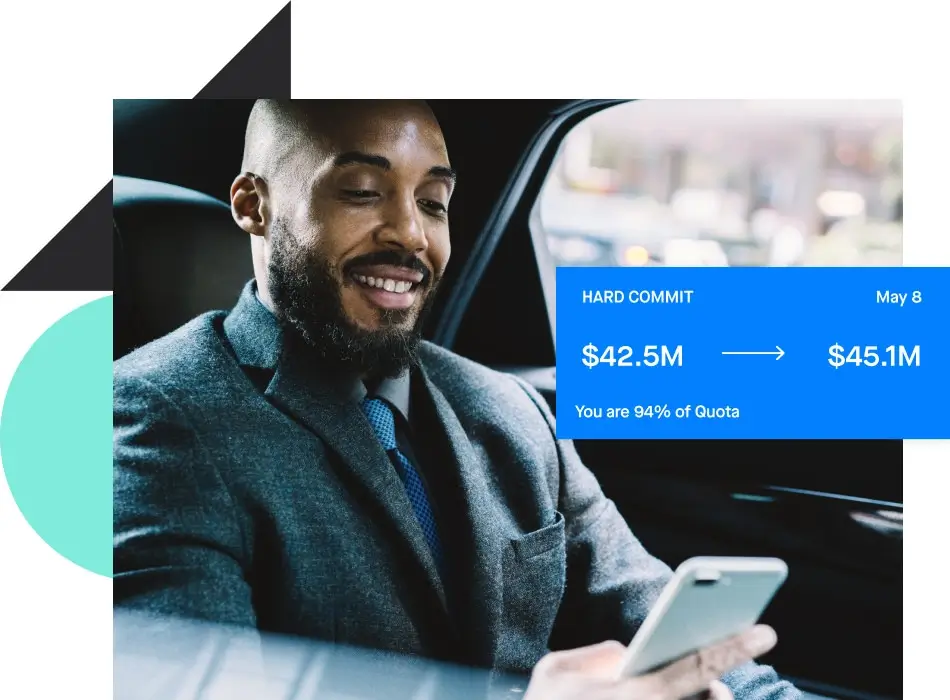 Forecast
Forecasting and pipeline management
Create the revenue future you want by consistently hitting your number. Clari delivers a complete, tailored view of performance, powerful inspection capabilities, and industry-favorite analytics. So you'll always have the right input to make the right call and have more control over your success than ever before.
"Clari helps us accurately forecast and understand how a deal is trending at any given point in time. It's accurate, intuitive, and easy to use—the key factors I look for in a tool I use daily. Clari truly makes my job easier."
Jim Hoppe, VP of Sales, NA at Sumo Logic
Analyze
Analytics, dashboards, and reporting
Get visibility into every aspect of your business, with analytics and visuals that are practical and approachable for everyone. Instead of waiting 2 weeks in an analyst queue, get what you need in 2 clicks.
"From the frontline manager to RVPs, our CEO, and up to the board, Clari's the interface to our entire revenue organization. The ability to all see the business in the same view, at the same moment in time, and take action is incredibly powerful."
Thomas Hansen, President at Amplitude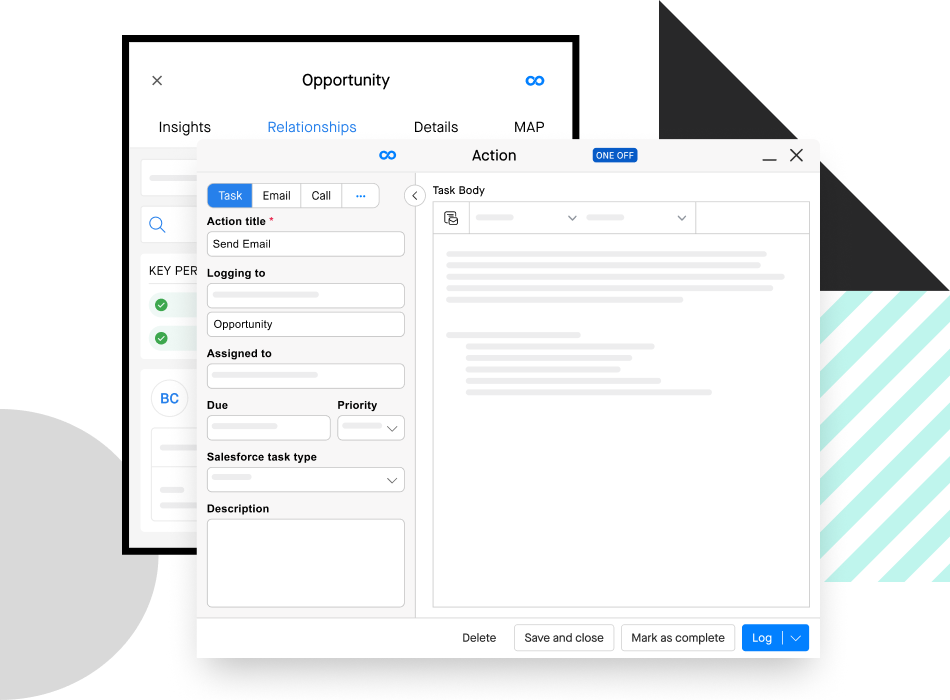 Groove
Sales engagement and prospecting
Scale prospecting, work deals, and expand accounts with powerful engagement workflows. Get deep top of funnel capabilities to increase pipeline creation, and give sellers what they need in the flow of work to increase conversion and win rates. Groove is easy to use and easy to admin, increasing seller productivity without causing headaches for your operations team.
"Since rolling out Groove, we've seen the average production, or gross margin, of our reps increase by 83%."
Mitch Thomas, Sales Enablement Manager at Brooksource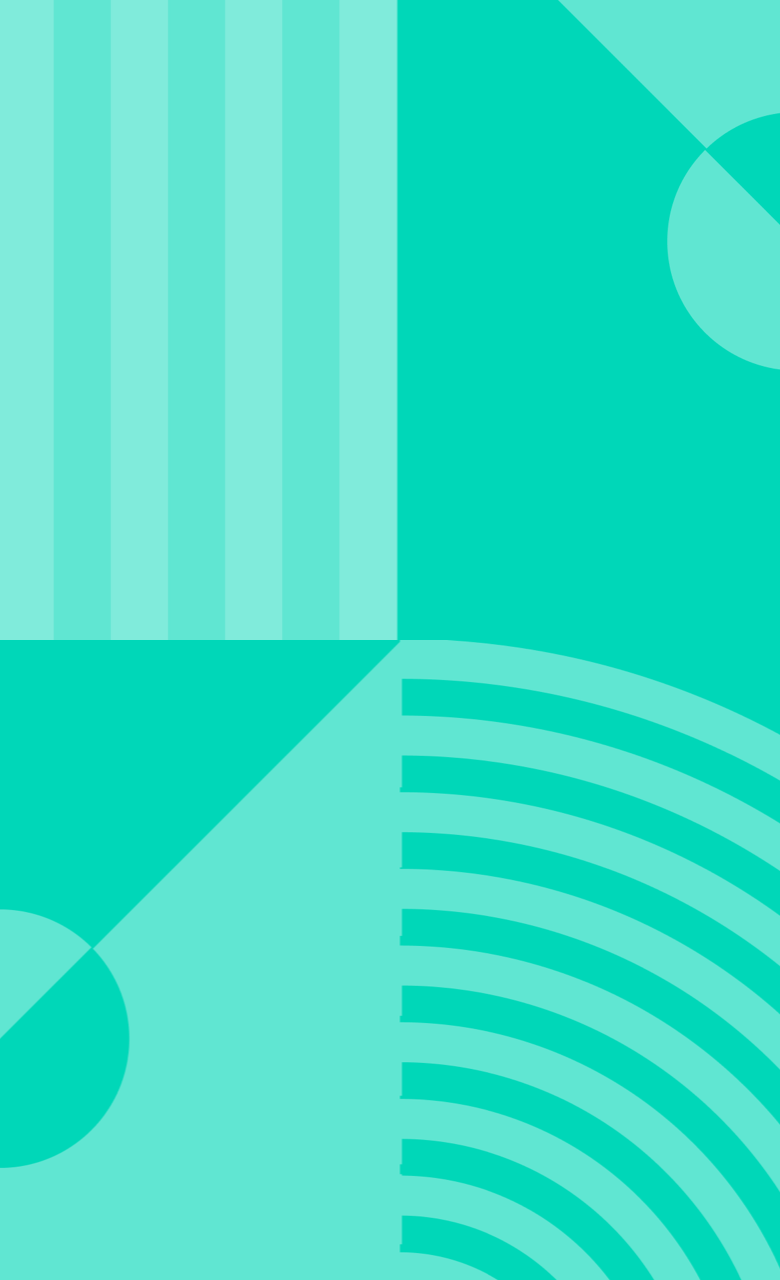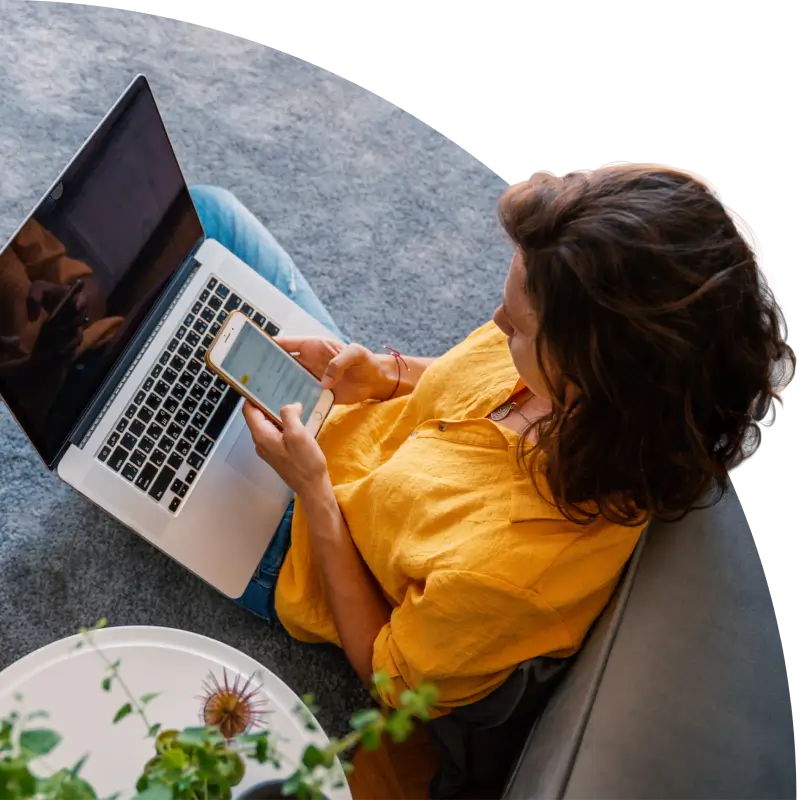 Every drop of revenue counts
Stop revenue leak and take back what's yours.