Keeping a pulse on revenue generation isn't easy. With so many players involved in every deal, forecasting becomes a painful process. Tools are limited, processes are inefficient, and data is rarely up to date. Time is wasted pinning down a number when organizations should be leading with that number.
Establishing forecasting as the heartbeat of the revenue process requires predictable revenue. And that predictability is driven by visibility and rigor.
Visibility is knowing what is going on at every level of the business. Building on that visibility, adaptive forecasting capabilities enable organizations to effectively predict revenue results across every revenue type, geography, vertical, product line, and go-to-market channel. Such a platform provides companies with the required tools to understand how they are executing on their strategic growth initiatives in real time for any segment.
With the flexibility of an adaptive platform, companies can understand what's going on through limitless lenses including:
Opportunities and accounts

Current quarter and future quarters

New business and renewals

Subscription and usage-based pricing
But visibility only provides value if it is used to operationalize strategy. Process rigor is created when sales managers can leverage execution insights in board meetings, team meetings, and one-on-ones to make decisions that help them hit their number. This operationalization is key to driving growth and hitting the number quarter after quarter.
As the leader in adaptive forecasting, Clari's Revenue Operations Platform includes a myriad of capabilities to empower customers to take charge of their forecasts. Clari's Time Series Data Hub, built for revenue operations, makes it possible to snapshot, store, collect, and analyze data from email, CRM, call logs, and beyond. Revenue teams can inspect every segment of the pipeline and make predictions based on execution history, real-time visibility, and machine learning insights.
Full-Funnel Forecasting enables teams to understand the entire revenue process. Clari is built to provide visibility and rigor across all teams in the revenue operation, not just sales. Knowing what's going on in net new business and pipeline generation, renewal, churn, cross-sell, and expansions is key to an organization's success. When all that information is connected, teams can easily access and understand the entire account lifecycle. Detailed KPIs, execution insights, and analytics enable teams to seamlessly transition accounts throughout the revenue journey.
Meanwhile, account and opportunity data is most valuable when it can be leveraged on the fly to support revenue rigor. Two new capabilities, Segment Forecasting and Scenario Forecasting, enable every user to perform ad-hoc analysis and react to insights in real time. Segment Forecasting is the epitome of adaptability. Operational teams and business users can slice and dice their forecast to understand how every segment of the business is performing.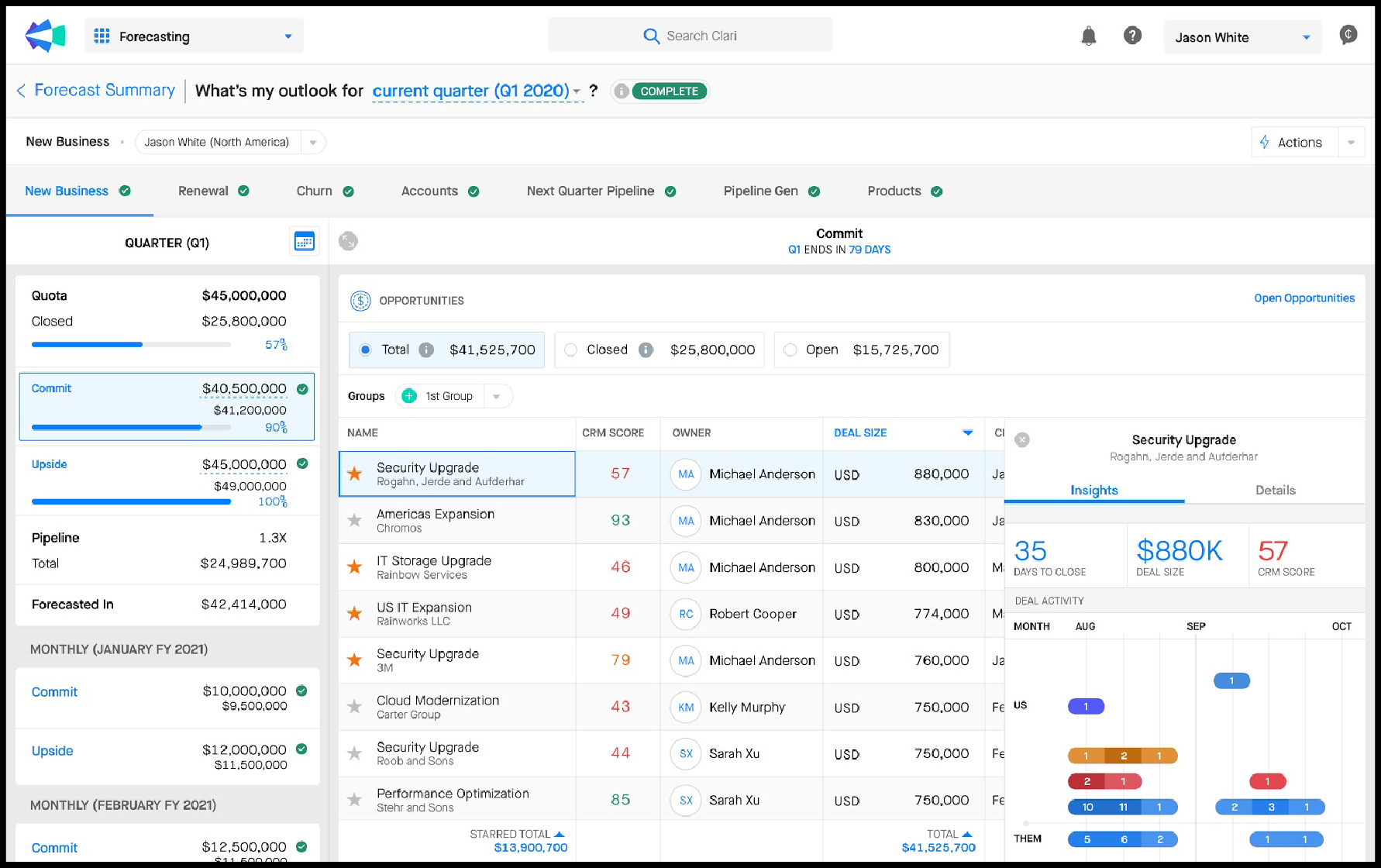 Leaders can see and react to progress in real time with the capability to track and gain insights into strategic growth initiatives, such as expansion of a new region, vertical, or product line. They can also make proactive adjustments to the forecast by running what-if analysis on the forecast with Scenario Forecasting. They can pull deals in and out, change numbers, and leverage activity data and analytics to inform the forecast. Modeling how different data impacts the forecast brings leaders closer to an accurate forecast, earlier.
In addition, accounts are front and center in the adaptive forecasting capabilities that Clari announced. Account Planning Insights are crucial to track total revenue potential, annual revenue, penetration, and more account attributes. These metrics can inform how accounts are assigned and managed. A sales rep, account manager, and customer success manager can all engage with an account and understand the entire account lifecycle so they can better ensure prospect and customer satisfaction.
With this launch, Clari is also expanding its capabilities to address additional go-to-market models. Flexible pay-as-you-go business models have emerged, with early dominance in the market. Clari built Usage-Based Forecasting to forecast and track such consumption revenue. The alignment of forecasting and engagement data for these accounts supports sellers as they grapple with the challenge of opening new accounts and expanding usage in those accounts to hit their quota on a quarterly basis.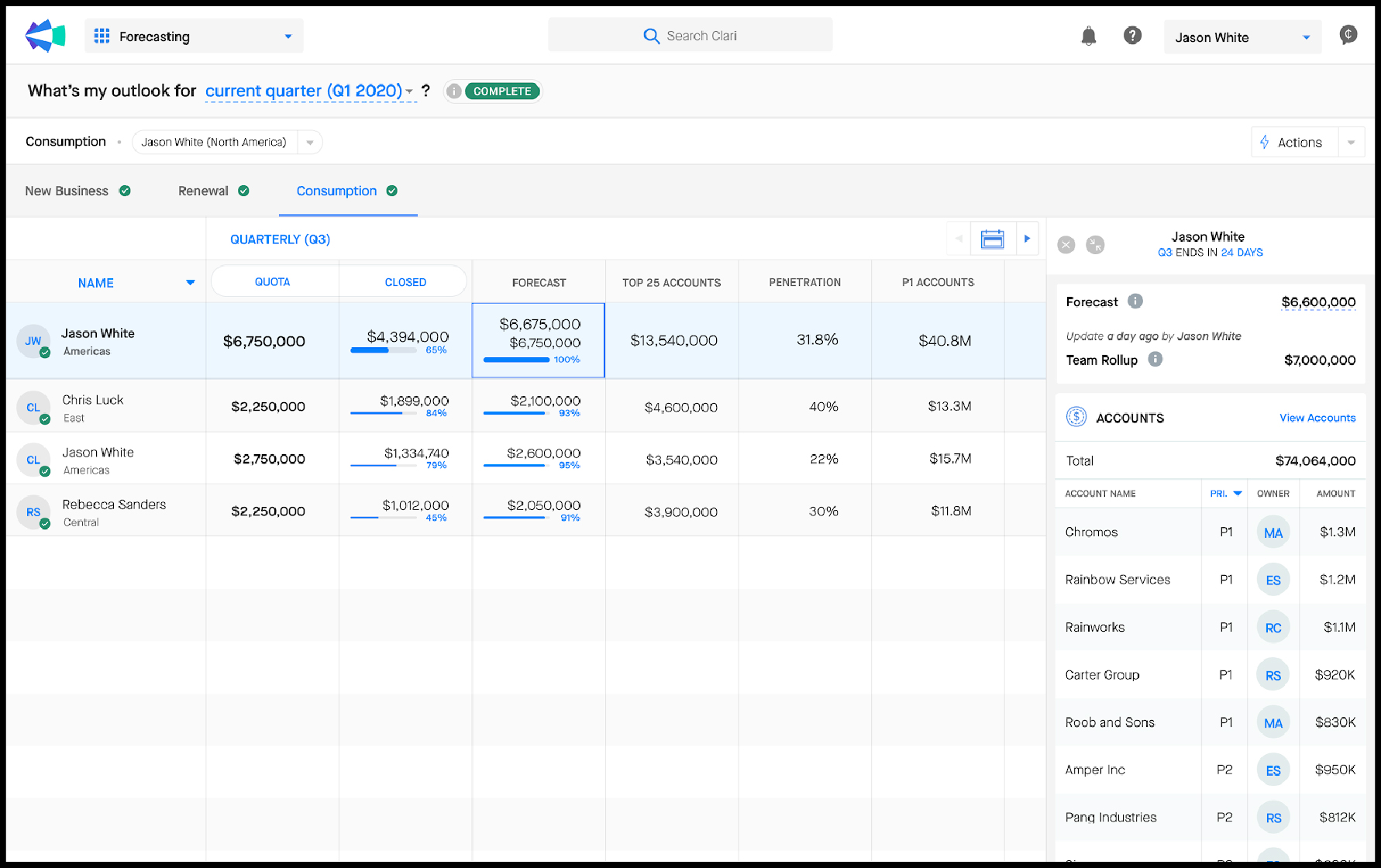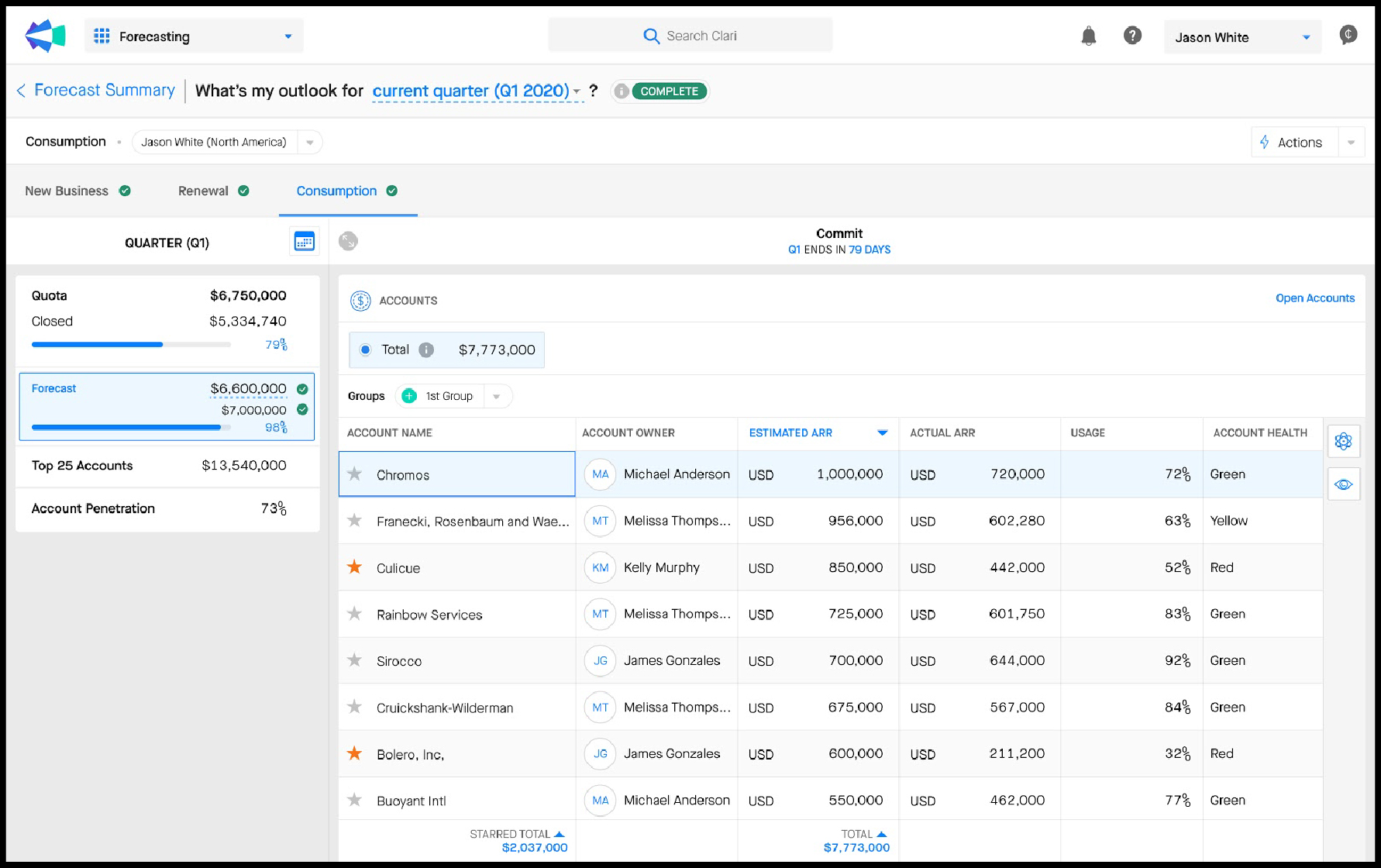 Across all areas of the platform, Clari continues to feature Adaptive Revenue Metrics. These configurable metrics enable teams to track retention rates, forecast coverage ratio, average sales price, and product pipeline mix. Managing the health of the business requires customizability to run any numbers, at any time. Adaptive Revenue Metrics are Clari's answer to that need.
If you're ready to leverage a platform that adapts to your business, book a demo today.
Read more:
Consumption Forecasting: What It is, Why It Matters
Future of Forecasting: Hypervisibility Changes the Game