Roles including the word "Revenue" have been steadily increasing in recent months, and Director Revenue Operations, VP Revenue Operations, and Chief Revenue Officer are among the fastest growing job titles on LinkedIn.
What's behind this sharp increase in revenue roles and what does Revenue Operations even mean? We've created an infographic to help break it down. (Full infographic at the bottom.)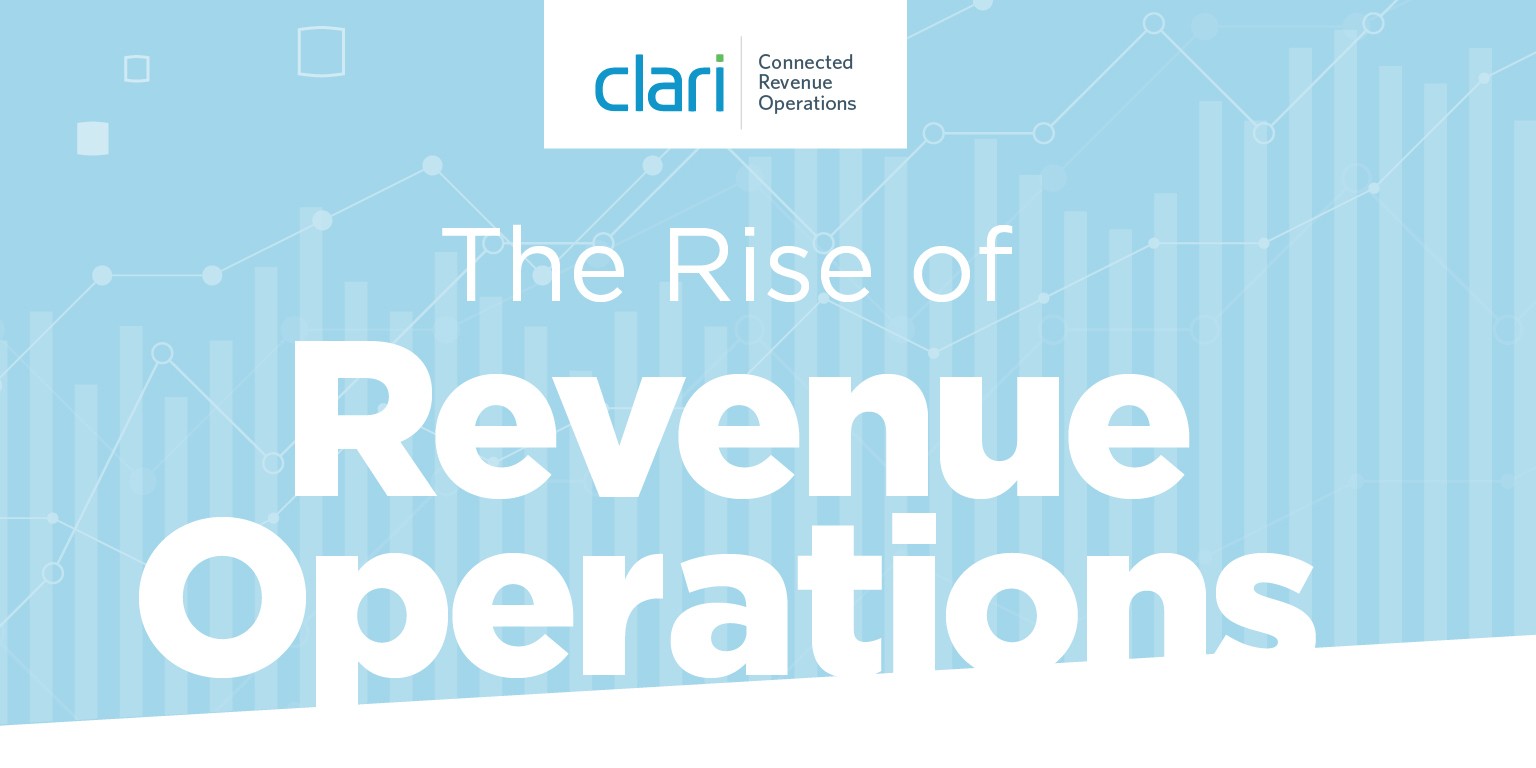 What Is Revenue Operations?
Revenue Operations (RevOps) is the strategic convergence of sales, marketing, and customer success to drive full funnel accountability across the revenue engine.
The role of Revenue Operations is to accelerate growth and provide more predictable revenue, by unifying and optimizing the processes that generate the company's top line success. How can you do that in your company? Focus on the following:
People
Aligning teams around a single view of the business with shared revenue targets
Data
Connecting business and activity data across organizational silos and technology stacks
Processes
Increasing operational efficiency through integrated cadences, including sales 1:1s, QBRs, forecast calls and more.
Revenue Operations Titles Are Increasing
Revenue Operations job titles on LinkedIn are increasing across the board, based on SiriusDecisions data collected between October 2018 and December 2018. Although Chief Revenue Officer roles only slightly outpaced Chief Sales Officer titles, Director Revenue Operations surpassed Director Sales Operations titles by a whopping 68%: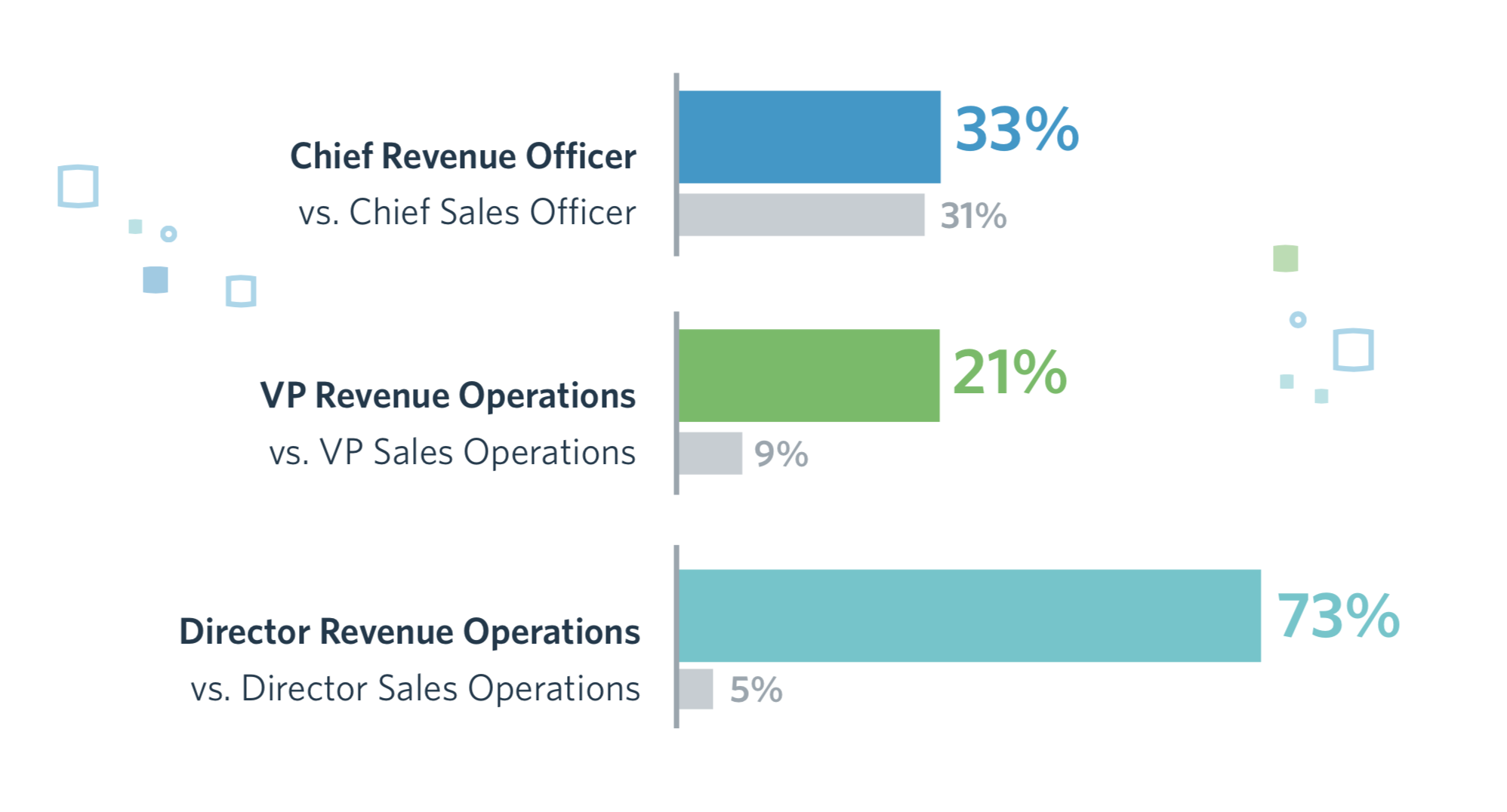 What's Causing the Rise of Revenue Operations?
The way customers purchase products has changed. They're conducting their own research well before a salesperson even reaches them. Plus, subscription-based business models mean what happens after the sales is just as important as what happens before.
This means teams responsible for driving revenue — sales, marketing, and customer success — must be aligned throughout the entire funnel if they want to succeed.
Historically, alignment has proved elusive and challenging. But that's all changing. Here are four reasons we're seeing a rise in Revenue Operations right now (hint: it's about people, data and processes mentioned above).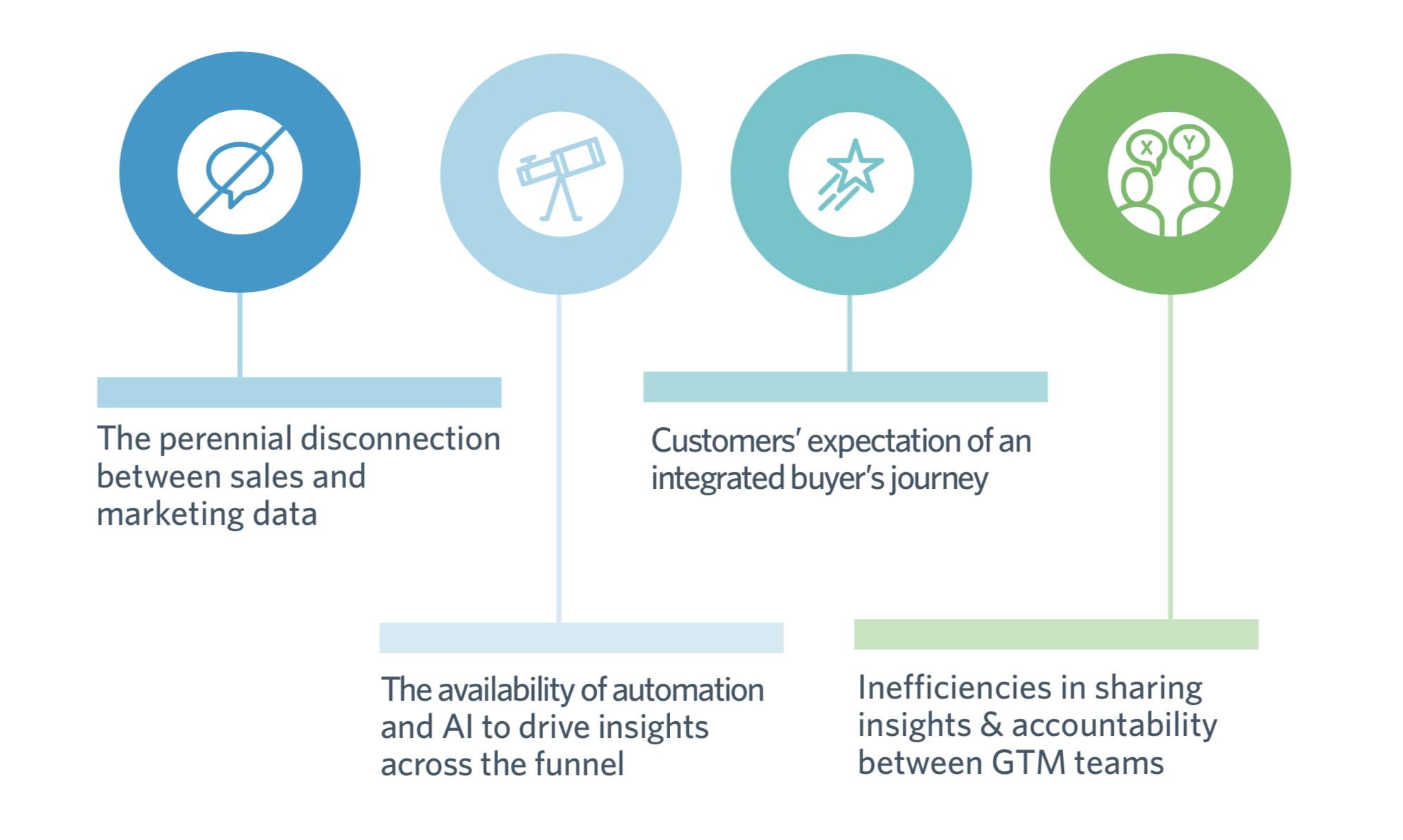 The New Normal for Go-To-Market Teams
In the past, sales, marketing and customer success teams have relied on separate tech stacks and systems (CRM, spreadsheets, business intelligence, marketing automation) leading to big disconnects in data. That disconnection results in teams bringing their own reports to the table, wasting time trying to validate and compare data, and ultimately the inability to make informed and accurate decisions.
But it doesn't have to be that way.
Revenue Operations is fast emerging as a solution to the traditionally siloed team structure, where teams move away from wasted time, finger pointing, inaccurate forecasts and a lone wolf mentality to data-driven collaboration, full funnel accountability, predictable business growth and faster sales cycles.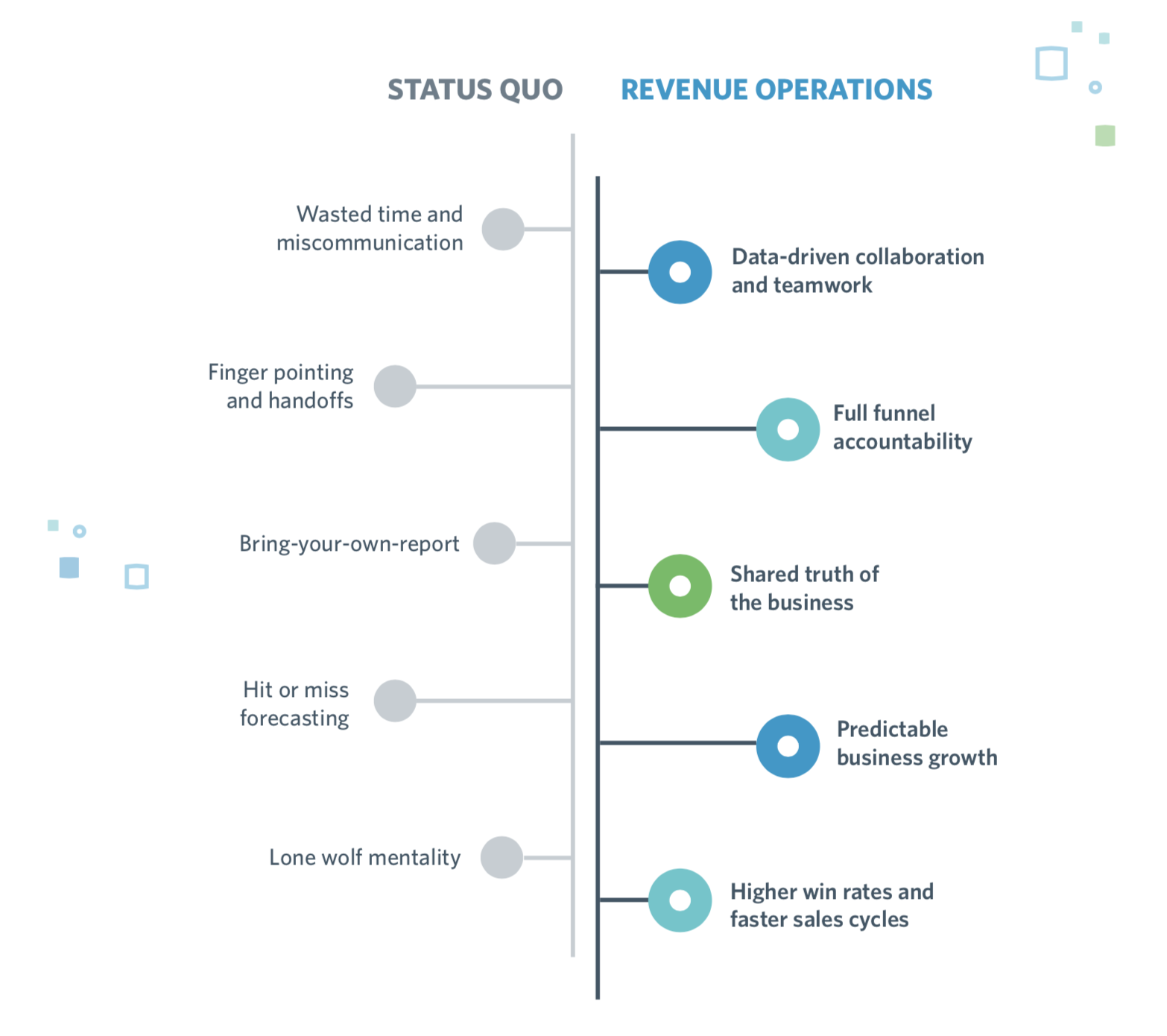 The Benefits of Revenue Operations
In addition to better collaboration and more predictable business growth, companies that align all go-to-market functions outperform those that don't. Public companies with revenue ops saw 71% higher stock performance. Additional SiriusDecisions researched showed, on average, aligned companies see:

What Are the Key Metrics for Revenue Operations
The primary goal for Revenue Operations is to drive revenue — that means closed deals for sales, pipeline growth for marketing and reduced churn for customer success. Here are just a sampling of key metrics Revenue Operations is accountable for: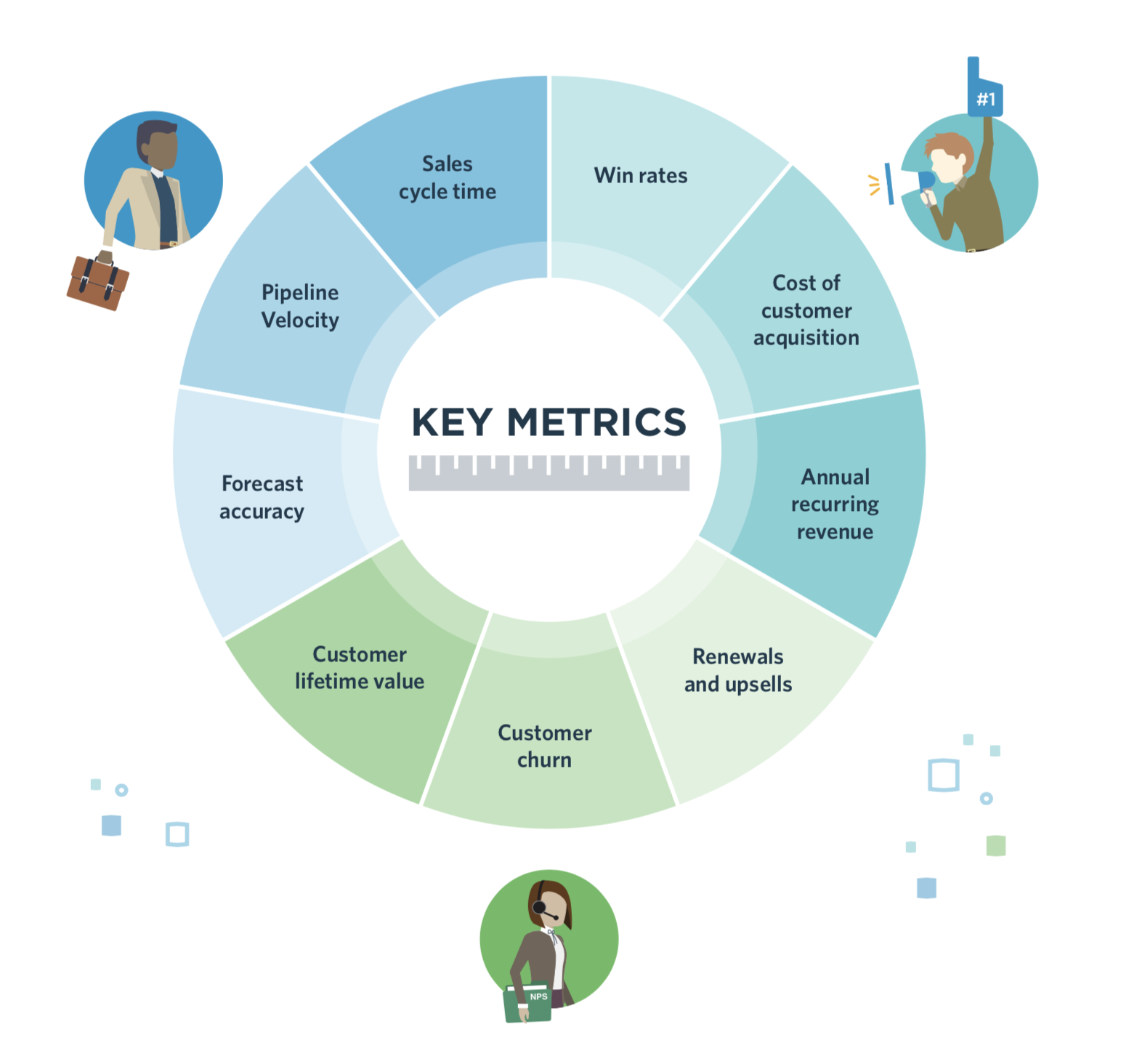 How Do You Know if You Need Revenue Operations?
The concept of Revenue Operations is fairly new, so here's the big question: Is your company ready for that kind of alignment? Here are some ways you can tell:
If goals across sales, marketing and customer success aren't aligned.
When your go-to-market teams aren't aligned it may seem like you're on the same page, but you're really speaking a different language. In disconnected teams, marketing can be meeting one set of goals (number of people at an event, webinar attendees, eBook downloads etc.) but if sales isn't hitting revenue targets, achieving those goals won't mean much in the bigger picture. Alternatively, if marketing is delivering what they believe are qualified leads according to plan, but sales are not working those leads, the entire revenue organization is at risk. This is what disconnection looks like.
If key business metrics don't match up.
Historically, sales, marketing and customer success would focus on meeting departmental goals, working in their own technology stack, with their own budgets and resources. This lead to siloed, disconnected data and activities that didn't match up. Revenue Operations teams use a single source of truth to measure and analyze the entire funnel and make decisions to achieve joint goals.
If there is never-ending intraorganizational bickering.
Disconnected data and disjointed priorities lead to finger pointing and mistrust, which result in demoralized teams and internal strife. Aligning your Revenue Operations team isn't just about making your number, it's also about creating a thriving work environment that is built on accountability and trust.
If RevOps is for you, here's a step-by-step guide to building and implementing an effective, efficient revenue operations framework.
The Future of Revenue Operations: Connected Revenue Operations
Companies can no longer operate their business like a bucket brigade that passes buyers from marketing to sales to customer success. Today's best of breed organizations use a common view of the business that allows them to unify and optimize the processes that fuel the revenue engine.
Revenue operations is all about breaking departmental silos, developing shared truth, and collaborating to achieve revenue goals. It connects revenue stewards, program makers and producers for breakthrough results.
Clari's Connected Revenue Operations platform helps B2B organizations increase win rates, shorten sales cycles and improve forecast accuracy by using AI and automation to create full funnel accountability across go-to-market teams.
See the full infographic below and learn more about Revenue Operations at clari.com.

Still hungry for more? More Revenue Operations content here: