Whether you're a large enterprise team with hundreds of sellers or a fast-growing organization with tens of sellers, one thing is clear: Revenue can no longer be viewed just as an outcome. It's a business process.
In fact, revenue is the most critical business process for any company and should be controlled, measured, and automated like any other process. While all revenue teams focus on doing whatever it takes to make the number every 90 days, many don't treat revenue as an end-to-end process that can be managed for efficiency and predictability.
In this era of remote selling, the ability to inspect your deals and accounts throughout the revenue process is even more critical to having confidence you're going to hit your number.
This is why we're sharing our Revenue Operations Framework.
Revenue operations, defined
Revenue operations (some may call it RevOps) is the end-to-end process of generating revenue by the entire revenue team. It is not just marketing operations, sales operations, and customer success operations combined into one team. It includes all the sellers and marketers and customer success professionals that are all working together to power the revenue engine and drive revenue results.
For a more in-depth primer on revenue operations, take a look at our story and infographic The Rise of Revenue Operations
Introducing: Clari's Revenue Operations Framework
The revenue process starts with the operating plan, where revenue goals are set for the company. We've defined three main phases, which each have their own process:
Engage is the process of generating awareness and demand within your target segments and target accounts. In this phase you target the right accounts with marketing programs and campaigns, and your SDR team is actively prospecting into these accounts with the right messaging and offers to build the pipeline.
Execute means taking qualified pipeline and managing it to close in a predictable way. In this phase, you enable your field organization and continuously provide coaching and guidance to convert that pipeline to close.
Expand is the process of retaining and growing your footprint within your install base. In this phase, you manage renewals, cross-sell, and up-sell opportunities to drive customer retention.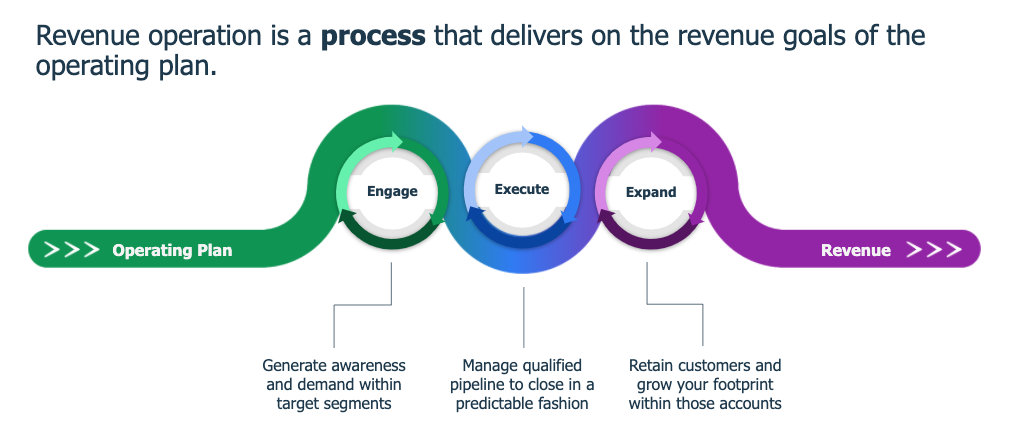 This will look different for every company, depending on your business model. The key to driving what we call full-funnel accountability across the entire revenue process is the forecast, which is the output of every stage in the revenue process and the heartbeat of revenue operations. The forecast at each stage represents the commitment of the team that's accountable for that stage.
The growth team provides the quarterly TOF pipeline plan: How much pipeline they commit to deliver by segment, by team, and by region for the coming quarters.
The sales team provides the current and out quarter sales forecast against net new ARR targets from the operating plan.
The customer success team delivers the current and out quarter churn forecast against net retention targets. This also informs what changes needed on the net new business to hit revenue targets.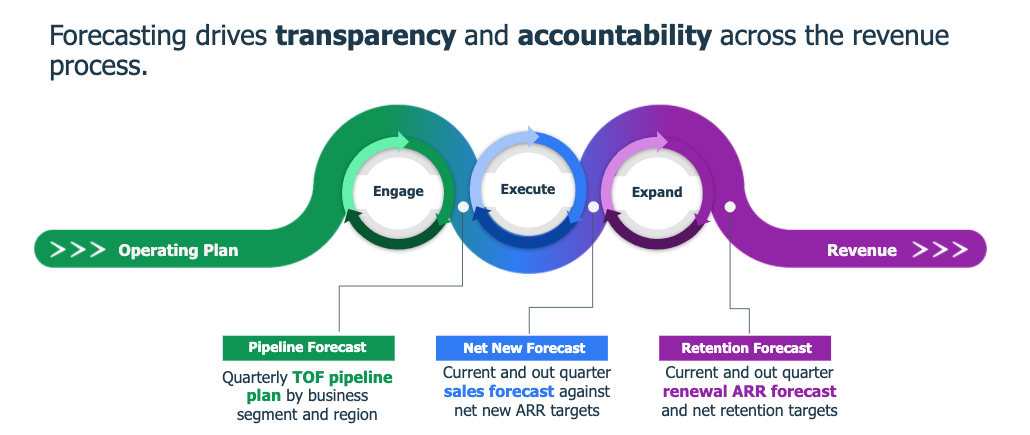 Below we'll dive into each of the three phases in our Revenue Operations Framework, covering inputs, processes, metrics, the tech stack, and KPIs.
Phase 1: Engage
The first phase of the Revenue Operations Framework is mostly driven by growth marketing, demand generation, and SDR teams as the top of funnel motion with the main KPI of qualified pipeline.
"Most top of funnel teams are oriented around MQLs, calls, meetings or opportunities created," says Kyle Coleman, VP of Growth and Enablement at Clari. "That causes a disconnect with the rest of the revenue team because that's not what the rest of the revenue team cares about. They care about quality pipeline that can actually turn into revenue."
In this way, all of the inputs, processes, metrics, and tech are aligned with the sole purpose of driving qualified pipeline. And it also dictates how the entire top of funnel team functions.
KPIs
Inputs
Operating plan
ICP definition
Segmentation
Processes
ABM
Digital Ads
SDR Outreach
Metrics
Quarter-to-date pipeline created
Quarter-to-date pipeline quality
Next quarter coverage
Pipeline acceleration
Target account engagement
Tech Stack
Marketing automation
Sales engagement
Conversational marketing
Data enrichment
Revenue operations platform
"We expect about 65% of the opportunities our SDRs create to become sales qualified," Coleman says. "If 100% of the opportunities SDRs create are qualified, that's not good. That means they're qualifying too much out. Conversely, if the conversion rate is 10%, that's not good either because it means the SDRs are inundating the sales team with low quality opportunities."
When the entire revenue team can align on the key success metrics, they can spend their time driving meaningful impact instead of debating the data or clamoring for acknowledgement.
"Our team is so tightly integrated that it's less about who gets credit for what and more about the results happening," Coleman says. "The most important thing is everybody is engaged—marketing, SDR, AE—and they're all working toward the same results."
Phase 2: Execute
The teams primarily responsible for the execute phase are field sales teams. They're the ones driving deal inspection and deal execution. Key to success in this phase are the operational cadences the entire revops team adheres to.
"Two keys to success in the execute phase are the GTM teams' ability to focus company capacity on the right segments, and the front line leaders ability to target their coaching on the right deals in those segments," says Anthony Cessario, VP of Enterprise Sales at Clari. "In this remote world, having the right instrumentation and revenue cadence in place to keep a pulse on these efforts is more critical than ever. Whether it's one-on-ones, forecast calls, QBPs (Quarterly business plans), out-quarter sales pipeline reviews, or your ABM checkpoints, ensuring all participants have a single and clear lens into the data allows us to focus our time on making the news and not on reporting it."
KPIs
Inputs
Operating plan
Pipeline plan
Territories
Quota
Processes
One-on-ones
Deal reviews
Account reviews
Quarterly Business Review
Metrics
Net new ARR/average contract value
Win rate
Sales cycle time
Average selling price
Customer acquisition cost
Forecast accuracy
Slip rate
Quota attainment
Rep ramp time
Tech Stack
CRM
Revenue operations platform
Sales enablement
Conversational intelligence
While the CRM is critical to business growth in this phase, it's not enough. A revenue operations platform like Clari gives you true visibility into each deal and account in the context of your most important revenue cadences so you can see what's going on in your business, have confidence in your number, and get a clear line of sight into how you're going to hit it.
"We use Clari as a single source of truth," says Rosalyn Santa Elena, Head of Revenue Operations at Clari. "Data from every part of the tech stack, from CRM to marketing automation to email to calendars to sales engagement, gets brought into Clari so we have a real time, accurate view of everything that's going on in the deal."
Phase 3: Expand
Customer retention is just as important as net new customers, especially for SaaS businesses running on subscription models. This phase, which is primarily led by the customer success and account management teams, holds equal weight as the previous two phases.
But just like every other phase, there is room for cross-functional collaboration across the entire customer journey.
"Understanding the different strengths and priorities of your sales and customer success team will enable and empower your revenue organization to create clearly defined roles, responsibilities and processes," says Amy Johnson, VP of Customer Success. "If customer success is focused on driving value and adoption, sales can ensure executive alignment and drive any commercial conversations with the customer for renewal and expansion opportunities."
When the entire revenue operations team comes together and aligns under the same goals, they can streamline the customer experience—instead of creating a siloed experience where the customer feels like they're tossed from team to team.
KPIs
Renewal and expansion ARR
Inputs
Operating plan
Churn budget
Renewal quotas
NPS
Account health
Processes
Renewals
Churn forecasting
Whitespace
Metrics
Net dollar retention
Churn/renewal rate
Upsell/cross-sell ARR
NPS
Customer lifetime value
Customer segmentation
Tech Stack
Customer success
Product analytics
Revenue operations platform
The team in charge of this phase may be structured slightly differently depending on your organization. At Clari, renewals and expansion are led by the account management team. Customer success is responsible for training, user adoption, and ensuring customers get the most out of our product.
"We do this purposely so our customer success team can focus on doing what they love, which is enabling and empowering our customers to be successful with the product," Johnson says. "When the pandemic hit, we immediately took action and created several programs to ensure our customers were continuing to see value in our product by optimizing their use of Clari and tailoring some of our features for them."
Revenue operations pitfalls
Of course everything we've shared up until now sounds great: alignment, accountability, the ability to take action as a revenue team. But where do things tend to fall apart?
"It all starts with data. That's where we see most of the problems starting," Coleman says. "When marketing is looking at their own set of pipeline metrics and sales has a different view of the top of funnel KPIs, this deepens the silos. When I review our top-of-funnel metrics with our sales leadership, we are always on the same page because we're using the same view in Clari. Instead of using our time to debate the numbers, we're proactively taking actions to accelerate the current quarter and, if needed, de-risk future quarters."
Marketing, sales, and customer success need complete and accurate information to drive campaigns, advance opportunities, and forecast the business.
Clari automatically captures rep activity and customer engagement data, and ingests data from tools like marketing automation, email, calendar, and sales engagement platforms, so revenue operations teams can have a full view of what is actually happening across every deal at all times. In fact, 78% of leaders report improvement in data quality since they began using Clari.
Interested in learning more about our Revenue Operations Platform? Let's schedule a meeting or read more here.
You can dive deeper into the mechanics of revenue operations below: