Let's be honest—many women face an uphill climb with headwinds in the B2B sales realm. Women still hold less than one third of B2B sales jobs—29% of reps and 26% of managers— according to a study by Xactly which surveyed 300 businesses.
But the same study found that female salespeople often outperform their male counterparts—86% of women achieved quota, compared to 78% of men. Teams led by women also reached higher win and quota attainment rates (94%) compared to male-led teams (91%). And like the old saying that women have to do everything backward and in heels, women in direct sales roles still earn 22% less compared to their male counterparts.
October is National Women in Sales month. From the Vice President of Sales to Inside Sales, and beyond, our revenue women at Clari share their advice on how to drive predictability and rigor in your revenue process.
Holly Procter, VP of Sales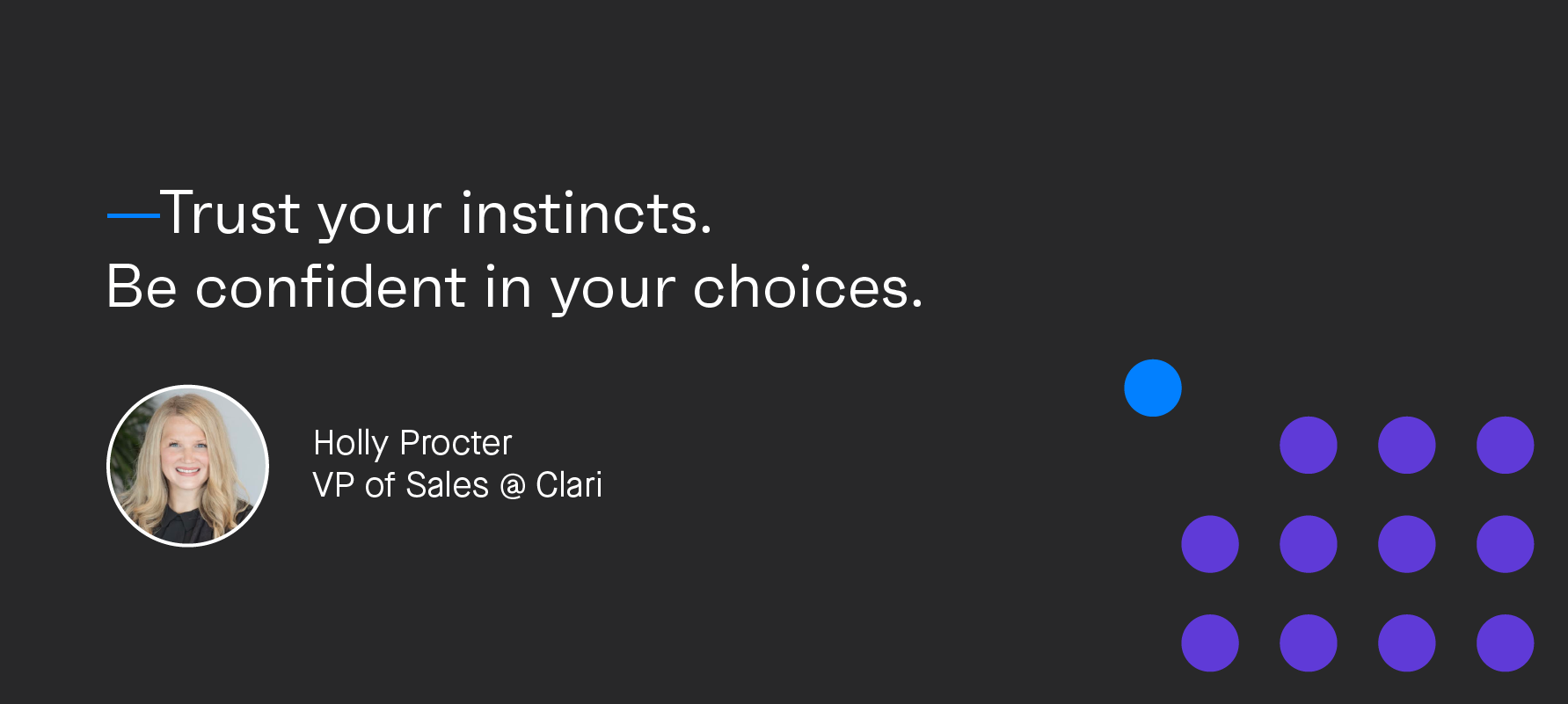 Background: As Vice President of Sales at Clari, Procter oversees the Commercial team in North America. She's run large sales teams at WeWork and LinkedIn and is passionate about investing in people.
Top tip: "I'm often exposed to women in sales who are seeking guidance or direction on decisions that they seem to already have confidence in. Mostly, they are looking for reassurance or validation about a decision they already know the answer to. I see much less of this from men.
If you have to ask, you already know the answer. For example, if you find yourself saying, "I'm not sure this person is the right fit for our team, should I give them one more shot?" No. You already know they aren't the right fit. Trust your instincts. When you trust your instincts, you can move faster and with more confidence. It's liberating."
Maya Parmer Connet, Enterprise Revenue Director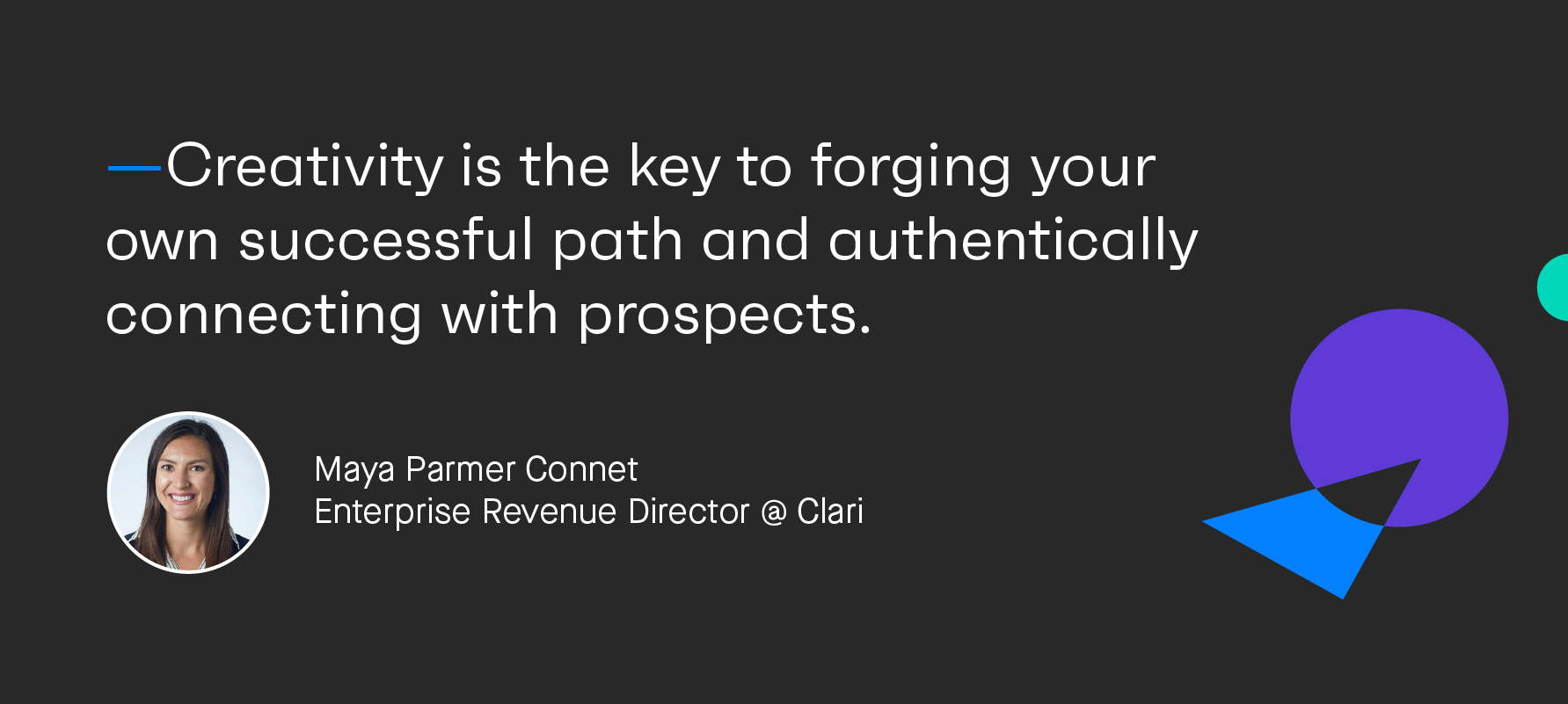 Background: Connet started her career in marketing and communications before transitioning to The Wall Street Journal, where she worked in advertising sales. She worked for Marketo and for Oracle Marketing Cloud before joining Clari as Enterprise Sales Director.
Top tip: "In a previous company, I was one of only two female sellers at headquarters. Instead of trying to blend in, I choose to stand out. I learned to do things uniquely—I leaned into what I offered that my male colleagues didn't. I had supportive male leaders, but I created a signature style of selling—and folks tried to replicate it.
I'm human first, a consultative advisor second. Hence, when I'm starting an opportunity, I take notes on the project leader's favorite wine, their kid's sports of choice, dream destination. I incorporate these into every conversation.
For example, a prospect shared that the current selling environment felt like 'all the kids on the field running towards the one soccer ball.' We took that analogy and ran with it—pun intended. We themed the next onsite meeting with the prospect around a soccer game with different positions, a half time break, snacks, and Gatorade. That kind of creativity helps you stand out from the crowd."
Rosalyn Santa Elena, Head of Revenue Operations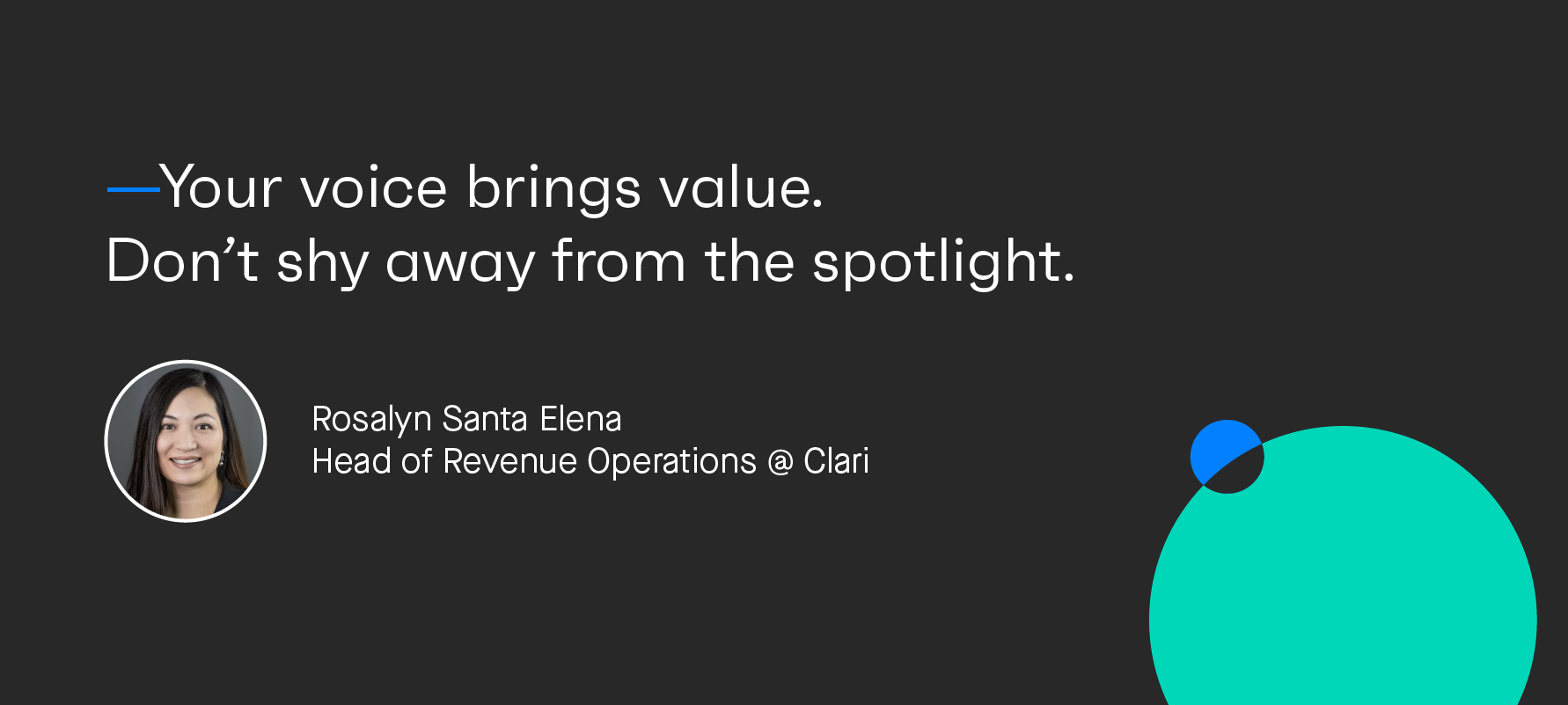 Background: Santa Elena is the Head of Revenue Operations at Clari and an advisor at Sendoso and CaptivateIQ. With over 20 years of experience leading GTM and Revenue Operations, Rosalyn has a passion for building and optimizing teams, processes, and systems to drive excellence across revenue teams.
Top tip: "My role in Revenue Operations is really to help the revenue engine run more efficiently and effectively. Although I may not directly close deals, I look at the RevOps function as the enabler to drive more revenue, faster. Women shouldn't shy away from such roles as operations just because the industry has been primarily male-dominated. Use that powerful voice that you have and be heard for all of the value that you bring to an organization."
Lynn Powers, Commercial Sales Director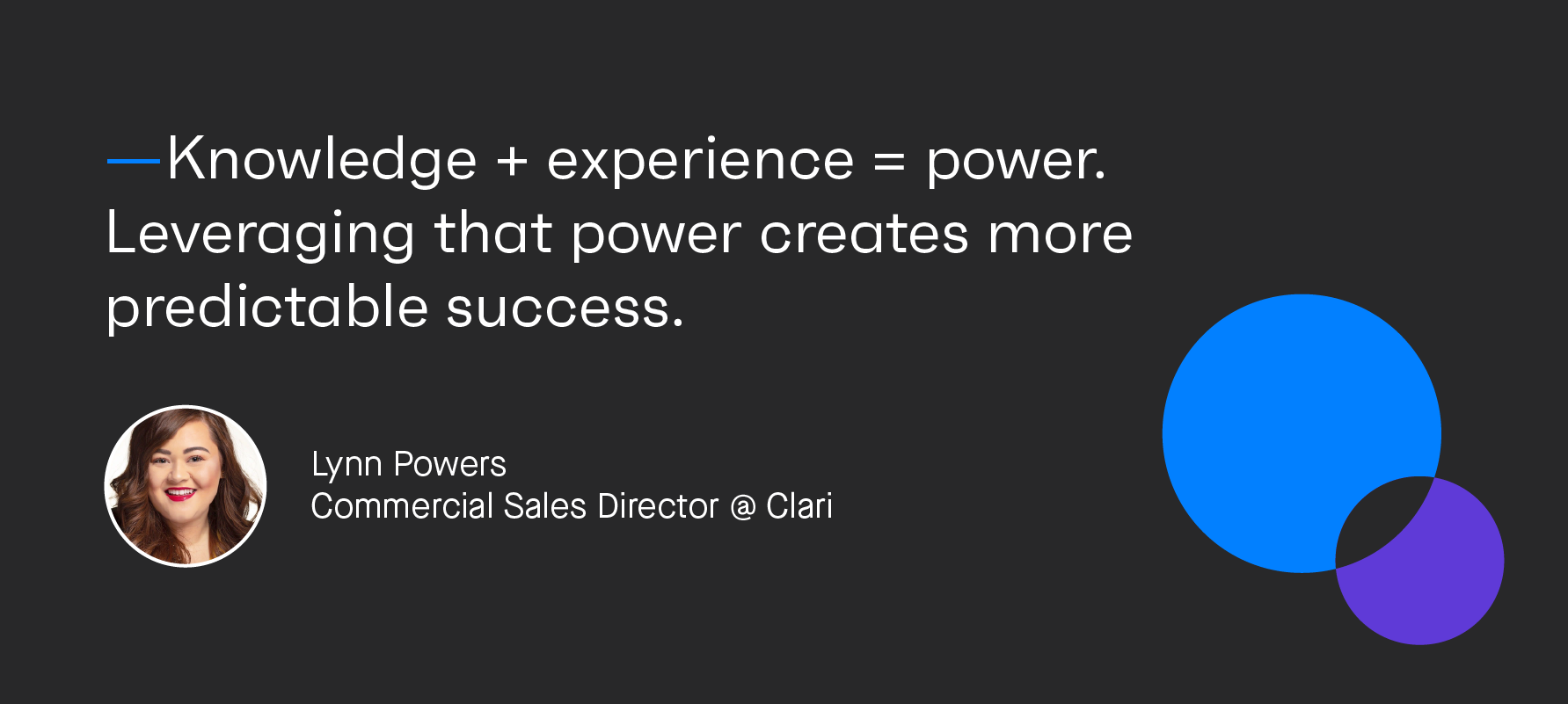 Background: Powers is Clari's Commercial Sales Director, focused on high growth companies in the Bay Area. She caught the sales spark at a young age helping her dad with his T-shirt business. Throughout her career she has navigated selling through the transition from hardware to cloud, building a brand as a startup aiming for IPO, and through private equity ownership. She uses her knowledge of what happens through these transitions to help her customers get revenue confidence.
Top tip: "The foundation of my deals is: Ensure your customers' strategic initiatives are top of mind in every conversation. Right now, companies are experiencing tailwinds and headwinds unexpectedly, but their boards are holding them accountable to be able to predict where they will land.
It's important to follow your process, pivot from risk early, and partner with your prospects and customers on the value you provide. During COVID-19 budget freezes, I've developed relationships with my prospect's board members to understand what they're holding their portfolios accountable to and how to unlock budget when it's frozen. To be successful in an uncertain market you must be flexible and willing to get creative."
Kaylee Miller,
Enterprise Account Manager at Clari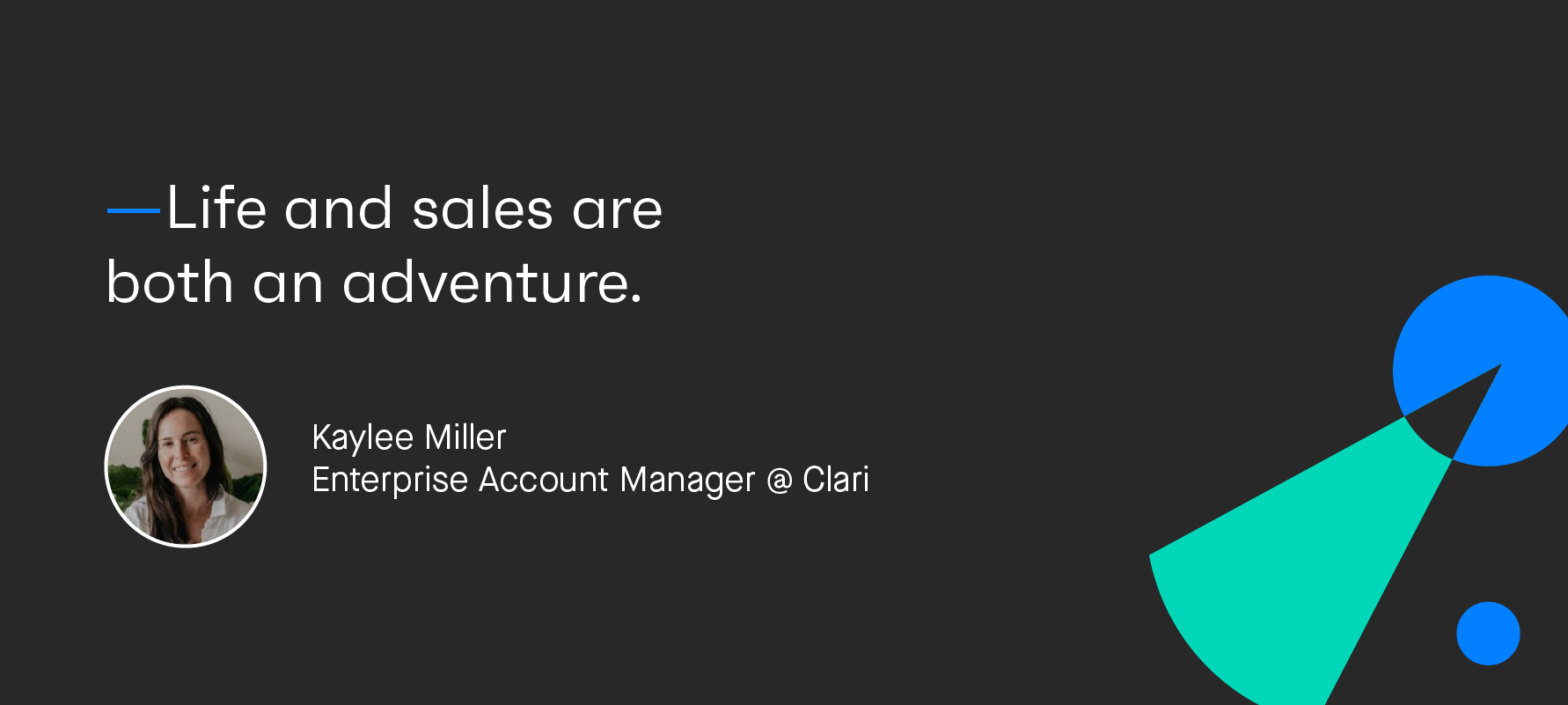 Background: Miller's international background feeds her drive to connect with people. Born in South Africa, she immigrated to London at age 8, then to California at 10. She attended the (former) French Culinary Institute and landed private chef gigs for the stars, lived in the Himalayas and was a chef consultant in London and Israel. Burnt out from the food world, she pivoted to sales.
Top tip: "We are all so different, and we all bring a unique perspective to the table. Embrace and leverage your team's unique skill set, and use it to your advantage. Every deal is different, and successful sales people know how to read a room, connect, and convey genuine empathy with peers and clients."
Stephanie Silliman, Senior Sales Engineer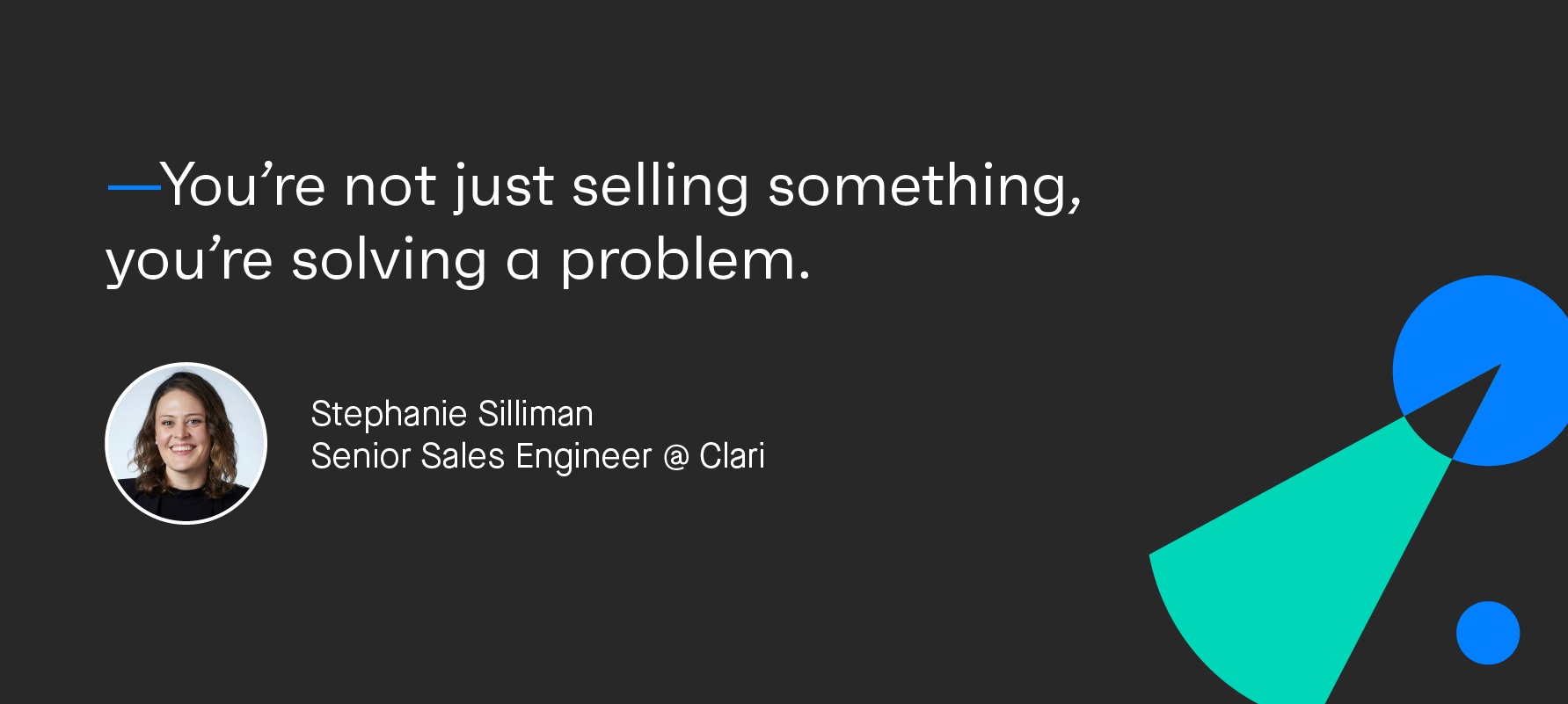 Background: Sillman is a Senior Sales Engineer at Clari. She uses her technical acumen and methodical problem solving to drive Clari's global expansion as the leading Revenue Operations Platform. She believes that a great Sales Engineer should be a technical translator and trusted advisor for all stakeholders throughout the sales journey.
Top tip: "Before every meeting take a quick pause—even a few seconds—to meditate on helpfulness and gratitude that way, you'll start your meetings from a positive perspective. That's the best advice I got from my mentor. Remember, you're not just here to sell something, you're here to solve a problem, and bringing an attitude of helpfulness to every meeting will drive you to find solutions."
Vivianna Vu, Inside Sales Representative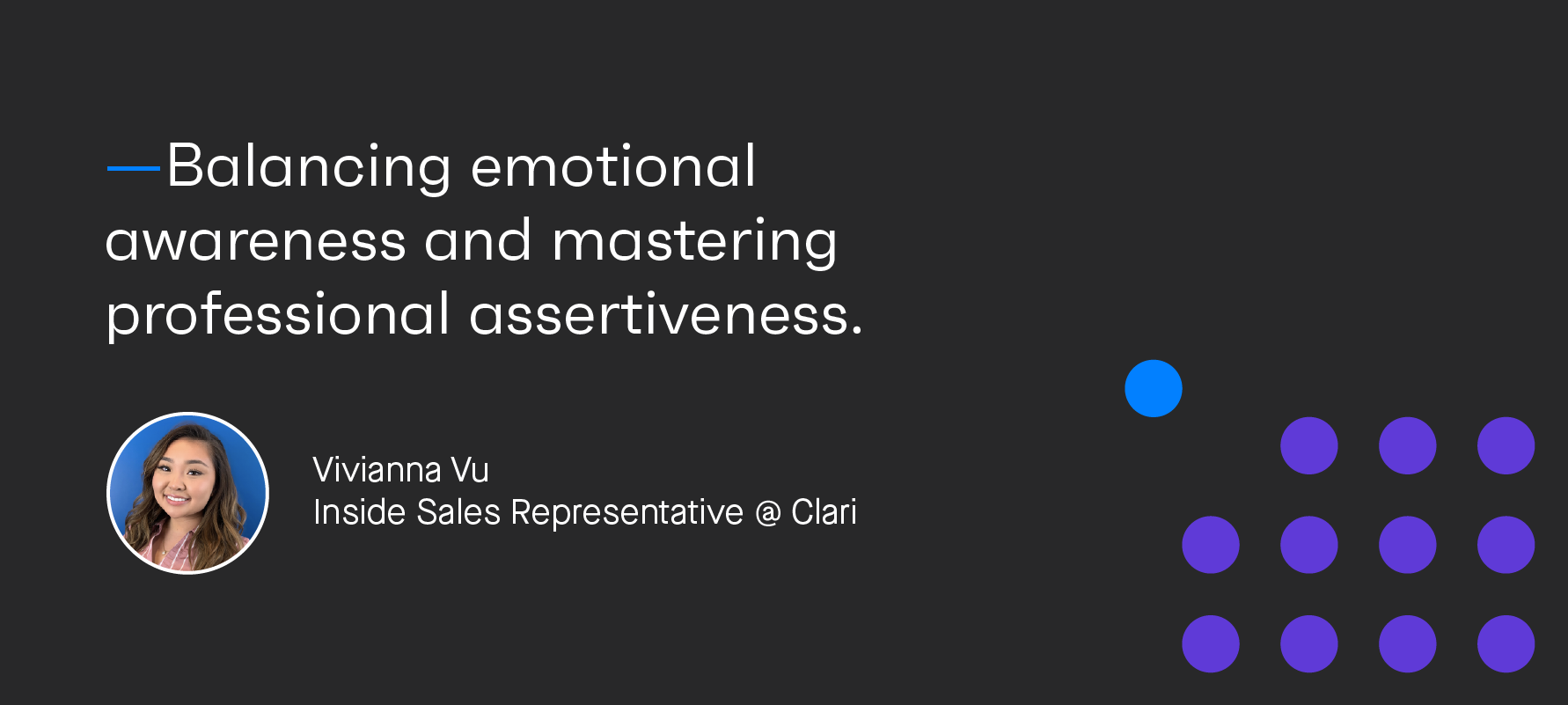 Background:Vu's passion for sales began during a college internship where she sold advertising placements to online retailers. She joined Clari as one of the first Commercial Sales Development Representatives after graduation in 2019. Vu now targets strategic accounts as Clari's Inside Sales Representative.
Top Tip: "It's so crucial that younger women in sales understand how important it is for their voices to be heard and to stay steadfast in what you want to convey. Many of the best female sales mentors I know balance emotional awareness with professional assertiveness. It's easier said than done, but it begins with knowing you deserve a seat at the table just as much as the next person."
Caitlin Zylstra, Commercial Revenue Director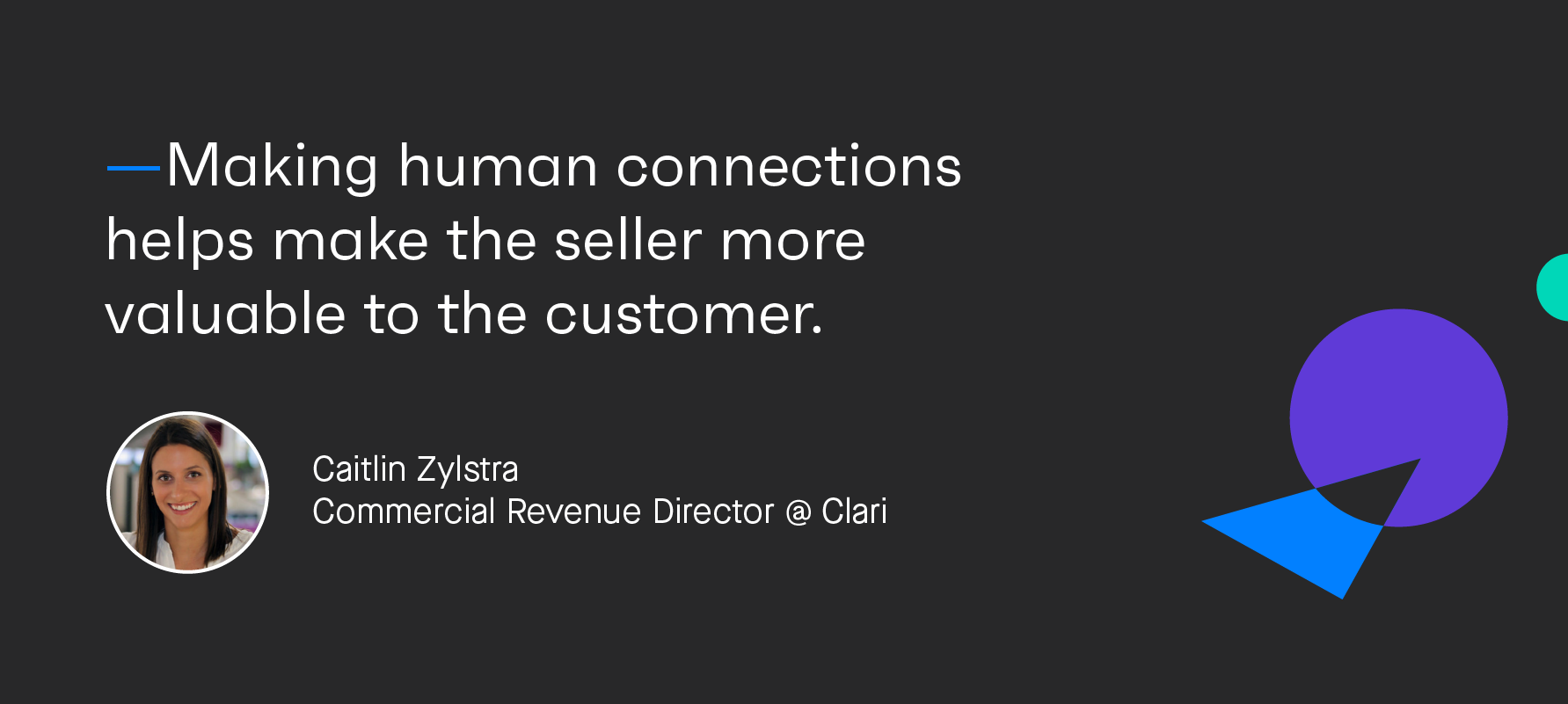 Background: Born and raised in the Bay Area, Zylstra has 10 years of corporate sales experience ranging from furniture sales, to corporate real estate, and now tech.
Top tip: "I have always felt like I have been treated as having an equal seat at the table. However, as a new mom, being a working parent has helped me find balance and be more transparent with my prospects around expectations. When you can start your meetings with a funny story about your child—especially in these times—it sets the stage that we are all real people.
Another example of making business more human: Even if I'm speaking with someone who isn't the decision maker, I equip them with the knowledge and materials to help them succeed. I'll reach out to an account executive at my prospect company. I meet with them, even though they aren't the target buyer, to learn more about the company's goals and values. The insight from these meetings makes me that much more valuable to the end buyer. In return, I offer my network to see where I can help my peer account executive."
Meredith Conroy, Sales Director, Enterprise-Strategic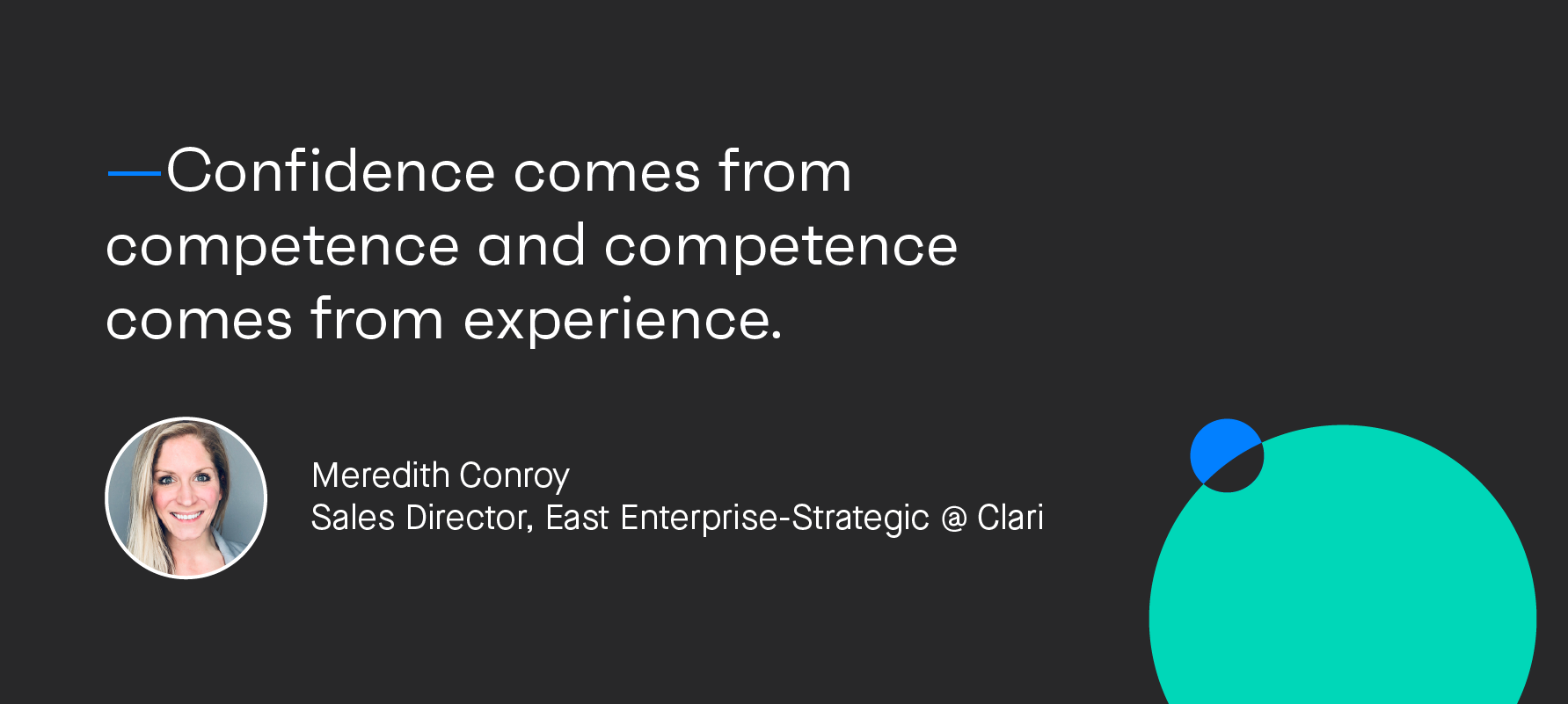 Background: As a sales director on the Enterprise-Strategic Team, Conroy is responsible for building Clari's customer portfolio in the Northeast United States and Canada. Originally bound for a medical career, part-time sales jobs in college made her realize she had a knack for connecting with people to understand their needs and offer a solution.
Top tip: "No matter what you're selling, the most important piece to success is truly believing that what you have to offer will make an impact on your buyer's life. People can feel your energy, so the more you speak with conviction, the more your audience will trust that what you're telling them is true.
Ask for help. As women, I think we often see asking for help as a sign of weakness, but there are times when it's necessary to set boundaries, recognize our limitations, or simply say "no, that doesn't work for me." When you own your shortcomings, you create room for growth."
Wesley Metter, Account Executive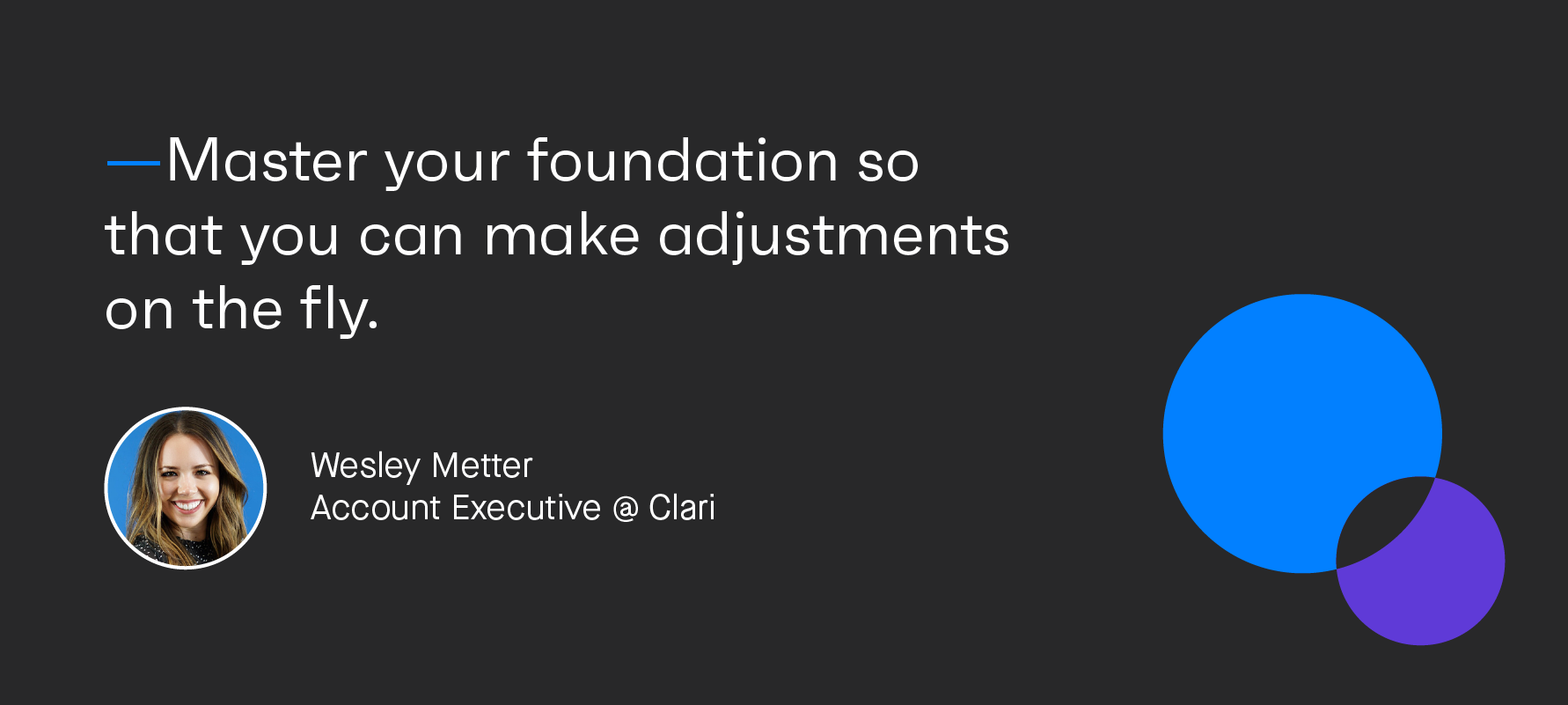 Background: Metter is passionate about sales and always looking for exciting ways to get creative. Her favorite thing about sales is that it's cyclical. If you do the right things, be brave, and be bold, good things will come.
Top tip: "I'm an ex-dancer, and something that was extremely core to standing out in auditions was to focus on getting the choreography down. Then you can put your own flare on it, and shine. If you didn't get the choreography first, any creativity would appear unnatural.
Translating that to sales: First, focus on the basics—your pitch, your demo, your presentation. Once you know it like the back of your hand, that's when you make it your own. Tailored everything to the customer, to the audience. You'll see that making adjustments on the fly will now seem easy. You won't be thrown off by interruptions. You'll always be in control."
Women are the future of B2B Sales
Creativity, confidence, connection, empathy. Today's changing sales environment requires these attributes in deals. With the market saturated with solutions, it's the frontline sales team that helps your company stand out from the crowd to solve your prospects' top challenges.
What are your top sales tips? What unique skills and strategies do you bring to your deals? Let us know on our Women in Sales Month celebration LinkedIn Post here.
Looking for your next sales role? Take a peek at some of our current openings.