A little over five years ago, venture capitalist Aileen Lee coined the term unicorn to identify startups that accomplished the rare feat of achieving a billion dollar valuation. Back then, the fabled "Unicorn Club" included about 39 companies (accounting for only .07 percent of venture-backed companies), but today that number has increased nearly tenfold to 376 companies and counting.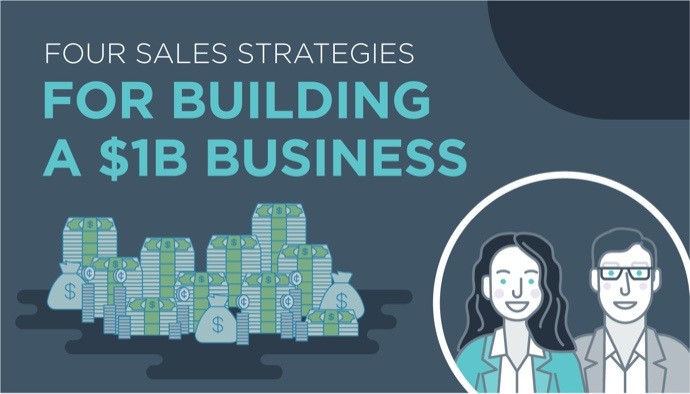 Of course, market valuation is not the same thing as revenue. Not every unicorn goes on to fulfill its early promise, which makes the success of FireEye, an early member of the Unicorn Club, even more impressive. In 2010, the Milpitas-based cybersecurity firm had an innovative product, but no sales and no go-to-market plan. Their 2013 IPO was one of the most successful of the year, but it was just a milestone on the way to $1 billion in sales. What spurred the incredible growth trajectory?
In episode 2 of our "Masters of Revenue" video series, Jeff Williams, now a Partner at Bain Capital and Christina Foley, VP Worldwide Commercial Sales at FireEye, share the winning formula they created at IronPort, (acquired by Cisco in 2007) and perfected at FireEye. With Williams heading enterprise sales and Foley on the commercial side, they built a sales organization that hit its forecast for 24 consecutive quarters.

Williams' and Foley's formula for success includes four big ideas that can work not only for sales leaders building from the ground up but in any size company. Here's what to do:
1. Segment your market along the "hug line"
Williams and Foley identified two major segments of their market: commercial and enterprise. Enterprise sales usually involve multiple decision makers and big price tags that require extended sales cycles and high-touch efforts by field reps. In contrast, commercial sales have smaller price tags and higher velocity. One way Williams and Foley categorized those opportunities was through what Williams coins the "hug line."
"There's a segment of customers who literally want to shake your hand in the field as part of the sale," Williams says. "Part of the selling motion for those larger accounts above the hug line was to offer them that handshake experience."

On the commercial side, "We were really focused on Webex, video conferencing, and as much communication as possible by phone and video chat to make sure we were listening to the customer and picking up their buying signs," Foley says.

Identifying the opportunities that required a more high-touch, in-person handshake experience versus those that didn't was critical to addressing the specific needs of those deals.
"One of the keys to our success was making sure we had alignment on segmentation," Foley says. "What was the market the commercial team was going to go after, so field sellers could go out and execute the larger transactions? It was really important getting that clarity right out of the gates."
2. Tackle the enterprise and commercial markets simultaneously
It's been said that fighting a war on two fronts is detrimental to success, but in order to hit $1 billion in sales, Williams and Foley recommend doing just that.
"One of the things I learned at IronPort is we should have tackled the enterprise and commercial business in parallel, so when I got to FireEye, we built out teams to sell to both markets right away," Williams says. "Most startups go right to the top of the pyramid, but they're leaving this massive market segment open to competitors. In order to build a wildly successful company, you need to dominate every market segment."

While building out the enterprise business allowed Williams and Foley to pursue big name and high-value strategic accounts, higher volume and velocity on the commercial side yielded more data points, which helped them refine the selling motion, establish metrics and achieve forecast accuracy early on. "We looked at the commercial business and said, 'Okay, what's our close rate on 100 evaluations,' and then we could clearly forecast where we would be at the end of the quarter," Foley says.

They effectively leveraged the commercial business as a revenue-generating proving ground for validating the market and the sales process. "Once you prove those things out, you can triangulate on the metrics and hit the acceleration button in both markets," Williams says.
3. Define a repeatable selling process
When you're starting out, it's hard to close those first few sales, and it can be tempting to offer to tailor your solution to each customer's needs just to win the deal. That's not a scalable approach. Instead, try to solve the same problem for your first five customers.
"If you're trying to solve five different problems you're not actually creating a repeatable process, and you're not building a go-to-market strategy that can scale," Williams says. "When you solve a common problem you can start to hone in on critical aspects of the sales process: What will average deal size look like? How long will the sales cycle take? And what was the win rate to get to those five?"
Getting those things nailed down is the foundation for growth. "If you get the board and the leadership team comfortable with the repeatable process you built with those first five customers, that will allow you to invest in scaling your organization," he says.
4. Begin channel sales early
In the early stages of building out a sales team, capacity will be limited by headcount. One of Williams and Foley's other key learnings from IronPort was to start building the channel sales organization early on to increase their bandwidth.
"We had a small sales force for commercial sales, so we gave as much to the channel as we could," Foley says. The goal was for partners to be able to go out and work deals with FireEye's sales engineers, allowing Foley's team to focus their efforts on the more strategic deals.

To meet that goal, they looked for partners that already had deep expertise in areas similar to FireEye's cybersecurity products. "We took a calculated approach to recruiting smaller value-added resellers that had domain expertise so they could not only introduce us to prospects, but help make customers successful," Williams says.
They offered these partners the same training curriculum as their internal sales reps and allowed them to collaborate on deals with the FireEye sales team to get them up to speed. "The only way you're going to get channel partners excited is if you can show them how to win," Williams says.
Revenue is the glue that holds partner relationships together, so it's critical to make sure you're empowering your partners to win. "There are tons of products that partners can sell," Foley says. "They're going to find the one that makes them the most money and is the easiest to sell."
Accurate forecasting as a growth driver
While markets change, and no two businesses are alike, these four sales strategies form the basis of a formula that proved its value at IronPort and again at FireEye, ultimately delivering consistently accurate sales forecasts that allowed both companies to confidently invest ahead of growth.
"For any sales organization that's looking to grow, you need to have the right people in place and make sure that there's enablement, segmentation, a well-defined selling motion, tools that allow them to succeed, and competitive plans that they have a line-of-sight to," Foley says.

All of these things lead to better forecasting, which leads to more trust, which leads to bigger growth.
"If you trust the forecast, you're on the offense, focused on productivity and growth versus having to question or manage the data, and that's a fundamentally different way of operating," Williams says. "At the middle of every quarter, we could see what we would close a quarter out and we actually would pull headcount in ahead of the operating plan to drive sales capacity. We built organizations that scaled well beyond most organizations because we trusted the forecast. That's the foundation that made us so successful."
Want more Masters of Revenue content? Check out the full episodes here.