Who owns the pipeline?
For some companies, this question may seem obvious: sales. That's why it's usually called a sales pipeline.
But some organizations might say the pipeline falls under marketing—they need to fill and nurture it.
And still some would agree that there is a mix of ownership between sales, marketing, and even other organizations.
As prospects move from marketing to sales, some might say that it's an operations role to manage the pipeline processes—streamlining the prospects' journey.
Today's high-growth companies cannot operate in silos, and multiple teams often have a hand in different parts of the sales pipeline. So if multiple teams own the pipeline, who owns which part?
Whose pipeline is it, anyway?
Sales
Sales teams don't just own their current quarter's pipeline—they own how they balance it out for the present and the future. They need visibility into their own activity and understand how their prospects are engaged so they can nurture them throughout the cycle.
A Harvard Business Review study found that 44% of executives believe that their organizations are ineffective at managing their sales opportunities, even though effective sales pipeline management can boost an organization's growth rate by 15%.
Managing opportunities better and improving pipeline management requires thinking outside the box—or better yet, quarter. A sales manager that only has 1X pipeline coverage, for example, will have to convert their entire pipeline to hit their number. Even if they can convert, they revert to square one for the next quarter. Effective pipeline management means focusing on not just the current quarter, but the next one as well.
Forbes notes that myopically focusing on the current quarter neglects the early pipeline stages, their progress, and their future value. This type of short-term thinking shifts the focus from a confident, strategic mindset and causes salespeople to sacrifice investment in tomorrow's growth while scrambling to make their number.
When examining their pipeline, sales teams need to examine two things.
First, what does quality pipeline coverage look like? Start with these metrics:
Total revenue in open opportunities
Total revenue won
Gap to quota
Pipeline coverage
Average length of sales cycle
Average contract value
Historic win rate percentage
They will also want to review account engagement data—every touchpoint made by your revenue team with a prospect or customer and their reciprocated responsiveness. This helps sales reps understand where they need to nurture deals along the pipeline and identify at-risk deals.
Look at metrics like:
Number of emails sent and received
Number of meeting scheduled
Number of files sent, opened, signed, or sent back
Number of calls made
In the end, many sales teams are measured for hitting quota, but is it a Herculean effort every quarter? What other revenue metrics might be falling to the wayside?
Marketing
Is your marketing team judged by the quantity or quality of leads they provide to the pipeline? For many teams, the answer is often a mix of both.
Increasingly, marketing takes ownership of the pipeline, playing a strategic supportive role in not only filling it but helping it progress in a predictable manner. The marketing team needs key data points to align with sales on their goals and strategies.
Success metrics for marketing have evolved over the years. Kyle Coleman, Clari's VP of Growth and Enablement, explains: "Lead scoring capabilities ushered in the era of Marketing Qualified Leads (MQLs) as a primary success metric, but that still left room for misalignment between marketing and sales teams. How many times have you heard marketers say they hit their MQL number only to have sales find them unusable?"
If the goal is to create high-quality pipeline, marketers need to constantly inspect and qualify the pipeline that's generated. It's not just about the number of deals generated, but the value of those deals.
It's vital that marketers track pipeline as an investment in business growth. Marketers need visibility into the pipeline and accountability to help accelerate or reengage deals strategically with campaigns, offers, content, and events.
How marketers can use Clari to manage pipeline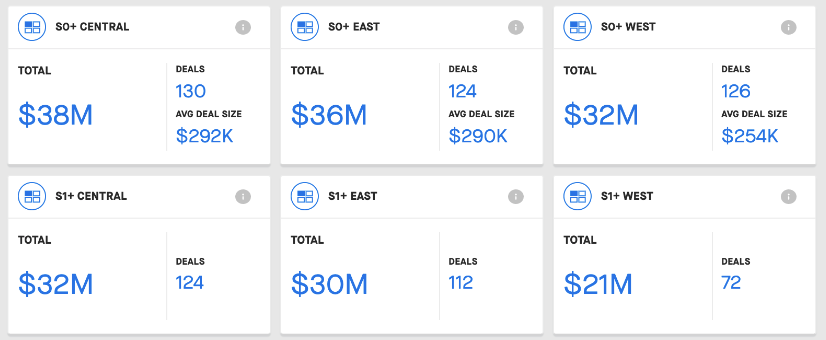 For example, this view shows what Coleman considers when evaluating the pipeline areas he owns. He can see that the West region is on par with others in terms of Stage 0 pipeline, but falls behind in comparison to Stage 1. Using this knowledge, he can partner with the AVP of the West team to understand what's preventing these opportunities from moving through the funnel and they can strategize ways to redirect marketing budget to support the West team's efforts.
Visibility drives this type of cross-team partnership. If this sales data is siloed in the CRM, marketers can't get the insights they need to support the pipeline health. That's where a revenue platform like Clari comes into play.

In this second example, we can see a major performance gap between the West key accounts compared to the others. Marketers can take this analysis to the larger organization to ask questions like:
What's the click-through rate on digital ads?
What's the attendance rate for bespoke virtual events?
What's the engagement rate with various nurture streams?
Is messaging falling flat?
Can we get some exec or BOD intros to accounts?
Would additional budget for direct mail tactics be warranted?
As marketing continues to own more of the pipeline, and the pipeline quality, it's critical that the communication between sales and marketing is streamlined at every stage of the customer journey
Revenue Operations
For sales and marketing teams to own their roles in pipeline management, they need clear visibility and processes.
The revenue operations team ensures that teams know how much pipeline they need to generate in the current and future quarters to hit goals, which in turn drives predictable revenue.
Gary Sahota, Clari's Senior Manager of Analytics, says, "Many organizations follow the 3X rule, but how you calculate this ratio will depend on many factors, including your business segment, your product, the length of your sales cycles, and more.
Sahota's pipeline coverage calculation:
Late-stage pipeline coverage = (Stage 2 deals + Pipeline $) / (Forecast $ - Closed $)
In today's uncertain economic climate, it's important that leaders review their data regularly to ensure that they have the pipeline coverage they need to hit their goal.
For example, our COVID Revenue Impact Study found that organizations slipped 8% more late stage pipeline deals (stage 2 and above) compared to the same quarter last year.
Revenue operations leaders can work with other revenue teams to locate available pipeline that could potentially be pulled in and see if they could work with marketing, finance, and other teams to pull those deals into the current quarter.
For example, in Clari, the Pulse module gives revenue operations teams the visibility into how the current quarter is shaping up—although, when Clari is available to the entire revenue team, each stakeholder can track how current and futures are shaping up every step of the way. It allows them to compare their current pipeline and ongoing pipeline coverage with their quota, closed-won, forecast, and AI projection data.
Let's say that your quota is $55 million, like the above scenario in the screenshot. Clari's AI analyzes all of the deals in the pipeline and factors in historical data to predict that you can reach $46 million in closed deals. That's a $9 million discrepancy, though. The pipeline coverage is 1.9X. If your calculations say the revenue team needs the industry standard of around 3X pipeline coverage, the teams know that there is a potential problem for sales and marketing to address.
Learn more about The 3 Steps for Improving Your Sales Pipeline Visibility.
In the end, operations owns how marketing and sales are enabled and the cadences that keep them aligned throughout the quarter. They can take key information out of siloed tools and get them into one place so everyone can see the insights. From a process perspective, they define cadences so that those insights turn into actions that are inspected for performance throughout the quarter. That is revenue intelligence.

A revenue team aligned around pipeline excels
Winning revenue teams leverage their pipeline to inform and power their business strategy. The answer to the question, "Whose pipeline is it anyway?" is: Everyone is responsible for understanding the insights from their pipeline and taking actions towards helping the revenue organization hit its goals.
Clari's revenue operations platform helps by getting all of these teams into a single source of truth and empowering them with the real-time data they need to take action. Request a demo to learn more.
Want to see pipeline alignment in action? Learn how Okta leveraged Clari to conquer their aggressive growth plans and secure their IPO with rigorous forecasting and pipeline management process. Read the case study.