Visibility into the sales pipeline is crucial to every aspect of your business. Knowing how your pipeline has grown and where it needs to be is key to nailing the sales team's sales forecast and, ultimately, the entire company's forecast, which allows your firm to invest and grow with confidence.
Many organizations struggle with poor sales pipeline management and visibility, however. Clari's research found that 93% of sales organizations are unable to forecast revenue within 5%, even in the two weeks prior to the end of the quarter.
A Harvard Business Review study found that 44% of executives believe their organizations are ineffective at managing their sales opportunities, even though effective sales pipeline management can boost an organization's growth rate by 15%.
We take a deep dive into why achieving pipeline visibility is so hard, and what you can start doing today to create more visibility and boost sales performance.
What is sales pipeline visibility?
Pipeline visibility means the entire revenue operations team has data and insight into the sales pipeline. This includes the marketing team, customer success, product management, and finance, as well as the different groups within the sales team, like sales reps, sales managers, sales leaders, and the chief revenue officer.
Good pipeline visibility improves both forecast accuracy and the ability to properly manage the pipeline. Visibility ensures you know much pipeline you need to generate in the current and future quarter to hit sales quotas, which in turn drives predictable revenue. Without it, your organization can be dogged by inefficiencies and inaccuracies that can hinder growth.
Before a sales team can improve pipeline visibility, sales professionals first need to ensure there's a consistent sales process in place.
Solidifying the sales process
The sales process refers to how the sales team manages its sales funnel. The sales funnel is a visual representation of the path that prospects take to become your customers. The funnel typically has six stages:
Contact

Engagement

Prospect

Marketing qualified lead (MQL)

Sales qualified lead (SQL)

Opportunity

Customer
The number of potential clients will naturally shrink at each stage, as you or they realize the product isn't a good fit right now. It's important to understand the actions your team needs to take to move each prospect through that funnel. Those actions involve an understanding of the top-of-funnel moves, like BASHO emails, down to how to run a demo meeting to turn an opportunity into a customer.
Sales organizations must ensure that the sales process they use is consistent for each deal. Otherwise, they can end up with discrepancies, disparities, and redundancies that can lead to inaccurate forecasting. Consistency means each rep follows the same steps for creating, nurturing, and tracking each opportunity. Smart sales leaders use data to drive conversations so that the entire sales force isn't relying on gut feelings, outdated information or individual perceptions to close deals.
"When we, as leaders, don't come to these one-on-one sales meetings with a data-driven POV on open opportunities, we are forcing reps to report the news," says Anthony Cessario, Clari's Vice President of Enterprise Sales. "We will inherently spend less time coaching."
During one-on-one sales meetings, Cessario pivots to asking pointed questions based on his own pipeline inspection to pressure-test weaknesses in the risky deals that Clari's AI surfaced/ Then, he spends the majority of the time strategizing with the rep how to de-risk those and accelerate the strong ones.
"Last quarter, two of the deals that Clari's data science identified as risky ended up being pushed out to the next quarter to better align with the natural sales cycle," he adds. "For one of them, we were able to leverage our current customer community for an intro to the economic buyer, which helped us de-risk the deal and accelerate the close."
How do you improve sales pipeline visibility?
One of the best ways to improve pipeline visibility is by having reps assess their deals regularly. Here at Clari, we use the four-point deal inspection technique. This involves asking four critical questions about each opportunity, ideally every few days:
What's changed in this deal?

The Clari platform automatically reviews factors such as deal size, rep forecast, engagement activity, and close date, and notes and displays that information in an easy-to-read dashboard to give an accurate, data-driven picture of where a deal is headed—and how quickly.

How likely is this deal to close?

Clari analyzes historical close rates, win rates, and conversion rates to produce an opportunity score. Reps and their managers can use this score to determine the likelihood of a deal closing and improve the accuracy of their forecasts as well as brainstorm ways to save weak deals.

How much activity do we have on this deal?

Clari's Activity Insights panel

automatically pulls in

all the deal activity data—emails, calls, meetings, marketing campaigns, etc.—so sales reps can easily track their prospects' engagement.

Is this deal following our sales process?

Sales reps and managers should regularly assess whether they're following the organization's prescribed sales process. Clari's Details panel can be customized to include the particular fields your team uses, like the chosen sales methodology, to ensure a deal is progressing properly. This allows managers to easily review whether the rep is doing their due diligence and capturing the data needed.
To further boost visibility, a company can take three key steps:
Establish regular meetings.

Hold recurring meetings with all stakeholders and decision makers to get a 360-degree view of what's happening in the pipeline throughout the sales cycle. Check out Clari's

forecast call cadence

for tips on how to do this.

Include sales data tracking with AI and automation in your tech stack. Today's technology tools, powered by sales-centric AI, can provide pipeline metrics like opportunity scores, deal priority matrices, rep leaderboards, and activity insights in real time. The visibility provided by this pipeline management software creates a single source of truth that drives transparency and consistency in the selling process. Check out Clari's

guide to choosing a top-notch RevOps solution with trustworthy data and automation

.

Turn your one-on-ones into strategy sessions. In your sales pipeline reviews, for example, you could use a tool like Clari, so you spend less time processing data and instead spend that time

strategizing

. A data-driven sales organization that leverages AI and automation means sales reps and leaders can come to one-on-ones meetings with a point of view and use their time together to ask probing questions and formulate a plan of attack for de-escalating the risk on weaker deals and accelerate the strong ones. All of this supports the pipeline.
How Clari improves visibility
Unlike static data in a CRM system, Clari constantly updates to reflect the most recent information. For example, in Clari you can see in real time what's flowing into your pipeline, and also where deals are falling in the sales funnel. After taking some of the steps above, you can leverage a platform like Clari to advance your pipeline visibility to the next level.
Clari's Flow module, for example, dynamically shows revenue leaders how deals are moving throughout sales stages over time.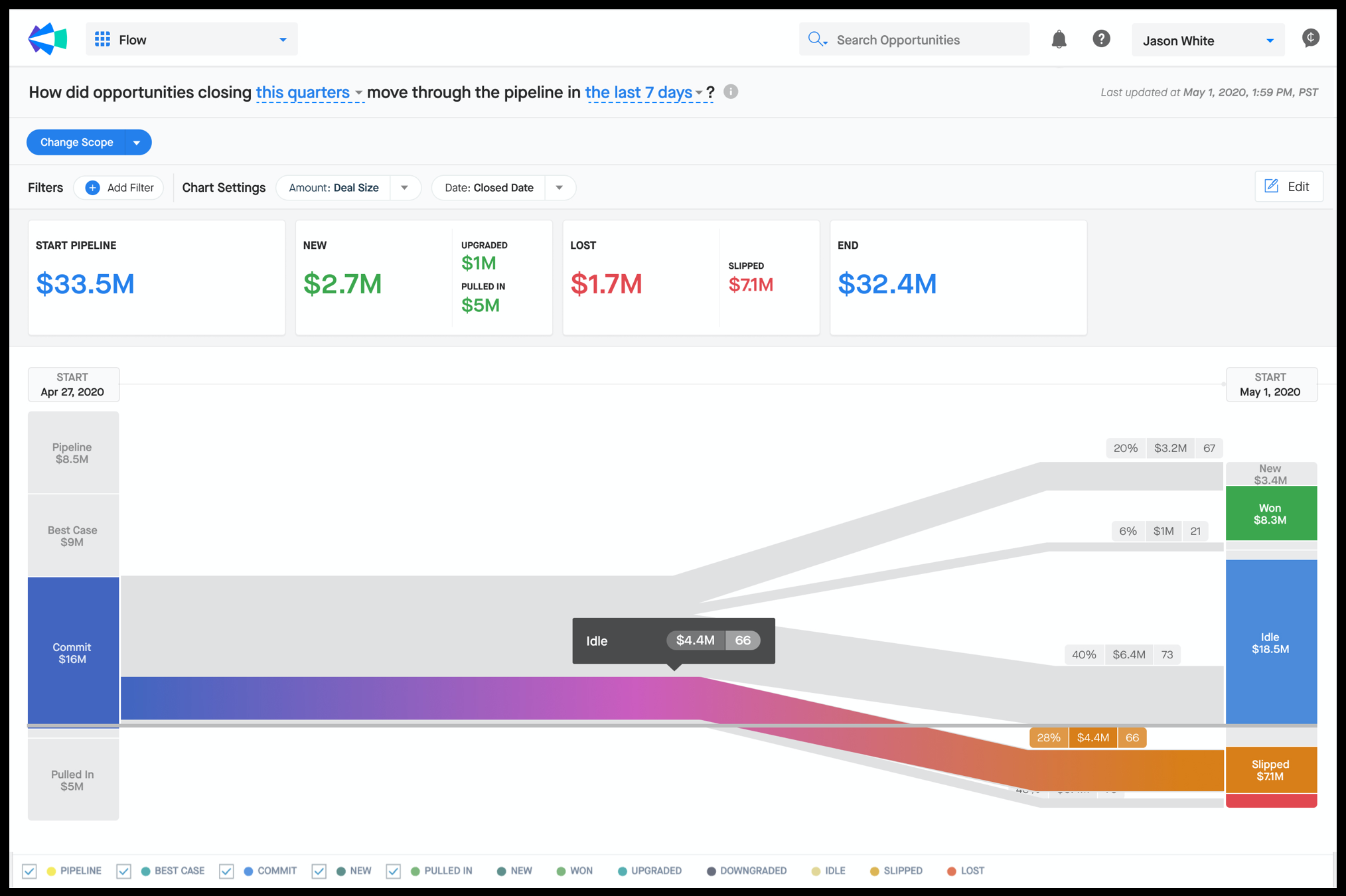 Flow lets you track where specific deals are moving. You can see which deals are slipping to next quarter, from commit or best-case this quarter. This kind of visibility allows you to refocus your resources to pull good deals back into the current quarter. By clicking through the Opportunities panel to see which deals have high CRM Scores and are looking good in terms of activity, you can accelerate an out-quarter deal into the current quarter to make up the difference. It's impossible to do this in CRM or an Excel spreadsheet.
Clari's Pulse widget gives you unparalleled visibility into your out-quarter pipeline. This is critical, especially for enterprise deals, since you need to build out-quarter pipeline now, to meet your quotas in the next few quarters.
Let's say you have a $55 million quota for next quarter, with a coverage ratio of 1.9X, per the example below: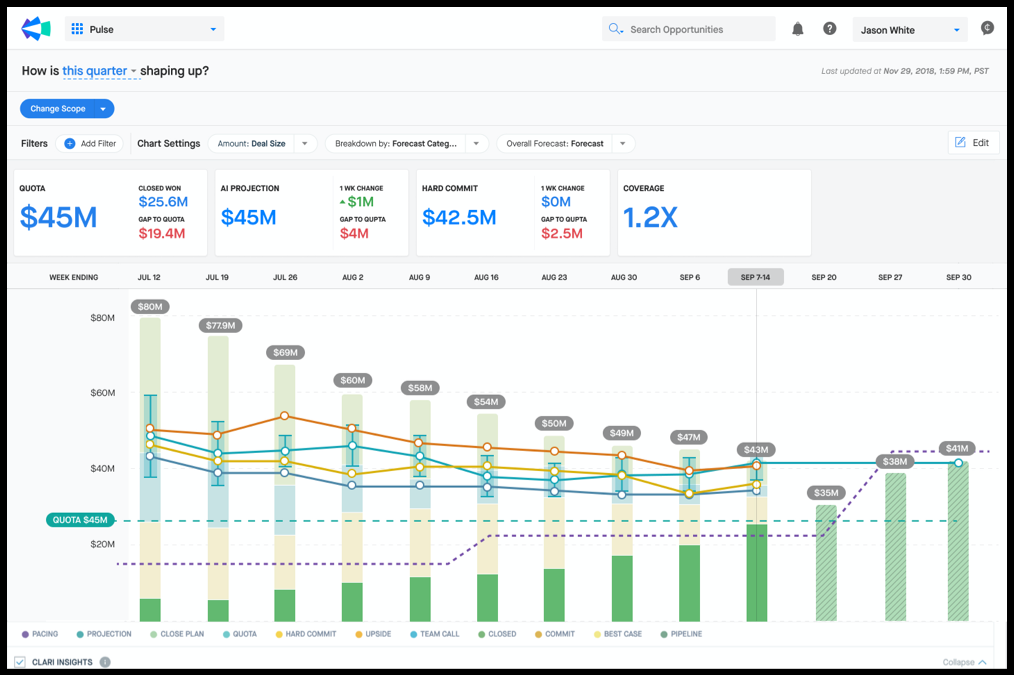 Clari's AI assesses your historical conversion rates, and recommends a $150 million total pipeline at the beginning of your next quarter. It even breaks down the suggested makeup of that total—how much you should have in commit, best case, pipeline, and new deals. Instead of the pipeline being an exercise in assumptions and educated guessing, it's driven by real-time data.
Pulse also gives you visibility into how the current quarter is shaping up. It allows you to compare your current pipeline and ongoing pipeline coverage with your quota, closed-won, forecast, and AI projection data.
Let's say your quota is $45 million, like the above scenario in the screenshot. Clari's AI analyzes all the deals in the pipeline and factors in historical data to predict that you can reach $41 million in closed deals. That's a $4 million discrepancy, though. This kind of visibility allows sales managers and leaders to strategize ways to close that gap.
The Pulse view also shows you your current pipeline coverage, which in the sales pipeline example above is 1.2X. The industry standard for a B2B Saas sales pipeline is typically 3X coverage. This alerts sales managers to a potential problem so they can try to drum up more pipeline coverage and right the ship before it's too late and quota is missed.
Ultimately, there are many ways to leverage tools like Clari and smart AI to gain deeper insights into your pipeline. These insights not only create greater visibility into your current opportunities, but also offer a more comprehensive, long-term view of your pipeline—setting your company up for more predictable revenue and continued growth down the line.
Learn more about creating pipeline visibility: