There is a wealth of data about how to engage with your prospects and buyers via sales and marketing technologies. And there are myriad ways to do so: emails, chats, calls and much, much more. These interactions can happen at any stage of the funnel, too. But what happens after you've hooked a prospect, either with a free trial or as a new customer? What kind of data can you harness to either convert that free trial to a new customer or renew that existing customer to keep them long term?
Pendo is the market leader in measuring how your customers use your product. When it comes to managing opportunities, this can help in several ways.
Trial and Demo Activity Tracking
Let's start with new prospects. If you have been able to get your prospect into a free or paid trial, you still need to convert them. But at this point, winning them over isn't about calls or meetings, it's about their experience using the platform. While you can provide as much training as possible, you can't exactly stand next to their desk all day helping them in real time. Or can you?
A prospect starts a trial because they think your product can solve a challenge. But even with training, are they using the product the way you envisioned them using it, meeting the business need they have discussed? The fact is, their actual use of the product might not be optimal, and your conversion will be at risk.
With Pendo, you can track if and how many users are actually logging in to their trial, along with the frequency and duration of those activities, to make sure the reality of their usage matches the vision that you created.
Through Clari's integration with Pendo, you can now view these trial usage statistics within the Deal Activity module, allowing you to track the effectiveness of your trial within your opportunity and help you measure the likelihood of winning that deal. Powerful stuff!
But winning the deal is only half the battle.
In-Product Engagement
Renewing your customers is as important as acquiring them in the first place. And here, not only can Pendo's usage data help you understand the health of your renewal, but Pendo also offers NPS surveys to track the level of happiness of your users, and in-app messaging capabilities to engage them around the actions you'd like them to take to be successful using your application.
Happy customers hopefully equal easy renewals. But with NPS surveys, your entire revenue operations team can uncover potential roadblocks to your renewal and address them early. And Clari can serve up this NPS data within your opportunity, so the entire account team is aligned on any challenges you face.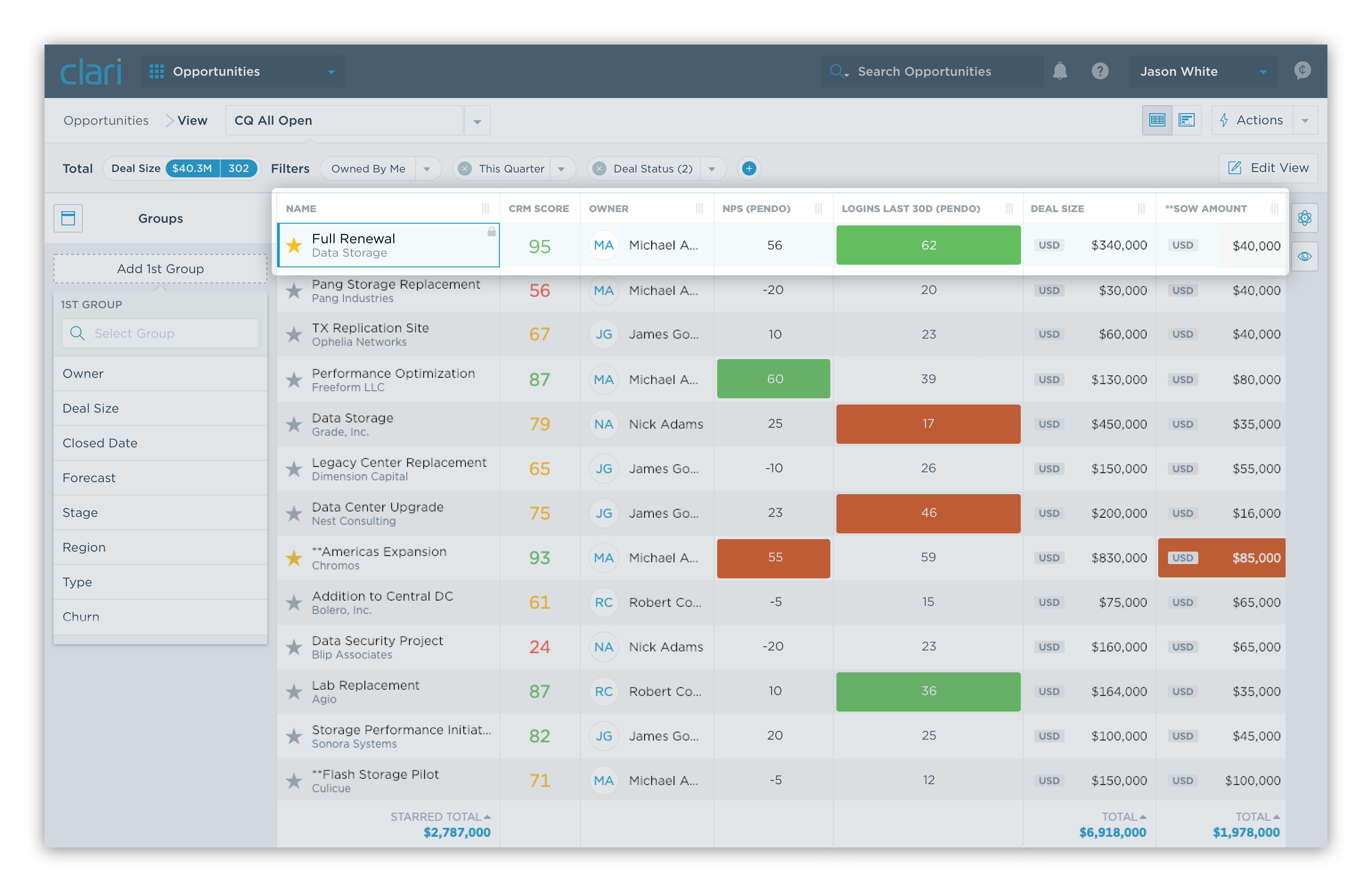 This new integration between Clari and Pendo greatly expands the capabilities of Clari's Revenue Operations Platform and provides you with a new, exceedingly valuable level of understanding into the health of your business.