In today's B2B sales environment, it's all but guaranteed your prospect will land on your website at least once before they make a purchase. But once they're there, how do you make sure they find what they need?
Whether they're perusing the home page, a product page, the blog or other resources, the ability to engage in live conversations with prospects as they conduct research adds a new layer of depth to the experience. Companies can provide personalized interactions with real-time feedback for both net new prospects and returning customers who might be looking for information on new products.
But what happens when that person leaves your website? Is it a fleeting engagement or do you have a way to follow up? If a conversation takes place on the web but there's no record of it, did the conversation really happen? Would visibility into those interactions help you win more deals?
Those are the questions the new integration between Intercom and Clari's Connected Revenue Operations platform solves.
Imagine this: Your AE is in a sales cycle and is engaged with several members of the prospect's buying team. They think they know everything happening, but a VP on the buying team has questions and goes to your website. The VP is learning more about the product when the Intercom messenger appears. Rather than hunt for the information they want, they decide to chat.
The VP might get their questions answered or they might not. They might have a fantastic customer experience, or it might just be so-so. Either way, odds are your AE handling the opportunity has no clue this interaction even happened unless they search for it in Salesforce. They're missing out on a critical engagement point that could be used to inform their next steps.
Now, Clari automatically tracks that chat signal and surfaces it within Clari's Insights panel alongside a variety of other sales activity data, such as CRM, email, meetings and more, so the rep, their manager and the entire revenue operations team has visibility into every conversation happening through Intercom. Not only that, they can get a link to the full transcript so they can follow-up accordingly to ensure they are working towards winning that deal.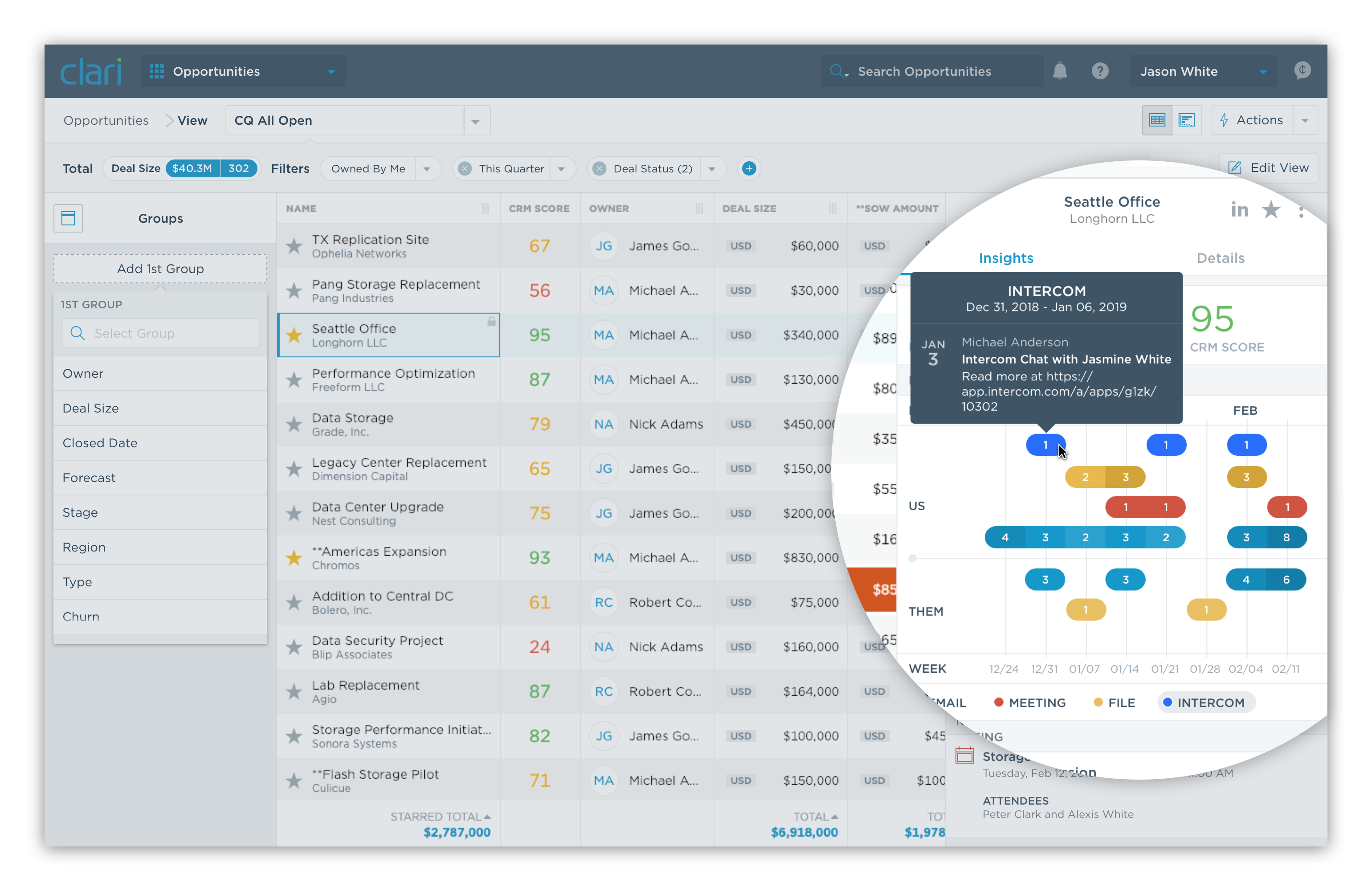 By integrating Intercom with Clari's Connected Revenue Operations platform, you can ensure those conversations provide more value to your entire revenue operations team and ensure the right follow-up happens to win more deals.

If this sounds like an exciting way to get the most out of your Intercom data, come visit us at the Generation Revenue Bash at SiriusDecisions Summit. Or visit us at www.clari.com and www.intercom.com for more information.