There's a reason sales leaders and chief revenue officers at successful high-growth companies refer to Clari as essential machinery and a total game changer. We understand that revenue is a process you drive every day, not just an outcome at the end of the quarter, and we're on a mission to surface critical business insights about that process—all in one place.
Today, we're announcing the first and only set of analytics capabilities purpose-built to allow you and your teams to run the revenue process. The reality is, your backward-looking business intelligence (BI) tools and siloed data are failing you. That's why we've added powerful new analytics capabilities that give you everything you need at a glance and on the go, based on real-time data and historical analyses.
"Clari has provided our sales team with a common, unified view of our sales pipeline and activity, helping to drive our planning for current and future quarters against our revenue goals." -Kevin Rubin, CFO, Alteryx, Inc.
Make inspecting your business effortless
How many weekends have you spent staring at complex BI dashboards, Excel spreadsheets, and clunky CRM reports, struggling to answer critical questions like, "Are we going to make the quarter?" or "What has changed in my business, and what can we do about it?" Clari's analytics give you your Saturdays and Sundays back.
These new features enhance Clari's existing suite of analytics to provide sales and revenue teams with total visibility into pipeline changes and performance—helping you drive predictable growth.
Waterfall: See changes in your pipeline in real time
Clari's new Waterfall module shows you how your pipeline has changed between any two points in time and identifies what is driving those changes. Identifying which factors contributed to change helps you quickly understand where you are today and how you got there so you can decide what to do about it. You can zoom in on pipeline change by forecast category or stage.
Understanding changes in your pipeline includes many factors—it's not a simple yes or no scenario. With Clari, you can drill into a micro-level view of the whole story over any period.
Waterfall helps you answer the questions:
What caused my pipeline to change in value over time?

What causes of pipeline change had the biggest impact in contributing to or removing revenue from my pipeline?

Which deals are no longer in my pipeline based on specific filter dimensions like forecast category, stage, product line, or customer segment?


Funnel: Understand how deals convert across sales stages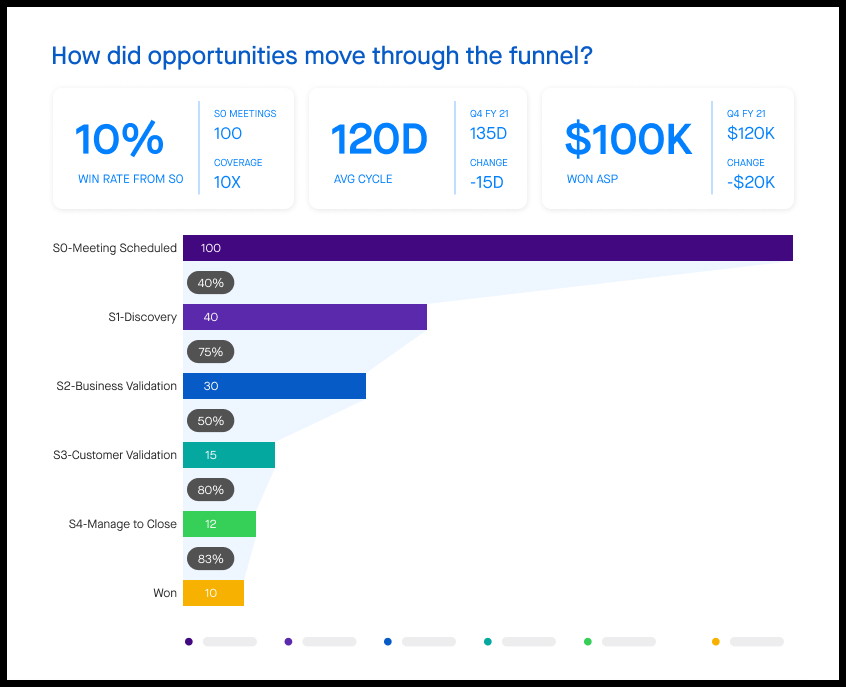 Clari's new Funnel module shows conversion rates between forecast stages so you can understand where deals are dropping off and identify opportunities for coaching and improvement.
Funnel helps you answer the questions:
What is my conversion rate across forecast stages?

How do my conversion rates compare to previous quarters?

Which deals dropped out of a given forecast stage?
These new modules complement Clari's existing advanced analytics modules, including:
Trend: How is my quarter trending?

Flow: Which deals are gaining or losing ground?

Pulse: How are my revenue projections trending throughout the quarter?
Collaboration, mobile, and more AI: Know the why behind the numbers, as you run your business from anywhere
Clari isn't just enhancing our suite of analytics. We're also excited to share new capabilities that make it easier to share insights across teams and encourage alignment from all key stakeholders.
Mobile dashboards.

With the Clari mobile app, you can now get visibility into critical dashboards to review your forecast and drill down into specific deals from wherever you go.

Forecast sharing.

Easily share your forecast to better align with cross-functional revenue teams and provide visibility into your book of business with colleagues.

AI projection explanations.

Get advanced insights into AI projections so you can better understand the underlying data and make data-driven decisions with confidence.

Historical trend lines.

Surface trend data from your opportunities to track potential risk and momentum.
Why it's critical to get a complete view of your revenue data
One of the most challenging elements of running a revenue organization is gaining visibility into the revenue process. More than 60% of respondents to a recent Forrester study cited visibility into deal health and business processes as a critical requirement for success. Yet, the same study reveals that revenue analytics remains a significant concern for sales leaders.
Driving predictable revenue and top-line growth requires insight into how the business is working. It's tough to get that clarity when you're searching for insights across multiple, disjointed reports and tools, like CRM, spreadsheets, and BI, that don't tell the whole story.
Then there's the fact that stitching together siloed data is time consuming and leaves too much room for error, forcing you to make decisions that are heavily reliant on intuition instead of comprehensive data. It's important to have a direct line of sight into your business so you can leverage those insights properly as your sales team continues its digital transformation.
Clari's analytics make insights actionable, so you can answer questions strategically with an informed, data-driven perspective. This leads to better decision-making and more confidence across the revenue organization—and less time spent digging through static spreadsheets or outdated reports.
"Historically, it's a challenge to monitor pipeline and deal progression quickly and seamlessly. Now, Clari is our go-to system to help us understand our business's status at any given time. I use Clari for sales leadership and executive-level conversations. I also use it to drill down into the top deals to understand deal status and what we need to do to accelerate the close. Clari is a strategic, mission-critical tool for running our growing business." - Tony Kender, Chief Revenue Officer, FinancialForce, Inc.
Revenue analytics built for you—all in one place
Clari's purpose-built revenue operations platform breaks down data silos to provide a comprehensive view of the entire revenue process in real time. Designed for your entire revenue team, Clari transforms how you take action with your data. Intuitive insights are also easy to share with leadership, board members, and key stakeholders, so everyone makes decisions together.
If you're a Clari customer, you already know the power of Clari's current suite of analytics. Talk with your account manager to learn more about these new features and see when they will be available. If you aren't a customer yet, talk with our sales team now to see a demo of Clari. Make sure to sign up for our webinar to learn more about how companies like UiPath, Zoom, and Confluent are using these features to achieve unmatched performance and revenue growth.
Join us on Dec. 2 at 10 a.m. PT to get a deep dive into Clari's new set of analytics capabilities. In this webinar, we'll discuss:
How to leverage historical performance data to validate current forecast calls.

How to monitor pipeline movement and identify areas of risk or momentum.

How AI projections influence forecast triangulation.
If you missed the release of Clari's new execution insights, see how we let your sales managers get more visibility into deal activity to provide better coaching and help your sales team focus on winning more deals.
Read more: