As your team and pipeline get bigger, so does the stress of staying on top of each deal and making sense of all the available data. You need deal-level insights that give you confidence that your book of business is healthy and mature.
With Clari's new execution insights, sales managers for the first time can access customer conversations, email discussions and insights, expanded relationship intelligence, and new risk and momentum indicators all in one place. Gone are the days of working off 12 different browser tabs and five different spreadsheets just to understand the state of your business. Now, you can focus on data-driven sales coaching for your team so they can make the best strategic moves to win in any deal cycle.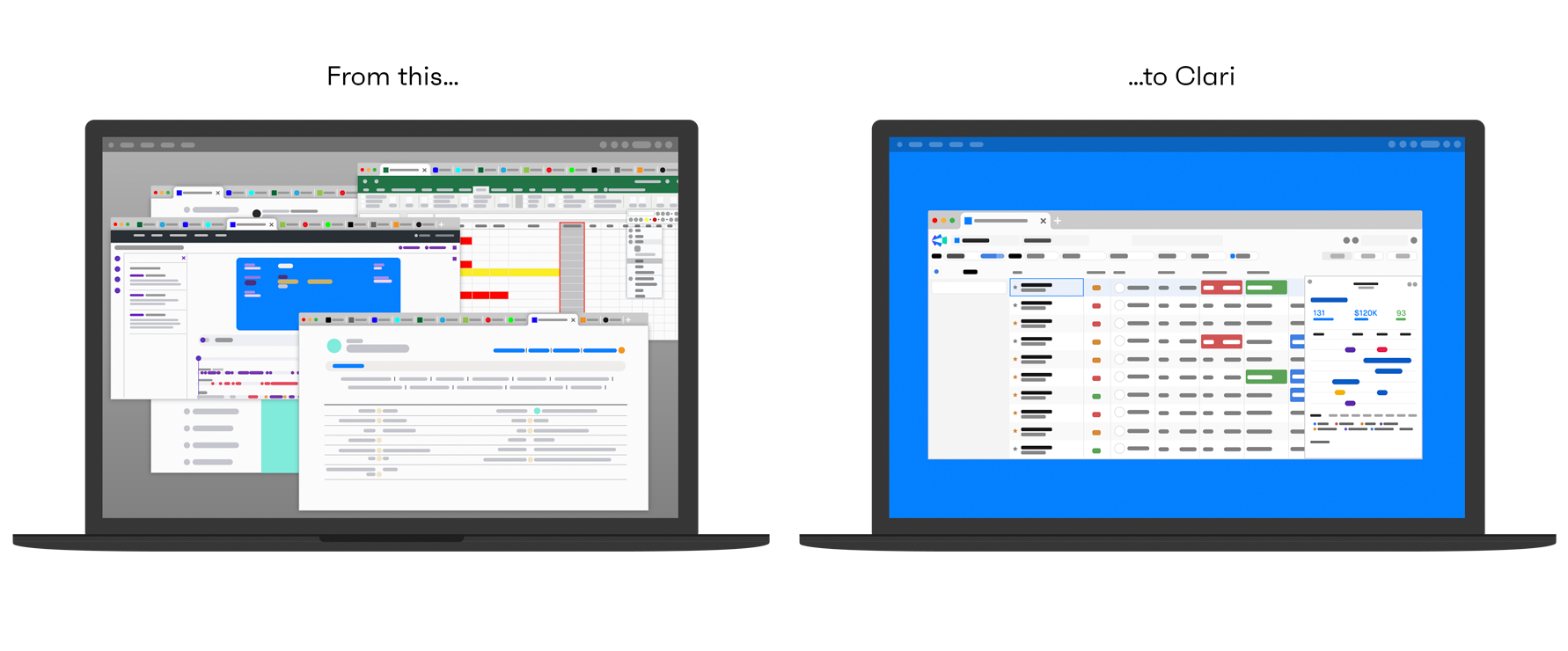 Big picture, this addresses two of the most critical needs of every frontline sales manager:
First, it shows you the path for your team to over-achieve.
Second, it helps you take the right actions to turn that path into booked business.
Making this happen in one unified workspace is a big deal!
Seamless Workflow Integrations with Gong and Chorus
Customer conversation intelligence means you can now view all of the recorded conversations and associated call insights from Gong and Chorus, a ZoomInfo company, in Clari (assuming you already use Gong or Chorus). Pull up a specific deal or account in Clari and you can see all of the related conversations without having to toggle between platforms.
Gong customers will be able to review calls directly within Clari.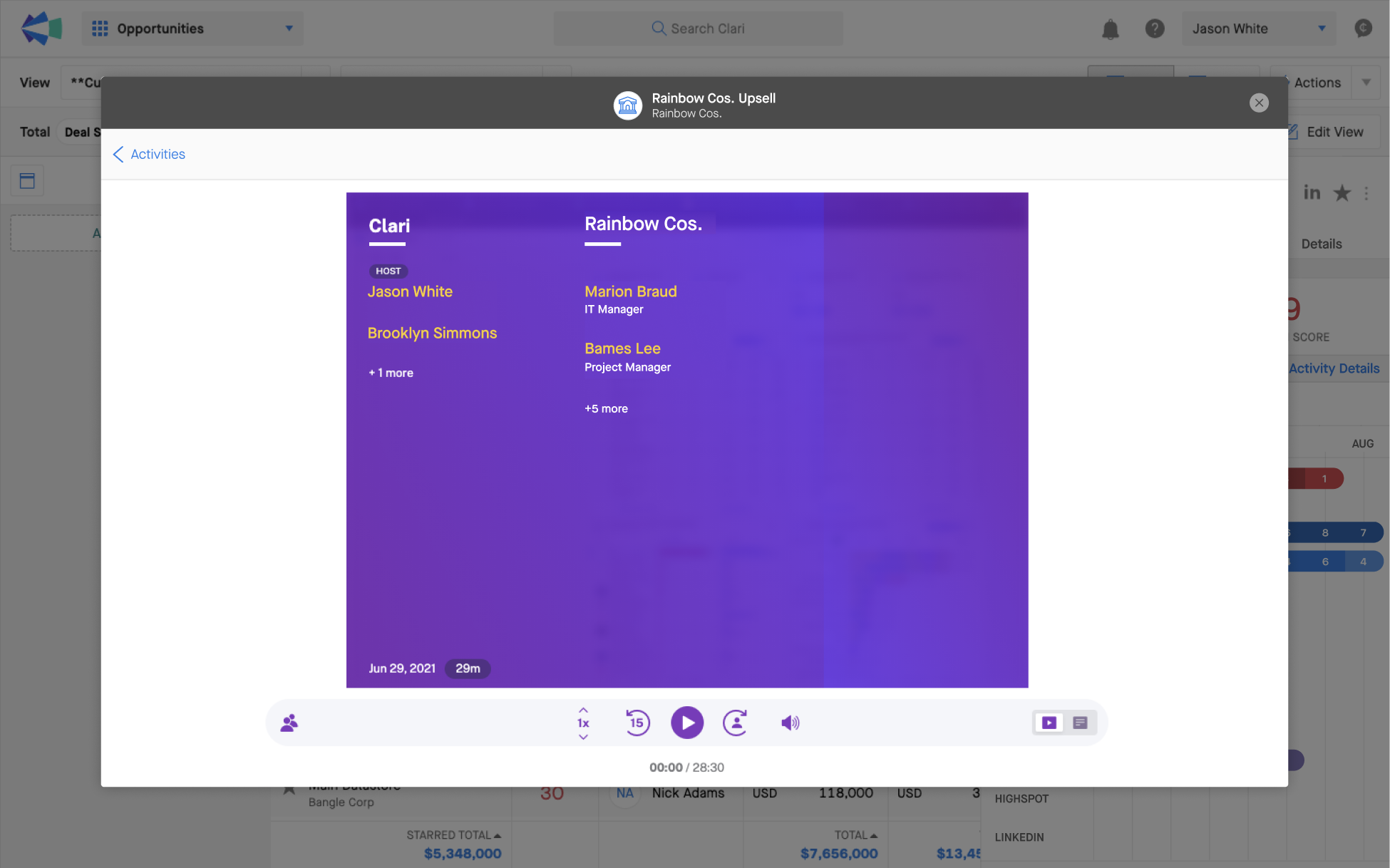 If you're using our integrations with Gong and Chorus, you'll be able to see key topics discussed in recent meetings and be able to review meeting recordings in a single click: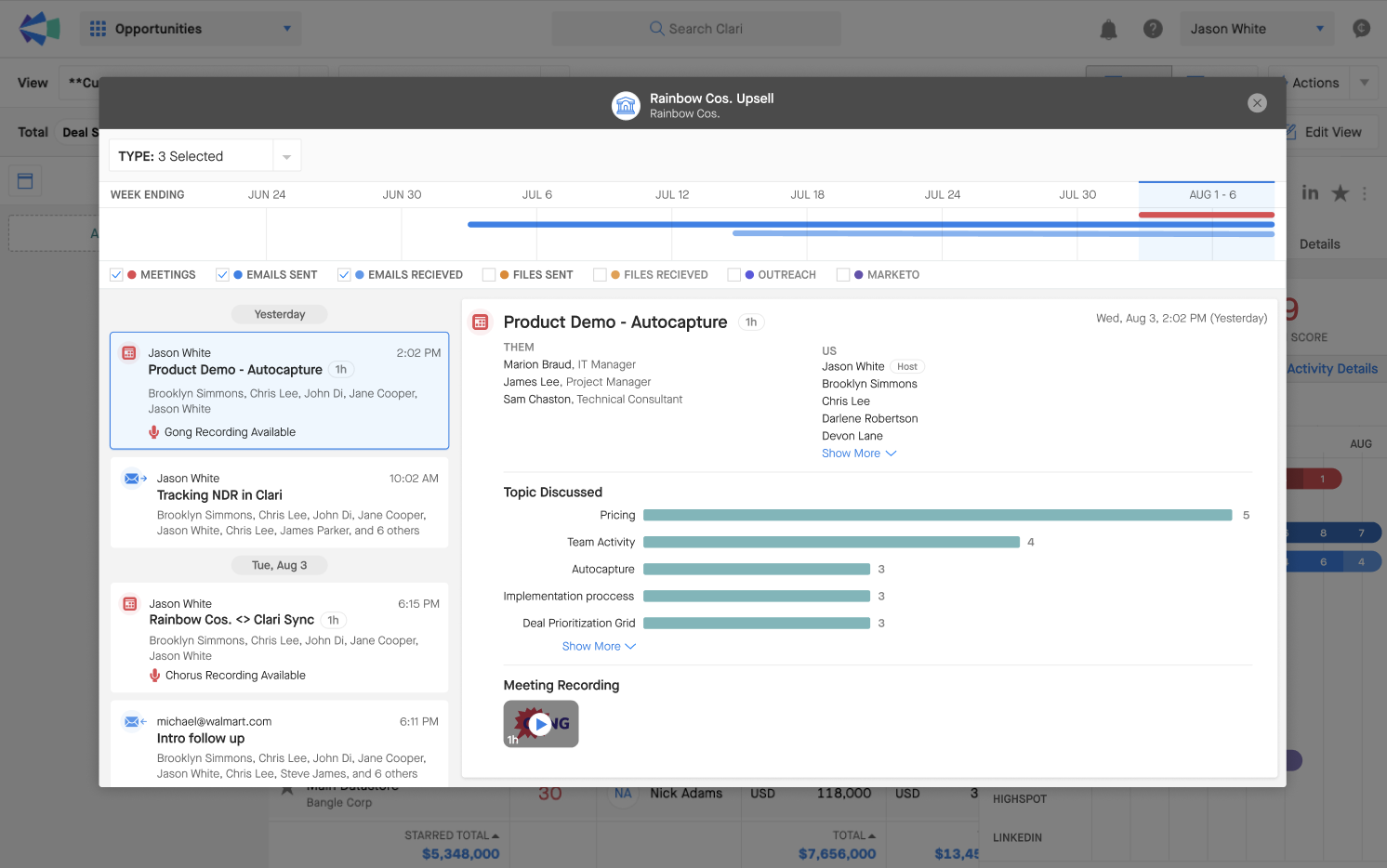 You'll also be able to view Chorus Momentum insights within Clari: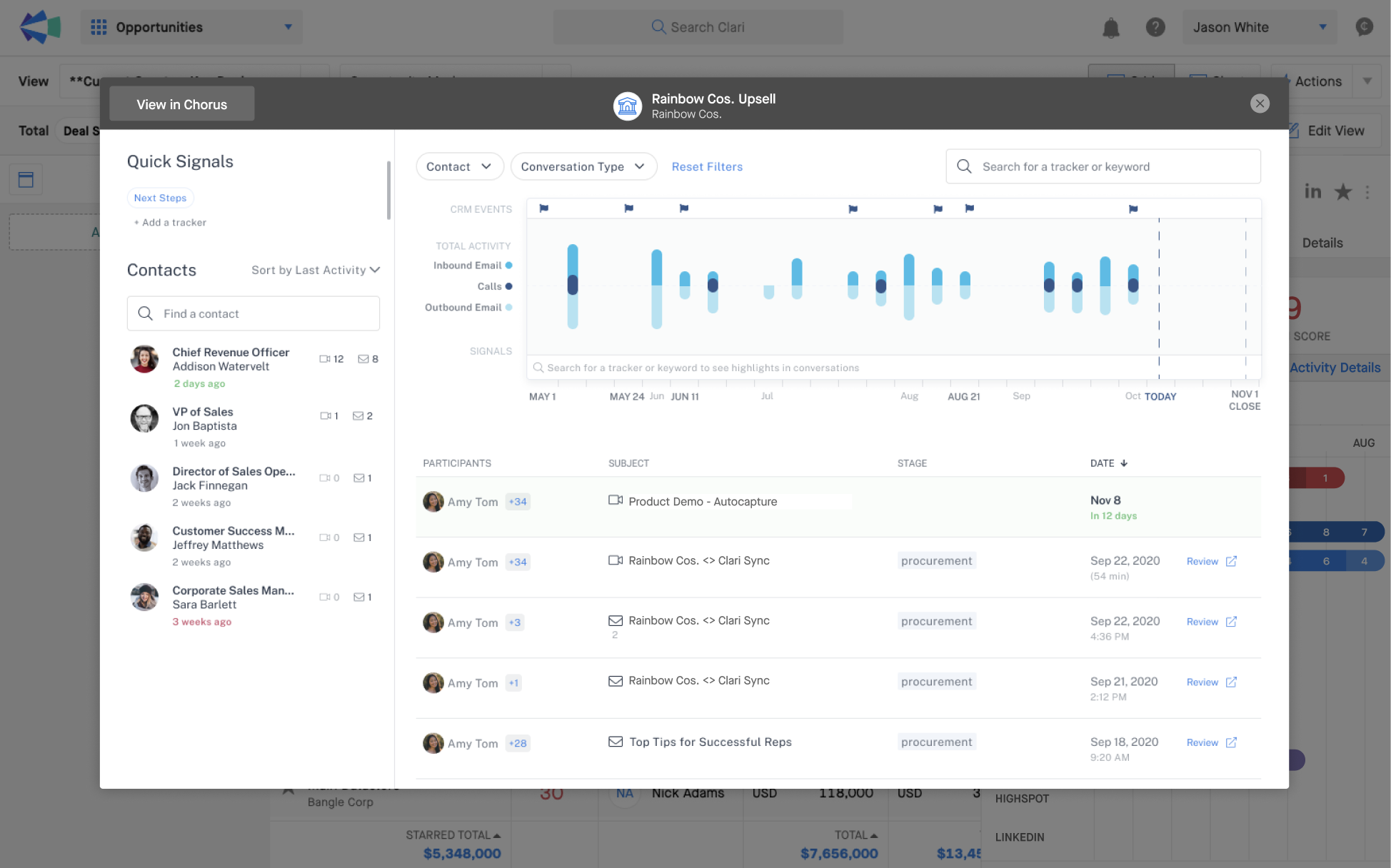 Detailed Activity Views in Clari
The history of every deal is at your fingertips in Clari. Execution insights offers a single view that ties in every email, sales meeting, and marketing signal on a given deal. And you control how much or how little you see on each deal. Want to read every exchange with the CIO? It's there. Just want an overview of what's been sent when? That's there too.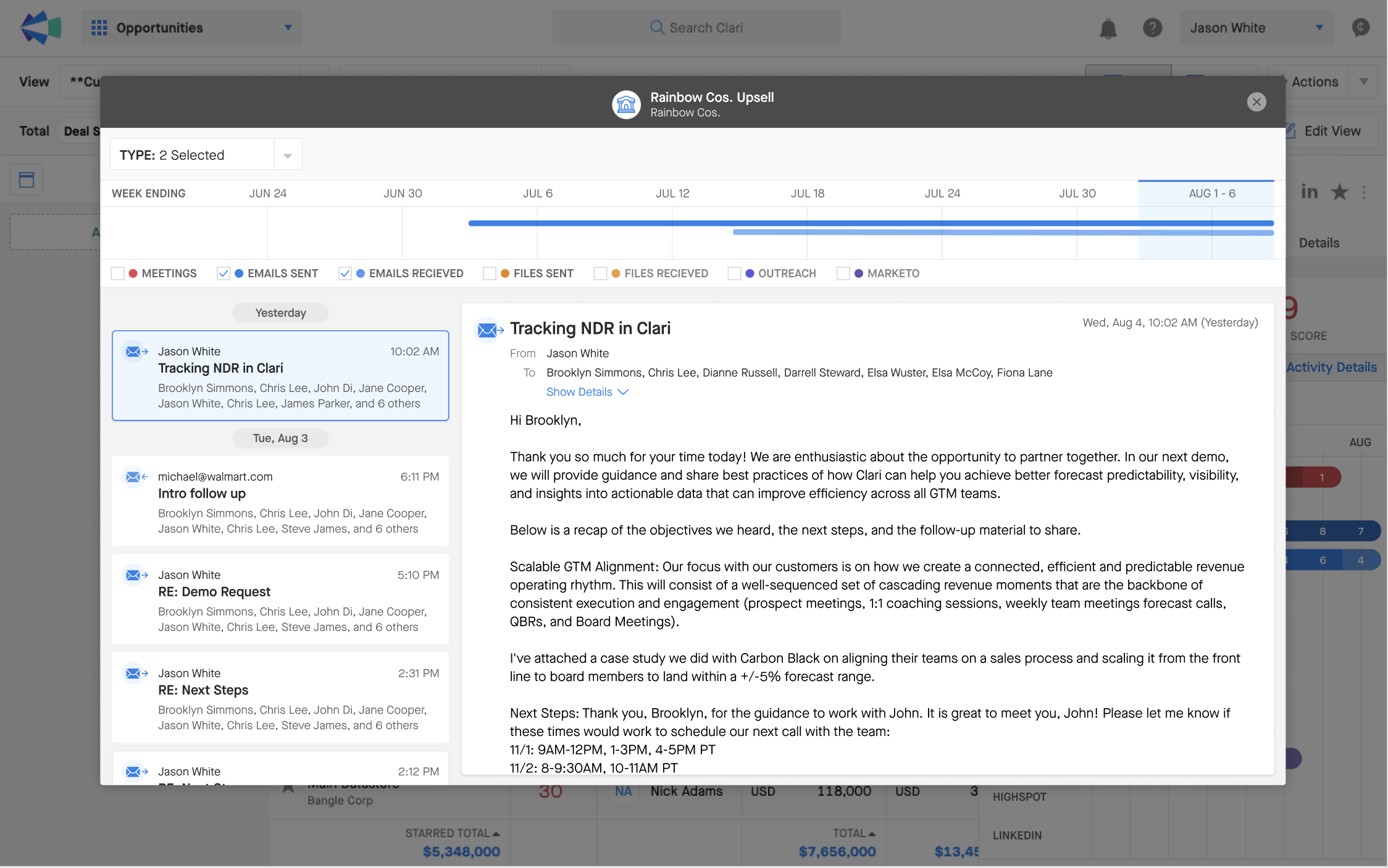 Relationship Insights for Each Opportunity
You can talk to a prospect all you want, but the deal won't close if you aren't talking to the right people. Relationship insights in Clari's Opportunities view offers you better visibility into who has been involved and when at every point in the deal cycle. Buying committees can be complex—Clari ensures that your team builds the right relationships to move deals forward.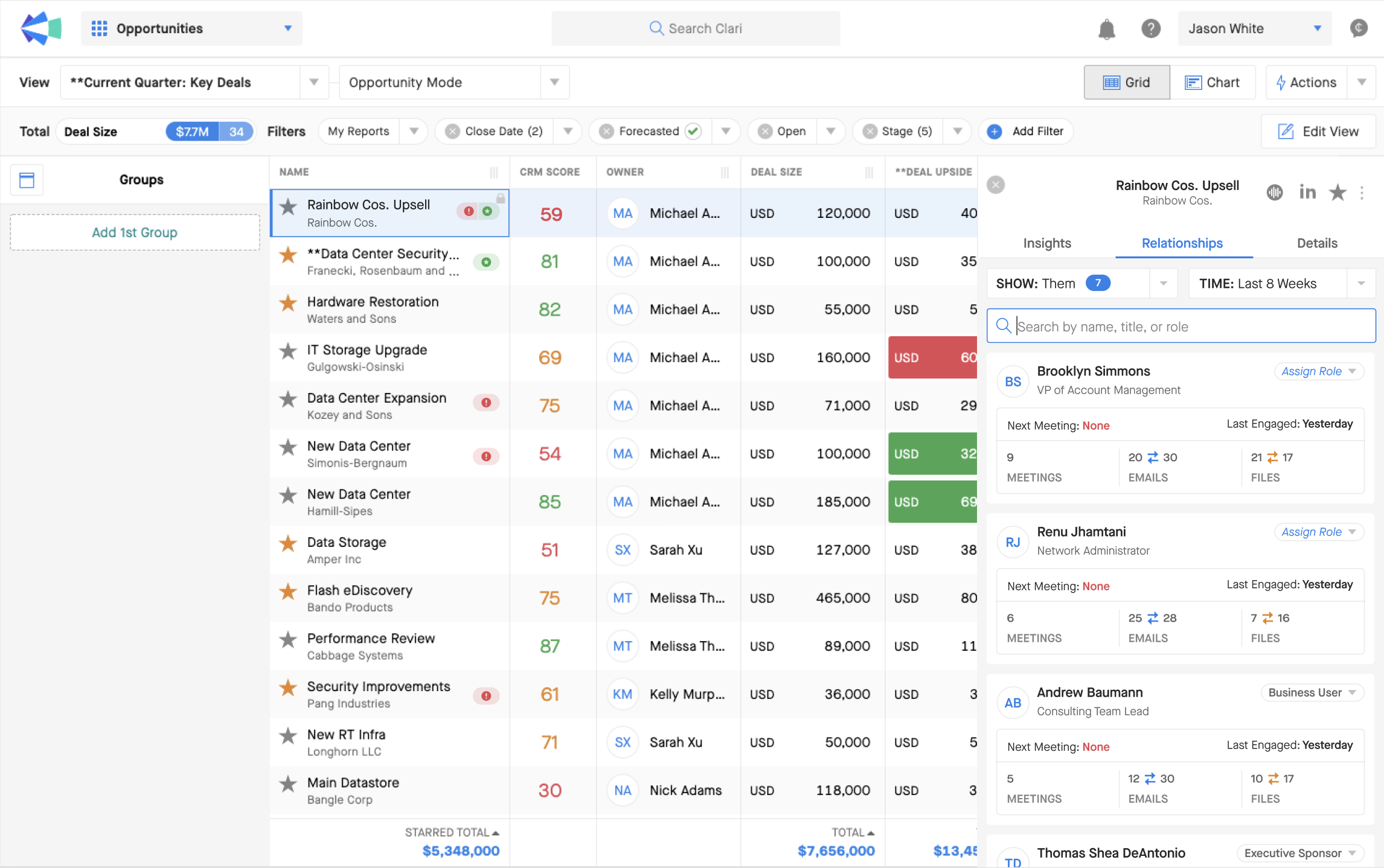 Risk and Momentum Indicators That Matter
Clari helps you eliminate guesswork so you know exactly which deals to focus on. Actionable insights provide guided selling so sales teams can identify and act on pipeline risk or momentum. Clari surfaces these indicators based on knowledge gleaned from the world's leading sales teams. For example, Clari knows that a delay in meeting follow-ups could mean that a deal is at risk.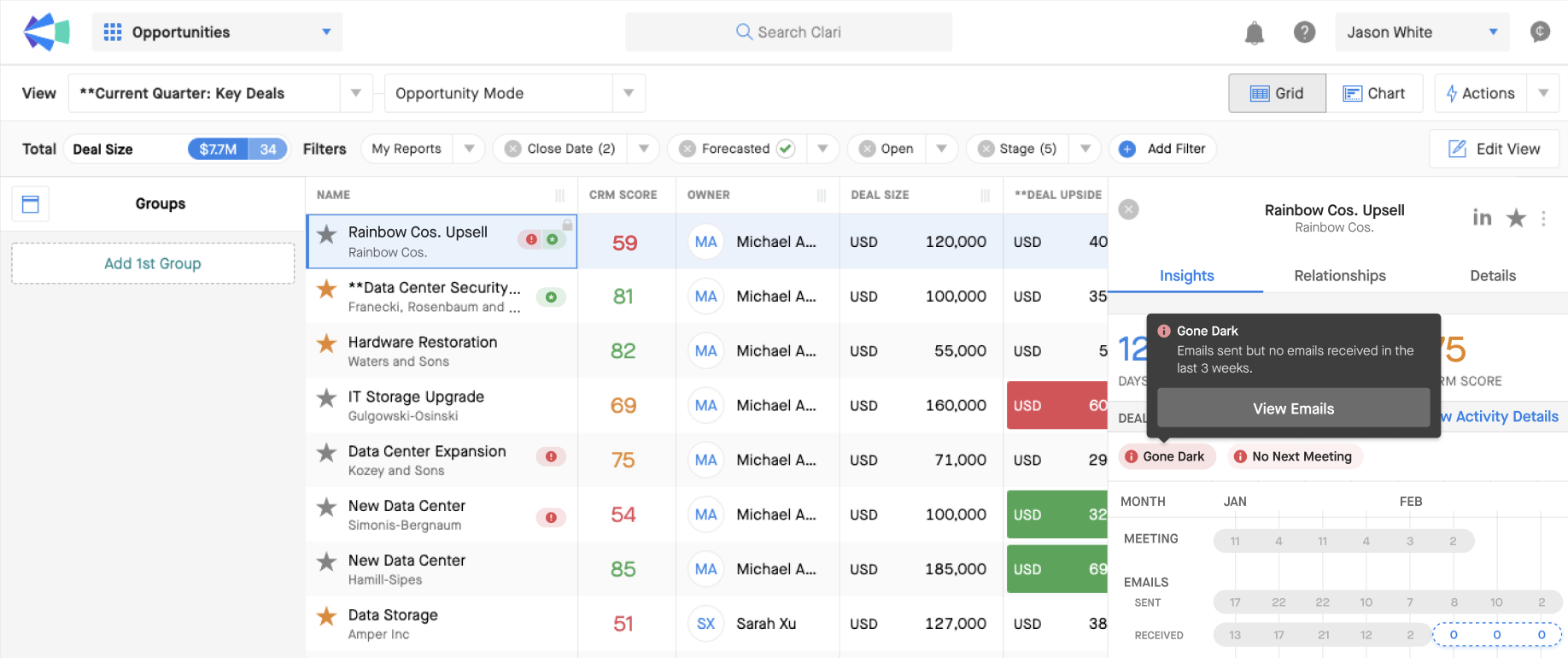 Clari Acquires DealPoint to Align Buyers and Sellers
In addition to its new execution insights capabilities, Clari has also acquired DealPoint. DealPoint's deal management and collaboration solution enables new visibility for sales teams into the connections and agreements between buyers and sellers. Through deal room technology and mutual action plans, DealPoint streamlines the connection between buyers and sellers, improving the buyer experience and making it easy for both sides to align on how and when deals will close.
With the integration of DealPoint into Clari, frontline managers and reps will have comprehensive visibility into the current status of every deal. The new mutual action plans will integrate seamlessly with Clari's existing deal inspection features, providing a rich new capability around deal engagement to improve the buyer experience and close deals faster. A limited beta program for deal room and mutual action plan technology in Clari will open later this year for select customers, with general availability to follow.
At Clari, our goal is to make the revenue operations process as connected, efficient, and predictable as possible. From the boardroom to the frontline, it's critical to understand the big picture of your business. By drilling down as needed, you can identify the steps that will help you win the next deal, and the next, and the one after that.
Ready to try out these new features? General availability of all of the new execution insights capabilities is expected in Q4 2021.
Read more: