As a sales manager, I'm constantly deluged with deal updates and questions from my team. It's my job to support them.
But as one person overseeing a team of five to six account executives, I need to triage, and do so intelligently.
How do I know which deals I should help them focus on?

Which prospects offer the most opportunity?

Which prospects aren't worth our time?
There simply aren't enough hours in the day to conduct a detailed deal inspection on every single opportunity in the pipeline.
As a new manager, I strove to make my team successful while also making a broader impact on the company and our strategic goals. Now, a key component for me is Clari's deal inspection capabilities, including the recently announced execution insights features.
With Clari, I can quickly inspect deals to determine where I can make the biggest impact within my team's book of business. Doing so also frees up time for me to spend on activities like capacity planning, whitespace analysis, or improving operational efficiency.

Deal inspection, explained
Clari provides visibility that enables frontline managers to coach reps on the best strategic plays, and helps me assess which steps I should be a part of so we can win.
A successful sales manager needs insights that help us coach our teams on the deal level, which means we need details. The ability for sales managers to triangulate deal health, review activity, and assess engagement in one place is the key to a successful quarter for me and my team.
How I inspect my team's book of business with Clari
I spend so much time, especially at the end of quarter, on deal inspection.
I need to know:
What's changed since the last meeting?

How much activity does the deal have and is it the right type of activity?

Is this deal following the sales process?

Is your team building healthy relationships with this deal?

How likely is this deal to close?
Clari's deal inspection and insights take us deeper on all of these questions. Instead of eight open browser tabs of spreadsheets, emails, and lists, I can see at a glance;
Full email body data with customer opt-in

Relationship insights

Risk and momentum indicators

Conversational intelligence
1. What's changed since the last meeting?
Clari uses color coding to alert me to changes to specific fields in the CRM, like deal size, rep forecast, and close date. This way, I can quickly spot changes. If the field is highlighted in green, that's a positive movement. Red means negative. Blue is a neutral update.
From this view, I can quickly scan for green deals or red deals, trending in the wrong direction.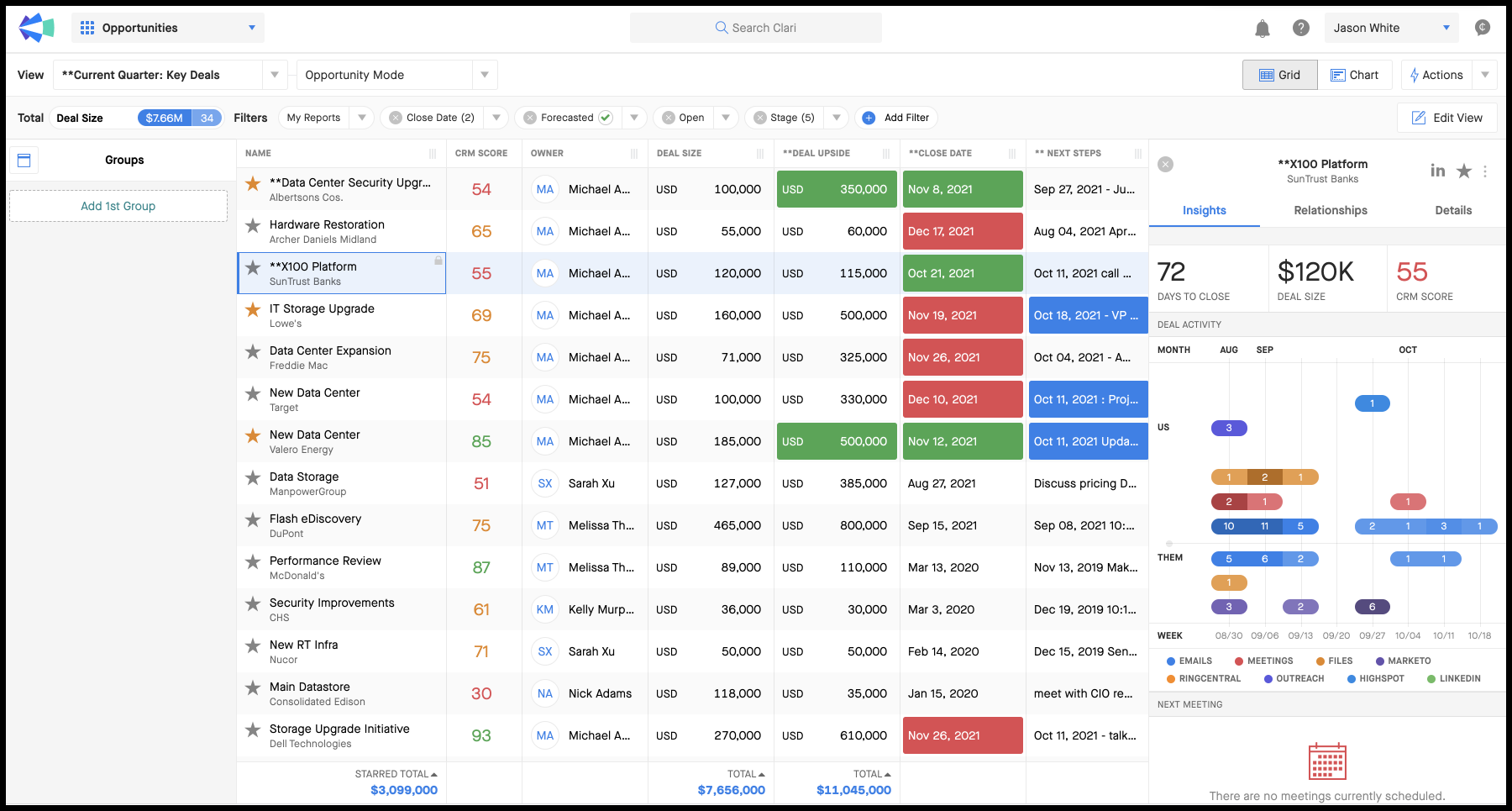 2. How much activity does the deal have and is it the right type of activity?
There are two views within Clari's Opportunity module that I use to inspect all of the activity on any given deal.
The deal activity grid shows me all the activity between my team and the buyer. I can see not only our effort, but also the response from the buyer. Are we sending a lot of emails and getting nothing back? I might need to inspect the emails being sent.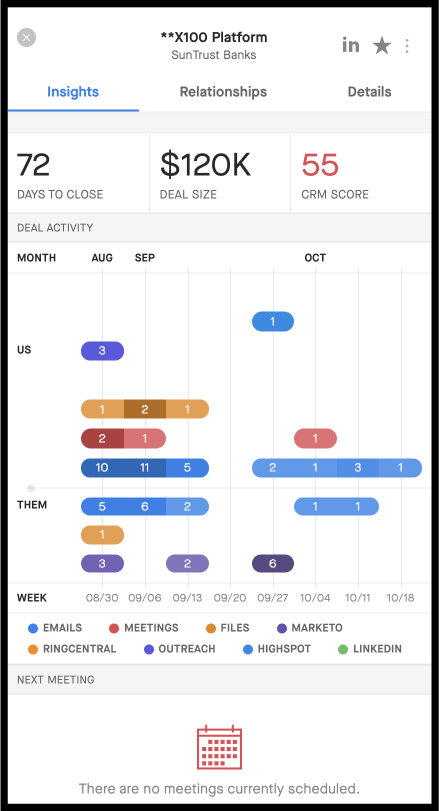 In the detailed activity view, I can skim full email text and recent call transcripts from Gong and Chorus (with a current subscription). Pairing the conversations with other activity gives me a holistic picture of the deal, and how it's progressing. This allows me to determine if any additional leadership support or coaching is needed.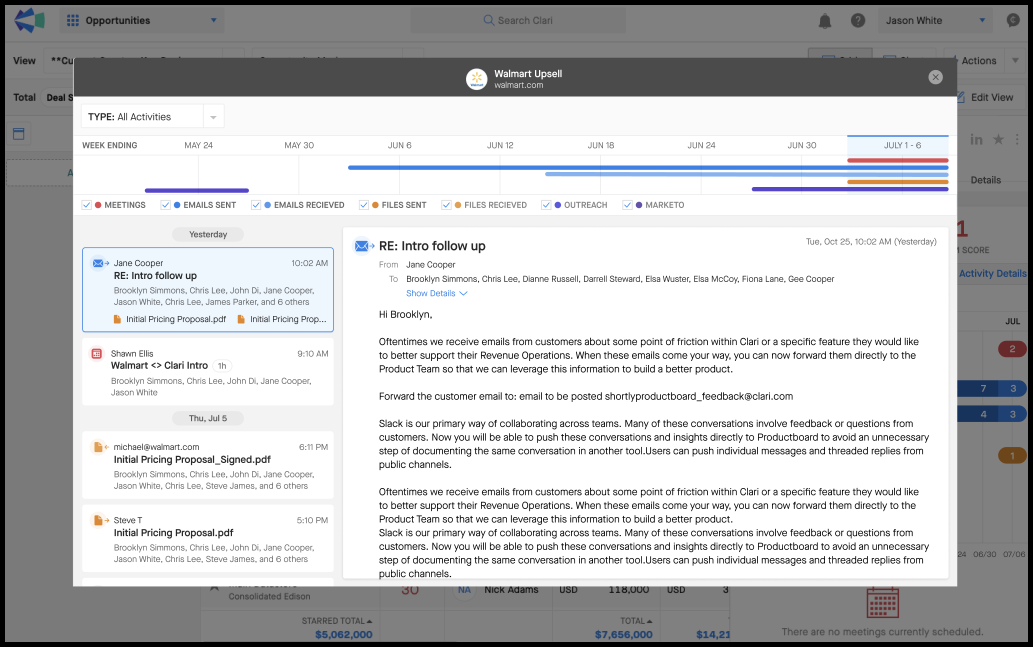 ​​3. Is this deal following the sales process?
The details panel can include specific fields your team uses to ensure a deal is in the right place to close, across different sales methodologies like MEDDIC, BANT, SPIN, Challenger, Sandler, and others. I can easily see if my team is doing their due diligence and completing what is required from the methodology we follow.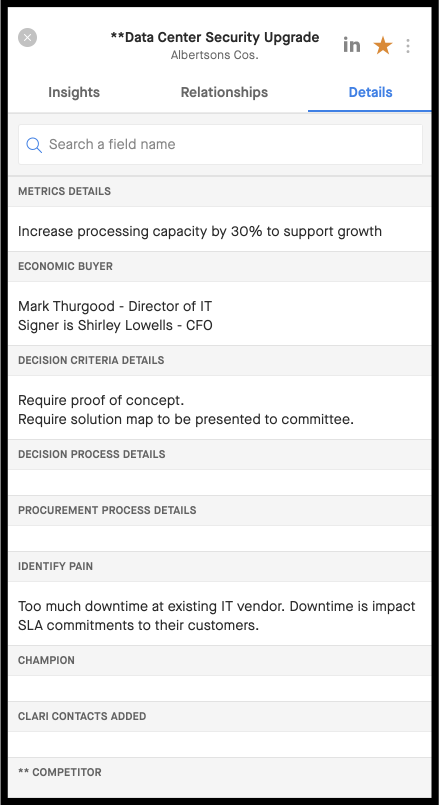 4. Is your team building healthy relationships with this deal?
With relationship insights in the opportunity grid, I can analyze engagement from the key stakeholders in a deal, on the same page as the rest of my team's activity data. This improved visibility into relationship insights helps me easily see participation from the buying committee, or lack thereof, and identify potential gaps in our engagement at any point in the deal cycle.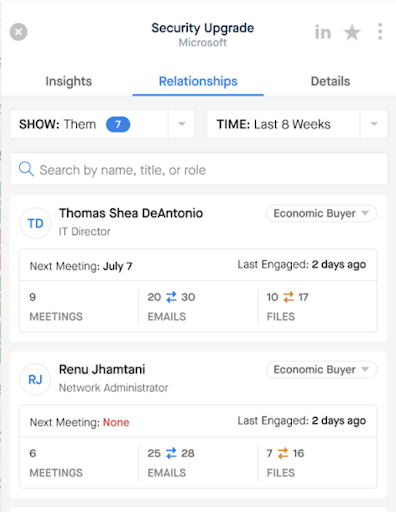 5. How likely is this deal to close?
Next, I want to understand how likely a particular deal is to close this quarter. I can rely on both Clari's artificial intelligence and my team's educated estimations.
Clari's CRM score indicates how likely a deal is to close, according to platform AI. Clari's AI considers historical data, recent changes in the deal, and the amount of time left in the quarter. The higher the score, the more confident I am that this deal will close and I can include it in my forecast.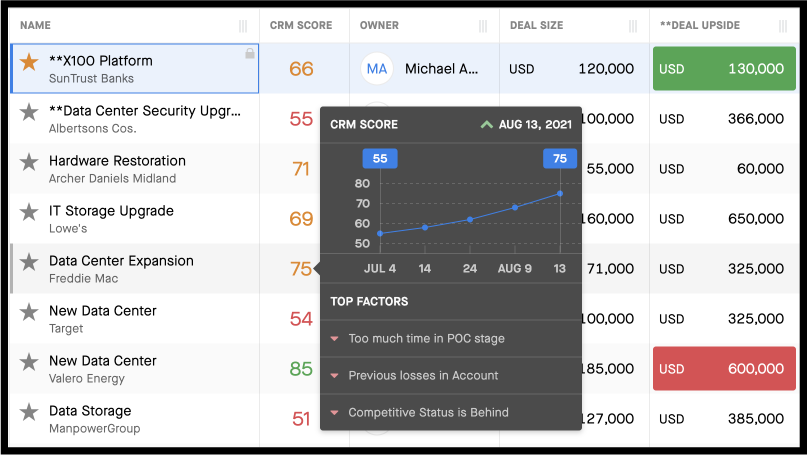 Another way I determine likelihood to close is through risk and momentum indicators. These signals in Clari highlight points like if a deal has "gone dark" and why — for example, "no files exchanged." Clari makes these notes after it assesses how a deal is performing against key indicators that we've learned impact the success of a deal.
Below, I can see a few deals that may need my attention. For instance, in the X100 deal, I can see that the prospect has gone dark and we haven't exchanged files. I'd hate to see our previous positive momentum derailed by these risks. My next step would be to brainstorm with my AE about the best ways to re-engage.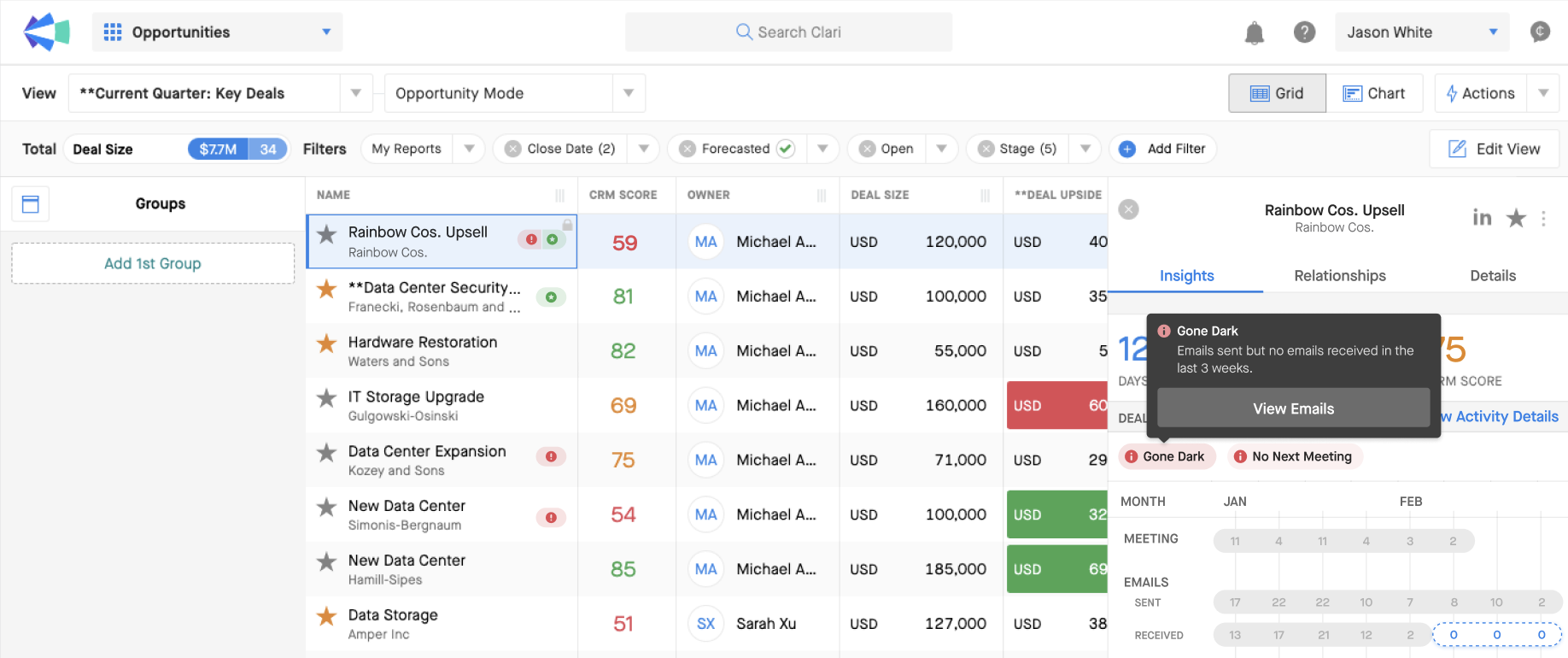 Engaging this process every week ensures that I am supporting my team in mitigating risks and finding opportunities to pull in deals, to ensure that we are hitting our quotas. Then, once the details are thoroughly inspected and actions are taken, I can set aside more time to focus on other critical tasks like capacity planning, hiring, talent management, identifying account whitespace, or professional development.
Learn more about how Clari can help your frontline managers, here. Schedule a demo at clari.com/demo.
Read More: