You're responsible for the past, present, and future financial health of your organization. Do you have access to the data you need when you need it to act quickly and with confidence?
Reports are fine and they have their place, but sometimes you just need to get in there and see the actual numbers for yourself—in real time. You can't afford to wait for someone else to pull up a spreadsheet and slice and dice the data for you.
Do you have unfettered direct access to important metrics—things like ARR/MRR, ACV/TCV, new logo velocity, upsell and renewals, ASP, current and next quarter projection, and churn?
If you don't, then you probably don't have a good handle on the true health of your business. And, sadly, you're not alone.
According to newly published results from Deloitte's fourth quarter CFO Signals™ survey for 2017, North American chief financial officers (CFOs) cite better data analytics as the top trend affecting their long-term business strategies.
And more than half of your peers say that their business models will have a substantial digital component in 2018, meaning they're putting money against the problem.
Whether you're manning the financial helm of a big public corporation or a lean, privately-held startup, you need access to revenue and booking numbers that you can trust, not just for long-term planning but to inform day-to-day operations so that you can spot performance patterns and identify where there is risk and upside.
And in today's dynamic global marketplace, stale reports and spreadsheets are no longer enough.
That's why more and more sales teams are implementing sales execution platforms that not only capture data in real time, but also apply advanced analytics and artificial intelligence (AI) to improve predictability.
Imagine what you could do with immediate visibility into key performance and finance metrics, sales pipeline, forecast, and more.
Imagine just tapping into the data you need when you need it instead of waiting on reports that might not reflect the most up-to-date state of the business.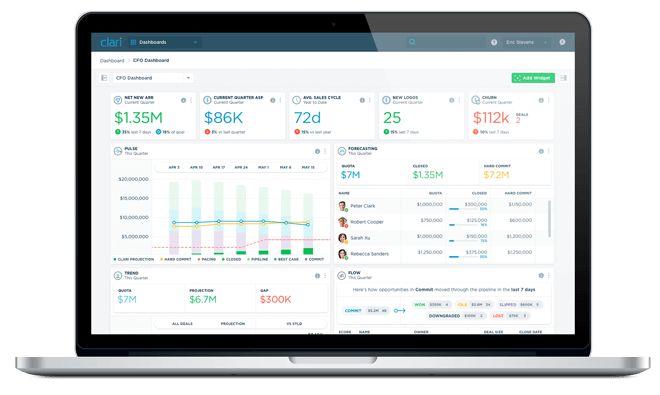 Advanced CFOs are turning to real-time data and prescriptive insights to get a better handle on how their business is really tracking, where they can expect to be at the end of the this quarter and next, and where they'll likely land at year's end.
Your company's success depends upon your ability to accurately forecast revenue, identify risk, and find ways to mitigate that risk where you can.
Beyond that, you need to know when and where to allocate capital, if and when to recruit new talent, and how much to invest in R&D. You can't do that effectively with fragmented data.
Now that there's finally technology that gives you complete visibility into the real-time performance of sales, it's no longer a question of if you'll make the leap to digital—it's when.
Deloitte's survey says 2018 will be the year that the majority of your fellow CFOs invest. Are you in?