In our continued efforts to unpack the role of the Chief Revenue Officer, we spent time with Robert Hoblit, CRO of DigiCert for our latest CRO spotlight installment. Hoblit spent more than 7 years at Symantec's website security business and brings a wide-ranging and varied expertise to his current role where he leads the sales, marketing and customer success teams.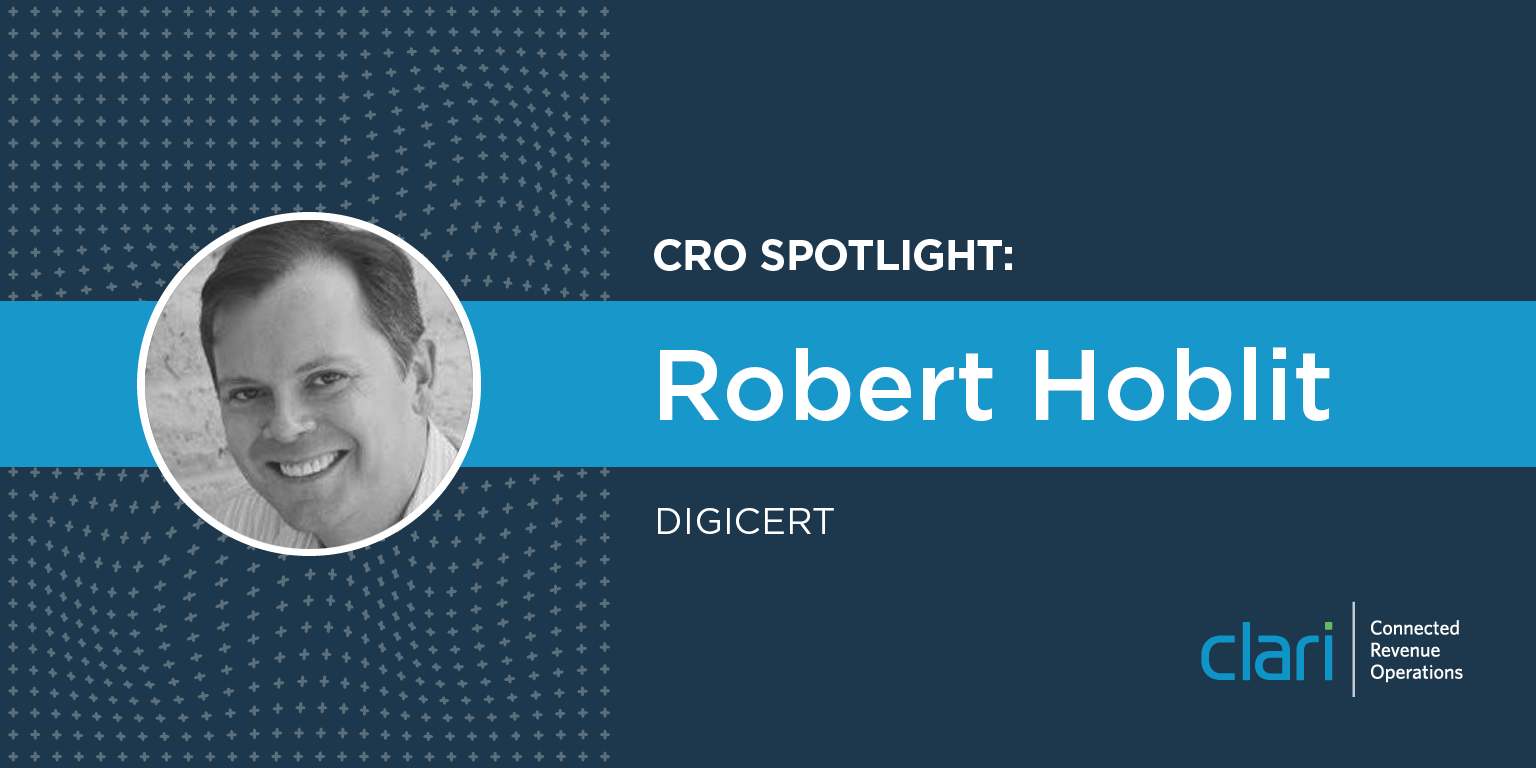 Clari: Robert, thank you so much for joining us today!

Robert Hoblit: Thanks for having me. Looking forward to chatting.
Clari: How do you define the role of the Chief Revenue Officer?
RH: The CRO is someone who is responsible for thinking through the end-to-end go-to-market aspects of a company. That can include marketing and sales, but there's also a very big analysis component that includes finance and planning. There can also be a pricing element to it. It really depends on the company.
Clari: Why do you think we're seeing the emergence of the CRO at this moment?
RH: The leader of a company is looking for a partner who is going to be very focused on making sure they are accomplishing their revenue objectives. Any board of directors is going to be grading the CEO on whether they are hitting their numbers, so the CRO is a way for the CEO to have more partnership on the holistic goal of revenue and profit. Having separate sales or marketing teams often lends itself to a siloed approach.
Clari: Do you see more CROs in certain types of companies?
RH: When you're in a situation with a high degree of change, it helps to have someone with a holistic focus on revenue. Change is frequent in the SSL and PKI space, and a CRO role is designed to ensure accountability for company revenue outcomes is successfully delivered through cross functional handoffs. There will never be precise definition of the roles and responsibilities of a CRO as a result. The job is to work through ambiguity and bring structure to unforeseen circumstances.
Clari: How do you define your CRO role at DigiCert?
RH: One of my biggest responsibilities is to identify the drivers of value for the company, which is another way of saying I need to know what is going to drive the outcomes the company needs.
Clari: How would you say the CRO differs from previous sales leadership roles?
RH: It's really about having an outcome-based approach for the go-to-market business, whereas a head of sales or a VP of sales or a chief sales officer would strictly manage the sales function. The CRO is very much a cross-functional role by design and it doesn't have very bright lines drawn around it. It's not as much about saying this is my job or not my job, it's really just a focus on delivering revenue. The CRO's job is just to figure out what it takes to get to the number.
Clari: What does your typical day-to-day look like?
RH: I'm involved in the sales process, which includes the sales forecast. I work with the marketing team and the process of bringing sales and marketing together. I have global sales leaders who report to me, a very senior analyst in a revenue operations role and the Chief Marketing Officer also reports to me.
Clari: Did the CMO always report to you? If not, what changed?
RH: When DigiCert and Symantec came together, I was asked to take on the role of the CRO and bring together sales and marketing as one construct. John Merrill, DigiCert's CEO, wanted to align goals and, especially in a transactional business, marketing is very intertwined with the sales process. There weren't clear lines where marketing stops and sales began, so he thought we should just bring them together.
Clari: Were there any challenges around that organizational shift?
RH: My experience at McKinsey was all around cross-functional leadership and then I was a product manager, which is a very cross-functional role. Having that background certainly helped create that alignment.
Clari: Any tips for other organizations that are going through similar changes?
RH: One key learning is to create as much direct correlation between teams as possible. When sales leaders can look into the marketing organization and identify their counterpart and work directly with that person to drive the outcomes they need, it has worked really well for us.
Clari: So when we talk about alignment, we're talking almost literal alignment.
RH: We found the teams work closer together when we drive that level of organizational alignment. It also helps with information sharing, which is another important element.
Clari: Do you have any tips for creating that culture of open communication?
RH: Encouraging your team to socialize a lot is important. I have my team meeting every week and, depending on the individual, we'll have a set 1:1 or just talk every day. We want to make sure everyone is aware of what the latest news is and a lot of that is just building personal relationships and communicating openly. We're not always in the same place, so we try to use all the latest and greatest tools.
For more stories around CROs and revenue operations, head to the Clari blog. Know a CRO we should feature? Email us at michael@clari.com.