The role of Chief Revenue Officer continues to be on the upward trend. The number of CRO roles on LinkedIn increased by 46% between October 2018 and February 2019 (while revenue operations titles rose a mind boggling 90%), according to SiriusDecisions. Take a quick glance at Google Trends and the meteoric rise of the CRO is apparent. In this installment of our CRO Spotlight series, we sat down with Steve Fitz, CRO at Sumo Logic to discuss the necessities of hiring correctly and what it takes to effectively align your sales and marketing teams.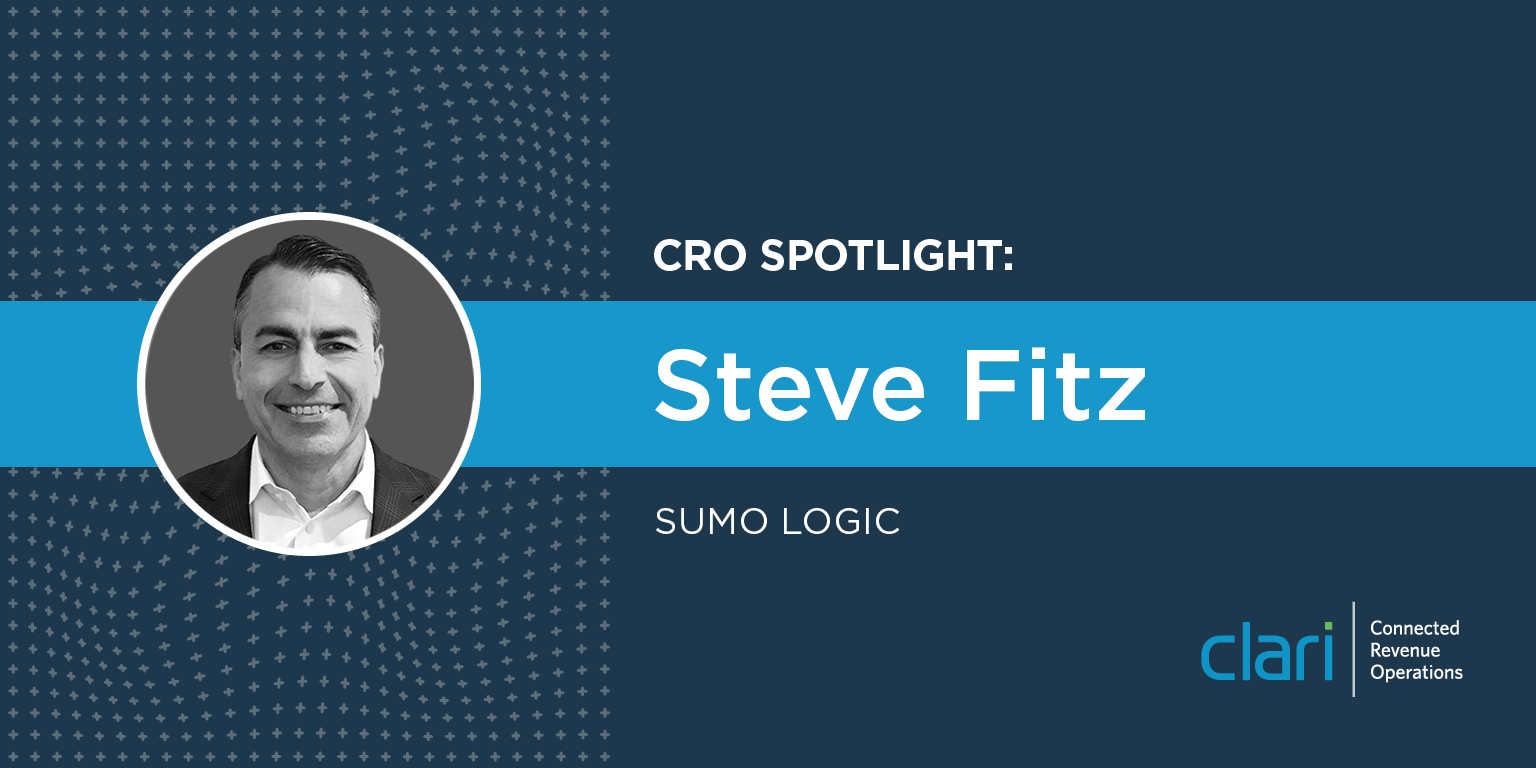 Clari: Thanks for taking the time to chat with us about the role of CRO. It's a topic we're really passionate about.
Steve Fitz: Anytime. Happy to be here.
Clari: In your definition, what is a Chief Revenue Officer?
SF: It's really all about the middle word in the title: revenue. The CRO is responsible for everything that involves revenue and the go-to-market for an organization. That includes anything touching the customer from sales, partnerships, business development, customer success, support, and customer experience.
Clari: How is this role different than previous sales roles?
SF: This role has evolved quite a bit because the business is more than just selling. It's about the customer experience and the customer need to extract value.
Clari: How does marketing fit into your org structure?
SF: Marketing doesn't roll up under me here. We have a CMO, but we both understand that sales and marketing needs to be a tight relationship with a bit of push and pull. We test each other.
Clari: What do you do to make sure that the two teams are aligned?
SF: We have a Thursday afternoon meeting between sales and marketing to bring the leaders on both sides to the table. We pick issues and hash them out. It ends up being a debate with a lot of candor and actionable takeaways that align both sales and marketing to hold each other accountable to what the business needs.
Clari: Where did the idea for the weekly meeting come from?
SF: We wanted to find a way to get issues on the table without doing it passively. This is more constructive. We have an agenda every week and there are no sacred cows in terms of people or initiatives. We work hard to make sure people aren't afraid to speak so we can all leave with some resolution and confidence in the next steps.
Clari: Creating that level of candor isn't easy. Do you have any tips?
SF: Check your ego at the door. We're pretty hard on each other, but in a good way. At the end of the day, we're solving for the business. It's not about this person or that person, it's about getting work done.
Clari: Aside from sales and marketing alignment, what would you say are the most important responsibilities of the CRO role?
SF: It all starts with the customer experience, but there's also a lot of focus on growth initiatives, playbooks and, organizationally, it's the integration of the stakeholders of the business to drive a predictable growth and revenue model.
Clari: So the CRO extends beyond his or her direct org structure?
SF: Definitely. CROs should be able to collaborate at the executive level. You have to manage up to the board and you have to work with the cross-functional executive team to partner on initiatives. It's about getting the SVP of Engineering or the Chief Development Officer or CTO engaged with customers early in the sales process to accelerate deals and bring credibility to the business. It's working with the CFO during contractual negotiations to create alignment with the customer.
Clari: What other traits do you think make for a good CRO?
SF: They have to have a process and follow a process. They need to lead from the front and should be a good public speaker who is both inspirational and motivational. They need to be able to drive people to execute and get results. And they have to be a great recruiter of talent.
Clari: Recruiting and hiring is a big responsibility these days.
SF: I probably spend 40 to 50% of my time interviewing and recruiting and partnering with HR. We're growing the business and the way you hire has to be commensurate. The opportunity cost of hiring an enterprise seller is between $1 million and $1.5 million because if that person isn't the right fit, you're losing out on rep productivity and revenue contribution. A bad decision can cost you. Everything's not always clicking, but you always have to be moving towards alignment.
Clari: Speaking of alignment, where does customer success fit into the picture for you?
SF: SaaS is different than the traditional model. It's all about the experience and making sure the customer values that experience. You have to invest in that side of the business as much as the selling side. Your customer success team is the one that's going to differentiate and manufacture the business going forward.
Clari: What are your best practices for creating an ideal customer experience?
SF: You have to touch them early and often and make sure that the value paradigm is well understood and well conveyed. We'll spend time with customers to make sure they understand the value and create resources for customers to sell internally. What we find is that once we get above a certain level, there's a lot of people that scrutinize the spend. If you don't arm your people with that set of value documents or paradigms, you'll be on your heels.
Clari: Where do you see the CRO title in 5 or 10 years?
SF: Revenue is the linchpin of any organization. I think in many ways the role of CRO gets stronger. We all serve our customers at the end of the day and the Chief Revenue Officer is the one that owns the customer relationship.