Many customers have asked whether Clari works for SDR teams, and the answer is: Yes.
Sales development teams have a significant impact on the customer journey, so it's important they're tracking key metrics related to meetings set, pipeline generated, and closed-won deals. When sales teams track and surface these metrics correctly, they can confidently make data-backed decisions that positively impact their business
However, it's this type of visibility that so many companies lack. Without proper instrumentation in place, companies will never understand what they can double down on from a top-of-funnel, sales development perspective.
This is where sales tech stack tools like Clari come into play.
Here are six ways SDR teams can leverage Clari to crush their pipeline goals.
1. Forecasting meetings booked, quality opportunities, and pipeline generated
SDRs use Clari to automate tasks that can take hours, like those associated with rolling up revenue forecasts across reps, regions, overlays, channels, and product lines.
Our SDRs forecast deal counts in the form of meetings and opportunities. We use Clari's forecasting module internally to submit, roll up, track, and measure:
Stage 0 (S0) opportunities (our version of a booked meeting).

Stage 1 (S1) opportunities (sales qualified opportunities).
At Clari, SDRs submit a weekly S0 and S1 forecast, which is a projection of how many booked meetings and qualified opportunities they anticipate. We streamline this by providing SDRs with visibility into key insights like:
Call to connect conversation rate.

Connect to meeting conversation rate.

Upcoming S0 meetings.

S0 to S1 conversation rate.
Understanding exactly how many inputs will lead to their desired output—in this case a booked meeting (S0)—allows our SDR team to forecast their S1 projection with confidence and accuracy.
At Clari, each SDR's forecast rolls up to our SDR managers, who in turn forecast an aggregate of their team's numbers. That rolls up to me, and eventually all the way up to our chief revenue officer, who has visibility into how we're tracking on a weekly basis.
Having visibility into insights like forecasted opportunities or S0 to S1 conversion rates are important, but you can't achieve true predictability without proper processes and rigor.
2. Visibility + rigor = predictability
Prior to operationalizing our sales handover process in Clari, we saw an average S0 to S1 conversion rate of approximately 65%. That means nearly two-thirds of the meetings we booked were converted into qualified opportunities. Certain reps would take longer than others to convert opportunities and some had slightly different criteria around what constitutes a qualified opportunity. But the biggest challenge was that we didn't have a good understanding of when or why opportunities would convert, or become lost. And, there was a lack of clarity around the handoff process.
With Clari, SDR managers and sales rep managers can see exactly:
How many meetings were booked.

How many of those actually happened.

How many days since the meetings were completed.

Which meetings fell outside of the 30-day Service Level Agreement.
We also created a service level agreement (SLA) with reps that required them to take action on their opportunities after the initial meetings. A rep had to convert a S0 to S1, or close it out, within 30 days. When converting to a S1, we used Clari to analyze each opportunity to understand what a good opportunity looked like.
When deals were marked lost, we tasked reps to provide a reason, which helped us understand areas where we could improve. We tracked the progress of all of these meetings daily, weekly, and monthly so this visibility—along with the rigor we injected—increased our S0 to S1 conversion rate by 10%.


3. Reengaging closed lost opportunities
Since we're tracking our S0 meetings, we can capture data like all of the contacts, campaign sources, and sales notes. We've also asked sales reps to provide specific notes when a deal is marked close lost.
Closed lost reasons can include:
Timing.

Radio silent.

No current initiative.

No access to the power base.
Managers can use this information to coach their SDRs on qualification, or rethink our prospecting strategies. We ask SDRs to surface closed lost opportunities in their one-on-ones with sales reps in order to create reengagement plays for the future. Again, this is all tracked in Clari, and has increased collaboration across our teams, as they're looking and working off of the same actionable data, in the same place.
4. Deal acceleration for larger prospects
We also have a process in place for our mid-market and enterprise SDRs to accelerate in-flight opportunities. In these larger segments, we track S1 age in Clari, which allows us to understand how many days deals sit in that stage.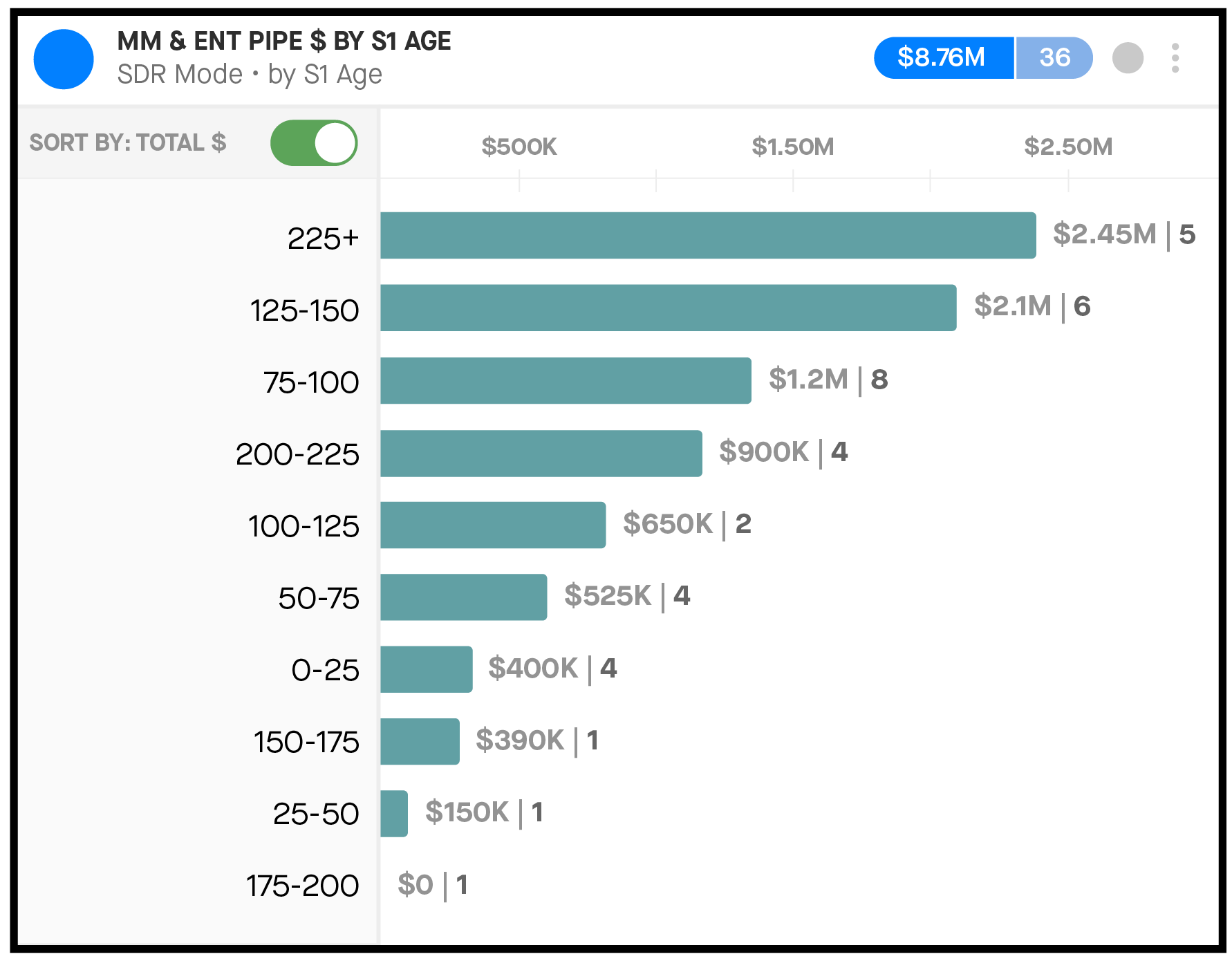 We noticed that many opportunities remained open and static in Stage 1 for months. These are generally longer sales cycles, and sales reps don't always have the bandwidth to nurture deals in earlier stages, especially if they have later stage deals to focus on. As an SDR team, we track these static S1 opportunities in Clari and then collaborate with our sales reps on re-engagement plays.
5. Account prioritization and engagement
Clari's Account Engagement module helps our teams identify whitespace within their regions.
At Clari, we're hyperfocused on a set of target accounts every quarter. Each rep and SDR has 50 to 200 accounts, depending on the business segment.
We also create three priority tiers. Account Engagement offers the visibility we need to ensure our go-to-market strategy is optimized and aligned on priority one accounts.
6. Out-quarter target setting
All of this—moving S0 to S1, prioritizing prospects—relies on accurately predicting and forecasting our pipeline. SDR teams can generate all the pipeline they want, but if they don't understand how the pipeline progresses, or if they're on track to reach revenue targets, SDR teams can't articulate the value and impact they have on the business.
So, the final way SDR teams can use Clari is arguably the most important and strategic because it helps answer the questions:
Where is the pipeline coming from and how is it progressing through the funnel?

Are we generating quality pipeline for the current quarter and future quarters?

How much pipeline is suggested next quarter to hit our revenue targets?
Using Clari's Pulse module, I can instantly see how much pipeline we need, broken down by stage, for current and future quarters.
These insights have allowed me to be forward-thinking for the first time in my career, upleveled my thinking, and earned me a seat at the table with our CEO, CRO, CMO, and VP of Growth when we discuss top-of-funnel initiatives.
Interested in learning more SDR-related use cases in Clari? Request a demo today.
Read more: