The misalignment between sales and marketing is seemingly endless. Marketing works tirelessly to create collateral, run events, and execute complex digital strategies. But the sales team can't find the content they need, are dissatisfied with lead volume or quality, and lose trust in their marketing counterparts.
This cycle can be hard to break, but it's not impossible. The solution lies in how each department defines success—moving away from leads and meetings, and toward building pipeline and revenue.
In a true revenue operations framework, each team understands their role in the revenue operations process, identifies the components of the process they control, and focuses completely on how to optimize each component in the process.
At Clari, a revenue operations platform, we go one step further. Our growth team serves as the connective tissue between sales and marketing. Growth focuses on turning the efforts of the content, design, and product marketing team into demand-building programs. They work closely with the sales team to convert that demand into qualified pipeline.
Instead of asking, "how many leads did that event create?" Our growth team might ask, "how much qualified pipeline did that event create or influence?" The difference may seem subtle, but just the change in that basic question elevates the entire revenue process.
How We Accomplish Growth at Clari
Growth Department Vision
Own the full pipeline number that supports Clari's new logo and expansion revenue targets. Deliver the specialized programs and optimized processes that create, accelerate, and close revenue.
Create world-class buyer experience that is completely consistent across the entire sales cycle -- from opportunity creation to close.
Clari's growth department is a bit non-traditional. It includes growth marketing, which is demand generation, field marketing, and marketing ops. This team is responsible for our entire martech stack, campaign design and execution, online and offline events, and our account-based strategies.
Growth also includes the revenue development team, more traditionally known as sales development. This team vets the inbound demand created by growth marketing, helps execute account-based strategies, and leads the outbound efforts at the company.
Lastly, growth at Clari also includes revenue enablement. This team is responsible for educating the field on messaging and positioning, competitive responses, and sales methodologies, and coordinates our annual Revenue Kick Off.
As the leader of the Growth team, I report directly to our chief revenue officer and have a dotted line to our chief marketing officer. I sit in both staff meetings, attend both teams' offsites, and serve as the connective tissue between the two teams. I'm always aware of what's top of mind for leadership on both teams, and ensure that we always have a similar set of priorities. If the teams start to drift apart, we can catch that early and course correct so that small holes don't become unbridgeable gaps.
The growth team's key success is based on the amount of qualified pipeline they build, for our new logo business as well as our customer business. This includes pipeline generated by marketing, as well as the pipeline developed by our RevDev reps, our account execs, and account managers. The entire revenue engine is expected to contribute to pipeline generation, but we're the team ultimately accountable. This structure means our executives and senior leaders know where to go with questions or concerns about pipeline generation efforts.
Diving Deeper Into Pipeline Generation
Clari's growth team holds biweekly calls with the company's executive team and other interested parties across the revenue organization, from sales to finance. These calls form the backbone of our growth operation by not only setting goals, but also ensuring everyone is aligned on their part, troubleshooting any potential obstacles, and weighing any needs for the future. We report on quarter-to-date performance against the operating plan, as well as our pipeline position for future quarters.
Our quarter-to-date reporting focuses on pipeline generation to support our new logo and customer expansion revenue targets. We break down the pipeline by sales segment and geography. We also drill down to the front-line manager level as necessary. We open the floor for conversation, understanding which areas need shoring up, asking ad-hoc questions, and ensuring that we can answer yes to this key question: Are we creating enough pipeline today to support our revenue targets of tomorrow?
Next, we examine pipeline coverage. If our next quarter revenue target is $10 million, and we have $20 million in the pipeline for that quarter, then we have a 2x coverage ratio. Target pipeline coverage waxes and wanes since it depends on sales execution, but we try to enter each quarter with at least a 2.5x coverage ratio in our various sales segments.
Importantly, we're not just looking at the aggregate pipeline number. We're evaluating how much pipeline coverage we have in each sales stage, and what plays we have to run to close as much business as possible. In the example below, we have plenty of early stage pipeline. We need to focus on advancing that pipeline into later stages—what deal acceleration plays can we run to best support this? Once we identify the strategy to pursue, we'll meet with individual reps to design the specific tactic for each account.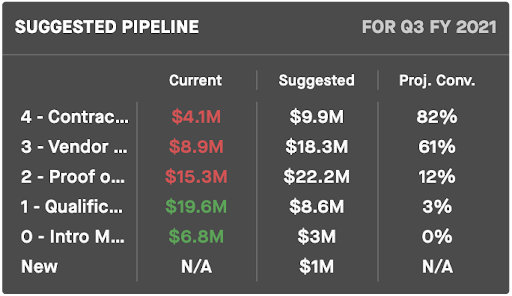 If we were well covered in later stages, then we'd focus less on acceleration and more on filling the funnel with net new opportunities.
This kind of flexibility in response to the needs of the business is a key benefit of the growth team's focus, leading to strong alignment between all stakeholders and ensuring that everyone's work is as tied to revenue impact as possible. This doesn't happen at many other companies, where the division of labor is too strict and the success criteria too different. Our growth team has overlapping responsibilities, strategies, and key performance indicators with both sales and marketing, which forces integration and alignment.
This is a true revenue operation. Constant scrutiny, complete accountability, and co-owned strategies and tactics—all in the pursuit of revenue.
Read more: