We all know that coaching is critical to any sales organization's success. Study after study has shown that a well-coached team produces better leads, generates higher revenue and develops more annual growth — nearly 17% more, according to the Sales Management Organization — than organizations that don't invest in sales coaching.

Coaching is also critical to the engagement and development of sales reps. A whopping 60% of reps say they'll leave a company if their manager isn't a good sales coach.
It's a no-brainer that coaching should be a top priority for sales managers. But more often than not, it isn't. Only 47% of managers are actually coaching each rep for more than 30 minutes a week.
It's completely understandable: As the pace of business accelerates and organizations get leaner and leaner, managers are wearing more and more hats and are stretched increasingly thin. Coaching tends to fall away in favor of immediate business needs and putting out fires.
But perhaps the worst part is, we think we're doing better than we are. A Harvard Business Review study of Fortune 500 companies found that sales leaders rate themselves in the 79th percentile for sales coaching effectiveness, while direct reports ranked them at 38% for effectiveness — a troubling discrepancy between perception and reality.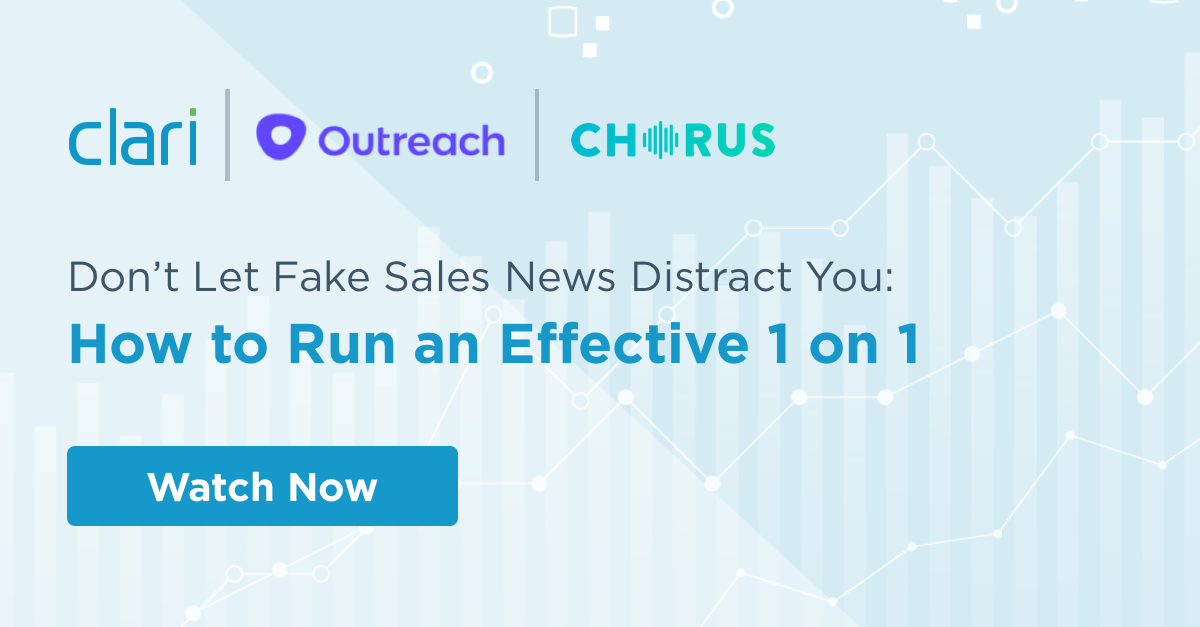 Luckily, there are several simple, streamlined ways you can retool your coaching game and reap the rewards of a highly productive and engaged sales force. Here are the top six ways we are failing our reps as coaches, and ideas for how you can fix it.

#1: 1:1s are a waste of time
Much of the time, we spend our weekly 1:1s with our reps rehashing the details of the deals they're working. This isn't a productive use of the rep's or manager's time. To ensure your 1:1s are valuable, get up to speed on your reps' deals and performance prior to meeting so you can use the face-to-face time to assess what's working and what's not, and to troubleshoot solutions.
Empower your reps by giving them a tool that automatically collects data about their deals into a single source of truth visible to both rep and manager. This will allow you to review the data prior to the meeting, so everyone has the latest information going into the meeting instead of spending time playing catch-up.
#2: You don't have a consistent framework for your 1:1s
If the structure of your 1:1s varies from week to week, it can be hard for both the manager and the rep to know what to discuss, what the expectations are and how to forge ahead. Implement a consistent framework for your 1:1s.
I meet weekly on Mondays with each AE and set this agenda for 1:1s:
Accountability: Did each of us follow through on agreed-upon actions from our last 1:1?
Alignment: Share key observations based on leading indicators. Are there any pivots the rep needs to make in terms of pipeline build, activity metrics, conversation talk tracks, etc...?
Forecast: Do a deal deep dive for all commit and best case deals in play. Ask pointed questions to avoid happy ears.
Coaching: Listen to clips in our 1:1 playlist focused on mutually identified development areas to assess mastery and new focus areas
#3: You're not coaching high performers
It's easy to tell our top performers that they're doing great and advise them to keep up the good work. But top performers are the most likely to crave helpful feedback and want to improve. It's critical that we push ourselves to focus on them in our coaching efforts in order to keep them engaged and prevent attrition.
As with all your sales reps, make an extra effort to identify and mention specific actions that have led to positive results, as well as work on areas for improvement. Sometimes the best performers have trouble identifying the specific reasons why they are successful, so this is an area where you can add immense value.
#4: Your feedback is off the cuff
Sometimes prioritizing your day as a manager feels impossible. You run from meeting to meeting with no time to step back, meaning you become reactive rather than proactive. Consequently, when you deliver feedback to reps, you do so in the 30 seconds between calls. It's ad hoc, easy to forget, and lacks structure.
To prevent your feedback from getting lost in the hustle and bustle, regularly make time for coaching sessions. When you do coach, make sure you coach not only to specific deals, but also to the skills of the rep. Finally, capture your feedback and agreed-upon action items related to coaching in writing — and follow up on it consistently.
#5: You don't encourage your reps to take ownership
In order to improve, it's critical that reps feel a sense of responsibility and agency over their performance. Consider having them share examples of their performance — such as clips of themselves demonstrating mastery of a skill or struggling with a skill — on sales calls throughout the week. Then, review the clips with the rep together. As they hear themselves — and as you hear them — master the skill, reps begin to feel empowered over their development. They feel a sense of ownership in their own coaching, and generally feel more engaged and connected to the organization as they track improvement over time.
#6: You don't use data to stay objective
One of the hardest parts of any sales manager's job is to discuss performance issues with a rep. But it's also one of the most important. To ensure that emotions and finger-pointing stay out of the discussion, it's absolutely critical that the manager focus on the data.
For example, listening to call recordings can help you approach the topic objectively: "Last week we agreed that the call should include a discussion of X. But what happened was Y."
Get your rep's perspective on why that occurred, then offer your perspective — again, based purely on data and actions. It helps here to have plenty of clear, transparent and available evidence to support your claims. Then tie the impact of Y to specific outcomes and explain the need to fix it.
This will help both the rep and the manager to remain unemotional and fix performance issues without evasion or playing the blame game.
Your Next Steps to Sales Coaching Success
Creating a culture of coaching is difficult. It takes consistent effort and follow-through. So why bother?
According to the Sales Management Association, companies that invest in sales coaching generate, on average, 16.7% greater annual revenue growth. By being aware of these common pitfalls and how to address them, you will find greater success in driving growth within your organization — both for the reps personally, and for the company as a whole. Spending time to really think through how we can effectively coach our reps properly is tough, but it's worth it.
These tips were originally captured in our webinar Don't Let Fake Sales News Distract You: How to Run an Effective 1:1 with Clari, Chorus and Outreach. See the full webinar here.
Author Bio: Grace is the Sales Manager for the SMB team at Chorus.ai, a conversation intelligence platform that helps leading sales teams increase win rates, cut down ramp time, and institutionalize best practices, using the insights you'd get from sitting in on every sales call.