It's a big day. Launch day. And before I say anything else, I want to say thank you. Thank you to the many, many sales teams – including those at Cisco, United Healthcare, Juniper, Box, VMware, Franklin Templeton, and more – who welcomed us into their organizations, so that we can deliver a truly game-changing sales solution. One that will change the status quo in the CRM industry. One that will make sales not only more productive, but also fun again. One that we will introduce atDEMO Enterprise today.
In case you don't know about the work we've been doing, I'd like to tell you a little bit about Clari:
Eighteen months and hundreds of customer calls have gone into Clari's development. We talked to sales people, built product, demo'ed prototypes, asked tough questions, iterated, asked more tough questions, and iterated again – until we got it right. And today we're delivering a mobile-firstSales Productivity Platform that combines beautiful design and data science to increase sales team productivity while improving sales managers' visibility into deal progress.

A well-known press person asked me "Why did you stay in stealth for so long?" Honestly, I had to think about that for a minute. After a pause to think, the answer was clear: we wanted to prove ourselves first. We wanted to prove we had something special, something of meaningful and distinct value for our customers, for the entire CRM market – before telling the world.
With Clari, field sales teams know more, sell more, and update less. Yes, I know, that sounds like a tagline. And it is. But it's grounded in what matters to us. "Know more" is about discovering which deals and relationships need a little extra love while understanding rep activity, sales processes, and deal progress with a clarity never before possible. "Sell more" is about saving time for reps, so they can spend additional time with their customers, closing more deals…faster. And "update less" is about automatically updating CRM systems to eliminate "sales prevention day," that day of the week when reps stop selling because they have to sit in their offices updating the CRM system – all the while wishing they could be out meeting quota or attending their kid's soccer game.
We designed Clari for field sales teams frustrated with current CRM systems because of the poor support for daily selling and the time-sucking data-entry. Our goal is simple: combine mobile convenience, cloud reach, and data science to turn mobile devices into true sales weapons.
But let's be clear: Clari doesn't replace a CRM system like Salesforce.com. It's complements CRM in two powerful ways: first, selling is easier because reps have all the content they need at their fingertips. This starts with access to the CRM, increasingly the system of record for customer information. But of course reps need more information than exists in the CRM. Far more. Clari reaches beyond the CRM into all a rep's most valuable sources – from email and calendar to LinkedIn, other social media apps, and news services – all to deliver the unified, deal-centric information reps need for better sales calls and more closed deals.
Second, CRM data quality gets wildly better because updating becomes so convenient. Reps update the CRM with a tap or swipe as they sell. Clari even checks a rep's calendar and asks a few pointed questions after a meeting to make sure nothing falls through the cracks.
As a result, Clari gives reps what they crave: an easy-to-use mobile experience to help them close more business. And in the process, the CRM system gets better at internal reporting and forecasting because the underlying data is more current and trustworthy.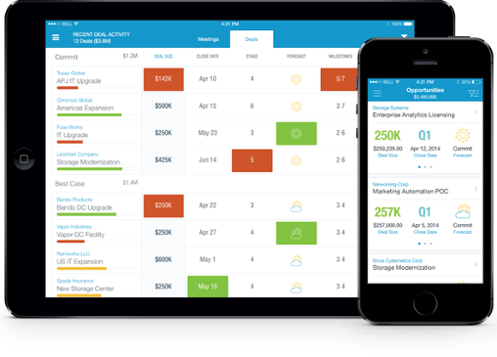 But no rep sells alone. So we also serve managers and sales operations teams – the other two members of what we fondly call the "Golden Triangle." Our data-science innovations deliver insight for the entire team: what immediate actions will help the team reach quota this quarter and what approaches will be most effective in future quarters.
Clari is a new mobile-first, Sales Productivity Platform making life better for sales teams. I'm passionate about it. Our team is passionate about it. And once you see it, we hope you will be, too. I'd love to hear what you think, so please leave a comment or contact me directly.