As our own board member Ajay Agarwal recently wrote about in TechCrunch, the future of enterprise software is machine learning.

So, nothing could be more predictable about this year's Dreamforce than the fact that you're going to hear a LOT about predictive analytics. As you can see from Google Trends, it's as hot as that cup of Blue Bottle Coffee you may be enjoying next week while you're soaking in all of the unbelievable learnings Dreamforce has to offer.

As a sales professional, you probably hate marketing-speak. So, going into next week's show, we thought we'd give you a simple, one-page overview of the predictive analytics space so you know where to focus your time and energy as you line up the right vendors to meet with. Here's the breakdown: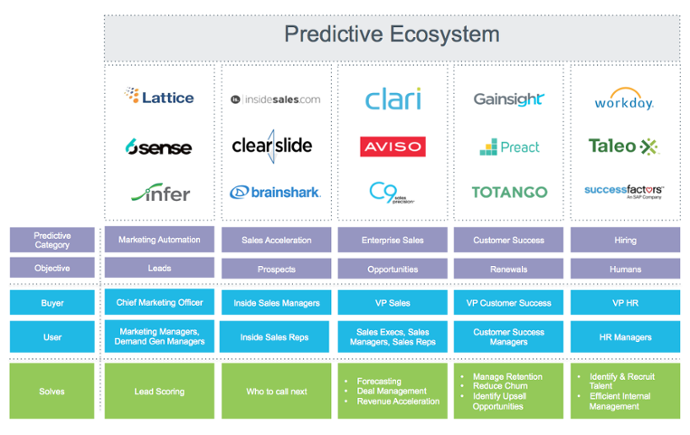 Where should you focus first? Depends on where you think you can get the greatest ROI and the most value for your dollar. At Clari, we believe there is huge value to be unlocked in every organization by optimizing deal management: improving forecast accuracy, driving faster deal velocity, and maximizing deal outcomes through a combination of data science, predictive analytics, and a whole new way of allowing sales teams to collaborate around deals in real-time.


Sound intriguing? Give us a shout and let's talk live next week at Dreamforce and get a Garmin Vivofit! That's right, the best in predictive analytics has to be matched with the best swag!