Background
Adoption of sales engagement platforms and buzz around the category has risen among revenue organizations in the last year, with many trying to determine the best sales engagement software for their business. However, the concept of sales engagement is as old as selling itself. At its core, sales engagement describes the various interactions that sellers have with prospects and customers along the buyer's journey. Whether it's over the phone, via email, or in-person, each successful touchpoint moves the buyer closer and closer to converting into a customer.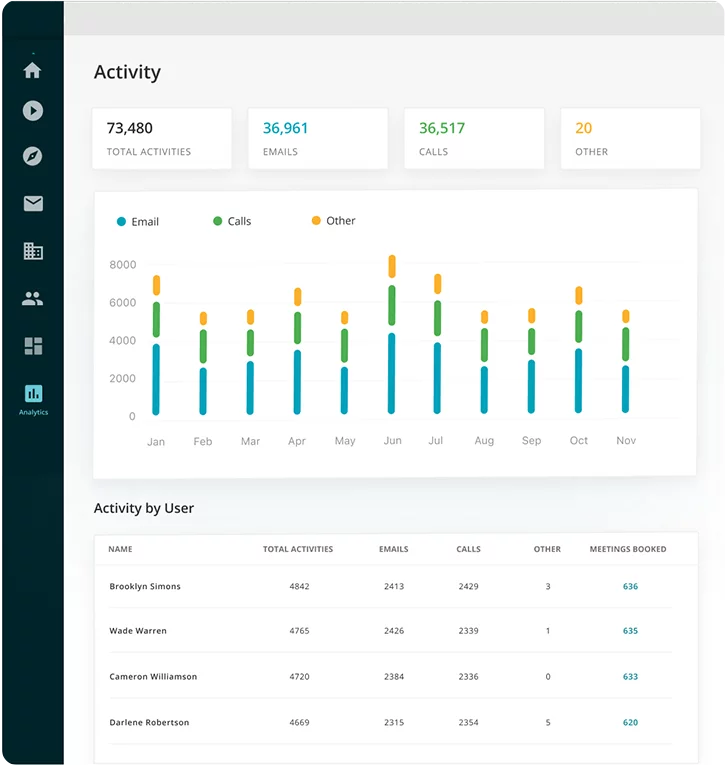 In recent years, feedback from sales teams across verticals has sounded strikingly similar: today's buyers are time-constrained, likely to be doing their own research, moving at their own pace, and prospected by competitors at every turn. These developments have changed the rules of engagement for sales teams across verticals. A multi-touch buying experience that's personalized to the prospect's industry and pain points is now critical for cutting through the noise, maintaining contact, and guiding them along the journey.
This makes every touch in this buying experience extremely valuable, and that's where having the right sales engagement platform in place can be the difference between blowing goals out of the water and scrambling at the end of quarter.
In this post, we'll describe what a sales engagement is and what kind of benefits it can deliver for your customer-facing teams (e.g sales, account managers, support, marketing, etc.). Next, we'll look at the key capabilities that you should look for when selecting a platform and the differences between good and bad implementations. Already have questions? Scroll down to our FAQs. Now let's get started.
So what exactly is a sales engagement platform?
Sales engagement platforms have emerged as the most effective way to optimize the selling process, providing a single interface that helps teams plan, execute, track, measure, and optimize interactions with customers across multiple touches and channels.
Sales engagement platforms are an engagement layer that sits on top of your existing CRM system and multiplies its impact—syncing and surfacing data, automating manual tasks, and measuring and tracking the results that matter. Their effectiveness at driving revenue has quickly made these platforms the most utilized sales technology after the traditional CRM. In fact, 90% of sales leaders plan to invest in technologies to help their sellers engage effectively with prospects and customers.
Above all, the goal of sales engagement software is to make each step in the buyer's journey customer-centric so your team can win more deals. An effective platform accomplishes this by automating menial tasks, bringing valuable CRM data right into the email inbox and enabling personalized communication at scale. When used effectively, it allows your customer-facing teams to spend more time generating revenue in an extremely efficient manner.
If your organization values every interaction with customers and prospects, you'll benefit from integrating a sales engagement platform into your process. Let's break down the main benefits.
Give reps more time to do what they do best
Sales engagement platforms provide a single UI for sales reps to manage their activities, allowing them to reference up-to-date information, add prospects to multi-step communication flows, update activities, share notes, and more. Sales reps are too familiar with the headache created by the back-and-forth of flipping between their email, CRM, collaboration tools, and other systems. With sales engagement platforms, one platform houses all of the relevant info and surfaces it when you need it.
Sales engagement platforms allow teams to save even more time by automating manual processes like activity capture, outbound prospecting, email sequencing, and administrative tasks. Instead of reaching out manually, reps can engage contacts with multi-touch campaigns and automatically import new leads into existing messaging flows. Saving time on manual tasks frees up sellers at all levels, from SDRs to sales managers, so they can focus their attention on the high-value activities that drive revenue. While all sales engagement platforms employ automation, choosing a platform that is native to your CRM will allow your teams to save even more time by being able to rely on accurate, real-time data and easy administration (more on that in Section 2).
In the screenshot from Groove's platform below, you can see how a rep can automate message flows that span email, calling, LinkedIn, direct mail, and more into a sequence or "flow."
Improve team effectiveness and efficiency
Sales engagement platforms bridge your CRM system with the places where sellers spend most of their time—their email inbox and LinkedIn.
A strong platform will eliminate miscommunication and make sure that your team is on the same page by automatically logging activities, tracking communication history, and referencing shared notes all in one place.
Arming sales reps with the right information ensures that they have what they need to make each touchpoint personalized and relevant. By surfacing relevant data at the point of engagement, reps can uncover new opportunities that they might have otherwise missed. And by eliminating the need to switch between different systems to research contacts or accounts and personalize communications, you enable repeatable high-quality engagement at greater volume.
In this screenshot, you can see how a sales engagement platform can automatically surface valuable information as a rep crafts an email to a prospect: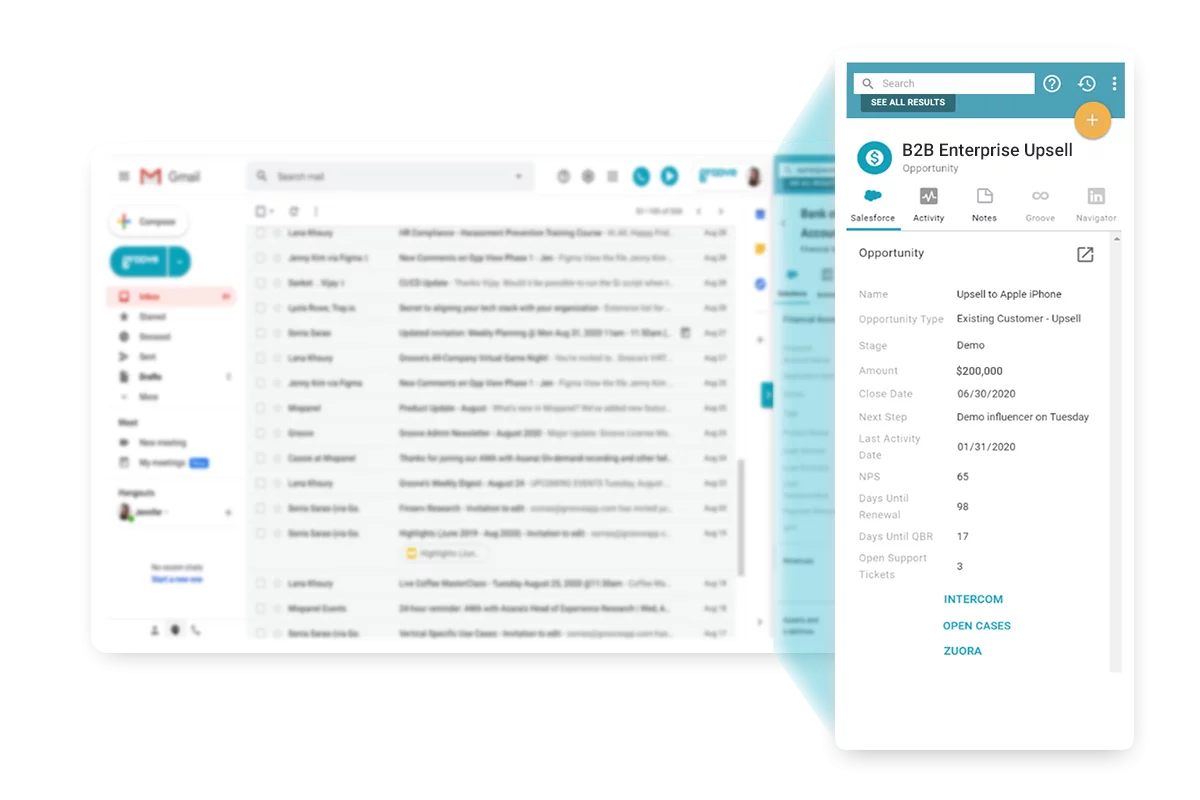 Stay on top of your book of business
For revenue teams working multiple high-value deals at the same time, the work of researching, updating, and keeping track of all of the deals can be chaos for both reps and managers. The entire process can be extremely time-consuming, from manually looking up contact, opportunity, and activity information for each interaction to logging relevant activities and notes back to your CRM.
Sales technology has evolved to a point where AI is now commonly built into platforms that capture vast amounts of engagement data. AI looks for patterns within the data and then makes recommendations for how sellers can improve their workflows and communications. Platforms like Groove use AI to process large amounts of data and empower sellers to quickly prioritize engaged accounts and make better decisions. Groove also uses AI to expose pre-analyzed data to our users so that they can decide on the preferred modality of communication and close deals faster.
Drive more revenue with a platform that your team loves
Sales engagement platforms don't just make the lives of sellers easier. When fully utilized, these platforms serve as a unified space for the entire revenue team to align, execute, track, measure, and optimize their engagement with customers and prospects. From Marketing and Finance to Account Management and Support, all customer-facing teams can benefit from automation and streamlined workflows.
Centralizing revenue teams on a single sales engagement platform ensures greater transparency across roles and functions. Users can find new ways to collaborate and improve their performance. Similarly, executives and team leads can view the entire organization's engagement data at a glance, giving them an efficient way to track performance. At the highest levels, sales engagement platforms allow sales, marketing, and account management leaders to measure campaign progress, check account status, and view team reports. Managers can drill into engagement data alongside reps to identify focus areas and prioritize the contacts and accounts that need attention. Teams can easily understand which flow sequences are performing best and optimize underperforming campaigns.
In this screenshot, you can see how a sales engagement platform provides a space for cross-functional teams to collaborate in one place: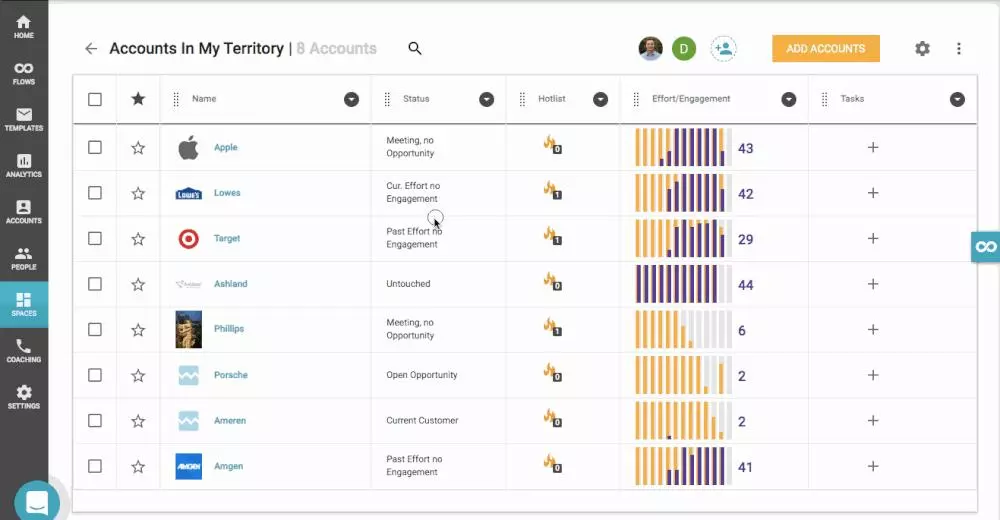 TL;DR: Sales engagement platforms impact revenue in three primary ways
Elevate sales team efficiency by automating menial tasks
Improve opportunities and close rates by increasing the quality and volume of 1:1 interactions
Use performance data to optimize engagement, visibility, collaboration, and reporting across the entire organization
How do today's business leaders choose a sales engagement platform?
Leaders looking to implement a sales engagement platform should evaluate each platform based on its ability to support diverse use cases across teams, improve engagement volume and quality, increase the productivity and effectiveness of every user type, integrate CRM data into existing workflows, and streamline ongoing administration and maintenance.
Before choosing a sales engagement platform, ask yourself
Is the platform flexible enough to support the needs of all customer-facing teams?
How much time will the platform save my team?
How much more effective will the platform make my reps?
How well does the platform integrate with my teams' existing processes?
Is it easy enough to learn and use so my teams will actually adopt it?
How will it impact data security and compliance risk?
How much time will it take to manage on an ongoing basis?
Let this criteria guide you when evaluating features and choosing a sales engagement platform for your team. Keep in mind that there is no "one-size-fits-all" solution. Your unique structure, sales processes, and existing CRM will all factor into the effectiveness of any given platform.
Consider the following capabilities
Priority 1: Robust automation
All sales engagement platforms have some form of automation, but only the best extend that automation to critical areas where they can have the greatest impact for your business. Make sure that the sales engagement platform that you choose offers a mix of the following automation features:
Automated messaging flows: Create multi-step, multi-channel campaigns and personalize them using any field or attribute in your CRM. Messaging should support email, SMS, calls, meetings, and LinkedIn. (Flows may also be referred to as sequences or cadences.)

A/B testing: Easily identify which message flows work best and which need fine-tuning. Make sure users can see engagement metrics at both the account and individual level.

Speed to lead: Automatically import new leads into a Flow and reduce speed-to-lead to seconds, significantly boosting your meeting rates.

Email sync: Automatically log inbound and outbound emails to your CRM. Easily control which emails are synced and which aren't so there's never any confusion.

Calendar sync: Automatically sync meetings from your calendar to your CRM, including custom field values. Configure to only sync certain meeting types.

Online scheduler: Drop customizable scheduler links into emails right from your inbox. Personalize the experience by pulling CRM data (including custom fields) into the scheduler form fields. Support teams with round-robin scheduling.

Advanced activity capture: Capture activities in real-time with custom metadata and associate them with custom objects in your CRM.

Auto-dial and call log syncing: Dial with one-click and automatically log calls, transcripts, and notes to your CRM. Leverage local-presence calling and drop pre-recorded messages into voicemail boxes so you can move on to the next call.
Priority 2: Built to impact your entire revenue team, not just a prospecting use case
The second test of an effective sales engagement platform is the extent to which it can also help teams outside of Sales create valuable, timely touchpoints along each stage of the customer journey. This means evaluating the platform on its ability to support common use cases across the revenue team, from SDRs, AEs, and full-cycle sellers to Account Management/CSMs, Support, Marketing, and even Finance. To ensure adoption, the platform should be easy to use and customizable for different teams. It should also provide spaces for cross-functional teams to collaborate and leadership to view performance and identify areas for optimization.
Make sure the sales engagement platform you choose has features that impact the entire revenue organization, such as:
Workflow management: Assign tasks to other team members and collaborate on account lists using real-time data from your CRM.

Actions: Organize all of your workflows in one place where you can easily take action on all due steps for all active messaging flows.

Workspaces: Collaborate on account lists to generate more high-quality opportunities and close more deals.

Activity log: Get real-time insights into activities as they are completed, including calls, emails, and tasks.

Template performance: Understand how email templates and call scripts are performing and standardize on top performers to accelerate performance and onboarding.

Call and email stats: Identify which days of the week and times of the day give your team the highest connect rates.

Account-based engagement: See account-level engagement and drill down to individual response rate.
Priority 3: Ease of administration and native CRM integration
A native integration between your team's CRM and sales engagement platform reduces sync errors and data latency, streamlines collaboration, and unlocks possibilities for advanced automation. Plus, it makes it a whole lot easier to manage. Not all integrations are created equal, however. A native integration is your best bet for ensuring seamless data transfer, reducing administration, and getting the most out of your CRM.
Look for the following capabilities:
Native CRM integration: Instead of syncing to a third-party database, the sales engagement platform should sit on top of your CRM to maintain one database of record. This improves data security and eliminates API calls, data latency, and sync errors.

Access to CRM data in Gmail and Microsoft 365: View, update, and create CRM records right from your inbox. Contact records automatically appear when drafting, selecting, or opening emails.

LinkedIn integration: Access LinkedIn Sales Navigator to get more detailed contact info and view icebreakers, mutual contacts, and related leads.

Manage Flows from your inbox: Easily view, add, or remove contacts and leads from any active messaging flows from your email inbox.

In-app access to CRM data: Access, update, and create CRM data (contacts, accounts, activity history, etc.) while working directly in your email or sales engagement platform application.

Accurate CRM reporting: Choose a platform that is native to your CRM to maximize activity tracking, eliminate data latency, and ensure more accurate forecasting and reporting.
Together, these capabilities allow leaders and teams to save time and increase the quality and volume of their customer interactions in order to drive wins at scale. Lastly, before making the final choice, test your prospective tool's ease of use. Give a member of each revenue team a hands-on demo of the platform and have them pressure-test it for issues or inefficiencies. If users can't navigate a sales engagement platform easily, integrate it into their workflows, or otherwise get any real value from it, they won't use it.
What's next?
If you're looking for ways to optimize your sales process and feel that you've maxed out your tech stack's capabilities, a sales engagement platform could be transformative for your business. If you would like to learn how Groove's sales engagement platform can help you exceed your goals, request a demo today.
Frequently asked questions about sales engagement platforms
Are sales engagement platforms only for sales teams?
Absolutely not. While sales teams find immense value in them, sales engagement platforms are impactful for any customer-facing team—from Account Management and Customer Support to Marketing and Finance. No matter if you touch prospects or customers, a sales engagement platform helps you add value at every stage and optimize your process.
Aren't sales engagement platforms just fancy activity trackers?
Not the good ones! Activity tracking is only the tip of the iceberg. Sales engagement platforms can automate multi-channel, multi-step flows, bring CRM data to the inbox, and surface insights at the right time for more relevant effective communications. Plus, they give users and management the insights they need to collaborate and improve performance.
What kind of ROI can you expect from sales engagement platforms?
Many measure the ROI of sales engagement platforms based on the amount of time their teams have saved by using them. Groove's customers have experienced a 20% efficiency gain from using the platform, effectively "giving reps their Fridays back."
How do sales engagement platforms help with CRM adoption?
Sales engagement platforms make it easy for users to access and update CRM data within their existing workflow. In essence, by automatically logging activity and bringing CRM data into their normal workflows, reps are using their CRM even if they don't realize it. Once you bring valuable activity, opportunity, engagement, and other critical CRM data into a place like email where reps spend most of their time, adoption is almost inevitable.
How are sales engagement platforms different from sales enablement platforms?
Sales enablement is traditionally viewed as the process for providing the sales organization with the training, coaching, and content required to sell more effectively. According to Forrester Research, sales engagement platforms help sellers automate manual tasks, sequence omni-channel touch points, set up workflows, and capture and upload data from buyers' and sellers' interactions.
What's the difference between sales engagement platforms and Revenue Operations and Intelligence platforms?
There is a of convergence and overlap between sales engagement platforms and Revenue Operations & Intelligence platforms, which can make things a little tricky. Sales engagement platforms have added features traditionally associated with revenue intelligence platforms, and vice versa.