Quarterly Business Reviews (QBRs) are critical opportunities for sales leaders to reconnect with reps and better understand what worked last quarter, what didn't, and how to set up next quarter for success. But because it's not easy to keep data up to date in the CRM, critical deal and pipeline data is often missing or bad.
This results in precious QBR time spent on interrogation and fact-finding thanks to outdated or inaccurate spreadsheets and slides.
Wouldn't it be nice to spend that time doing more strategizing and coaching your reps for success? Wouldn't it be even better if you had full visibility into the true health of deals and data that showed you how past opportunities moved through the quarter? For example, how many committed opportunities slipped or best case deals that became idle?
We ran a little internal competition to demonstrate how Clari can help.
Clari's Demo Jam Competition
Here at Clari, we hold something called Demo Jam. It's a monthly, company wide competition where team members record a Clari demo based on a common use case. We use Clari for everything, so this challenge is just another opportunity for Clarians to engage in some friendly competition and show off their expert Clari knowledge.
We like to drink our own champagne, if you will. After all:
Our entire sales team is in Clari every day, identifying opportunities and risk in their pipeline
Sales managers use Clari to run their 1:1s, having more strategic conversations on the top deals that need attention
Our CEO and CFO have dedicated dashboards to track key KPIs against targets
All our forecast calls are run in Clari, alternating between the current quarter commits and next quarter pipe gen
Our executive team leads meetings with our board out of Clari
Customer success has dedicated dashboards to track upsell and renewal opportunities
Our marketing team can view their pipeline contribution in Clari
Challenge Accepted: How to Use Clari for QBRs
This month, the challenge was to show how you can use Clari's Flow module to streamline QBRs.
Flow is one of our most popular features because it gives you visibility into how deals projected to close this quarter are moving through the pipeline this week (or month, quarter, last 21 days, etc...), or where you may be able to pull a slipped deal forward and maneuver a fast win. In addition, you can easily identify the root cause of slipped deals so you can get them back on track and avoid the same missteps next quarter.
The best part? Because Clari automatically captures all the activity data from a variety of business systems, such as CRM, email, calendar and your marketing automation, you and your team never need to worry about spending time manually inputting data or analyzing it in offline spreadsheets.
A Demo Jam challenge around Flow was an obvious choice. But who came out the big winner of a gift card, rights to the Demo Jam trophy (at least until the next winner is crowned) and, of course, bragging rights?
And the winner is…
Sales Development Representative, Amitis Pedramazi!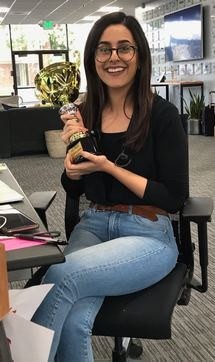 Watch her winning demo video below and see how Flow can help you run better QBRs.
Request a demo to learn more about Clari and how it can help streamline your next QBR and more.