[Editor's note: Continuing the Sales Innovator series — a go-to-resource to get the inside scoop on sales thought leadership, best practices, technology and what's changing the sales conversation!]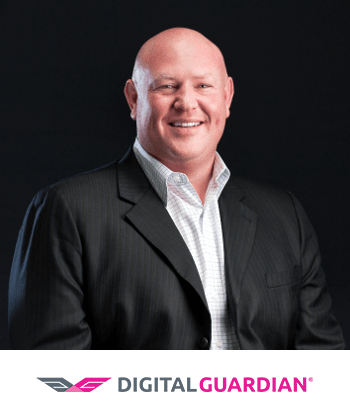 Host: I'm your host Cristina Wong, Content Marketing Manager at Clari, and we're back for another segment of "Clari Sales Innovator." This time, David McKeough, Executive Vice President, Global Field Operations, at Digital Guardian will be taking the spotlight!
Q: David, how would you describe your sales career journey?
My whole life everyone said I should be in sales — even when I was a kid, I would shovel snow and go from door-to-door asking my neighbors for the business. At eighteen-years old, I got my first job selling furniture. When I was 25, I started an internet company, built it up and then sold it. Shortly after, I transitioned into telecom sales for a few years, selling new and refurbished telephone systems. While selling telephone systems, I was approached to start another company doing billing, coding and compliance consulting for physicians. Thirty days after incorporating, I was able to leave the telephone company and focus on my new venture that turned into a successful exit. The turning point in my career was when I made a leap to IT security as a sales rep at McAfee. Fast forward to today, I've been in sales for over 25 years! At Digital Guardian, I currently have global responsibility for field sales, inside sales, sales engineering, channel sales and sales operations.
Q: What is your favorite part about being in sales?
First and foremost, I enjoy helping customers solve problems — especially being in the IT security space — we get to protect people. I find this really satisfying and it inspires me to continue working in the security space. In my role, I also get a chance to work with a lot of different people inside my team as well as cross-functionally which keeps me learning new things every day, and, in turn helps me run my team more effectively. As I've expanded my role, it's been great to see the operational side of the business. An example would be, when dealing with acquisitions, I get to see the whole backend (not just the front-end operations) that you normally don't have the chance to see in sales.
Q: Do you have any advice for other sales leaders on management and coaching 1:1s?
Uniformity is the key to successful sales management. Day-to-day, you're dealing with various personalities, different types of companies and whatever changes that may occur. All of these factors combined will impact the decisions you make, which is why setting best practices for your sales teams to follow is critical. That being said, here's what I would recommend as you plan your 1:1's with sales reps:
Listen to the people that touch the end customer on a daily basis — they have the most insight into what the current needs of the end customer are.
Realize each person goes about their roles differently. Make sure they understand the uniformity, best practices and goals you're setting, and then enable the individual to fit their own style. For example, everyone has a different way of pitching or selling, but as long as they understand and stick to similar messaging, sales reps, SE's, ISR's and channel reps can adapt and be successful.

Q: How does Clari bring value to your team?
Clari makes it easier to do my job, and for my team to do theirs. Now that I don't have to waste my time constantly tracking spreadsheets, I can save multiple hours a week, and in return, invest that time back into the strategic side of the business. Clari's predictive analytics have been the most helpful. Overall, I've never seen a sales tool where everyone says they like it — and when I say everyone — finance likes it, legal likes it, support likes it, engineering likes it, pro services likes it, marketing likes it, my inside sales team likes it, my field team likes it, managers like it, my CEO likes it, my board likes it, everyone that interacts with it and whoever we show the system to is wowed by it!