This story originally appeared on the SalesLoft blog.
Today, SalesLoft is excited to launch an integration with Clari to help drive better business outcomes for our clients. By bringing together two best in class Business Applications, our customers will be able to work smarter and more productively, with better insights into the activities that win deals.
Let's hash this out to give you a better understanding of how these platforms play together.
A Shared View of Sales Activity Data
With SalesLoft, customers have the ability to provide better sales experience to their customers and prospects. For a sales executive, this means being able to drive all engagement with your prospects, from email to phone to social interactions, from a single platform. This can include customized cadences, click to dial calls, 1:1 interactions, and more. The ease of use improves productivity and connections from sales professionals.
Clari's Connected Revenue Operations platform automatically tracks sales activity data and engagement for your entire revenue operations team so you can measure the health of your pipeline and forecast more accurately. Increased signal intelligence helps reps and managers understand which opportunities are trending in the right direction, and which can use more engagement to drive them forward.
By connecting all of the engagement activity — email opens, calls made, and social interactions such as LinkedIn messaging — there is a larger wealth of data for Clari's AI engine to employ to help reps focus on the right deals and managers make more accurate forecasts. Sales teams have time back in their day with the elimination of the tedious task of entering data multiple times into multiple systems.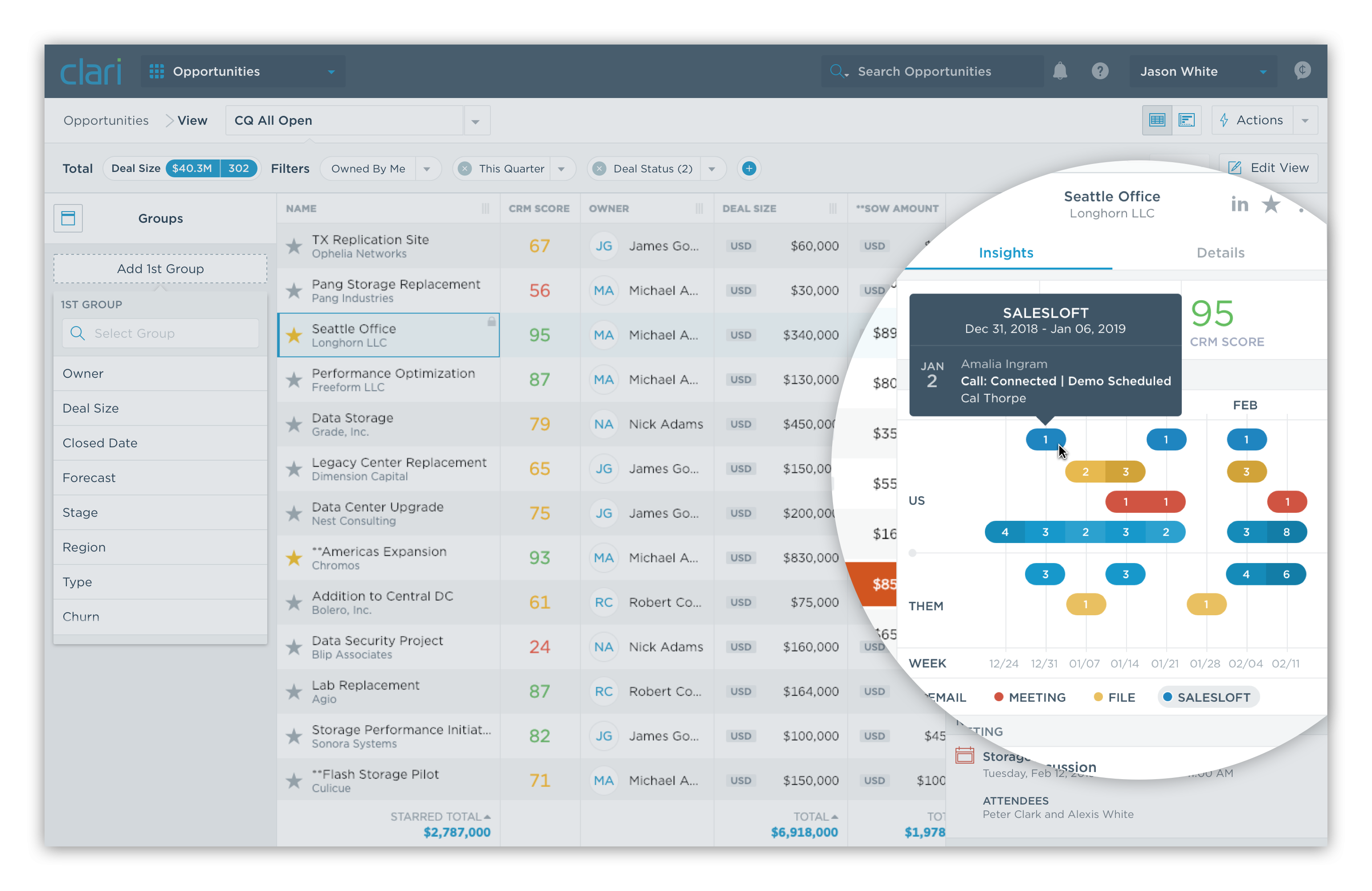 The buyer's journey is complex. With an average enterprise deal involving 8 people, it can be tough to know what activities have occurred with which personas and even tougher to know which activities to attempt next to move the needle. By integrating SalesLoft and Clari, in a single pane of glass, a rep and manager can have more productive 1:1s to determine what activities are working, which are not, and what to do next to win that big deal.

Keep a look out for a future webinar where we walk you through the power of SalesLoft and Clari together. In the meantime, you can check out Salesloft and Clari for more information.