Any day I get to talk about new customers is a good day. When those customers are category leaders like Palo Alto Networks, Gigamon, Opower, and Digital Guardian, it's even better.
The Leaders are Leading
The big picture is clear. Industry leaders – leaders in their respective categories – are among the first to focus on optimizing sales management.
What's Different about Optimizing Sales Management?
Before we talk about optimizing sales management, don't these companies already have a CRM? Sure. As soon as teams have five or 10 reps, they deploy a CRM. Like installing a network or an email system, it's a part of doing business.

CRM takes an ad hoc sales process and attempts to create order. It is the path toward codifying territories, sales stages, customer data reps are asked to document, and more. But as sales teams move beyond the basics, they tell us it takes so much work to keep their CRM up-to-date that it starts to cut into selling. Ironic, right? I'm not saying CRM has no value — everyone buying CRM "automatically" when they hit 5-10 reps didn't make a mistake. As companies grow into industry leaders, they want to extract more value from their CRM investment, and CRM vendors have responded. CRM systems today have modules for sales forecasting, pipeline reporting, sales rep performance reporting, and more.
But CRM isn't known for making tasks easy. Sales forecasting is a nice example because it is so critical. For every company I know that uses the forecasting module in its CRM, I can name two (or five) that tell me it's too difficult or doesn't have the flexibility to support their business models… so they revert to using spreadsheets or yet another vendor's forecasting tool.
Sales Optimization Increases CRMs ROI … and Takes Off From There
Sales optimization started with industry leaders because it increases the ROI of the CRM system on day one. How?
CRM information is clearer and more accessible
Adding customer information stops being a pain (so sellers actually want to use it)
Data-science delivers recommendation to improve selling
When a sales team optimizes selling, it improves rep productivity, manager coaching, sales cycles, win rates … and most important, revenue. And with the help of data science, sales forecasts get more accurate while demanding less time from reps, managers, and execs.

This trend isn't just a story. It's what our customers tell us … and each other.
In Their Own Words: Sales Leaders Talk Sales Optimization
Opower, a major player in the utilities software arena, sells massive customer engagement systems to all the biggest utilities. Jeremy Kirsch, the EVP and GM of Worldwide Sales, put it simply: "We chose Clari because the intuitive visuals give me, and my line managers, amazing insight into our entire business in seconds. We could never get this visibility from our CRM alone." Some of the data that delivers this "amazing insight" was already in the CRM, but hidden. Their ongoing challenge had been that the CRM is not designed to apply advanced data science to predict the future and turn raw CRM data into that "amazing insight."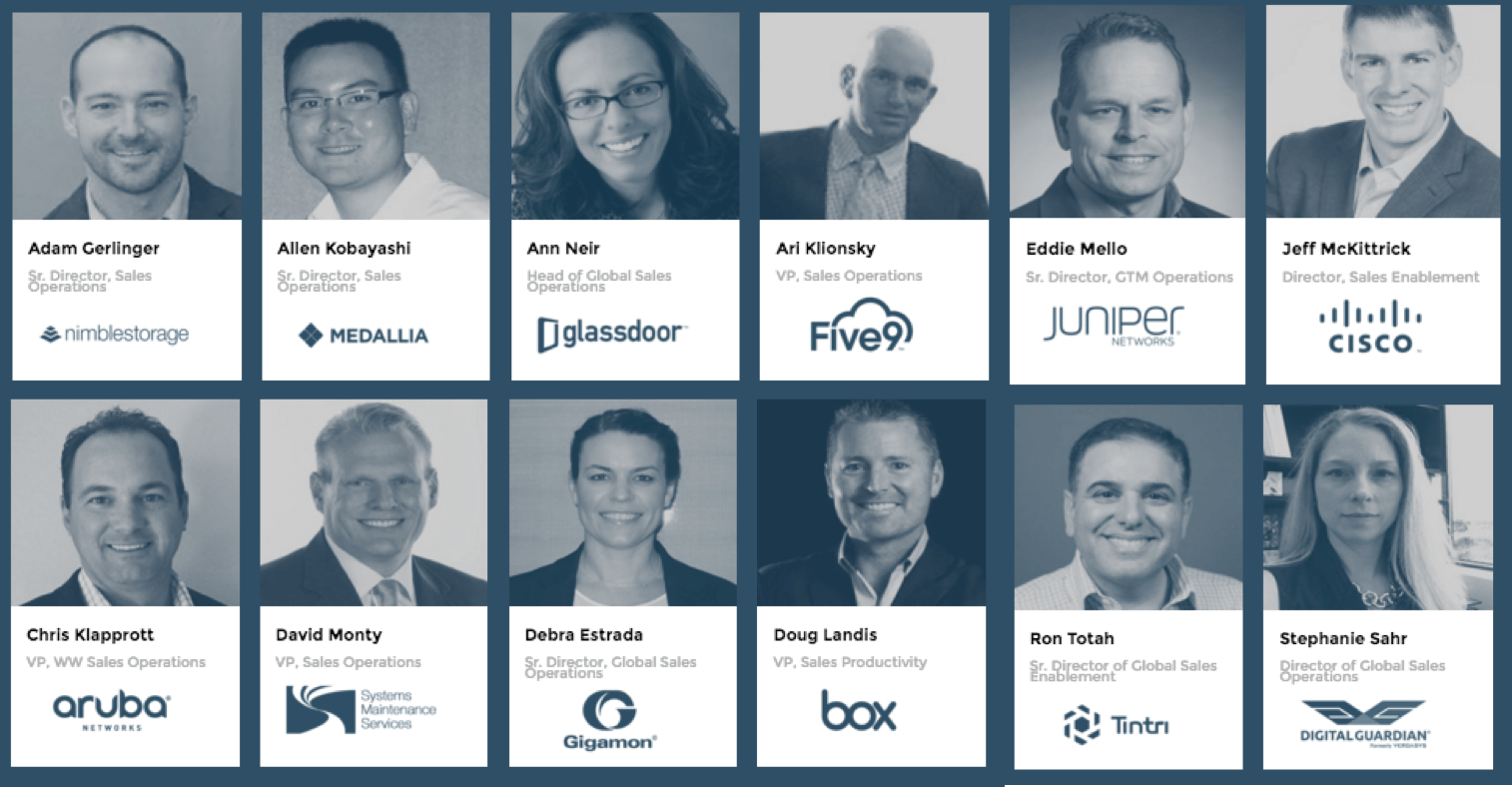 Gigamon, an industry leader in traffic visibility solutions, wants every member of its sales team — executives, managers, and reps — more focused on progress in critical deals that make or break the forecast. So Debra Estrada, Senior Director of Global Sales Operations, chose Clari for its insight into pipeline inspection and forecasting. "Understanding what's happening in our sales pipeline on a daily basis is critical to forecasting accurately," she said. "After looking at several solutions, we decided that Clari gives us the insight and analytics we require to be agile, informed and expedient in our decision making."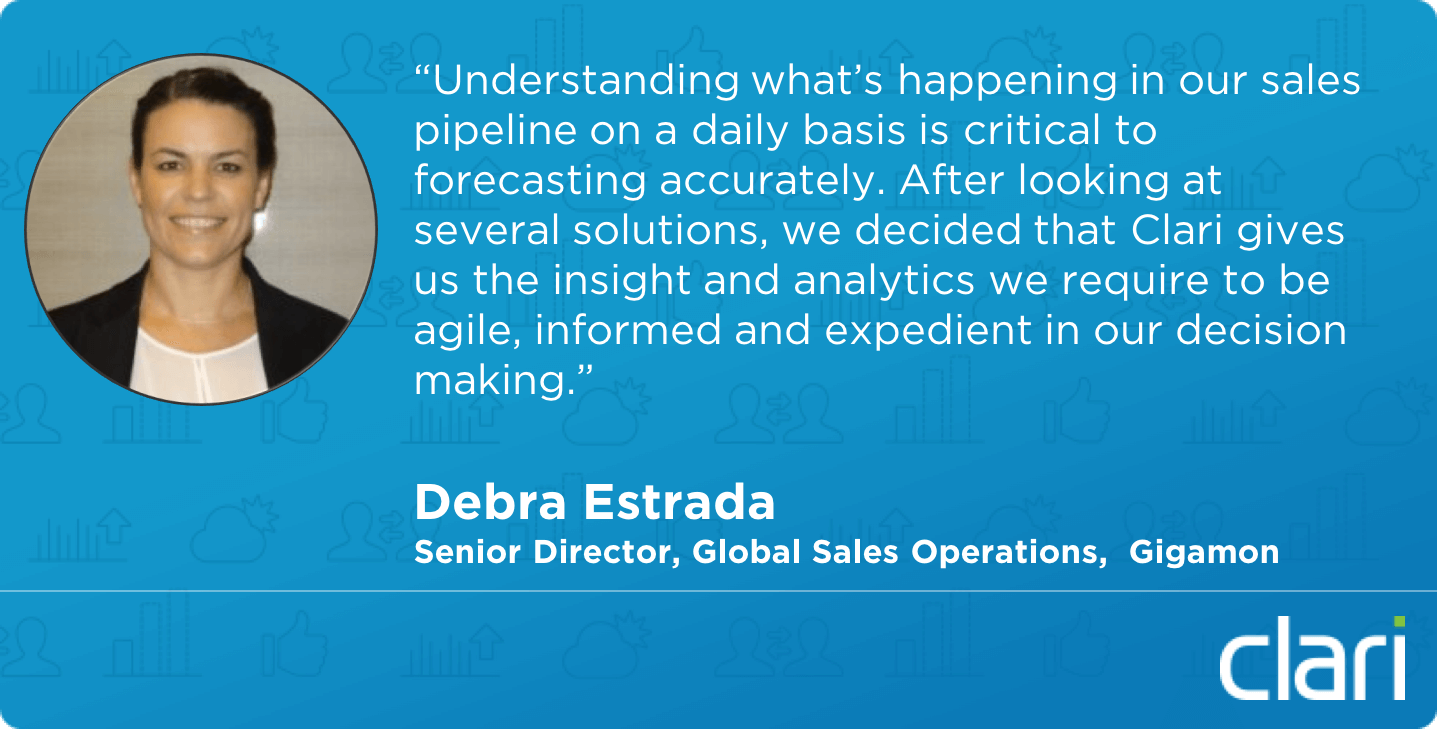 And so sales optimization starts to part ways from CRM. It's about far more than just capturing information. It's about running the sales team and ROI on an even bigger investment: people.

This talk about running the sales team more effectively brings us back to the additional functionality we discussed sitting on top of the CRM customer database. I'll highlight sales forecasting as an example because we believe a forecast is not just a number, but an action plan driving which deals to work and where managers should focus their coaching. If you agree, you might want to check out our eBook on the Future of Forecasting.

I'll close this discussion of customers with the most practical of examples for any sales leader. The top priority for Stephanie Sahr, Director of Global Sales Operations at Digital Guardian, is simply closing more deals … faster. Digital Guardian is one of the top next-generation data-protection platforms for enterprises. She notes, "We were sold on Clari after other customers described their ability to use the Clari deal score to accelerate the sales cycles and identify deals that could be pulled in earlier." Data science evaluates every deal to determine whether it's a likely loser or a hidden opportunity.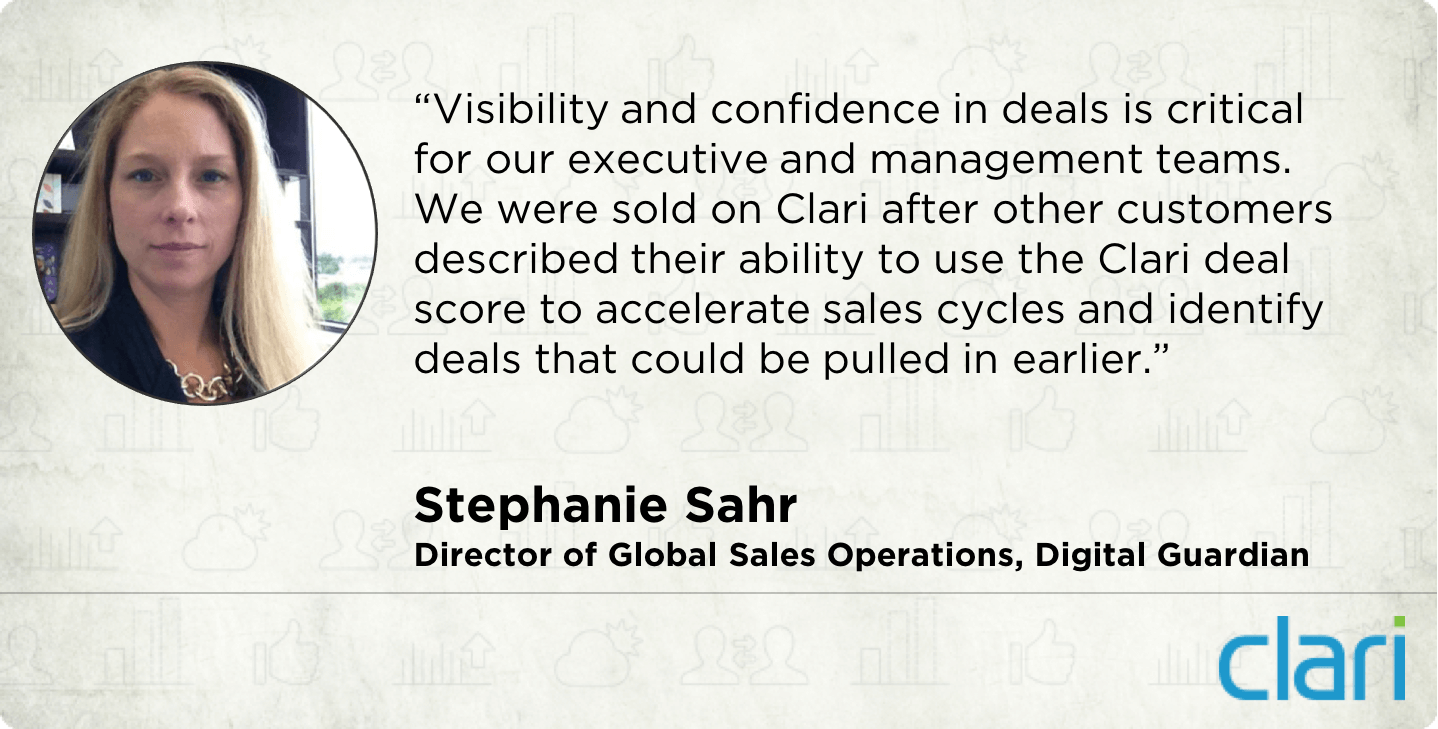 The End of a Good Day. And a Better Day. And a Day to Connect.
Earlier, I said it's a good day when I get to talk about new customers. It's a better day when customers themselves are talking about why they bought and speaking to the value they're getting. To hear more from sales leaders, please see this series of brief videos.

If you'd like to speak directly with these customers about what sales optimization can do for your team, you've got a perfect opportunity. In early May, we're running a new event called EXCEED, the first-ever event dedicated to sales operations and sales enablement. Our highest priority for this event is to let sales leaders talk to each other and work together to define the future of sales management. EXCEED will be held in beautiful Levi's stadium, home of Super Bowl 50 and the storybook ending of Peyton Manning's incredible career. It's less than six weeks away, so please join us to figure out the next steps in the future of sales optimization together.