Host: Let's welcome to the Sales Innovator stage Yamini Rangan, Global Head of Business Strategy and Operations at Dropbox, a file hosting service, simplifying the way everyone creates, shares and collaborates!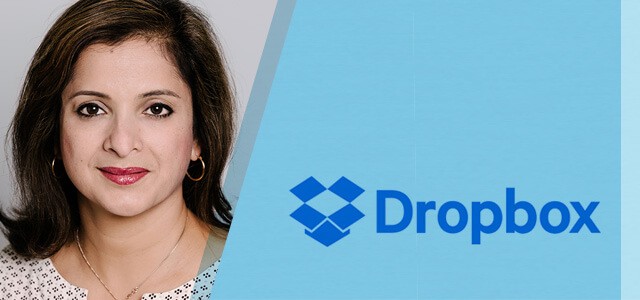 Q: Yamini, at what point did you decide to get into sales operations?

I began my career in engineering, but after moving from India to California and working in the datacenter everyday, I decided that I preferred talking more to people than to machines, and that's when I pivoted my career to the business side. I went to business school and since then I've spent the last 18 years in B2B sales. I've worked at Siebel, SAP, Workday and now Dropbox. Throughout my sales career, I've been able to take my technology background and drive innovation and deliver insights. I've had multiple sales roles, but for the last 8-10 years my focus has been on sales operations and sales strategy.
Q: What sales initiatives are you and your team focused on today?
There are three main focus areas for our team at Dropbox:
1) Big picture strategic direction — we spend time brainstorming key strategic questions with our leadership team: How should the company grow? What is our product strategy? What is our Go-To-Market strategy?
2) Data science and analytics — at Dropbox we have about 500 million users a day interacting with our systems, so we're constantly analyzing the data for insights that can help shape our sales and customer strategy.
3) Sales operations — deal desk, sales productivity, sales strategy, and forecasting
Q: What is involved in the decision-making process when you're looking for a sales analytics tool?
There are three main questions I ask myself when deciding on a sales tool:
- What's the pain point?
- How do we make sure you solve the pain point?
- Can we make this technology investment successful?
Q: What sales forecasting challenges have you and your team experienced?
Before we implemented Clari, we didn't have the basics in place for the forecast rollout process, and we lacked an understanding of the science behind it, especially since we were still an emerging organization. We also didn't have a set sales methodologies implemented to answer simple questions like, "What are the deals that can close our commit?" and "How can I be sure?" The fundamental problem was lack of confidence in the forecast, but the bigger problem was the lack of pipeline inspection and not understanding what activities and trends are behind the number.
Q: How has Clari impacted the way your team drives QBRs and team meetings?
Initially, we used to put a 5-10 slide deck together for each monthly review, which demonstrated top deals, forecasted deals, and probability of deals closing, but after two months of having Clari, we unplugged that PowerPoint and now we use Clari in real-time to drive the QBR conversation, which has made a huge impact across the sales organization in terms of predictability and time savings. Today, we are at the point where our sales management runs all their forecasting calls and QBRs in Clari.
Q: What advice do you have for sales peers who are facing similar challenges?

Most of us as sales leaders know the problems that we are trying to solve — and especially in the realm of forecasting — it's very hard to pin it down. Forecasting is more than just rolling up a number. You need to have the science and pipeline inspection behind it to drive predictability into your forecast, and that's where Clari helps.