According to a recent commissioned study conducted by Forrester Consulting on behalf of Clari of more than 300 U.S. SaaS revenue decision-makers, the majority of respondents believe their forecasting capabilities are mature. But only 18% said their quarterly forecasts are within 5% of their actual revenue. That number drops to 15% for monthly forecasts.
That's a pretty big discrepancy between what leaders say, and what their books show.
In some cases, revenue leaders might be relying on outdated revenue operations, lacking the tools that could drastically improve their forecast accuracy. They might also be under-weighting the degree to which even small deviations from forecast can ripple across the organization, sowing havoc in neighboring teams.
Inaccurate forecasting ripples across the organization
Forrester asked revenue leaders how their annual, quarterly, and monthly forecasts hold up, from early check-ins at the start of the month, quarter, or year, to the results read-out at the end. Their response suggests that most projections—59% of quarterly, for example—are off by at least 10%.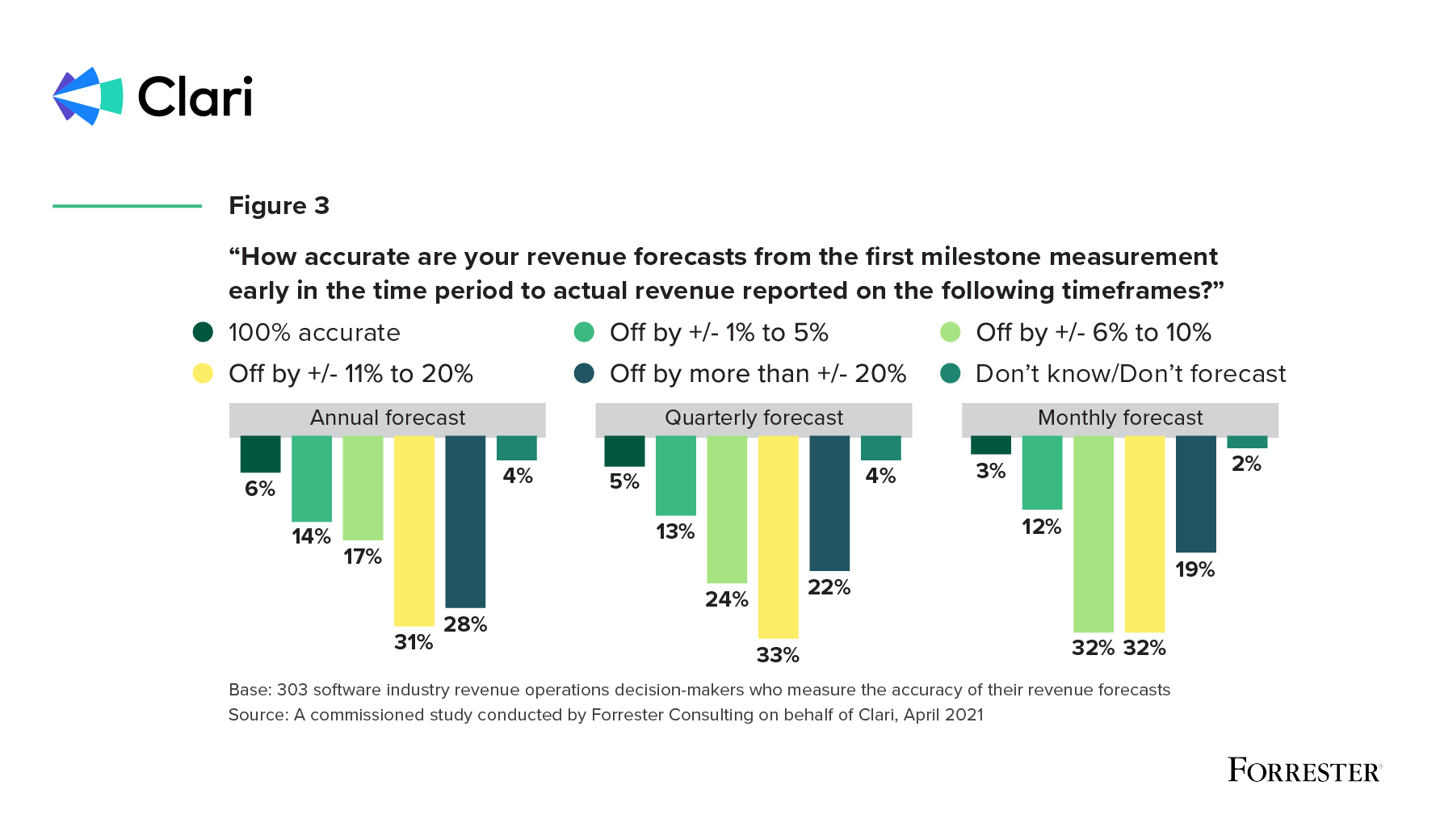 That's disconcerting, because revenue forecasts are more than just a set of key performance indicators for go-to-market and customer teams. They're often the basis of whole company strategic planning. Missing them can tank everything from inventory planning to company-wide trust in sales leadership.
To that end, Forrester found that the implications of missing forecasts are far-reaching and disruptive. Revenue leaders said bad forecasting causes internal operations issues 89% of the time, followed by trust issues (62%), and broader business issues (also 62%), such as reduced ability to invest in business growth.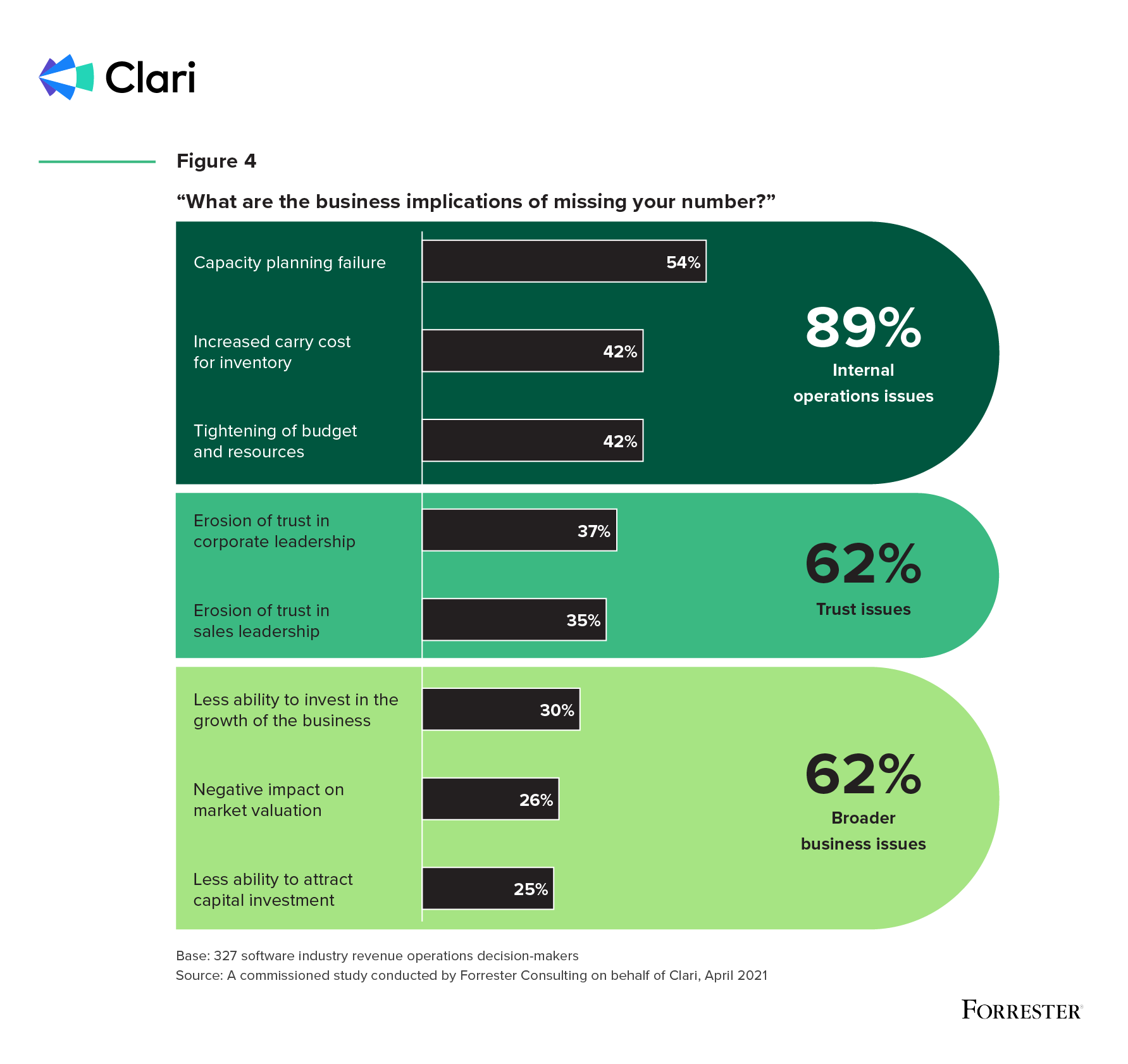 Why the trouble with forecasting?
Forrester's findings suggest that subpar forecasting is endemic to high-growth technology businesses. But why? Forrester found two compelling explanations.
Complexity
Revenue leaders cited accelerating rates of business change (58%), increasing buyer journey complexity (56%), and new revenue models (51%), as factors that are increasing forecasting complexity and causing some of the mishap. Those factors are unlikely to abate anytime soon. Sales leaders need real-time data insights, sightlines into other lines of business in the organization, and automations that free up time and energy for strategic decision making.
Technology
About a third of respondents said that technology shortfalls contribute to their missed forecasts. That could mean that some or all parts of the revenue process are relying on outdated software or manual data entry, or are missing key automations or artificial intelligence capabilities that could drive efficiencies while improving forecast accuracy.
Fixing forecasting
Sales leaders can remedy much of their forecasting woes with technology. A modern revenue operations and intelligence (RO&I) platform like Clari would afford them visibility into all aspects of the revenue pipeline so they can assess deal health, keep track of gaps to goal, and monitor customer sentiment to reduce churn in real time and make corrections to meet or beat goals.
Clari automatically collects and analyzes data from rep activity, ties it back to opportunities, and generates insights that give sales leaders the intelligence they need to avoid surprises and meet their numbers.
Forrester found that 41% of respondents who use an RO&I solution see major quantifiable revenue benefits, while 69% saw revenue benefits overall. A full 58% of RO&I users see more predictable revenues as a result of their solution, and are nearly three times more likely to forecast with 95%+ accuracy.
Read more: