Business-to-business purchase decisions are rarely made by one person.
The number of people involved in B2B purchases is climbing, with stakeholders coming from a lengthening roster of roles, functions, and geographies.
We analyzed a sample of closed won deals across deal sizes. Our data shows:
Deals below $50,000 require seven external stakeholders to close successfully.

Deals between $50,000 and 250,000 require 10 external stakeholders to close successfully.

Deals over $250,000 require 19 external stakeholders to close successfully.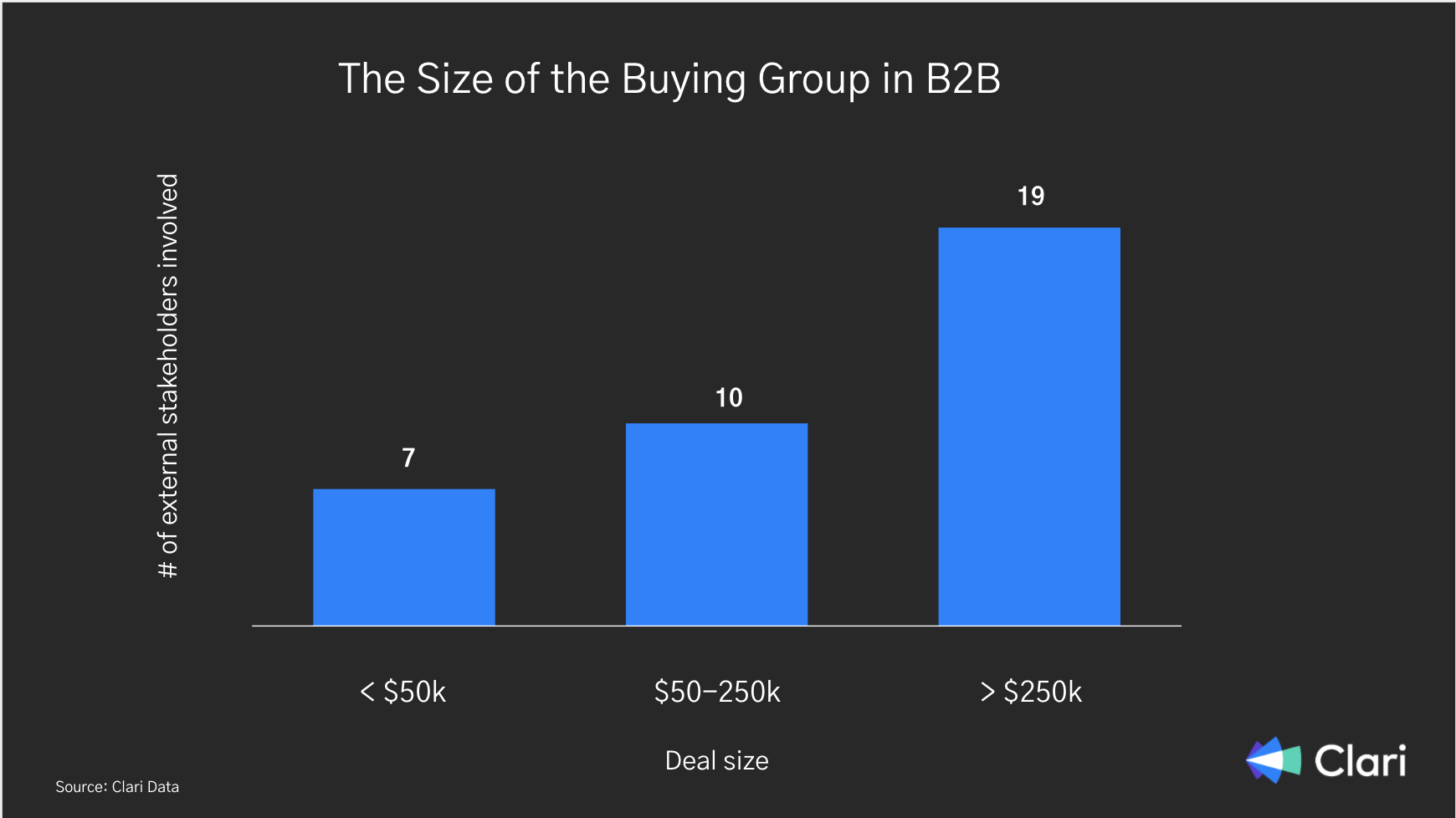 Buying groups are not only getting larger, they're also diverging in personal and organizational priorities. Sellers need to navigate this big group of influencers and decision-makers, including business line managers, IT practitioners, executives, and finance leaders.
Let's examine two scenarios.
Winning a net new account
Your rep has artfully identified the champion at a new priority one account in her territory.
She's been working with the champion to define business objectives, build the ROI model, and map out the path to purchase. She's been following your sales process to a T. Activity at the account looks healthy—lots of back and forth via emails, meetings on the calendar. But, through all the one-on-ones and account reviews, you missed it. There's no executive alignment with the Chief Financial Officer, who is the final decision maker at the account. What was moving quickly towards close is now stalled until you can get the CFO on board.
Retaining an existing account
A big renewal is coming up at one of your top existing accounts. You have a good relationship at the business line level but have lost touch with the IT team since the initial implementation. There's been a change in IT leadership, and the new Chief Information Officer is putting a hold on all upcoming renewals while evaluating lower cost or in-house development alternatives. Now the account, which you thought was a shoe-in to renew, is at risk to churn—and you now either have to get the CIO on board or pull in more revenue from another account to hit your forecast.
Understand the breadth and depth of your account relationships
A clear understanding of key players in every account drives stronger account relationships, which results in a more qualified pipeline, better win rates, faster cycles, and more predictable revenue.
For every account, ask:
Do we have the right buyers involved?

Who else should we be talking to?

Do we have the right internal SMEs working on this account?

How can we leverage new buying patterns to uplevel our sales motion?
Introducing Clari's Relationship Insights
At Clari, we know that people buy from people. Building the right relationships in your accounts is critical to the success of your business. We're excited to introduce Clari's Relationship Insights, providing AI-powered visibility into all buyers and sellers involved in your sales pursuits so you can instantly understand the true health of your account relationships and more effectively manage their territories and lead their teams in the new remote selling era.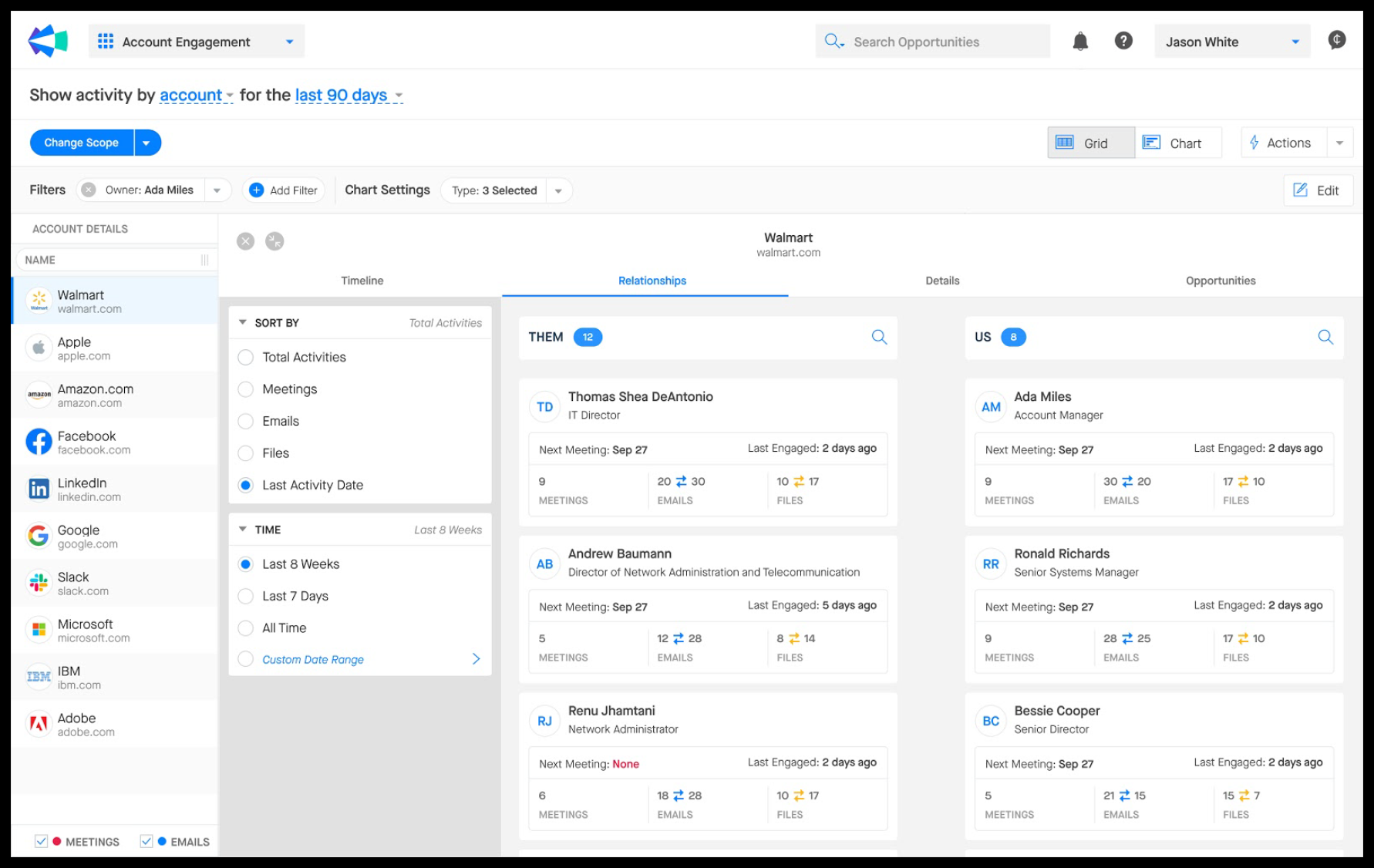 1. Make sure you have the right buyers involved
See where you stand in an account—who's engaged and who's not—so you can strategically spend time with the people who ultimately influence and control the budget and the purchasing process.
An in-depth understanding of your customer relationship landscape is critical for building full buying consensus, reducing cycle time by uncovering potential blockers earlier, and increasing win-rate by getting multi-threaded (building relationships with multiple stakeholders) when your competition may have only relied on one or two contacts.
2. Identify relationship gaps
It's not enough to see who is engaged. You need to understand the strength of the relationship over time—how many meetings did you have with a key individual, when was the last time you met with them, when is the next time you're scheduled to connect, have they been responding to emails.
With this level of insight for every account—net new or existing—you can identify gaps and risks of disengagement, and build relationship development plans. It also allows you to inspect your business and have a more realistic view of where you have risk against your forecast projections and revenue targets.
3. Bring in the big guns
Successful enterprise selling takes a village. It involves many of your team members, from technical SMEs to product specialists, implementation consultants, and executive sponsors. Knowing who from your company is engaged will help you identify the right internal resources with relevant knowledge and relationships to strengthen engagement with key accounts.
4. Follow the patterns
Your selling motions will typically involve a known set of stakeholders. Knowing what it takes to win an account, you can collaborate and coach sellers with guidance on who to engage with and how to break into new accounts or retain existing ones.
But we also know that things change. As your go-to-market strategies evolve, you can identify new winning patterns and make sure you are building the right relationship.
More questions? We've got answers.
Want to learn how you can better understand the breadth and depth of your account relationships? We'd love to hear from you and discuss how we can support the unique needs of your business. See a demo today.