This story originally appeared on the PFL blog.
From the start, PFL has focused on customer experience, success, and satisfaction — that's why we're proud to announce a new integration that will expand the capabilities of PFL's solutions into the future with Clari.
Clari's Connected Revenue Operations platform automatically harvests sales activity and customer engagement data from a variety of sales and marketing signals to help B2B organizations increase win rates, shorten sales cycles and improve forecast accuracy.
Bringing all of these signals from sales activity data and customer engagement, including CRM, email, meetings, telephony systems and more into a single pane of glass, your entire revenue operations team has full visibility into how prospects are being engaged to easily identify risk and opportunity in the pipeline.
But PFL further expands on those capabilities, allowing marketers and sales professionals to expand those insights into the real world. With PFL, automating tactile marketing sends within your existing CRM provides prospects with marketing that they can actually open, feel, and touch. By integrating with PFL + Clari, sales reps and managers can:
See exactly where sent packages directly drove closed or won deals
Better understand which sends influenced deals by seeing campaigns in context
For instance: let's say a company has a large pipeline with insufficient scoring criteria, making it impossible to gain insight into which prospect would respond best to a physical, tangible send—let alone how valuable a "gift" should be sent.
Combined with PFL's address verification capabilities and Clari's Connected Revenue Operations platform, your sales team can quickly and easily rate potential customers based on their previous communications with your team, verify their address, job title, and authority within an organization, allowing you to segment your physical sends based on their ability to influence a sales decision. But beyond that, Clari expands the capabilities that PFL provides, showing managers just how effectively their sales reps are utilizing PFL's solutions, allowing them to optimize the timing and cadence of physical sends compared to soft-touch outreach like emails and phone calls.
Over time, Clari's Connected Revenue Operations platform combined with PFL's comprehensive tactile marketing automation solutions can perfectly optimize your sales process to identify the right time, place, and physical send to streamline your PFL process and reach the right prospects when their attention is most available.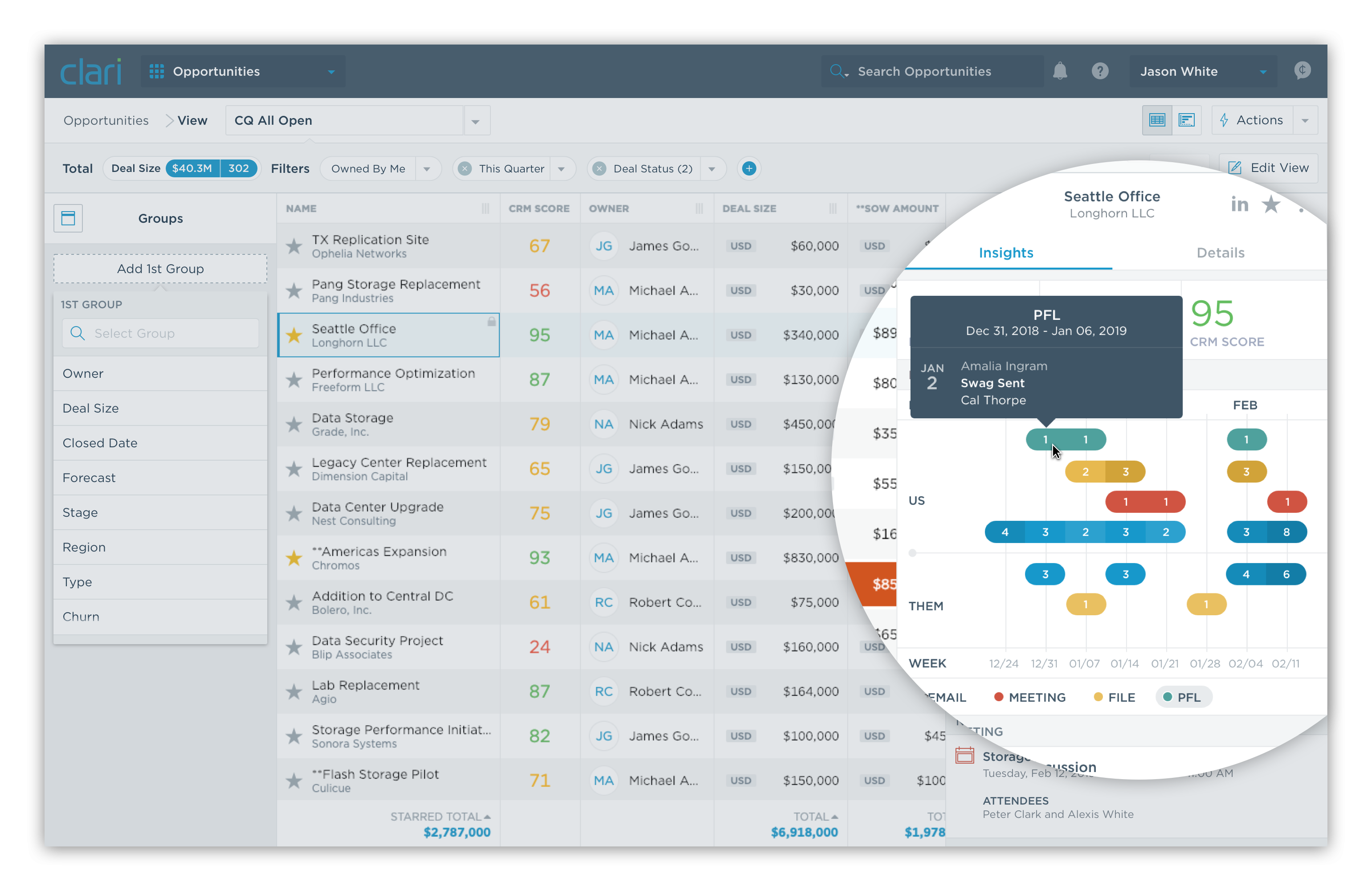 Interested in how Clari and PFL can help close more deals? Contact your Clari customer success manager or request a demo to learn more.