A few days ago, I got an email from a VP of Sales who is a Clari customer:
"The fact that you called the number more accurately than I did is scary."
Actually, it's not scary. It's required to drive better sales execution. And it's hard. Some companies claim to call numbers based on weighted averages from a "same time last year" or "same time last quarter" analysis. This approach might seem predictive — it does use past events to project future outcomes — but it's not that easy. Without deal-level visibility, it's two parts spreadsheet guesswork, one part prayer.
In our conversations with (literally) thousands of sales professionals over the past three years, we've heard the same complaints time and time again:
"I have to comb through too many Excel reports and emails to find basic information about opportunities."
"I have no time to coach reps, and am often blindsided by last-minute obstacles at key deals."
"How do I know the real status of my top opportunities — Are there next meetings? Are we pushing hard enough to bring them in?"
Most forecasting solutions rely on static data captured periodically from the CRM system, where the most recent data lives. They require deliberate updates and data entry, and once configured, they are difficult to change. Spreadsheet forecasting is the old status quo, but forecasting can no longer afford to be static. When your opportunities, deal statuses, and rep activity are changing constantly, your forecast has to change too. Forecasting has to be agile, flexible, state-of-the-art — and connected to all the data sources that matter, including calendar and email.
It has to be dynamic.
That's why we built Clari Dynamic Forecasting.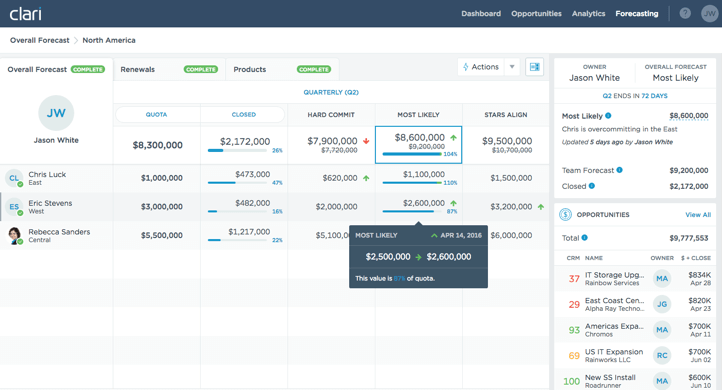 Sales leaders need a forecasting solution that can match the pace of their business. It needs to be simultaneously simple and insightful, both detailed and automatic. We found the answer in data science. Dynamic Forecasting uses machine learning to track activity on your deals, customer engagement, and updates to opportunities. Sales leaders can see even the smallest changes to their pipeline — and the resulting impact on forecast. We designed Dynamic Forecasting to give executives confidence in answering the most important question of all: Not "Am I going to hit my number" (remember, that's table stakes), but:
How am I going to exceed my number?
So how did we do it? We made Dynamic Forecasting not just predictive, but also real-time and actionable across the entire sales team — from the CEO all the way down to the individual rep. Unique among other approaches, Clari Dynamic Forecasting:
Speaks Your Language:
If there's anything that we've learned about forecasting, it's that everyone does it a little bit differently. Dynamic Forecasting can be fully tailored to match your company's process, from naming fields to customizing the CRM formulas that back up each call.
Tracks Every Update:
Clari records all changes to the forecast, allowing you to see exactly how a region's forecast evolved over the quarter and who still needs to provide an update.
Compares Live Against Salesforce:
Don't get stuck trying to compare a forecast to stale, static data. Just like the rest of the Clari platform, Dynamic Forecasting pulls all information live from Salesforce in real-time, so you always have an accurate view of the deals that back up the forecast. You can even drill down into the individual deals to see data science predictions, activity analytics, and more.
Gives You a 360 Degree View:
Every sales leader knows that CRM data is not enough. Clari integrates real-time email and calendar data directly into your forecasting view, enabling you to see not only the current status of a deal, but where's it's been and where it's going. It transforms what was once purely a "numbers game" into a whole new way to drive your pipeline forward.
Captures Updates on the Go:
We all know that salespeople are busy. With the Clari mobile app, you can update your forecast with just a few taps, before you hop in the car to your next customer meeting.
How does this compare to your spreadsheet forecasting? It's not even a comparison. If you're interested, you can learn more about Dynamic Forecasting at EXCEED, the first-ever event dedicated to sales operations and sales enablement. Join us on May 4-5 for the hands-on learning and sharing event filled with keynote speakers, breakout sessions on topics like data-driven selling and forecasting best practices, as well as fireside chats, roundtables and networking opportunities. You can also join us for our Dynamic Forecasting webinar on May 19.