In the NFL, the playbook is sacred. You need an offensive strategy, a game plan, a design for every move.
The same goes for sales. What does your current playbook look like? Could it use an update?
We want to help you build it. That's why we're hosting EXCEED, an exclusive, first-of-its-kind event for sales operations and sales enablement, on May 4-5 at Levi's Stadium.
EXCEED is not just another sales conference. We know you don't need boring speeches, death by PowerPoint, crappy coffee, and stale pastries. EXCEED is all about powerful learning sessions between you and your peers — from companies like HP, Juniper, Box, Nutanix, Cisco, VMware, and more.
You will work, you will learn, and will build an incredible network of colleagues leading a new movement for Sales Operations. We're just here to get the conversation started.
You'll spend most of your day in small roundtable sessions discussing topics like:
How to leverage data beyond CRM to drive a more accurate forecast.
How machine learning can identify areas of risk in your pipeline.
How to use activity analytics to highlight customer engagement and sales team effectiveness.
And you'll leave with an action-packed playbook on how to become a data-driven sales organization.
Here are just a few of the sales leaders attending EXCEED: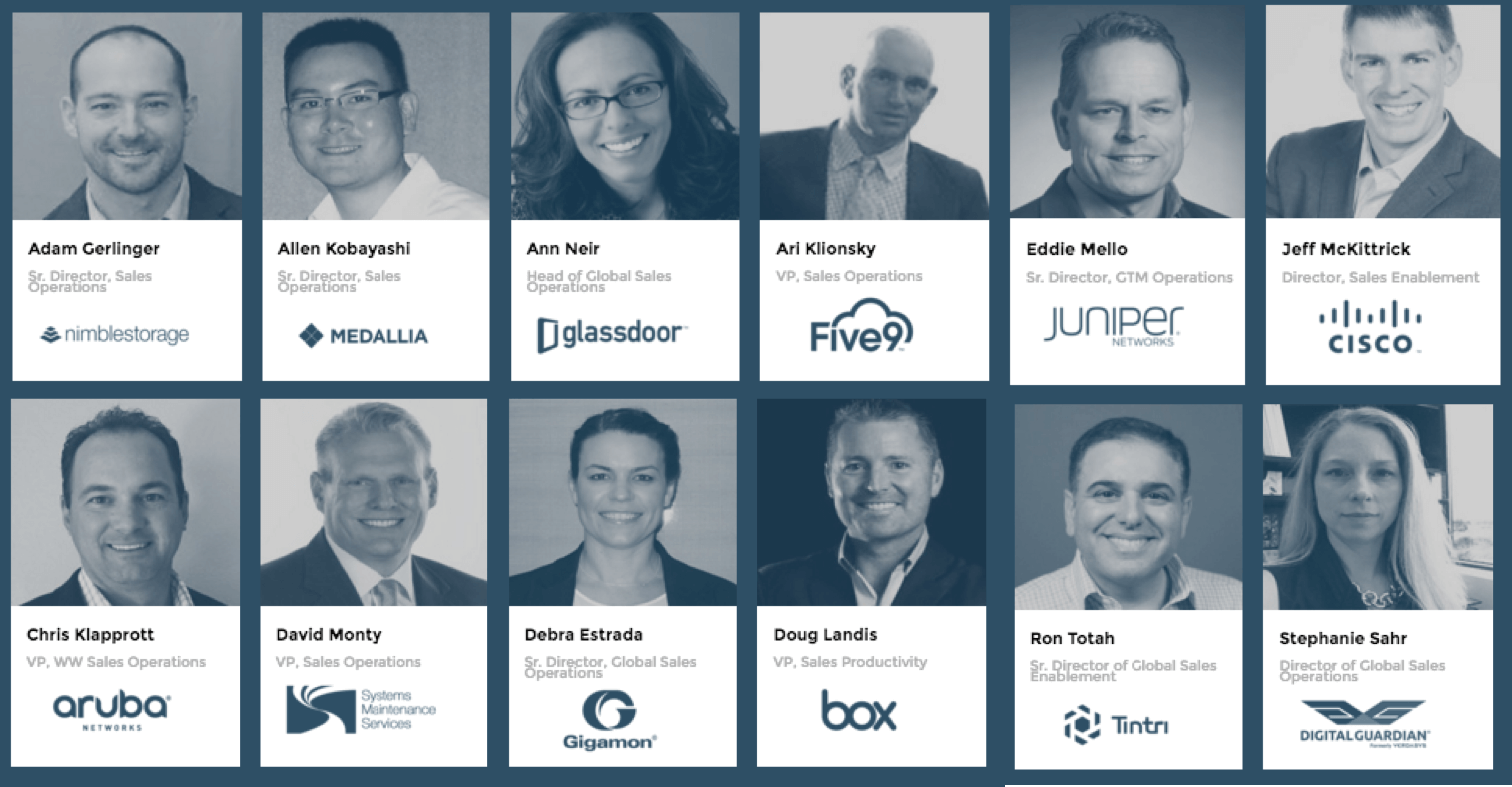 Not to mention that you'll hear from the experts themselves. Thought leader Jason Jordan, author of Cracking the Sales Management Code, will explore how to coach your own players on the field. Jordan will focus on his area of expertise: best practices for hiring, developing, and managing a world-class sales force, and how the right metrics can help get you there.
Steve Silver, Research Director at SiriusDecisions, will be the keynote speaker for the event. Silver has spent over 20 years in sales operations, sales, product management, and engineering. He will cover new research into the sales operations function today, as well as upcoming changes in the field.
In addition to respected industry analysts and thought leaders, I'm thrilled to have three San Francisco 49ers Super Bowl champions join us as featured speakers for EXCEED, ready to inspire our attendees with leadership lessons from on and off the field.
You'll hear from:
Ronnie Lott: Four-time 49ers Super Bowl champion, ten-time Pro Bowl player. Elected into the Pro Football Hall of Fame in 2000, Lott is widely considered one of the best defensive backs in NFL history.
Roger Craig: Three-time 49ers Super Bowl champion, four-time Pro Bowl player, First-Team All-Pro and NFL's Offensive Player of the Year in 1988.
Brent Jones: Three-time 49ers Super Bowl champion, four-time Pro Bowl player (1992-1994).
We'd love to have you join us. Request your invite now.