There's no question: Chief Revenue Officers are on the rise. Between October and December 2018, LinkedIn saw a 33 percent increase in CRO titles, according to Sirius Decisions. While the role is growing in popularity, the actual responsibilities vary from company to company and organization to organization.
In this inaugural interview of our ongoing series CRO Spotlight, where we examine the evolving role of CROs through the lens of those that hold the title, we sat down with Ryan Longfield, Chief Revenue Officer of the conversation intelligence technology Gong.io to learn more about what the CRO title means to him and how he's approaching his role.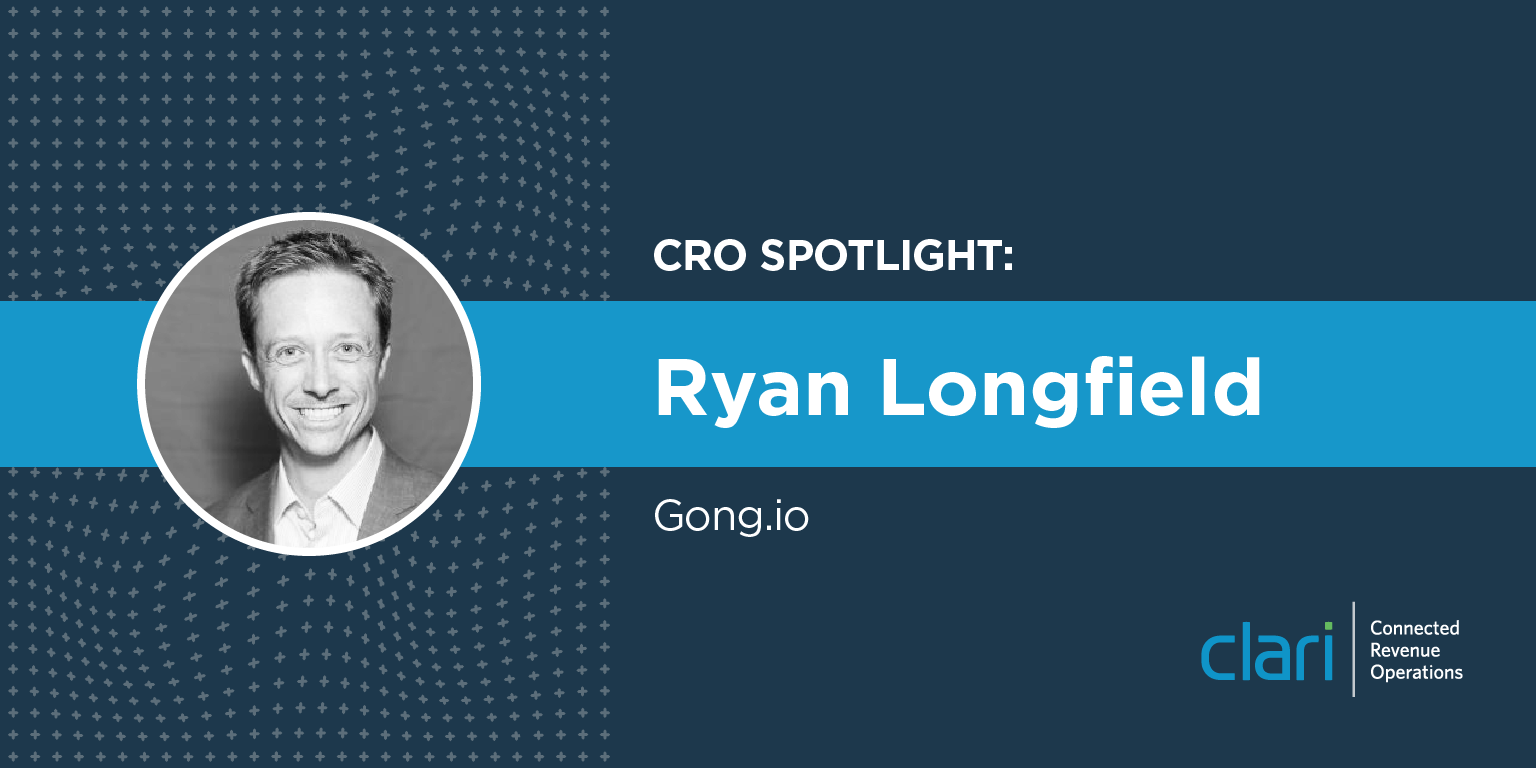 Clari: First of all Ryan, thank you so much for your time today. We really appreciate you being a part of this discussion.

Ryan Longfield: Thanks for having me. I'm happy to chat about this topic.
Clari: Let's start from the beginning. What is your definition of Chief Revenue Officer?
RL: The Chief Revenue Officer is the single point of accountability for all things directly impacting revenue. The interesting question becomes what does "direct" impact to revenue mean. Usually it means sales, aspects of marketing, sales operations, sales development, sales enablement, and customer success, especially when renewals belong to the CS team, but varies depending on the company.
Clari: What does it look like at Gong?
RL: At Gong I had a really honest conversation with Amit, the CEO, that I should not own Marketing. He used to be a CMO and I told him candidly that my experience isn't deep in that area, so marketing rolls up directly to the CEO. I liked the honest conversation about what is best depending upon skill-set of individuals, rather than just fall into the cookie-cutter answer.
Clari: So what areas of marketing do you engage with the most as part of the revenue conversation?
RL: Demand generation and customer marketing. SDRs are the convergence point where there's lots of good dialogue happening. What do SDRs need from marketing to support the sales pipeline, rather than is sales getting what they need from the SDRs? I am a fan of SDRs rolling up into the CRO because it demands the alignment conversations between marketing and sales happen higher up in the funnel. Creating alignment between the different functions that impact revenue is one of the most critical elements of this role.
Clari: Why do you think we're seeing the rise in CRO titles and roles at this point in time?
RL: The stereotypical sales leader that existed for a long time was someone who only cared about their number. That's dying a swift, and welcomed, death. The CRO's job isn't to just hit the number, but to create a machine that is capable of producing quality revenue, consistently and predictably for the long haul. If you win this quarter at the expense of the long term, you've lost. If you don't have a thriving culture that employees want to be a part of, it's not going to last very long. And if you don't create raving fans of your customers and prospects while you're closing business, you're ultimately losing. These are very different concerns than those held by the stereotypical sales leader and I think the rise of the CRO role has a lot to do with recognizing that change.
Clari: Why is predictable revenue important?
RL: Running a business that is maximizing your opportunity depends on knowing how much money you are going to have and when. Every startup and every company is looking to invest in the business at the right time and in the right magnitudes. For example, when should you double head count in sales or engineering to fuel the product roadmap? Investment decisions depend on both what you are spending overall and what you are bringing in. If I have predictability then I can make investments today based on the revenue that will come in a quarter or two. This allows you to be more aggressive with investment decisions. Secondly, your revenue now and in the future determines a lot about if and when you are going to need more funding. When are you going to run out of money, when are you going to have to raise again, what does that mean for your valuation? Unless you're able to predict how much revenue is coming in and when, the whole model is fiction.
Clari: How does predictable revenue help you run the business?
RL: Creating a predictable revenue model forces you to understand your business on a much deeper degree than most people would otherwise. You need to be able to understand when you pull one lever what's going to happen and what will happen if you pull a different lever. Forcing the predictability conversation makes you analyze the subcomponents of the business to a much finer degree. In the same way that forecasting at the sales rep makes that rep and manager know what is going on in every deal, forecasting at the business level demands that you have good answers around critical components to your machine. How quickly can I hire great people? How effectively can I onboard them? Is the product release coming in a quarter going to boost short term bookings? All critical questions and the demand for predictability forces the organization to have informed answers.
Clari: What tips do you have for better alignment across the revenue team?
RL: Develop a working environment that encourages the truth to come out and come out directly. I have been in many meetings in which many people in the room don't believe the right answer has been landed upon, but because there isn't real room for disagreement the wrong answer goes forward. Usually, I have found this is because people are concerned about throwing someone under the bus, i.e. Calling out the idea as potentially wrong threatens the owner of that idea. There are many good books on this topic because it is easy to say and hard to create. Radical Candor being one. Principles being another. But, the general idea is you as the leader have to create an environment where it is safe, easy, and expected to say what you really think. At Gong we call this "No Sugar" and we reward people for speaking out what they are really thinking in order to ensure our joint mission is accomplished.
Clari: What do you spend most of your time on?
RL: I often joke that CRO stands for Chief Recruiting Officer. Being able to recruit the best talent is probably the most important part of my job and I spend about 50 percent of my time doing so.
Clari: What do you look for in a sales rep?
RL: 1. Coachability, 2. previous history of success, 3. intelligence and business acumen, 4. grit and 5. curiosity. One of the first things I did was establish what are the attributes that make the best sales reps at Gong. After we identified them, we figured out how to hire reps with similar traits.
Clari: Where else do you spend your time?
RL: My other responsibilities are identifying the new market opportunities — when should we go upmarket, what's the next industry we should test, etc… — and then just removing friction from the machine. I have to know if we triple our number next year it's not going to break and we are moving as quickly as we possibly can. This comes from running an operationally excellent ship. I read a study from CEB about how ease of doing business with a company was massively impactful to renewal rates, far more than you would think. I think the same is true about ease of doing my job for sales reps. If you have slow computers or broken rules of engagement or a Salesforce instance that takes 45 clicks to generate a contract, you will have problems in the long run. We should ask our team's often, "What is the most frustrating part of your day?" It is usually something small that won't obviously move the needle. Pay attention to that and fix those things consistently.
Clari: What does it say about companies who currently have or are looking to hire a CRO?
RL: One of the biggest statements of having a CRO makes is having a c-level place at the table for someone who's owning revenue. I'm not a title guy. I don't like earning authority through title. But making the explicit decision to have one of your most senior executives who thinks revenue first on behalf of the company is a big deal and given that so much of the job is cross-functional alignment it's critical.
Clari: If you were hiring a CRO, what skills would you look for?
RL: The first is you have to hire someone that embodies what you want replicated in your organization from a character, values and energy standpoint. I don't think enough time is spent considering, Do I want my organization to feel like this leader? Second, a great CRO has to be a problem solver. Much of the job is taking complex situations where a lot of things need to come together at the right moment and in the right way and there is often times no obvious answer. Does the person not just have the experience to know a few things, but do they know how to figure out everything else that they don't know. Sometimes it's how to use your network. Other times it's knowing when to hire a consultant. Most often it's pulling the greatness and experience out of the people around you. Third, do they know how to assess talent and, have they created a following in prior roles where great people would love to work for them. Bringing in the best people from their network and from outside of their network is huge.
For more stories around CROs and predictable revenue, head to the Clari blog. Know a CRO we should feature? Email us at michael@clari.com.