Revenue isn't a static process—it evolves and shifts with changing revenue goals and company needs. Your organization needs a revenue platform that can flex in real time with the fast pace of your business. Every company's revenue process is unique, and every revenue team has its own growth goals that require different visibility and insights. Striking a balance between uniformity and customization can be an ongoing challenge that impacts productivity, reporting, and scalability. Luckily, Clari provides a proven platform that easily supports complex use cases across your entire revenue process, and we're continuing to add features that provide even richer functionality and flexibility to run your business.
Today, we're announcing new enterprise-grade admin capabilities as part of Clari Studio. Soon, you'll have even more flexibility to leverage Clari for your revenue needs: quickly make changes to your forecasting module and easily configure and manage fields across layouts. In addition, you'll be able to see changes in action while protecting your working Clari instance with our enhanced Sandbox experience.
Regardless of industry or company size, these new features let organizations execute on strategy with the most up-to-date revenue process. With the Clari platform, revenue teams can operate at maximum speed and keep up with the ever-changing needs of running a revenue process, both as a business and in your individual role.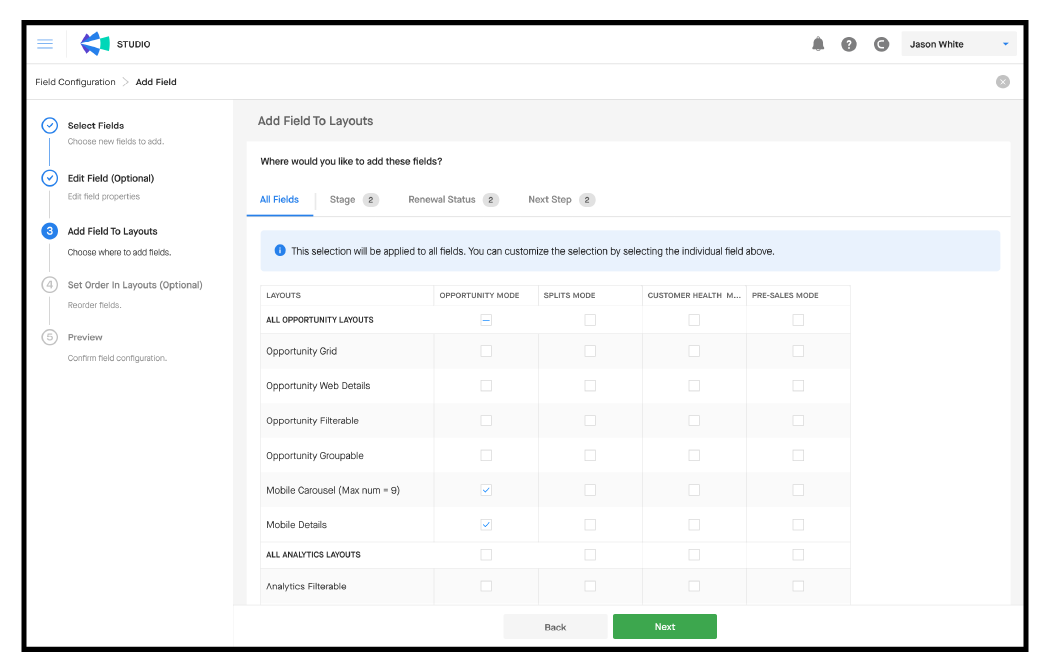 Quickly configure your Clari environment to help all stakeholders win
Clari brings everyone together across functions and levels with the same trusted revenue data and the flexibility to personalize the process to drive adoption and effectiveness. With Clari Studio, admins can quickly and easily make changes such as adding, removing, and reordering fields within layouts, creating and managing modes, and editing field properties, providing powerful self-service ability to make changes as fast as your sales process, pricing, and products evolve.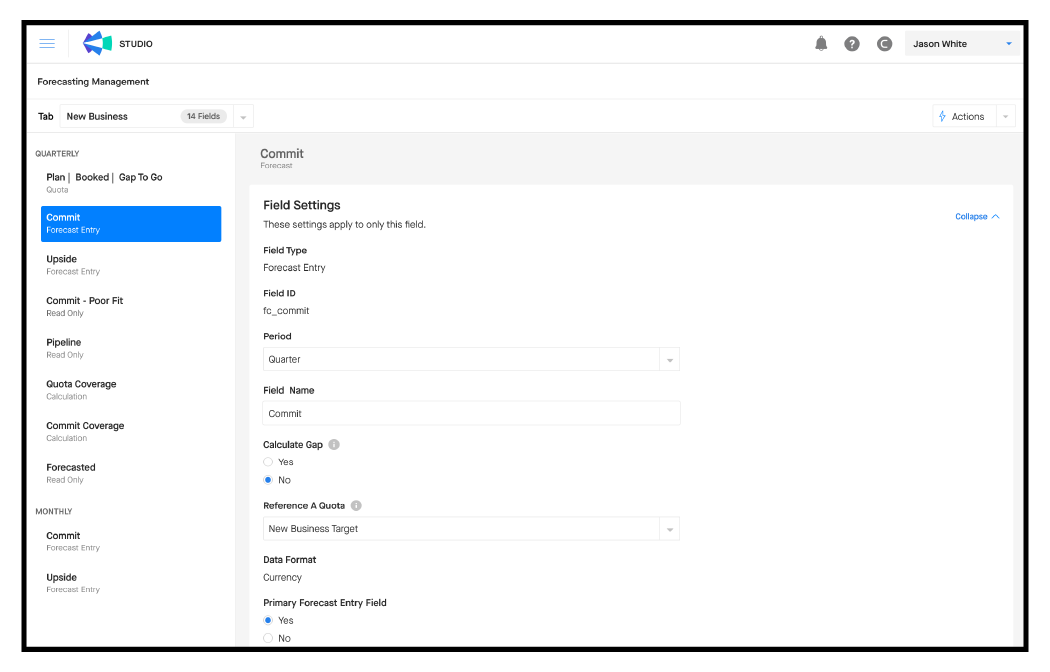 Create a forecasting process that's as dynamic as your business
Organizations are continuously evolving, as are your sales and forecasting processes. Now, you can quickly flex to meet those changes as they happen with the ability to self-configure forecasting tabs, including editing naming conventions, removing and reordering columns and fields, adjusting time period, and updating associated quota. Clari Studio forecast builder can accommodate sales process changes–from year-over-year target changes (ARR KPIs and deal size) to sales stage redefinition (changing the stage from "commit" to "most likely") and more.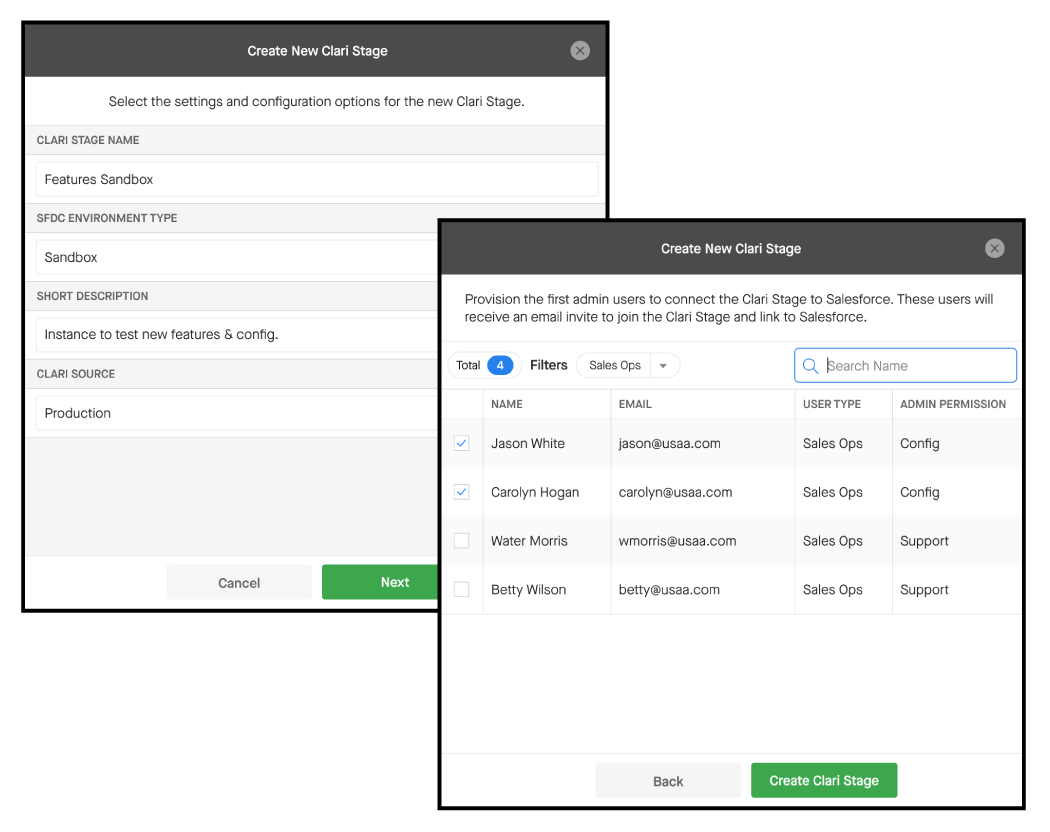 Update your Clari environment safely with Sandbox
Ensure effective rollout of updates to improve adoption among users and avoid interruptions to crucial business cadences due to changes. With Clari Sandbox, admins can configure their environment, including fields, views, dashboards, and forecasting, to ensure custom configurations and workflows are optimized in a staging environment—before pushing live into Clari production. Unique to Clari's Revenue Operations Platform, Sandbox is a must-have for organizations that need to ensure a smooth rollout of changes to their teams.
Allow every member of your revenue team to customize their experience
Customize your go-to-market processes at every level of your organization. Clari not only adapts to help admins create the best revenue process for their business, but it also enables every user to customize their individual Clari experience to meet their specific needs.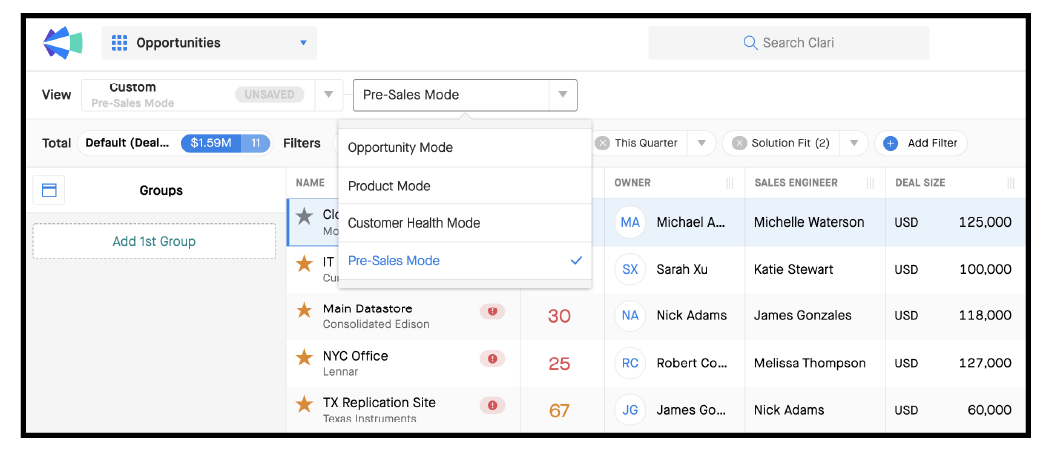 Meet the needs of your entire go-to-market team with custom modes
You don't want to waste your time shuffling through multiple tabs and views to find the information you need. Custom owner modes create personalized experiences in Clari for your different revenue teams. Unique to Clari, these modes are purpose-built to support your entire revenue organization. Teams can view the forecast, pipeline, or opportunities through owner modes such as Product, PreSales, or Customer Health to allow every member of your revenue team to easily manage their book of business. This provides a personalized, filtered lens where departments or territories can view opportunity and forecasting data, ensuring the entire go-to-market team is aligned around a shared source of truth.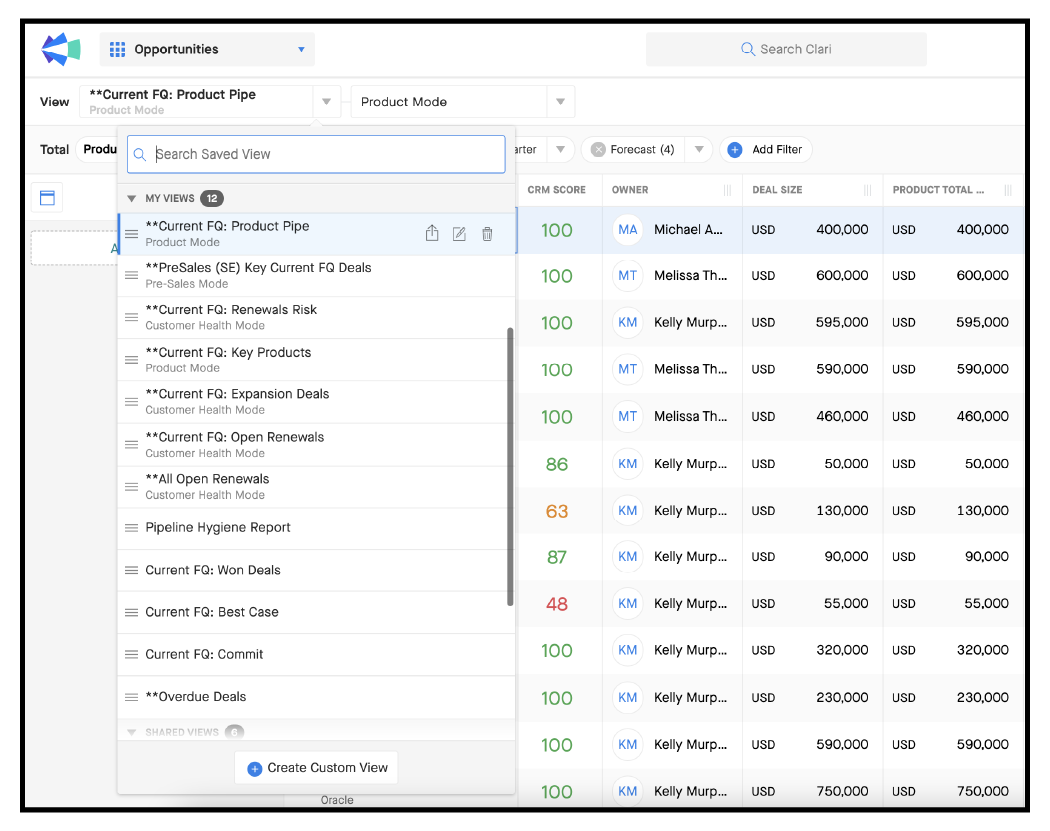 Empower every user to customize their experience with saved views
Spend time understanding and taking action on insights, not setting them up. With the ability to save your filtered views, anyone can easily see the information needed to execute with the right data and easily share it with the broader team if needed. Every frontline manager and leader has strategic initiatives that they are working through, and those might differ by region, product lines, or markets. Saved views allow you to switch between your preferred analytics views quickly and easily to prevent having to redo a search every time. Users can also customize the order in which they view information by ordering columns so the most important information is front and center.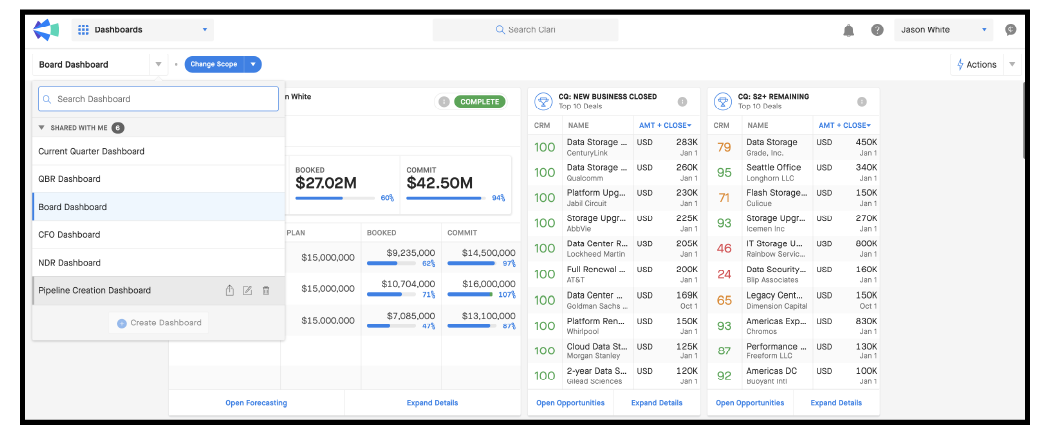 Customize your dashboards
Whether you are a frontline manager managing your team to break into an emerging market, or a financial executive trying to determine where your business is going to end up for the quarter, you know how critical it is to have easy access to the right data in real time. With custom dashboards, your team can easily create a single view of all the analytics and data required for their individual needs. These business snapshots can be used as a presentation tool for board meetings, as a team alignment tool for QBRs or cross-functional revenue meetings, as a coaching tool for one-on-ones, and for daily sales tracking for individual reps. Custom Dashboards can be kept private, shared out with your team, or deployed to an entire organization for increased visibility and process alignment.
Your organization has big growth goals for 2022
Clari's Revenue Operations Platform delivers the control you need to execute and win. Clari enables you to run your revenue process at scale with advanced self-service admin capabilities designed to meet the needs of high-growth businesses, and custom user experiences to meet the needs of every role.
Read more: