This story first appeared on the Chorus.ai blog.
As any revenue leader knows, you put your best foot forward and then as the end of the quarter comes nearer, you have to get laser-focused on which deals are at risk (and therefore may need your attention), where your reps may have "happy ears," where you might get lucky (bluebird, anyone?), and ultimately, what number you can promise with confidence. This is where Clari comes into play. Hundreds of revenue teams use Clari every day to improve their forecasts, focus on the right deals, and identify where risk and opportunity exist in the pipeline through better visibility and accountability.
But until now, Clari did not provide direct visibility into what was being said in the meetings for each deal—by the prospect and by the rep. The voice of the customer is a key leading indicator of how your deal is progressing and how likely it is to close on time. With the new integration between Clari's connected revenue operations platform and Chorus.ai's conversation intelligence platform, revenue teams now have complete visibility into every word said in a deal process.
Real-time conversation intelligence data means better decisions
Many of the key insights that the Chorus.ai conversation intelligence platform collects and surfaces from sales calls, including who attended a call, whether competitors were mentioned, what topics were discussed, and more, can now be viewed in Clari's Opportunity Management grid in real-time. You can even access the Chorus.ai link to a call recording from the deal activity panel.
Here's a quick look at how Chorus.ai data appears in Clari's deal insights view: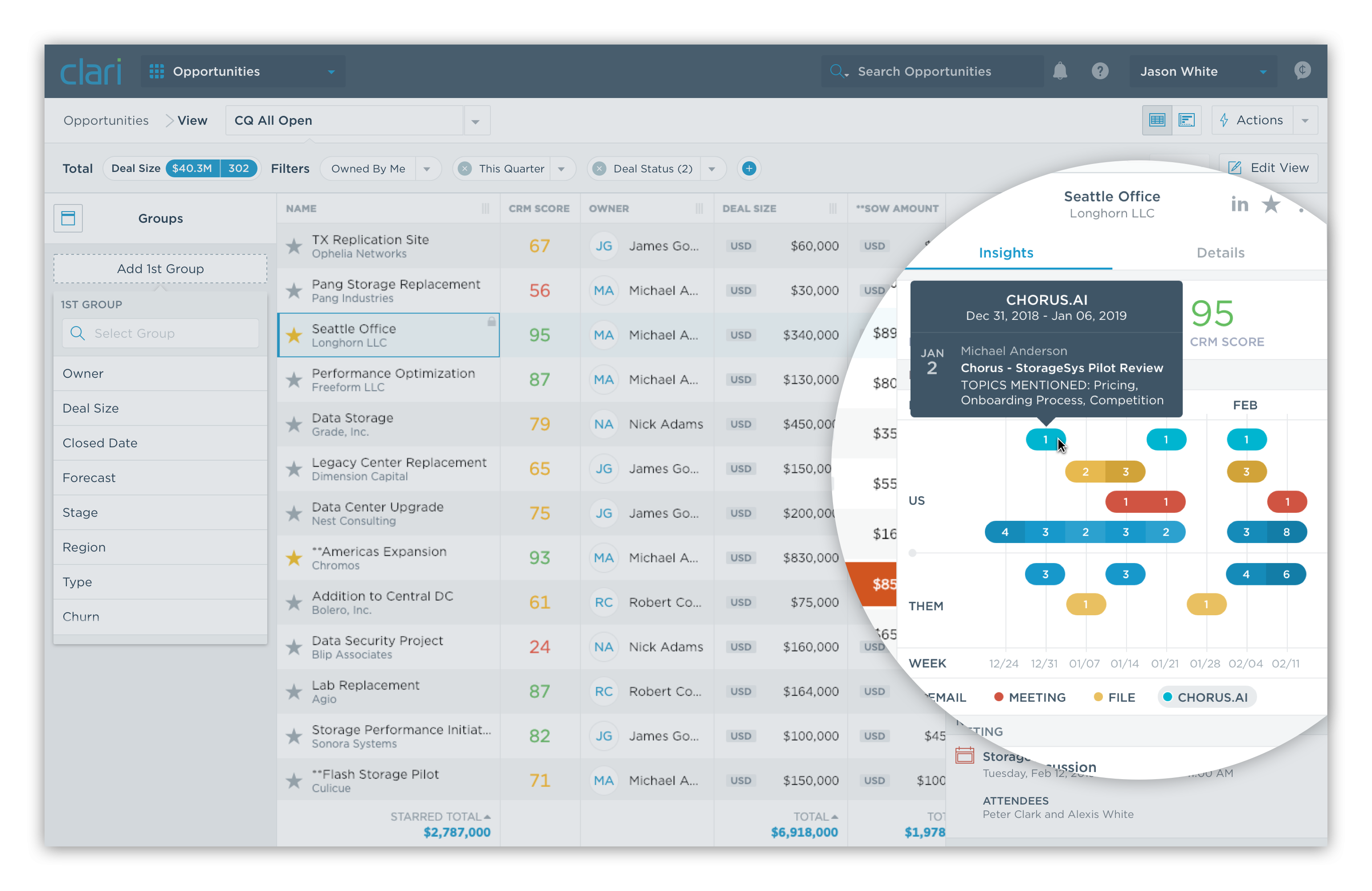 Run more effective 1:1s and team film reviews
Leverage this powerful integration of the two platforms to effectively review your pipeline in a group setting or in 1:1s. Use Clari to go deal by deal and click through to the last Chorus meeting to find what the AI surfaced as "Next Steps" or "Deal Risks."
Listen to these key moments together and use them to inform your forecast or help your rep. Where necessary, join the next call to add firepower or get other functions to help your rep. With the Clari and Chorus.ai integration, you now have a more firm grip over your deals than ever before.
What's next
Chorus.ai and Clari will continue to work on the integration to make it more powerful for sales managers and leaders. Our companies have a shared goal of helping leading revenue teams use the power of AI to optimize their operations, predict outcomes, and drive sales results. As next steps, we will work towards making more AI-surfaced insights from Chorus directly available in Clari dashboards.