Most businesses, big and small, have two separate arms that engage in different but complementary activities and work toward a common objective: driving revenue. Yet, while sales and marketing share goals, they almost never share data.
The expression, "the left hand doesn't know what the right hand is doing," perfectly encapsulates the age-old sales/marketing conundrum. It speaks to an epic communication fail where sales doesn't know how marketing is contributing to pipeline build and marketing has no visibility into sales activity to understand how their campaigns are influencing deals.
It's a historically well-documented disconnect, and it's time for a change.
We're excited to join forces with Marketo in the mission to unite sales and marketing across the revenue funnel so they can finally do the heavy lifting together.
How are we doing it?
Sales teams live in Clari—they use it to sell, forecast, and close business. Marketers live in Marketo—they use it to manage campaigns and run nurture programs that build the pipeline.
As part of our joint solution, Clari integrates data from Marketo apps and Marketo Engagement Marketing Hub to give sales visibility into customer engagement on active deals.
With the Clari Marketo Connector, sellers can better inspect the pipeline. They can immediately see how prospects are engaging with marketing programs across the buying journey through website visits, content downloads, email opens, webinar registrations, and more. This ultimately improves the way that sales and marketing teams collaborate on accelerating the sales cycle:
Reps know what deals are trending well from a marketing engagement perspective
Marketers know which deals are key and where to focus their nurture efforts
Sales and marketing share the same pipeline acceleration strategies
It's a win-win for both teams.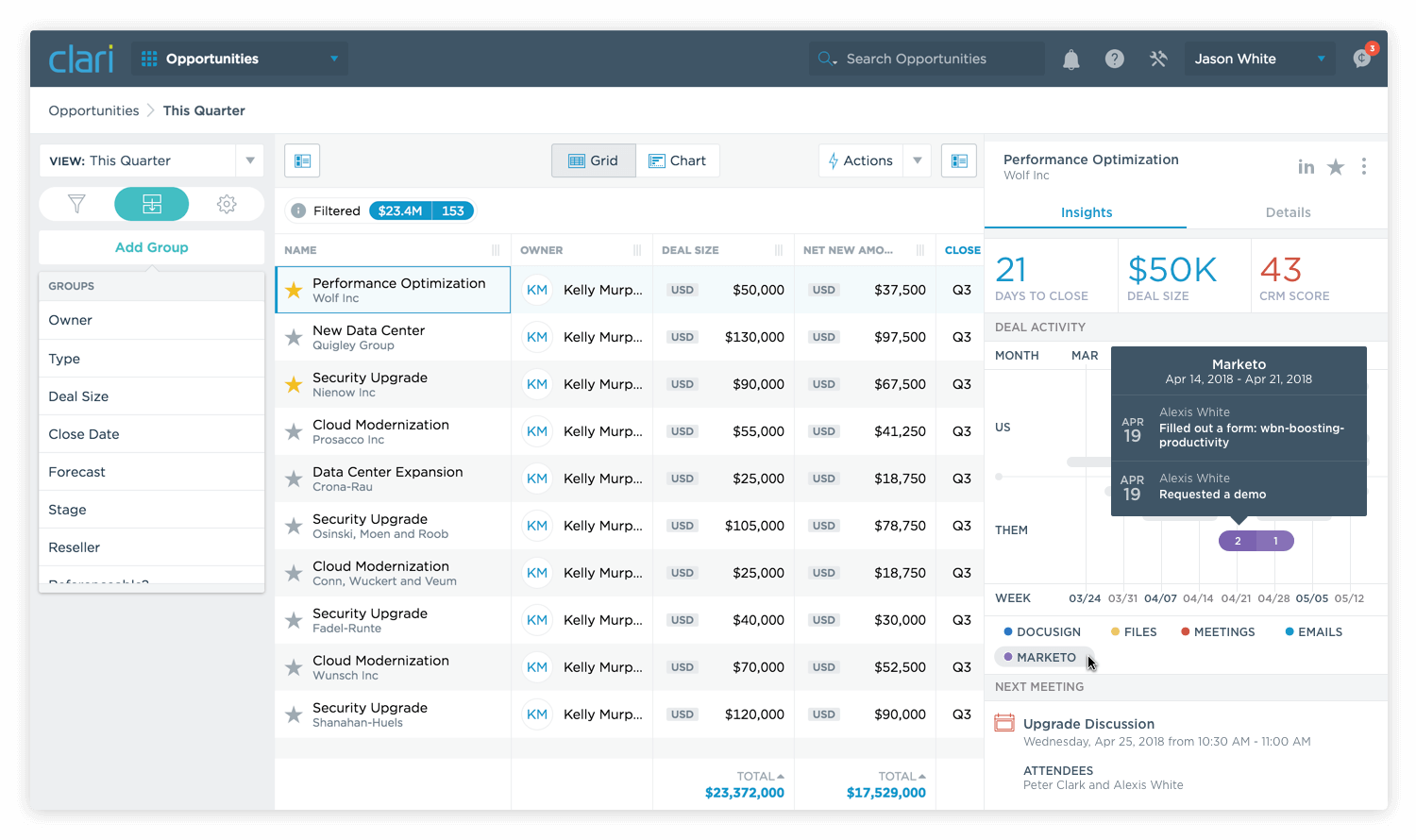 And we're just getting started.
This is the first in a series of integrations with Marketo designed to improve the way that sales and marketing collaborate and how they align around building a healthy pipeline and converting it into closed business.