I'm really excited about our new release — Activity Analytics. It's a paradigm shift that helps sales organizations improve forecasting and increase sales velocity. For the first time, sales leaders can see more than the "rear-view mirror" deal details reps remember to put into the CRM. From now on, execs and managers have a real-time view inside every deal based on the analysis of the real source of truth: email and calendar — aka rep activity and customer interest. The visibility is incredible: how hard is the rep pushing? Are reps talking to the right people? Is the customer engaged and responding … or checked out? Which documents have been delivered? What's thereal sales process that reps follow?
And data is just the start
Activity Analytics means applying data science and predictive analytics to that activity data, so you finally know with >90% accuracy which deals to trust for the forecast, how to coach reps for more wins, and when to push a deal and spend precious time elsewhere.


But this isn't just about data — it's about time
Reps find it annoying to bcc: the CRM on messages. They hate late nights in their basement updating the CRM. And they — and their managers — know how much time they waste on 1:1s talking through the play-by-play on every big deal: who did they meet? Are the redlines in? What is the next step? All that can go away when the system captures activity automatically and presents it beautifully and clearly. Among our early users, reps love it and managers and execs can't live without it.

Sure, there are CRM and BI solutions claiming to serve sales execs and managers. But they have no way to get at activity data. And on the older data they can reach, they don't use data science to figure out what matters and what to do next. So they can't drive action. And that means these tools are just not good enough for sales.

I'm not discouraging our use of CRM and BI tools — they are valuable, but they aren't what sales leaders need to forecast and sell. BI is great for organization-wide execs who only need the big picture and don't need to take instant action. But if you want to get a pulse of the activity for every rep on every deal to be confident about which deals will close and which will push — then general-purpose BI is not the answer.

Clari was founded to transform the way enterprises sell
We apply the magic of data science and stunning visualization to all of your most important data sources. And we deliver a user experience across all your devices to help sales execs with accurate forecasting, sales managers with powerful coaching, and reps with more effective selling. With Clari Activity Analytics, sales teams are stronger and more effective -- from pipeline development and forecasting to deal strategy and closing. I'll give you some detail on the three biggest components:

1. Automatic Activity Capture with Customer Engagement Tracking
As every rep knows, selling is about building relationships. So it takes time, a lot of time. By automatically integrating with a reps email and calendar, we slash time-consuming, manual entry — giving reps more selling time with prospects. And that same capability means sales leaders know if the relationship is growing with historical and real-time views of customer engagement. The result is clarity on the forecast and more effective coaching and selling. While CRM and BI tools are stealing selling time, Clari Activity Analytics is making reps more productive while making their management team smarter about the business.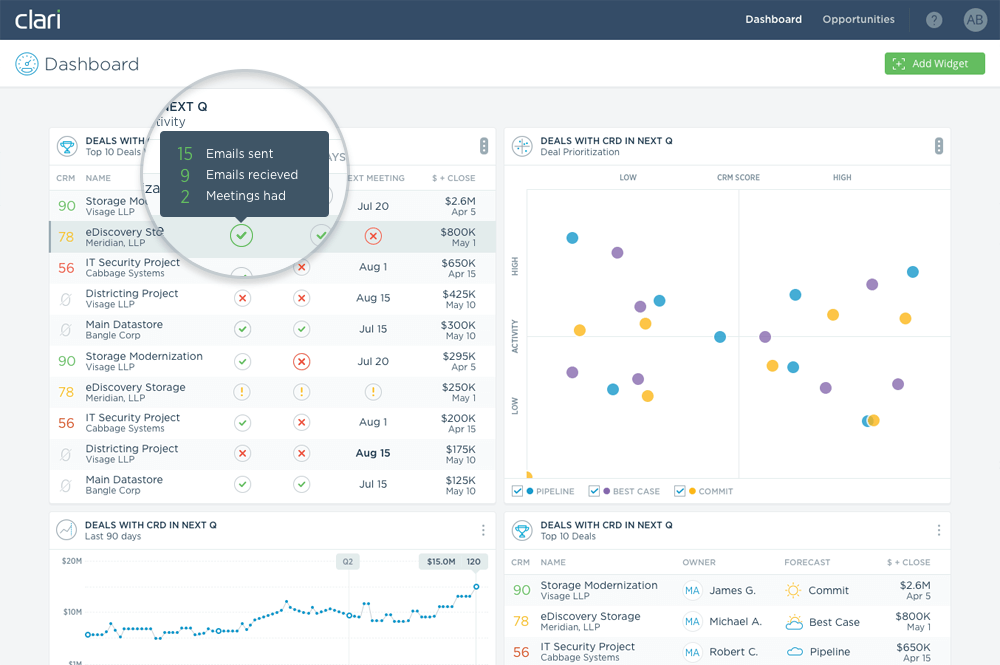 2. Activity Quadrants and Activity Trends
Never guess about deals again. With the new executive dashboard components (activity quadrants, activity trending and more), first-line managers, theater VPs, and sales ops leaders can track all deal activity in entirely new ways, without complex CRM reports, Excel hell, and two-hour 1:1s. Predictive data science is a game changer that now sits in the palm of your hand — showing you the actions that can increase the likelihood of a successful close.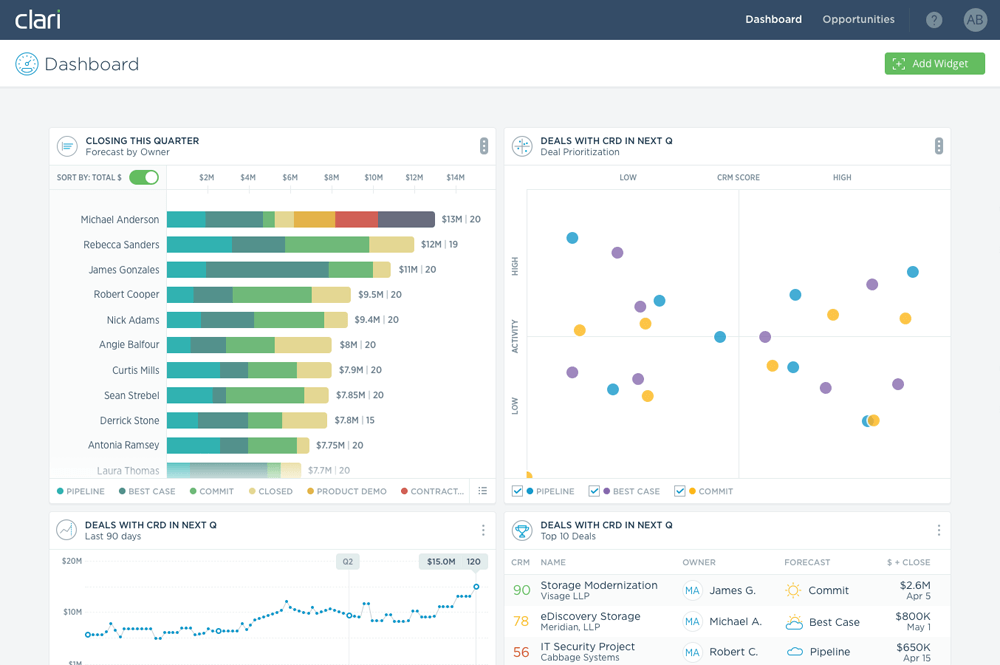 3. Activity Scoring
With clear visualizations and data science, Clari analyzes email and calendar activity to score the likelihood of deals closing or slipping and provides new insights so managers are truly on top of their patch. This means visibility into deal progress (in the quarter, in a given week, or any given time period) and a simple, predictive data-science score indicating whether a deal is at risk or on track… and why. With Clari's interactive Deal Execution Views, managers and executives can coach their reps to apply best practices and close deals faster. The result? Unprecedented forecast accuracy and greater revenue. Clari data makes seasoned sales leaders even more effective by giving them what we fondly refer to as "Gut 2.0."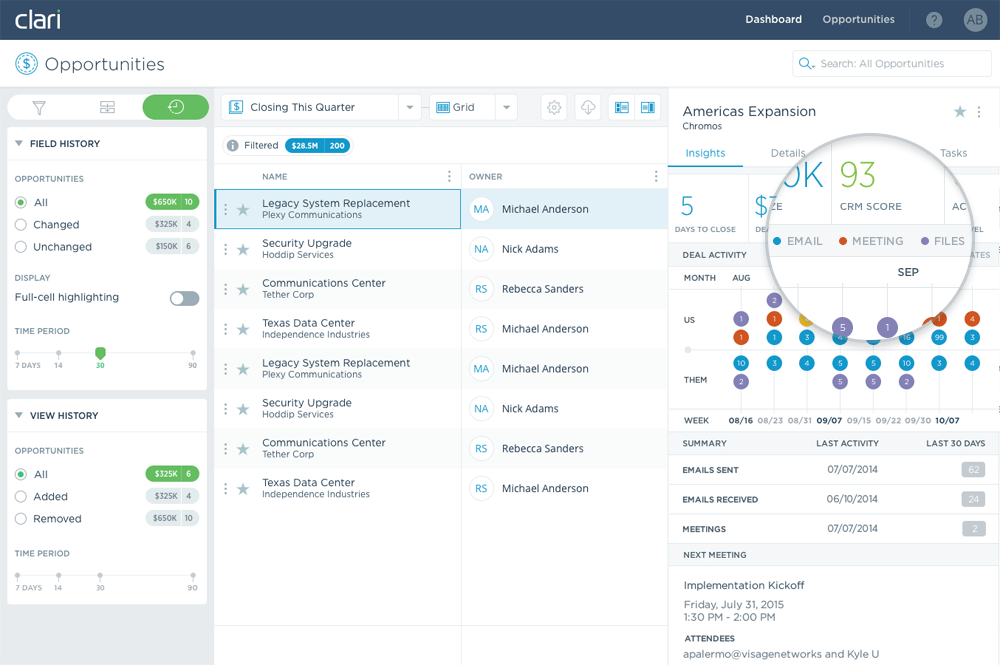 Bottomline
Email and calendar activity is the real source of truth of what's happening in the field. When you capture it automatically and analyze it for new insights, you forecast better and exceed quota more often. You can slice-and-dice data, dig in, figure out the next action to get the deal ... and get out. Clari Activity Analytics is a huge leap in taking sales management to a new level. And traditional CRM and BI don't stand a chance.

We'd love to personally show you how Clari can transform your sales organization. Going to Dreamforce next month? Schedule an exec briefing and demo. Not going? We're happy schedule an online meeting at your convenience. Just give us a shout and say when.