As your team and pipeline grow, so does the stress of staying on top of each deal. You need deal-level insights that give you confidence your book of business is healthy and progressing.
Clari recently partnered with Chorus, a Zoominfo company, to connect Clari's best-in-class pipeline and deal inspection capabilities to Chorus's leading conversation intelligence insights to enable our customers to take full control over their revenue. This partnership will help fuel their pipeline velocity and make it easier to close more deals and improve predictability.
The addition of Momentum by Chorus to the Clari platform provides complete deal and relationship visibility in a single view. This lets frontline managers and reps find insights on how to mitigate deal risk or increase the likelihood to close directly in the Clari interface. You can easily drill down from the overall pipeline forecast to specific deal moments to identify risk factors and next steps.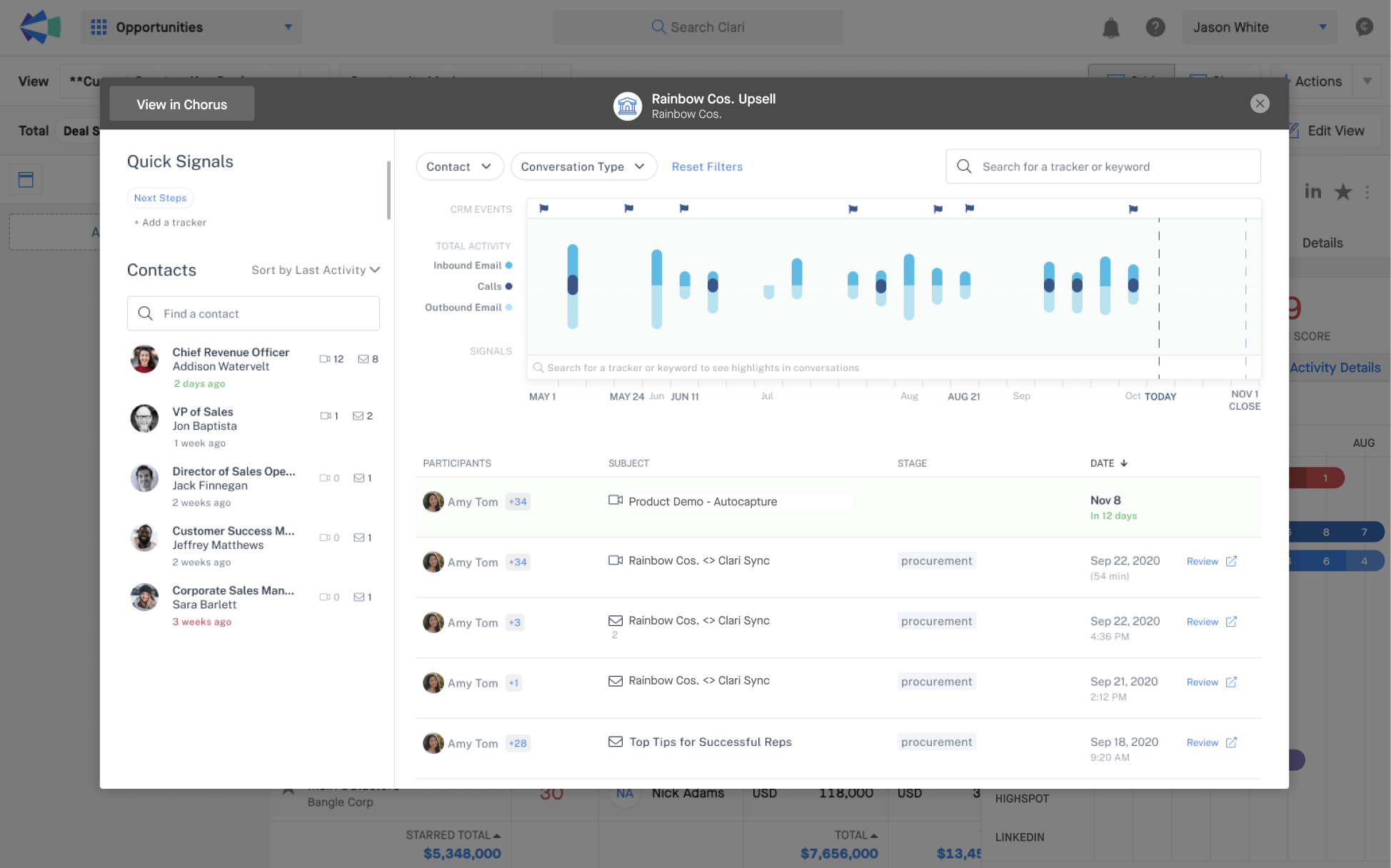 The integration of Momentum by Chorus enables our customers to:
Seamlessly navigate between Chorus and Clari deal and account inspection experiences

Get complete deal visibility and relationship context alongside Clari's pipeline, account, opportunity data, and deal inspection capabilities across the lifetime of the deal.

Identify strategic next steps based on AI-enhanced conversation, deal, and account insights to close more deals faster—all in a single view within Clari.

Leverage Conversation Intelligence based insights at the macro level and to zoom all the way into the specific moments in an engagement.
Want to see Momentum by Chorus in action within Clari? Check out the demo video below featuring Kohki Yamaguchi, Director of Product Management at Chorus, Will Paterson, Director of Product Management at Clari, and Conner Crane, Product Manager at Clari, to learn more about leveraging this new integration at your organization.