The way B2B prospects buy has changed. They're doing far more research online during every stage of the buying cycle, especially in the "awareness" phase: Only 19% of customers want to speak with a sales representative when they're just starting their research for a solution.
However, once they've created a short list of vendors based on that research, that number jumps to 60% — at which point they often want to skip the formalities and talk demos and pricing.
This makes your website more critical than ever before. It is likely the focal point of a prospect's research. But there's one problem: Historically, once the prospect is ready to engage, they would have to submit a form on your website. This would trigger your inside sales team to call or reply via email, but many times the moment has passed and that prospect has moved on to something else on their busy schedule.
Drift took this interaction and made it live on the website with their dynamic chat capabilities. Now, when someone visits your website, they can have a conversation with your company right on the spot, increasing your chances of keeping their attention, answering their questions, and getting them to that all important next step: a conversation with sales.
But chat can do more than just push someone to a sales rep. Customers might engage with chat to learn more about a new product, or ask a question they can't find on your help or resources page. This is a great way to ensure your current customers receive the support and information they need to move forward with the buying process.
Either way, these conversations are an important part of any opportunity lifecycle, be it to win a new customer or renew an existing one. Historically though, after this conversation ends, it disappears into Salesforce heaven, buried among the millions of other pieces of data.
With the new integration between Drift and Clari, these important conversations are surfaced on the opportunity record, alongside emails, meetings, phone calls, and every other engagement. This is important because the sales or customer success rep might not be the person who engaged with the prospect/customer in the chat, but now they and their managers have complete visibility that the chat occurred, can easily access the chat history, and address the topic of the chat in any followup conversations that have.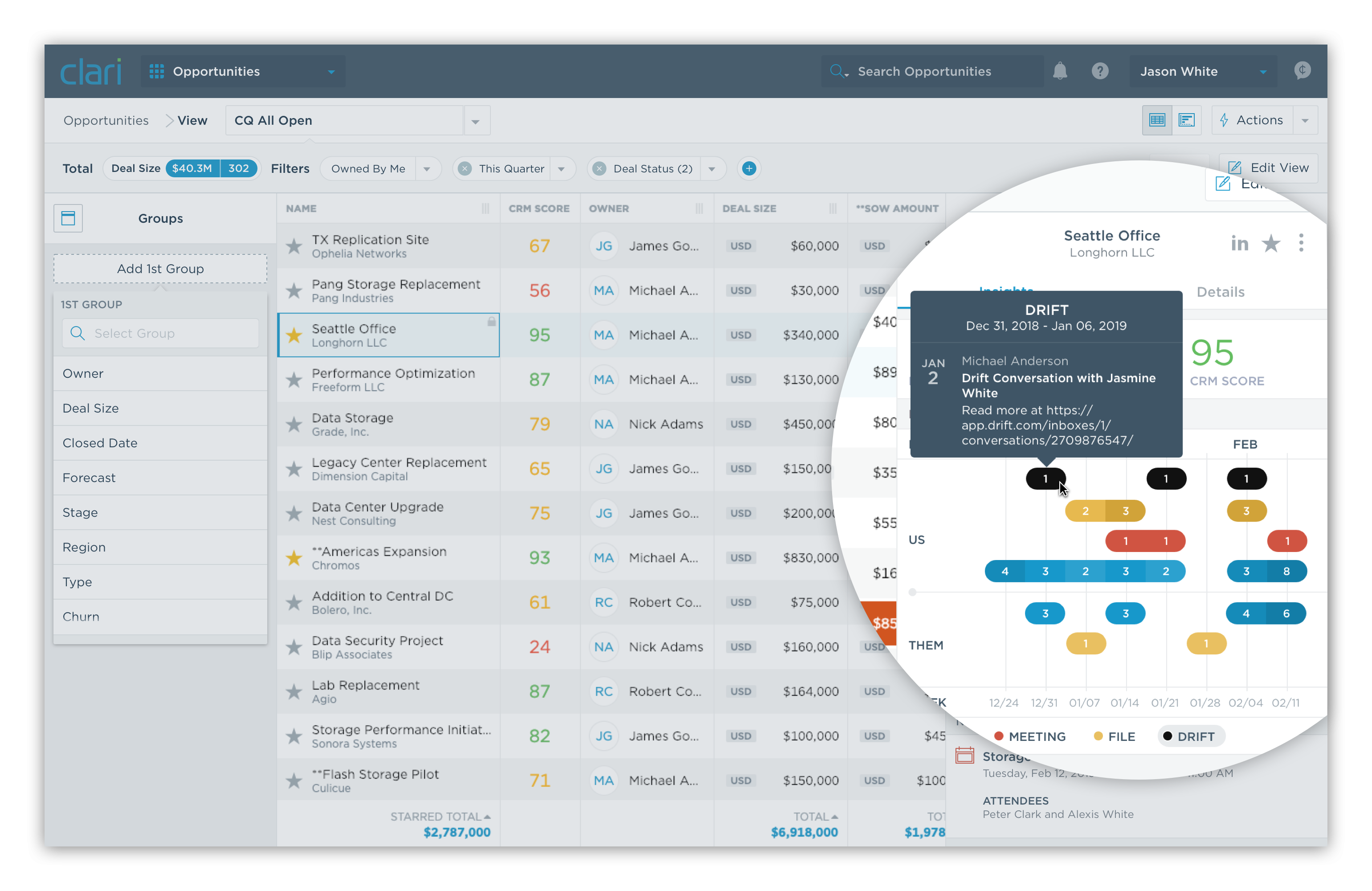 In addition, while your website is your main interaction with prospects, video has proven to be one of the most effective sales tools. Some 70% of B2B customers watch videos on their path to purchase.

And now Drift has also entered the video space. With Drift Video, a rep can send a video recording to a prospect. This can be a follow-up message to a meeting, or a quick demo to cover a question that needs answering, or a way to re-engage a prospect who has gone quiet. Historically, a rep would then wait for the prospect to watch the video, get a notification, and then call or email. But with Drift Video, when the prospect is watching the video, the rep can interact with them live with chat, reducing the communication gap and increasing their response rate with the prospect.
These interactions are automatically captured in Clari so reps can see video and chat engagements in the full context of the sales cycle.
By incorporating Drift's chat and video activities into Clari's Connected Revenue Operations ecosystem, the entire revenue operations team will have more intelligence at their fingertips to win more deals and drive more revenue.
Want to learn more? Check us out at www.clari.com and www.drift.com.