Revenue is a process, but that process doesn't end once the customer signs a contract. In fact, it's only the beginning. Companies burdened with customer churn will inevitably find their growth potential held back despite the excellence of their new logo motion.
While landing new logo revenue will always be an imperative, companies are realizing the untapped goldmine that exists in their customer accounts, and the revenue risk of not investing in retaining and growing these partnerships.
The cost of selling to a new customer is five times higher than the cost of selling to an existing one, not to mention that success rates of selling to an existing customer are 60-70%, while the success rate of selling to a new customer is only 5-20%. Also Studies by Bain & Company, along with Earl Sasser of the Harvard Business School, have measured that even a 5 percent increase in customer retention can lead to an increase in profits somewhere between 25 and 95 percent.
Net dollar retention: The ultimate growth KPI
Net dollar retention, or NDR, is critical to the health of any software-as-a-service company. Retaining and expanding the customer base is one of our customers' top strategic growth initiatives, even more so in the pandemic year.
High net revenue retention implies that not only are you retaining your customers, but they are also growing their investment in your product by adding more seats or volume, or buying other products from your portfolio. As such, it has a compounding effect on business growth.
Tomasz Tunguz, managing director at Redpoint Ventures, did the math on how much 20% more NDR is worth for a SaaS business. Each additional 20% of NDR represents a doubling of company ARR in 5 years. A company with 160% NDR is 4.2x bigger than the 120% company and 1.9x bigger than the 140% company.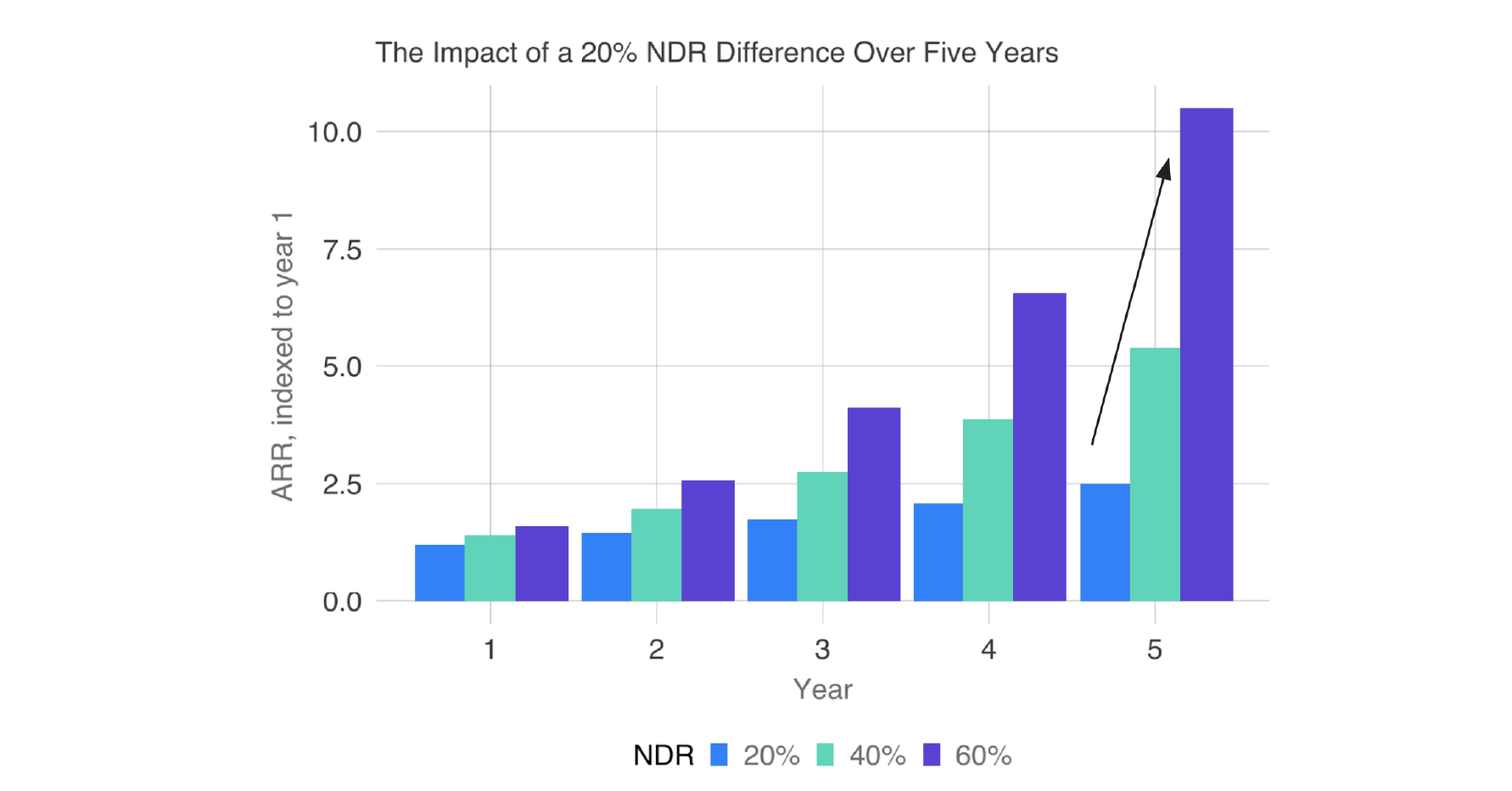 At Clari, we partner with some of the top NDR performers globally, including Datadog, Zoom, Alteryx.
Source: Cloud Judgement, December 2020
Revenue teams use Clari to improve customer retention and unlock expansion
Every organization has a different setup. Some companies have customer success managers (CSMs) accountable for adoption and satisfaction, while account managers drive renewal and new ARR from customer accounts. Other companies have account executives focused on new logo and expansion revenue, while CSMs focus on adoption and renewal.
No matter your organizational setup, with Clari, customer success, account management, and account executive teams get total visibility into their renewal and expansion business so they can focus on keeping the customer base happy, reduce churn, and expand their footprint within installed accounts.
See how our revenue team uses Clari to accelerate our NDR rigor and execution.
1. Manage and inspect your renewal and expansion opportunities
It's important to inspect renewal and expansion opportunities with the same visibility and rigor that's applied to net new business.
Look at the account health score, usage telemetry data and other adoption indicators alongside engagement signals, such as:
Email activity on the deal

Who's involved from your team and the customer side

When meetings take place

How this deal compares to other opportunities you've won in the past
This all provides real-time visibility into the status of your renewals and expansion business. You can identify churn risk and strategize on ways to deliver more value to your customers by offering new products, expanding into new lines of business, or activating new users.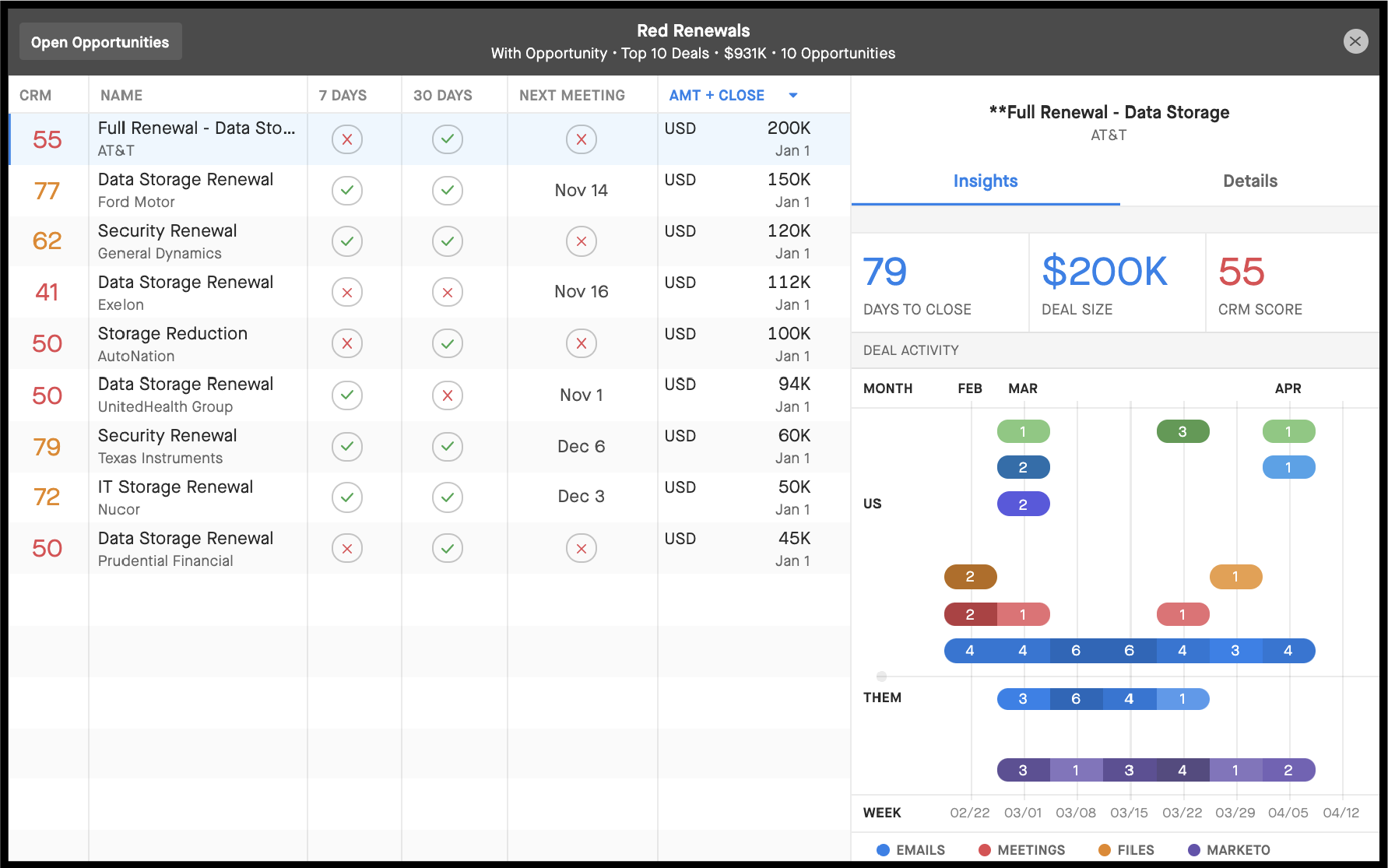 2. Run regular expansion pipeline reviews
Expanding customer investment in your service or product requires a deep understanding of product adoption, value realized, and satisfaction. Without those, you'll have difficulty identifying opportunities for license expansion or new department / line-of-business penetration.
You track your net new business top of funnel against pipeline generation goals, and the same should go for your expansion pipeline. Monitor those expansion opportunities so you can compare your coverage to your NDR goals, identify gaps, and activate the GTM organization to engage the right pipeline coverage. Double click to see whitespace potential across your installed accounts and make sure the team is actively working these accounts and focused on the right ones.
3. Get your account contact data in order
All of the pre-sales knowledge, such as who the key stakeholders are and their history of engagement, is a critical part of the handoff from the account executive to the post-sales team. Bad contact data in CRM often hampers this transition. CSMs and account managers then waste time navigating around the account, trying to identify the powerbase.
Clari automatically captures all contact data from every interaction throughout the sales cycle, ensuring everyone involved in the deal is linked to the account. That sets the post-sales team up for success.
4. Make sure your post-sales team is focused on the right accounts
Tracking where your renewal and expansion teams spend their time lets you optimize the customer experience, and make sure your team is spending time with the right accounts.
In Clari, you can monitor engagement across your book of business. You can see all the accounts that have upcoming renewals or low health scores and no engagement. You can track low ARR customers that occupy your CSMs time, or strategic accounts with no open expansion opportunities.
You can also see where you stand with your account relationships—who's engaged and who's not—so you can strategically spend time with the people who truly influence and control the renewal and expansion process. Personnel changes happen constantly, so the initial account contacts might not make decisions about the renewal. Renewal and expansion often rely on regularly inspecting how key personas and decision makers engage with your team, and where you need to invest in enhancing the breadth and depth of account relationships.
5. Forecast renewals, expansions, and churn
Knowing where you're going to land for the quarter gives you the opportunity to plan for investing back in your business and accelerate growth. Renewal and expansion ARR is a critical part of your overall number. With a single view into renewals and expansion forecasts in Clari, teams have visibility into renewals at risk. They can facilitate early conversations and mitigate churn. They can also track addressable versus not-addressable churn to see where they can focus to turn things around. At the same time, they can see how well they are driving growth in their healthy accounts through upsell and cross-sell, offsetting churn in other accounts.
In Clari, you can track against your key metrics, such as:
Renewal rate

Gross dollar retention

Net dollar retention
You can start to answer questions like:
What is the net dollar retention forecast?

What segment has the highest forecasted churn?

How can we deploy our executive or product teams to help?
Like with any forecast, ensuring you establish the right cadence to inspect the data and deals is critical. When the full forecast is in the same system, and the right metrics are monitored, the team can have an active dialogue on the strategy:
Where do we need to allocate extra resources to mitigate risk?

Can we double down on one company's expansion strategy to compensate for another's churn?
Get your renewals and expansion teams in Clari so you can join the top NDR performing companies. Contact your Clari Account Manager or book a demo to learn more.
Read more: