[Editor's note: Who's in the "Sales Innovator" spotlight this week? Let's continue the sales ops conversation and learn top-of-mind sales ops best practices and thought leadership from our sales innovators — Erin O' Leary and Jennifer Ryan!]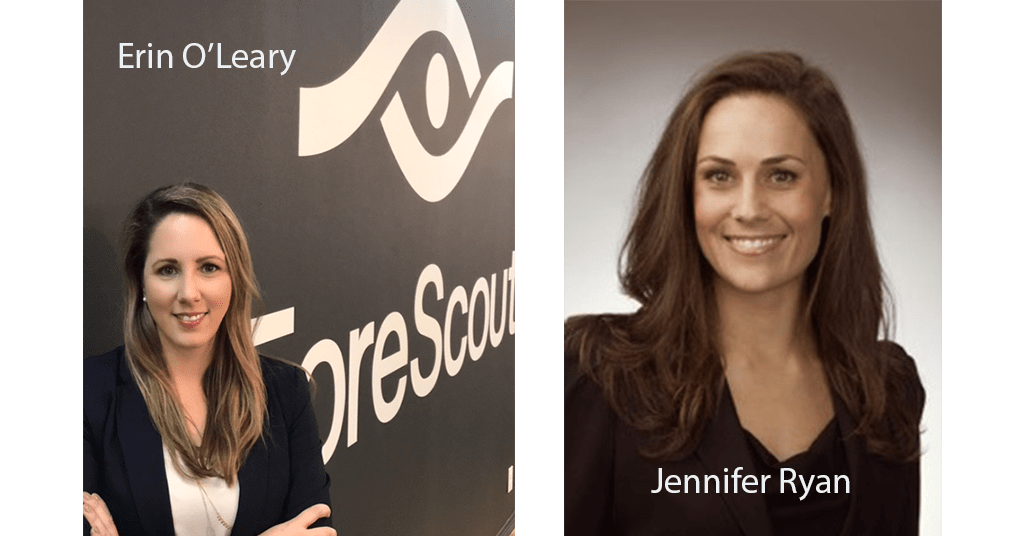 Host: I'm Cristina Wong, Content Marketing Manager at Clari and we're here with two talented sales innovators from ForeScout Technologies, a company known for transforming enterprise security through visibility — Erin O'Leary, Senior Director of WW Commercial Sales Operations and Enablement, and Jennifer Ryan, Director of Public Sector Sales Operations. Erin and Jennifer work together to provide strategic and operational support across sales, marketing and finance, and share an end goal to help drive more productivity and revenue for ForeScout.
Q: Erin and Jennifer, we'd love to hear about your career background! At what stage did you enter sales and what are you doing in your role now?
Erin: I have worked in IT for 10+ years, specifically in the cyber security and cloud sectors. I have held various roles in finance, sales operations and enablement, and strategy, working within large organizations as well as startup organizations. I love being inventive and innovative, which is part of the reason I came to ForeScout two years ago. I saw a real opportunity to help build and grow the organization.
Jennifer: I spent the last decade or so in various roles within the financial services industry including investing, client engagement, and strategy at both a large, global, investment bank as well as a smaller, early-stage, investment startup. The thread that connects those experiences with what Erin and I are doing now is a focus on helping businesses grow, innovate, and evolve.
Q: What do you love most about your role and what do you find the most challenging?
Erin: The cyber security industry is an exciting space, particularly because it's fast-growing. But I'm not a technologist — I'm more of an operator. In terms of the role, I enjoy working within sales ops because we make an impact across the entire organization. It is a very dynamic role where we are influencing and driving sales strategy, execution, and excellence, which are key to the success of the company.
Jennifer: I couldn't agree with Erin more — the space is fast-paced and fast-growing, but most importantly, it's timely; cyber security is a critical point of discussion for organizations across every industry and every branch of the government, which brings a dimension of reality to the things we do every day. In terms of the role, what I love most is also what I find most challenging, which is toggling between the deal level details and broader strategic ideas. Clari allows us to pivot between those two concepts, introducing a new level of efficiency and accuracy. Ultimately, this not only saves valuable time, but more importantly, it enables us to make better business decisions and drive smarter behavior throughout the organization.
Erin: One of the challenges of the role is that your impact is largely through influence. I have learned that you only have a headline to grab the audience's attention, especially with leadership. You must be able to distill the data and entice the audience with a headline, and then you can follow up with the relevant insights and details to influence an outcome. It's a challenge and an artform, and now with advanced technology and sales tools such as Clari we are equipped to be better strategic advisors to leadership.
Q: How has the sales ops conversation changed since you joined the sales ops profession?
Erin: At one point, sales operations was focused on "reporting the news." Today, sales ops has evolved into a more strategic role where we are a true business partner to sales leadership and finance. We have more data and better data to work with, which has helped us to create a tightly integrated strategic and operating model. Instead of spending time compiling the data, we are now able to focus on analyzing the data and identifying trends, allowing us to make smarter decisions and continuously improve our go-to-market model.
Jennifer: Exactly. We have been able to utilize that improved data set and those enhanced trend analytics across three really important aspects of the business: forecast calls, instant access to answers and data for our leadership, and business efficiency — including rep productivity, accuracy, and time savings.
Erin: Efficiency is critical. We have limited resources, but an expanding mandate. Enhanced data analytics have helped us to be able to set the strategy, design an execution plan and set expectations, inspect and measure against the plan, and then assess and adjust our assumptions to better inform next year's plan.
Q: How do you and your team think about the "opportunity-to-close (OTC) process"?
Erin: The "opportunity-to-close" or "OTC" process speaks to the entire sales process that starts when a sales rep qualifies a lead into the pipeline and ends when the deal gets signed. We are using Clari to increase pipeline visibility, identify trends, and ultimately improve our OTC process. For example, we may be excelling at the proof-of-concept phase in the sales process, but maybe opportunities get stalled at the budget approval stage. We'll use this data from Clari, along with feedback from sales, to understand what is needed and when it is needed to accelerate the OTC process. Being able to pinpoint exactly where in the sales process we are doing well and where there are bottlenecks allows us to tailor our enablement strategy to enhance our overall sales execution and drive higher productivity and more revenue.
Q: Do you have any advice for other sales leaders who are experiencing similar challenges?
Erin: At a high level, collaboration and communication across the organization are essential, especially for sales operations teams to stay aligned and successfully work in a fast-paced organization such as ForeScout. Setting a plan and expectations, inspecting and measuring to that plan, and continuously improving it, are key to establishing and implementing a successful go-to-market process.
Jennifer: And at the ground level, the field needs more visibility as well as solid information to help direct time and focus appropriately on the right deals — in real time, while on the move. Our team has embraced the Clari mobile app because it provides instant access and insights for our mobile sales force; it's been a game changer for us.
Erin: Being able to quickly and clearly understand deal movement every week — how much pipeline was added, what deals closed or slipped, and what stayed idle — is also critical. Clari allows us to easily see all of this. My favorite trick is reviewing a summary of the prior week's forecast and pipeline changes every Monday morning. Jen and I have a cup of coffee together and get a sense of the latest deal flow and activity through Clari's Flow Analytics!